13 Gorgeous Modern Glass Menorahs for Hanukkah (2022)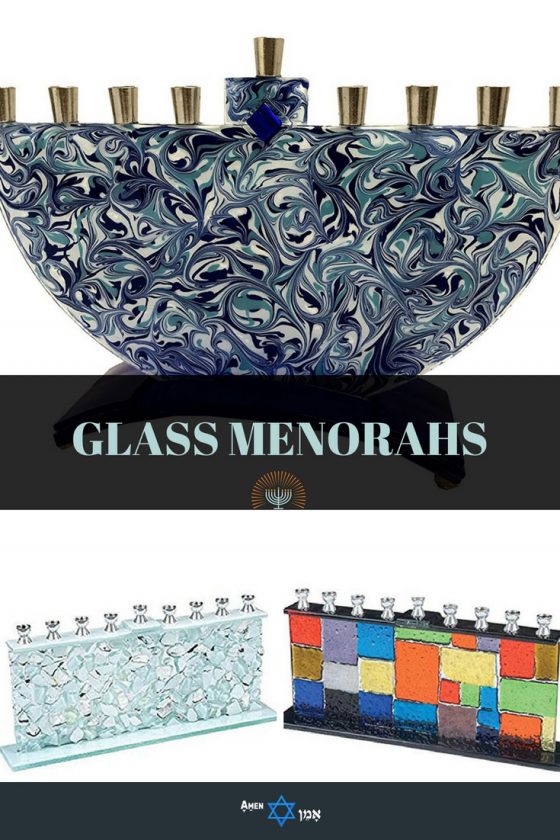 Amen V'Amen is supported by its audience. That means when you purchase something from one of our partners through one of our links, we may earn a small commission at no additional cost to you. Amen V'Amen is also an Amazon Associate, so we may earn a commission from qualifying purchases. Thank you for your support!
Hanukkah is here…
Let's raise a glass for the occasion!
Wait a sec… I'm not referring to a glass of wine (that comes later). I'm talking about a glass Menorah (careful, don't drop it)!
In case you haven't noticed, these days Hanukkah Menorahs come in all shapes and forms.
Including… glass Hanukkah Menorahs!
This guide was made for you creative spirits out there who would like to give this Hanukkah a bright and shiny look!
Top Glass Menorahs
This may come as a surprise to you – but there are many different types of glass Menorahs:
Menorahs made of fused glass, stained glass… even blown glass Menorahs.
Sounds overwhelming?
Relax… I made it super easy for you to choose the best ones.
How?
Awards!
And the glass Menorah Oscar goes to… 🥁
Modern Glass Menorahs
We're all familiar with the traditional Menorahs: the 9 candle holders usually with the Shamash raised in the center.
Modern times drove innovation, which led to these remarkable contemporary glass Menorahs you're about to see in a moment…
Top Modern Glass Menorah
Have you ever been to the Kotel (the Western Wall) on Hanukkah?
It's quite the experience, let me tell ya…
The only problem? Flying to Israel during the holiday season costs an arm and a leg.
"I'll stay home, thank you very much!"
I don't blame you.
Well, I've got good news: if you can't go to the Kotel – the Kotel can come to you (and for a fraction of the price)!
This stunning glass Menorah is beautifully handcrafted, and is designed with quite the color palette: the glass Kotel wall is painted in aqua, turquoise, cerulean blue, navy & white "Jerusalem stones".
Sure… it's not the actual Kotel stones that'll make their way to your home all the way from Jerusalem. But I'd say this unique blue & white Kotel glass Chanukiah gets you pretty darn close.
Jewish artists are great at taking beautiful, traditional Jewish symbols and transforming them into a modern Jewish art exhibit… in this case, a marbled art exhibit.
The only thing traditional about this unique Menorah is the 9 branches and the Shamash. Other than that – this artistic canvas/Menorah is 100% contemporary, almost futuristic.
When you light up this beautiful, handmade Menorah, you'll realize that you often lose yourself in the deep, blue design.
And if that's not enough – this artistic Menorah is guaranteed to last you for life…
When you're talking about glass Judaica – there's one name that comes to mind as quickly as jelly donuts come to mind when talking about Hanukkah desserts – and that's Lily Art.
Lily Shohat (founder of Lily Art), the Israeli Judaica artist is the undisputed queen of glass Jewish items – and she thankfully didn't leave the Hanukkah Menorah behind.
Her beautiful glass wave Hanukkah Menorah became one of the most popular glass Chanukiah choices on Hanukkah. The special design features a beautiful blue tulip, covering the glowing polished metal.
A 6th century Menorah? What?
Yes, you read that right. You're looking at an adaptation of an ancient piece of Jewish history.
In the 1960's, a group of farmers from Kibbutz Ein Gedi discovered an ancient Jewish synagogue that was built in the 3rd century – just a few miles away from the Dead Sea.
Right next to the Torah shrine – they found an old brass Menorah made of small spheres that imitate the "calyxes and petals" of the Temple Menorah (made of 7 branches).
A few years ago – the Israel Museum in Jerusalem came out with a design inspired by that very same Menorah…
The only difference? It was adapted to fit Hanukkah. Instead of 7 branches – the adapted version has 8 branches + a Shamash…
And now – anyone can celebrate the miracle of Hanukkah with a historical Jewish item that you can continue passing on to future generations.
Fused Glass Menorahs
Fused glass is glass that has been heated at high-temperature. It's often used by artists to produce various artworks…
As you might expect, our brilliant Jewish artists didn't leave us in the dark this Hanukkah. They took the time to create fascinating art glass Menorahs for the rest of us to enjoy!
Prepare to be mind-blown.
Top Fused Glass Menorah
The first fused glass Hanukkah Menorah on the list is also the most impressive one.
This flashy Hanukkah Menorah has a distinctive crushed look, after being fused in >1000 degrees heat.
And believe me when I say that this picture does NOT do justice with this sparkly Menorah. It's truly one of a kind.
Half canvas, half Menorah.
This gorgeous fused glass Menorah art was designed and fused (by exposing it to 1200 Degrees heat) into this remarkable piece of art.
Rabbi Nachman used to say that it's a great Mitzvah to be happy always. That's especially true during Hanukkah.
With this colorful & cheerful Menorah at your sight, being happy is a piece of cake.
A great little piece to have during the 8 days of Hanukkah. And if could use something to cheer up any other day of the year – leave it standing the rest of the 357 days of the year… it will get the job done!
In case you found the previous Menorah nice, but a bit "too colorful" (is there really such a thing?), then this one might fit your taste.
More toned-down and less canvas-like, yet much more elegant than the previous one.
This lovely fused glass Menorah screams creativity and allows you to express your artistic side without going overboard.
If you ask me, I prefer the previous one… but if you're more moderate than I am, then you might prefer to go with this one
Stained Glass Menorahs
While most Judaica glass Menorahs are transparent, some Jewish artists took it a few steps forward and introduced a new kind of Jewish glass artwork: stained glass.
If you're looking to add vivid colors and an artistic touch to your Hanukkah festival, then boy are you about to LOVE these…
Meet Melissa & Doug, a couple who retired from full-time teaching and now hand-make amazing stained glass patterns "out of their own backyard" (so to speak).
This colorful glass Chanukiah is completely handmade: they select, cut, grind and fit everything together with lead and solder (including the wooden frame to complement the color palette).
The level of precision and attention to detail in this Menorah is simply admirable.
Lighting this awesome stained glass Hanukkah Menorah is the kind of experience that makes you wish Hanukkah lasted longer than 8 days.
Top Stained Glass Menorah
Hanukkah is celebrated in the cold winter… And even though the Hanukkah candles won't keep you physically warm during the 8 days of Hanukkah, perhaps lighting Hanukkah candles in this handmade, rainbow-colored Menorah will do the trick.
It won't make you feel physically warmer (that's what ugly Hanukkah sweaters are for), it will make you feel all warm and fuzzy inside during the cold Christmas/Hanukkah winter.
Not only is this stained glass Chanukiya handmade, but it's also handmade in Israel…
It doesn't get any more authentic than that.
Remember when you studied geometry in school?
I remember thinking to myself: "This is so frustrating! What the hell am I EVER going to use geometry for!"
Little did I know that I could've learned how to design Hanukkah Menorahs out of it.
Thankfully, this creative designer paid attention in class, and a few years later brought this cool geometric stained glass Hanukkah candle holder to life.
One of the most creative Hanukkah Menorahs I've ever seen, and a great inspiration for struggling math students!
Blown Glass Menorahs
Have you ever seen a glassblower in action?
Let me tell ya… it's one helluva sight to behold.
Many consider blown glass art to be the "purest" form of art there is.
Luckily – there are a few talented artists that took their glassblowing skills and used it to create stunning art glass Menorahs so "normal" people like us could enjoy lighting them on Hanukkah.
Top Blown Glass Menorah
This glass-blown Menorah looks like it's been taken straight from a 1800's horror movie.
Who knows… its even older than that. No one knows exactly when, where, and who created this remarkable piece.
Notice the way the candle holders are positioned… It's as if this glass-blown Menorah is a living, breathing thing.
Or at least – one that comes alive if when you light it on Hanukkah.
We didn't know a lot about the previous glass-blown Menorah.
But this time – we know exactly who made it: the legendary glass artist, David Goldhagen.
Not only that… this gorgeous piece is even signed by him.
As you'd imagine – that alone increases the price quite significantly.
Conclusion
You just found yourself a brand new glass Menorah.
Time to celebrate with a glass of wine (or a Sufganiya)!
This Hanukkah… you'll be lighting your Menorah in style!
And remember – this isn't a Jewish wedding… no breaking the glass this time 🙂
Happy Hanukkah!