10 Stunning Crystal Menorahs for a Luxurious Hanukkah (2022)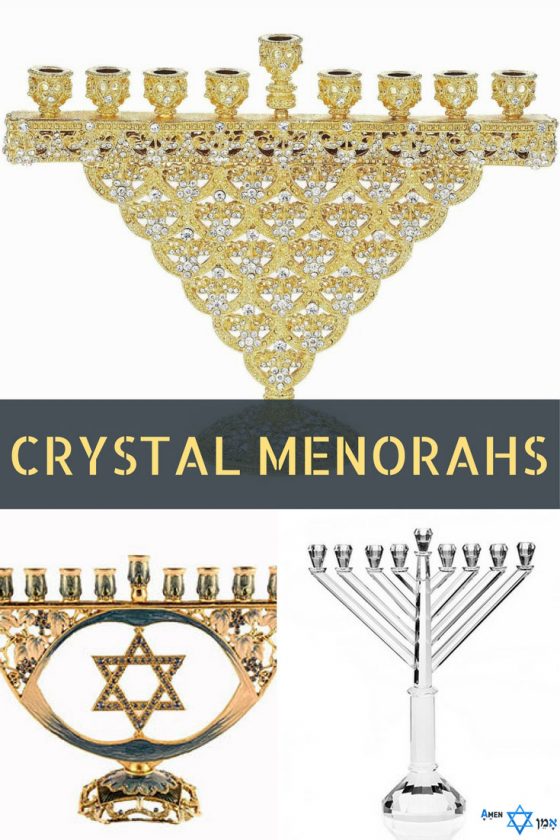 Amen V'Amen is supported by its audience. That means when you purchase something from one of our partners through one of our links, we may earn a small commission at no additional cost to you. Amen V'Amen is also an Amazon Associate, so we may earn a commission from qualifying purchases. Thank you for your support!
Lighting your Menorah on Hanukkah is always a special moment…
…The entire family gathers around the Menorah.
…You light the Shamash and the other candles.
…You recite the candles and "Shehecheyanu" blessings.
Sounds great, right?
Now imagine adding a crystal Menorah to the mix… Now that'll elevate the candle lighting to a whole new level – a shiny level.
If you like the sound of that, then keep reading… because this guide will help you turn it into a reality!
Top Crystal Menorahs
TLDR; These are our favorite, award-winning crystal Menorahs…
Top Pick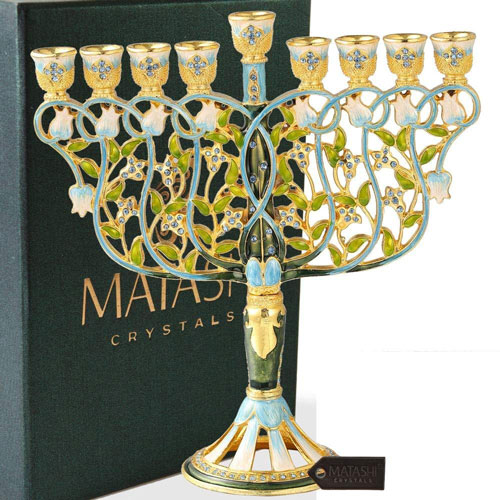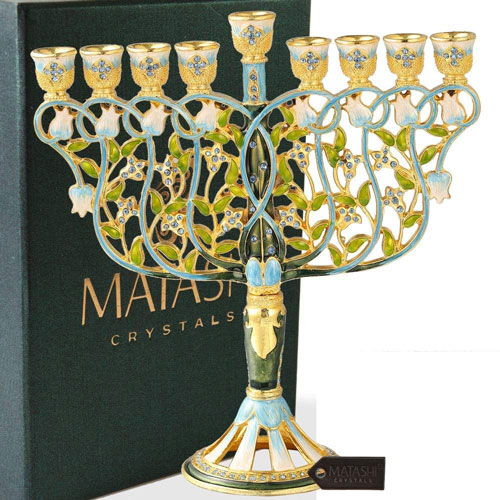 Normally, when you light the Hanukkah Menorah – people stare at the glaring Menorah lights (sometimes for hours… or is it just me?)
In this case, it's the opposite. When you light Matashi's fascinating crystal Menorah – you'll realize that it's not the lights people are staring at… it's the Menorah itself they're captivated by.
In fact, even you don't light the Menorah… even if it's just sitting there in your living room – you'll notice people's eyes are immediately drawn to it.
That's what's so unique about Matashi's Menorah. They manage to capture your attention with their remarkable craftsmanship – the moment you step into the room.
Tip: Needless to say, Matashi's stunning crystal Menorah would make a terrific gift for many other occasions besides Hanukkah:
Just to name a few.
Our Rating:
You Will Also Like: The most luxurious gold Menorahs for Hanukkah.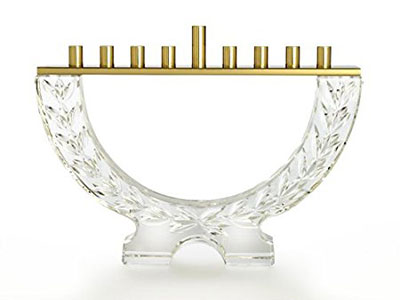 Waterford's crystal Hanukkah Menorah was originally designed in Eastern Europe. The luxurious blend of crystal and gold tones (the candle holders) is a classic European signature, filled with class and elegance.
And that's exactly what this Menorah is – an elegant and timeless piece that can last you for decades, and which you can pass on to your future generations.
Perfect if you're looking to decorate your house with a classy Jewish piece that will shine on for many MANY years to come… and ultimately passed on to your future generations.
A classy, elegant, timeless crystal Menorah with a rich blend of crystal and gold – designed in Eastern Europe.
Tip: This Menorah is definitely not for everyone, and I surely don't recommend using it as your primary Menorah. Rather, this Menorah is great as a luxury Hanukkah gift for someone who appreciates high-quality Jewish items… someone who will be keen to add this gorgeous Menorah to their collection (or inspire them to start one).
Our Rating: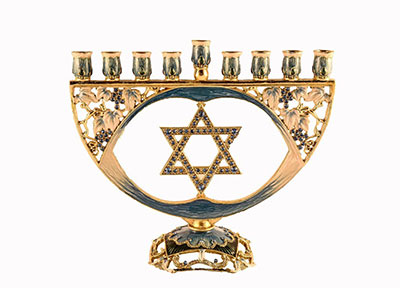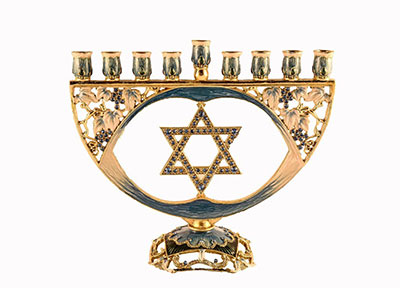 If you were looking for the ultimate symbolic Jewish Menorah – you just found it.
This breathtaking decorative Menorah includes two of the most ancient Jewish symbols:
Menorah (of course)
Star of David
Made of beautiful Swarovski crystal and hand-painted with the highest quality blue enamel over a solid pewter base – all designed to last for a VERY long time.
Let's face it – we're not always lucky enough to spend Hanukkah in Israel… but if you have this Menorah by your side every year, it will certainly make Israel seem much closer and make your Hanukkah much more enjoyable… all for a very affordable price.
Bonus: It comes packaged with a beautiful gift box, in case you're looking to surprise someone with a shiny present on Hanukkah.
Our Rating:
Our Favorite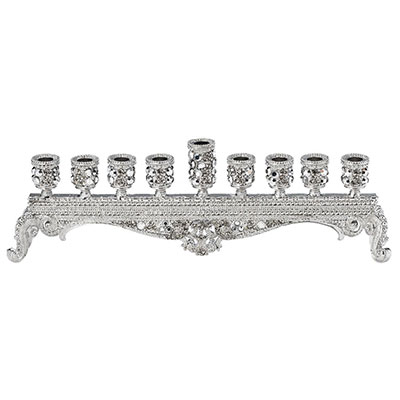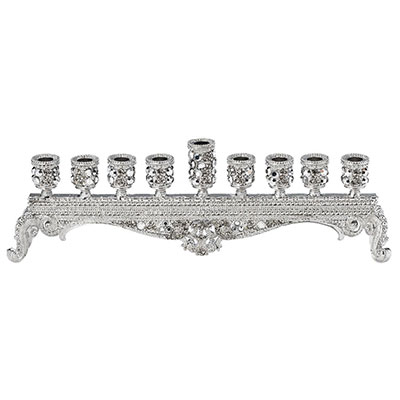 That was a lot of gold… Let's tone down the gold a little bit in favor of some silver.
Olivia Riegel is the artist behind this flashing masterpiece. Made of HUNDREDS of Swarovski crystals + pewter in silver finish.
The sparkling piece is a decorative treat that can be gifted any time of the year, for any occasion…
Tip: If you happen to read this sometime after Hanukkah, don't worry… this stunning Swarovski crystal Menorah is suitable for any occasion (or any random Saturday in the middle of November )
Our Rating: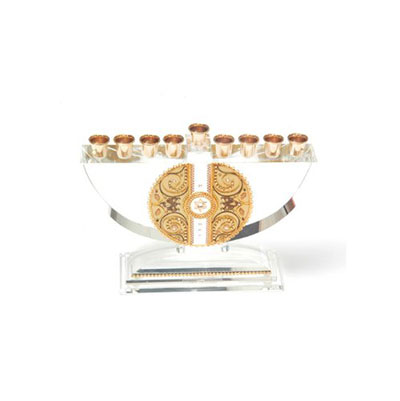 While the previous crystal Menorah was more affordable and designed for every kind of Jewish household – this Menorah is the complete opposite.
Designed by the famous Israeli artist, Ester Shahaf, this original design is a premium crystal Hanukkah Menorah made for people with a certain taste.
The traditional Menorah features a traditional design with a precisely curved body and a dome-shaped base. It's decorated with a large gold-colored circle in the middle, including a cute little gold Star of David in the center – surrounded by Swarovski crystals and scrolling lines.
Definitely not recommended for everyone… This piece is mostly for people who are willing to invest a top dollar on an unparalleled premium crystal Menorah, or as a luxury wedding gift for close relatives.
Our Rating:
Most Unique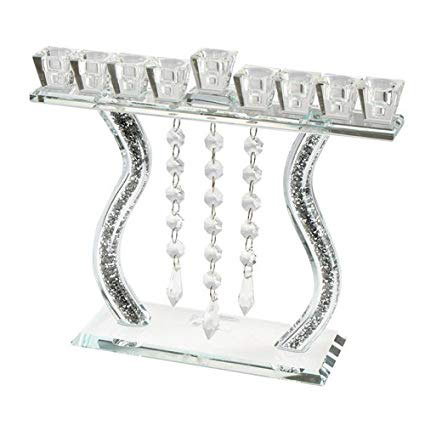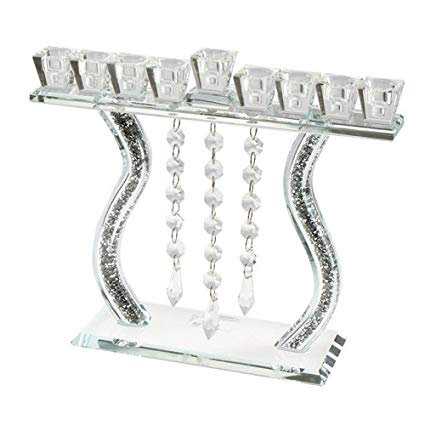 Designed after King David's famous harp and made from crystal (both the harp strings and the candle holders) with beautiful dangling stones in the center.
Did You Know? The bridge of strings in Jerusalem was designed after King David's harp.
This traditional oil Menorah is a marvelous Hanukkah centerpiece – full of with rich history and symbolism.
And when I say centerpiece – I mean that literally. It'll be the center piece of your Hanukkah celebration. It's a true eye-catcher… whether it's lit up or not (you're reading this now, aren't you?)
Even when the lights turn off and Hanukkah is over – you can continue displaying it in your living room…
All. year. long.
(and count the days till the next Hanukkah comes along).
Way to make your Hanukkah celebration more authentic!
Note: This Menorah was also chosen as one of our top oil Menorahs for Hanukkah.
Our Rating: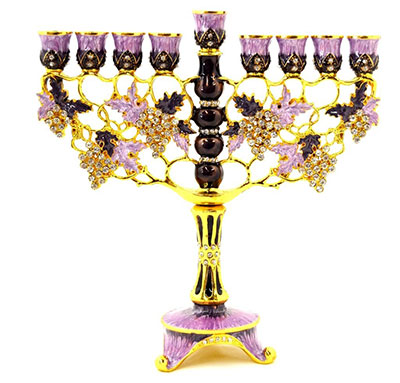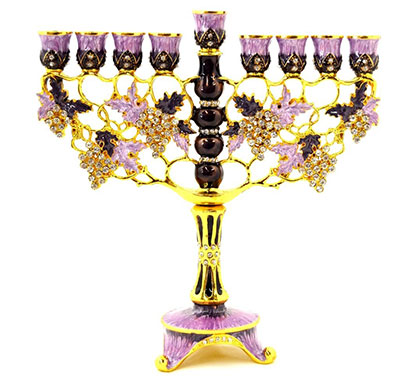 Take a good look at this gorgeous floral Menorah. Pretty amazing, isn't it?
What if I tell you that the image doesn't do justice with it and that it looks 10X times better in real life?
Hand-painted with the highest quality purple enamel, this fabulous Menorah is made of Swarovski crystal, with a solid pewter base and designed with a modern floral pattern – making it a great gift for a Judaica lover.
Bonus: It also comes with a beautiful gift box, all good & ready to gift it to a close friend or relative on Hanukkah.
Great for a Judaica collector or Wannabe collector – which will motivate them to finally start their collection with this beautiful Menorah.
A beautiful collectible floral Menorah, hand painted and made of Swarovski Crystal – great as a Hanukkah gift.
Our Rating:
Another classy & elegant crystal-filled Menorah.
This one is interesting: it has a simplistic, yet sophisticated design.
The design doesn't stand out too much (at least compared to some of the other crystal Hanukkah Menorahs we've seen), making you focus more on the Hanukkah candles, and less so on the Menorah itself.
Maybe not everyone's favorite choice, but I kind of like the modest, "flying below the radar" design of this Menorah.
Our Rating:
Most Luxurious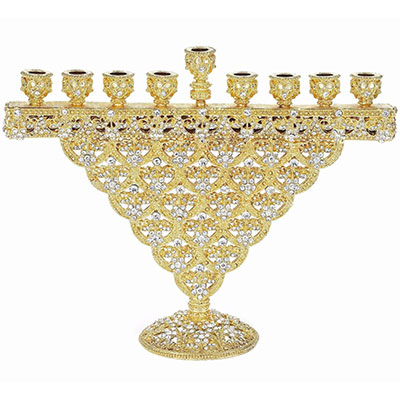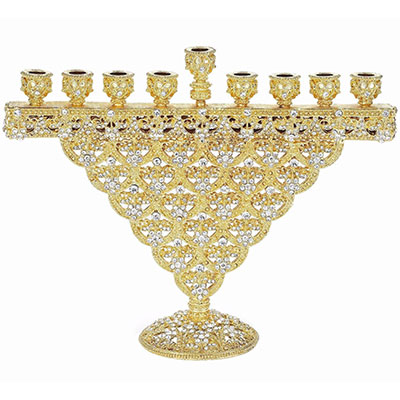 We're finishing strong with the most luxurious crystal Hanukkah Menorah you'll find on here.
Olivia Riegel's gold & Austrian crystal Sinclair Menorah definitely stands out in the room… Heck, it steals the show.
This isn't your run-of-the-mill Menorah, nor should you treat it as such (let's just say it doesn't need the candles to shine a bright light). While it is technically a Hanukkah Menorah, this amazing artifact is meant to be displayed for 365 days, not just the 8 days of Hanukkah.
…You shouldn't get this crystal-filled Menorah if you're just looking to use it to light the candles during the festival of lights.
…You DEFINITELY should get it you're planning to get this as a holiday gift… a keepsake that will be showcased and publically presented for many years.
Our Rating:
Final Verdict
Let's have another look at our award-winning crystal Menorahs:
Top Pick: Matashi Hand Painted Menorah with Gold Accents & Crystals
The top crystal Menorah for Hanukkah 2023 is, without a doubt, Matashi.
Their remarkable craftsmanship, the excellent use of colors, their artistic taste, the price. Everything just (gently) screams "Pick Me". So we did…
Our Favorite: Olivia Riegel Cast Pewter & Swarovski Crystals Menorah
Olivia Riegel truly shines when it comes to crystal Menorahs (pun intended) – she has not 1, but 2 (!) award-winning Menorahs. There aren't many artists who can incorporate hundreds of Swarovski crystals into a Hanukkah Menorah so flawlessly – and still manage to keep the price reasonably low. Olivia did, and we commend her with an award!
Most Unique: Crystal + Silver Harp Shaped Oil Menorah with Dangling Stones
David is my favorite biblical figure, so it's no wonder I'm hypnotized by this amazing Menorah. This Hanukkah Menorah reeks symbolism, making it a very natural (and compelling) fit for Hanukkah. This is by far the most special Hanukkah Menorah on this list – a worthy award-winner indeed.
Most Luxurious: Olivia Riegel Gold Crystal Sinclair Menorah
When it comes to luxury – Olivia Riegel's gold crystal Sinclair Menorah is light years ahead of any other crystal Menorah on this list. If you're looking for a dazzling one-of-a-kind Hanukkah gift, this one is a home run.
Blowing the Candles
Hanukkah is the festival of lights.
Problem is – it's only 8 days long.
Luckily – these beautiful crystal Menorahs guarantee that you'll have a shiny "welcome home" during the other 357 days of the year… without lighting a single candle.
Wishing you a happy & sparkling Hanukkah!