15 Modern Silver & Sterling Silver Menorahs for a Shiny Hanukkah (2022)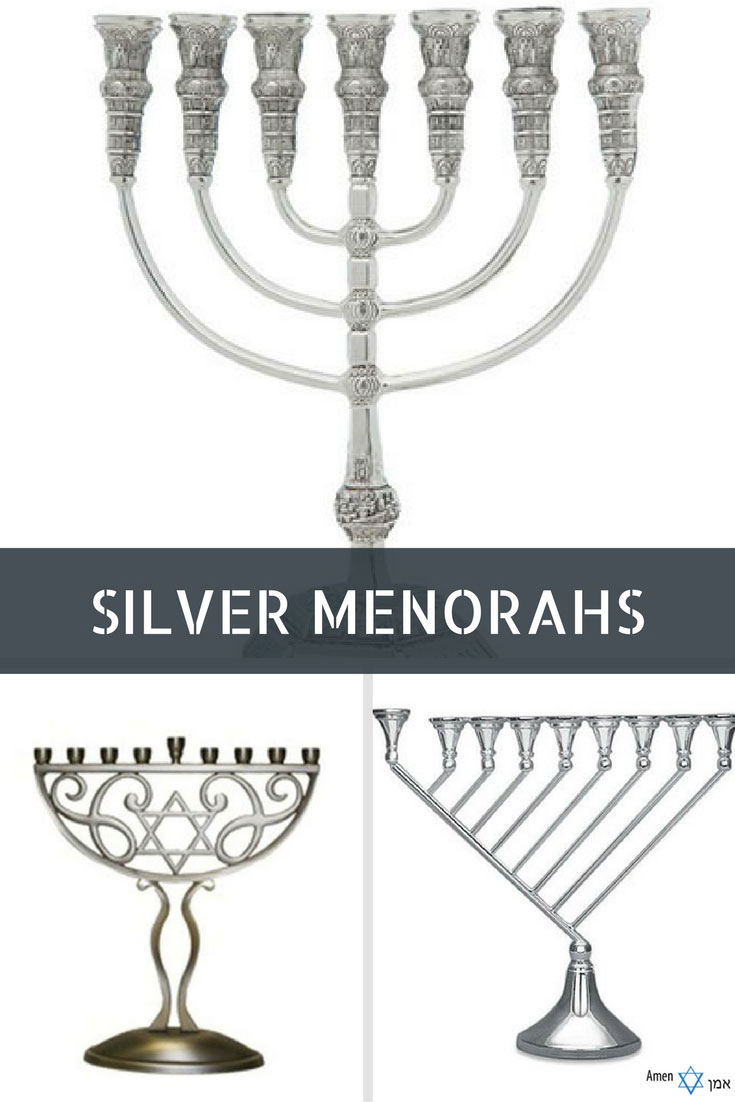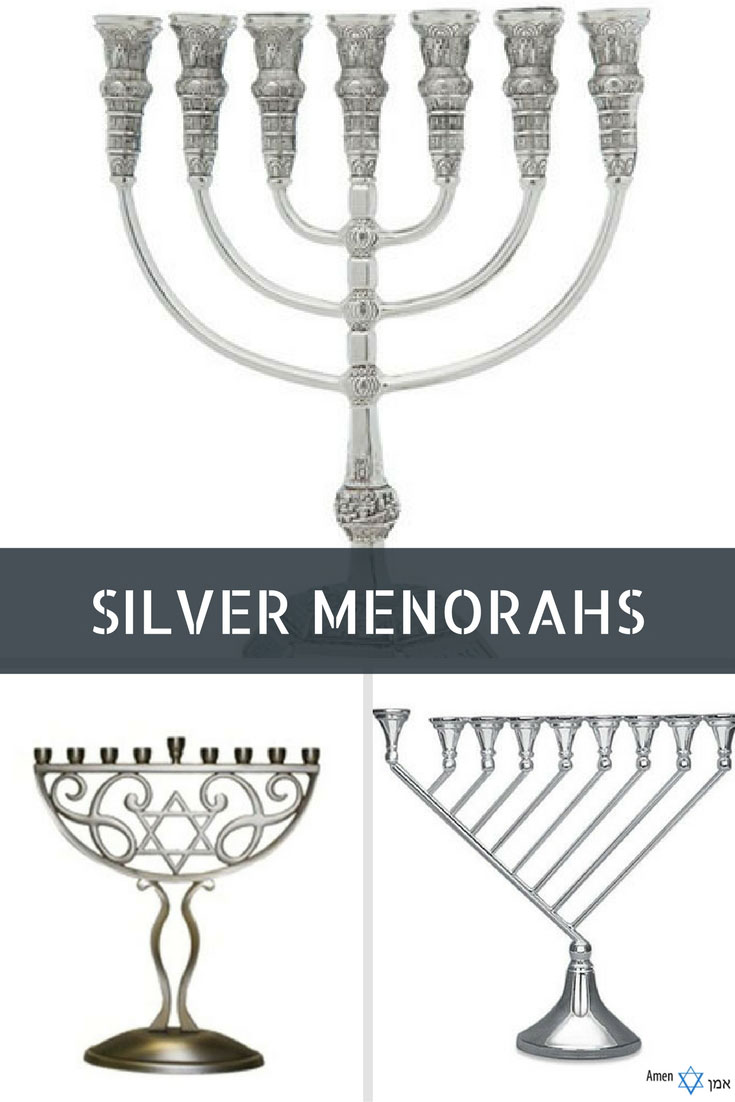 Amen V'Amen is supported by its audience. That means when you purchase something from one of our partners through one of our links, we may earn a small commission at no additional cost to you. Amen V'Amen is also an Amazon Associate, so we may earn a commission from qualifying purchases. Thank you for your support!
What's the most exciting part about Hanukkah?
Some might say the Hanukkah gifts.
Others might say eating (or cooking) delicious Hanukkah donuts.
But most people say: lighting the Hanukkah candles.
There's nothing like taking out your beautiful Menorah and saying the Hanukkah candle blessings for the first time…
You know what makes it even more special? Lighting a gorgeous, silver Hanukkah Menorah that shines all across the room!
Top Silver Menorahs
There are a lot of great silver Menorah on this list. But there a few that clearly stand out from the rest… So we gave them awards!
I'm proud to present: Our award-winning silver Hanukkah Menorahs:
Modern Silver Menorahs
Traditional silver Menorahs are nice…
The problem?
They're not particularly exciting… If you've seen one, you've seen em' all.
Luckily, there's no shortage of talented Jewish and Israeli artists that thought the same thing, who decided to set things straight and turn the traditional-looking silver Menorah into a contemporary masterpiece.
The result?
Put on your goggles… because you're about to enter a Hanukkah-inspired art exhibit made of silver!
Top Modern Menorah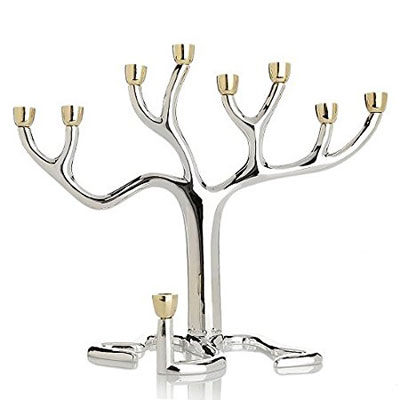 If you've been following my website for the past few years, you probably know that I'm a sucker for modern designs that combine traditional Jewish symbols…It's just a fascinating combination.
In this case – it's not just any Jewish symbol… The Tree of Life is arguably the most ancient and most important symbol in Jewish history.
… The symbol that the Kabbalah describes as the foundation of life.
… The symbol that Abraham the Patriarch talks about in Sefer Yetzirah – the earliest book in Jewish history (believed to be written by Abraham himself).
It's no surprise then why this gorgeous silver-plated Menorah is at the top of the list, and our "Top Silver Menorah" award-winner.
Without a doubt – one of the most unique Hanukkah gifts and a fabulous way to celebrate the festival of lights.
A fully silver-plated Menorah tends to also increase the price.
Well, if you prefer eating the cake and leaving it whole, then this cute nickel-hammered Menorah will allow you to do just that… keeping your money in the bank while bringing a cool (but warm) Hanukkah spirit to your home.
Beautifully made, with a very compelling price – proof that you don't have to break the bank to get new, stunning Menorah candle holders.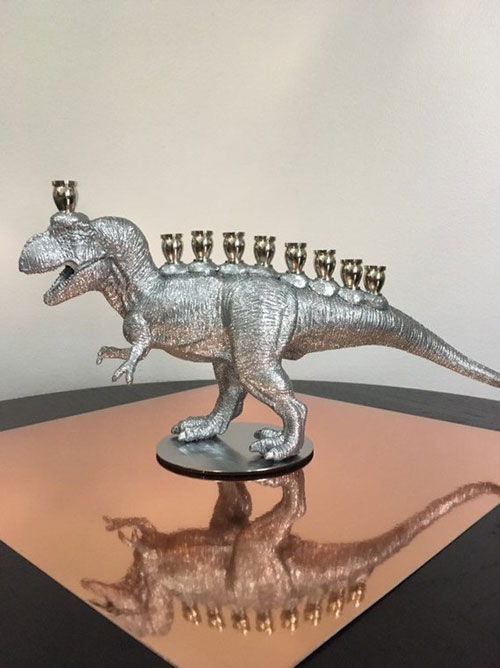 Who said dinosaurs were extinct?
Well, this Hanukkah they're coming back to life light!
This Menorasaurus Rex (props to Lisa, the designer, for the awesome name!) is one helluva way to celebrate Hanukkah.
Not only do you get to light up a Menorah – but you also get to light up the faces of your loved ones with joy!
Your kids get to go to school the next day and tell everyone: "We lit up a dinosaur yesterday! Check out the cool pics!"
That… is a Hanukkah miracle!
Note: Technically it's made of metal and covered in a silver glitter finish. But who cares? I think it deserves a place in this section, don't you think?
Traditional Silver Menorahs
Did you know that the original Menorah (where the famous miracle of the oil occurred) only had 7 branches?
Yet, we celebrate Hanukkah with a 9 branch Chanukiah to symbolize the miracle of the oil that lasted for 8 days (plus an extra candle for the Shamash)
That's why many Jewish people choose to get a traditional silver Menorah with 7 branches as a decorative piece, as well as a 9 branch Menorah to actually light the Hanukkah candles.
You know about, how about I show you the best of both!
Top Traditional Silver Menorah
If I told you to close your eyes and picture a traditional silver-plated Hanukkah Menorah (a silver Chanukiah) – odds are it would look something like this.
Not only is it a traditional silver Menorah – but it's also made in Jerusalem… that's pretty traditional, yes?
Just because you can't light a Hanukkah Menorah in Jerusalem this year – doesn't mean you can't light a Menorah that was designed in Jerusalem.
Tip: Just like the previous silver-plated Menorah, you can use oil cups to light it.
Bonus: It even comes with a Hanukkah blessing pamphlet that includes the prayers you need to recite over the candles (as well as Maoz Tzur in Hebrew & English)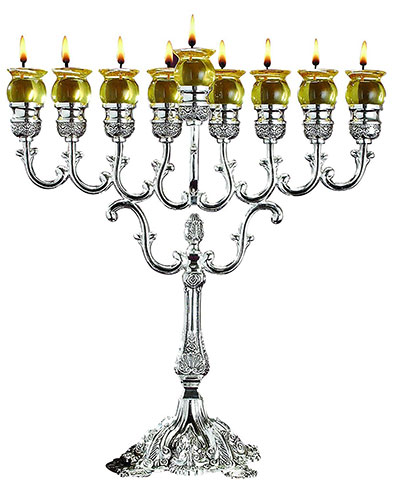 If you really want to re-live the Hanukkah miracle, then forget about lighting Hanukkah candles… After all, it's called "the miracle of the oil", not "the miracle of the candles".
With a fully silver-plated design and a royal look, you get to experience lighting a tremendous Menorah for an incredibly affordable price.
Note: Made by Ner Mitzvah – one of the top Hanukkah oil burning candelabra providers out there.
Suitable for both your own Hanukkah ceremony centerpiece or as a gift for someone you love.
Tip: You can also use Hanukkah candles if you prefer.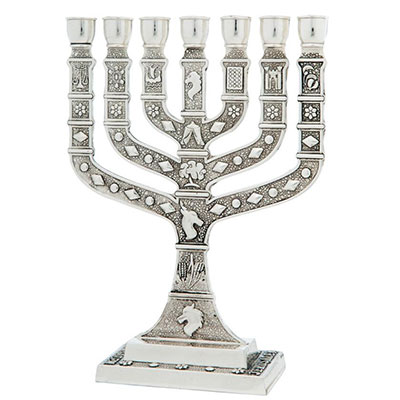 Time for a 7-branch silver Menorah… After all, this is the TRUE meaning of a traditional Hanukkah Menorahs – a Menorah designed in remembrance of the original golden Menorah from the Jewish holy temple in Jerusalem.
Add that to the symbols of the twelve tribes of Israel, and you get a big (center)piece of Jewish history shining in your home all year round (for a ridiculously low price).
Important: This doesn't qualify as a Chanukiah, which requires 9 branches. If you're looking for a Menorah strictly for Hanukkah – go with one of the other options on this list.
You May Also Like: Shiny gold & brass Menorahs – designed after the holy temple's original golden Menorah.
Sterling Silver Menorahs
Sterling silver Menorahs represent one thing: luxury.
It's one thing to just have a Menorah you dust off once a year, VS having a fascinating Menorah you can proudly display for the rest of the 357 days of the year.
And that's exactly what these spectacular Menorahs were made for – to upgrade your living room and turn it into a luxurious, welcoming Jewish living room.
Top Sterling Silver Menorah
Hazorfim is the undisputed leader when it comes to sterling silver Judaica…
So it's only appropriate to reign one of their most popular sterling silver Menorahs as the "Top Sterling Silver Menorah" award winner.
And what a worthy winner it is.
Classy, elegant, and absolutely gorgeous…
When it comes to quality – there's nothing that comes remotely close to Hazorfim.
(There's a reason why so many people choose Hazorfim when they buy a Jewish wedding gift).
Hint: There's more from Hazorfim coming up…

Nadav Art is known for crafting some of the most remarkable silver Judaica artworks from their studio in Jerusalem, and of course, their sterling silver Hanukkah Menorahs stand out way up there… like a Shamash.
Don't let the "classic" part of the title fool you. Nadav Art's sterling silver Menorah is NOT something you light up for 8 days and then let it collect dust in the closet for the whole year.
After Hanukkah is over, you better clean up the remainders of the candle wax (or oil cups), polish it a little – and display it in your living room (or anywhere else you like) – otherwise you're robbing yourself of the bright & shining beauty this wonderful Menorah can project.
Bonus: Plus, it comes with a nice little laminated Hanukkah blessings booklet (in both English and Hebrew) – so you can recite the candles blessings and sing the Hanukkah songs with your beautiful voice.

Hazorfim returns! (hardly a Hollywood blockbuster film title)
Hazorfim is one of the most popular silver Judaica designers in the world, so don't be surprised how come they dominate the sterling silver Menorah section.
Their Bareket Hanukkah Menorah is a very good example of their premium quality and elegant design.
Very delicately crafted (in Israel) with an eye-catching design, just as a marvelous sterling silver oil Menorah should be.
A lovely way to celebrate your Hanukkah, and even better as a gift to bring some glamour to someone else's festival of lights.
Tip: You can use both oil lamps or candles to light this sterling silver Chanukiah.
Hazorfim… the trilogy!
This time with quite an unusual design for you troublemakers out there.
The unique harp-like design has a strong Jewish association with King David's famous instrument, giving it a nice authentic feeling.
And needless to say – it's incredibly glamorous and bright, just as you'd expect from one of the Jewish silver designers in the world.
Tip: You can explore Hazorfim's full sterling silver Menorah collection here.
Pewter Menorahs
Surprised to see pewter Menorahs in an article about silver Menorahs?
Well, even though pewter is not 100% silver, it's great if you're looking for a cheaper silver-like alternative without having to drill a hole in your wallet.
If you choose correctly, pewter can be just as pretty as silver, and just as durable (if not more) – making it a great option if you're looking for a combination of a good-looking & cheap Menorah.
Tip: Not to mention if you're a pewter Judaica collector – you're about to enter pewter paradise.
Top Pewter Menorah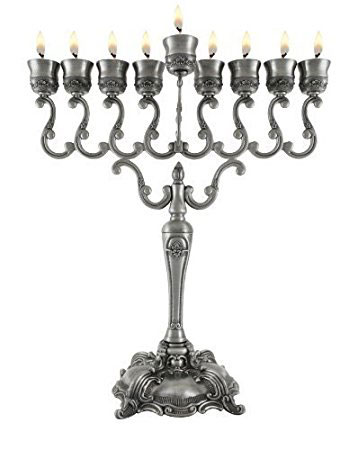 If you ask me, it's much more exciting to light an oil Menorah as opposed to lighting Hanukkah candles. Especially if you have kids – they'll get a chance to witness a real oil Menorah light up – and re-live the miracle all over again!
Let's do a little thought experiment:
The entire family gathers around the oil Menorah
You turn off the lights in the room.
You recite the Hanukkah candle blessings
Finally, you light the Chanukiah (either oil or candles)
Now take a step back and witness the gorgeous oil candelabra light up in the dark.
Feels kind of good, doesn't it?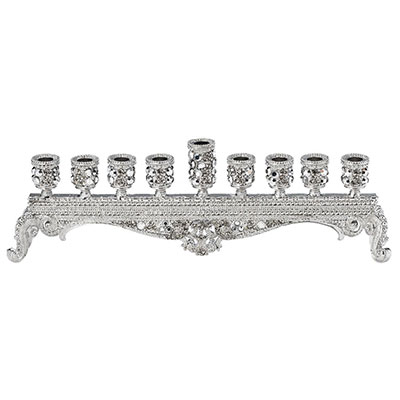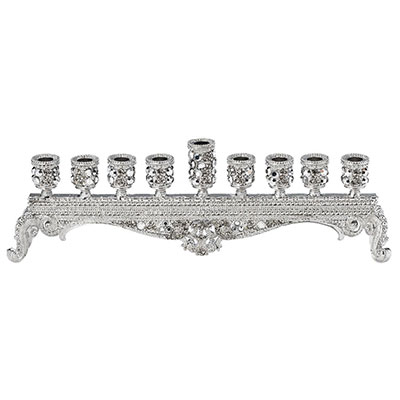 I know I know, this isn't exactly your typical pewter Menorah that anyone can (or should) afford, but I couldn't help it… It's just too good to leave it out.
Olivia Riegel is the artist behind this flashing masterpiece. Made of HUNDREDS of Swarovski crystals + pewter in silver finish.
And if you happen to read this sometime after Hanukkah, then don't be afraid to gift this during any time of the year, especially if it's a special occasion.
Note: There's a reason why this was also chosen as one of our top crystal Menorahs for any occasion.
Antique & Vintage Silver Menorahs
This section is for you antique collectors (our wannabe collectors) out there.
If you're looking to add a shiny new vintage addition to your antique collection – boy are you going to appreciate these fabulous antique silver & sterling silver Menorahs.
Top Antique Menorah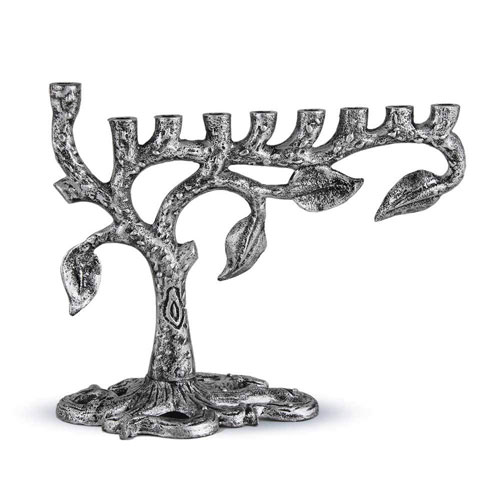 We started off this section with the most expensive sterling silver antique Menorah. How about we finish off with the most affordable one?
And the good news: you don't have to belong to the Rothchild family to be able to afford it.
Note: The reason it's so inexpensive is that its made of cast iron with an antique silver finish – excellent for price-conscious antique buyers.
For a really cheap price, you can add a nice Kabbalistic touch to this year's Hanukkah by lighting a Tree of Life Hanukkah.
And it's really attractive, too (don't let the image fool you, it looks MUCH better in real life). So attractive, you'd probably want to keep it out for the rest of the year instead of letting it collect dust in the closet all year long.
Thankfully, normal people like you and I can afford dozens of these and have our own little forest of Tree of Life trees.
Conclusion
Lighting a Hanukkah Menorah is always an emotional experience.
The family gathers around, you say the Hanukkah blessings, sing a little Maoz Tzur and watch the candles light up the room.
Having a beautiful Hanukkah Menorah elevates that experience to much higher levels…
That's where silver Menorahs stand out (literally), and exactly why they're so popular in many Jewish homes.
I hope I helped you find a lovely silver Hanukkah Menorah that will make your Hanukkah a real festival of lights.
Which of these Menorahs did you like the most?