20+ Best Bat Mitzvah Gift Ideas for a 12-13 Year Old Girl (2020)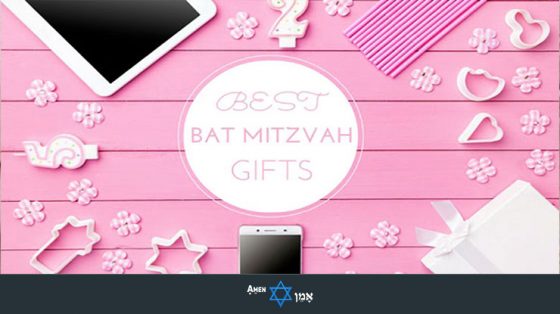 Can you believe the little girl is celebrating her Bat Mitzvah?
Time sure flies, doesn't it?
Tell me about it…
I remember my Bat Mitzvah as if it were yesterday (we're talking almost 17 years ago… yikes!).
… The party (especially my awkward dance)
… The trip I took to Israel that summer
… The gifts I got for my Bat Mitzvah (the special ones, anyway)
Noticed how I highlighted the "gifts" part?That's because today's topic is… Bat Mitzvah gifts!
More specifically…
"What's an appropriate gift for a Bat Mitzvah?"
"What are the absolute best Bat Mitzvah gift ideas that SHE will remember 17 years from now?"
"How do you avoid choosing yet-another-average present she'll never actually use?"
Forget about those cliche presents most guests will bring (c'mon, you know it's true).
I want you to feel proud when you hand over your present.
I want you to witness her big, authentic smile when she opens her Bat Mitzvah present (or at least get an exciting phone call the next day).
THAT'S exactly the type of gifts I'm about to show you in this Bat Mitzvah gift guide…
Top Bat Mitzvah Gifts
There are two types of Bat Mitzvah gifts:
Gifts
Money
Money is considered a "neutral" gift.
If you barely know the Bat Mitzvah, or you just want to "get her something and get it over with" – then sure… money in multiples of $18 (the number 18 is a symbol for "Chai" – life in Hebrew) will do just fine.
Tip: Another notable exception is if you're attending a Bat Mitzvah in Israel. In that case – money in multiples of $18 is the only way to go.
But in most cases, you'd want to get the girl a gift.
A girl's Bat Mitzvah is one of the biggest moments of her life.
When you get her a Bat Mitzvah gift – you get a unique opportunity to get her something special she'll actually appreciate… and hopefully remember for a very long time.
But most importantly: it shows that you truly care.
You simply can't do that with money (unless you write her an enormous check or pay her way through college).
(Spoiler Alert) Here's what I mean by unique Bat Mitzvah gifts:
Bat Mitzvah Jewelry
Sure, every girl appreciates a nice piece of Jewelry for her birthday.
But this isn't a regular birthday. It's her Bat Mitzvah we're talking about here…
For a Bat Mitzvah? "Nice" doesn't really cut it.
For a Bat Mitzvah – aim for meaningful.
Lucky for you (I mean, the girl) – there's no shortage of meaningful Bat Mitzvah Jewelry gifts.
Here are some of my favorites…
Top Jewelry Gift
Why choose between Jewelry and a traditional Jewish gift, when you can have both at the same time?
The Tree of Life is one of the most ancient symbols in Jewish tradition.
In the Kabbalah, the Tree of Life is a symbol of God's divine creation of the world – made up of 10 interconnected spheres (called Sefirot).
It's a symbol of responsibility, maturity, and spiritual elevation.
Sounds like a pretty accurate description of what the Bat Mitzvah (the Jewish coming of age) represents in Judaism, doesn't it?
Yep… The Tree of Life and the Jewish coming of age go hand and hand.
It's no wonder why Tree of Life Jewelry gifts are such a common choice for a Bat Mitzvah girl.
Particularly when we're talking about a hand-crafted, 10K gold Tree of Life necklace. That's what transforms this gift from a merely appropriate gift ⇒ to an epic gift.
Question: What happens when you combine the following elements:
14K yellow gold Star of David necklace
Blue-green Swarovski crystal
The Shema Yisrael prayer inscribed in 24K gold
The answer: you get a stunning Bat Mitzvah necklace for the ages.
Tip: Not to mention if the Bat Mitzvah chose a Mitzvah project related to Jewish prayer.
Rarely do you get two iconic Jewish elements (Star of David + Shema) in one piece of Jewelry… let alone when it's inscribed in 24K gold on a vivid Swarovski crystal.
A brilliant piece of Jewish Jewelry any Jewish woman will be lucky to wear (guess who qualifies as a young Jewish woman?).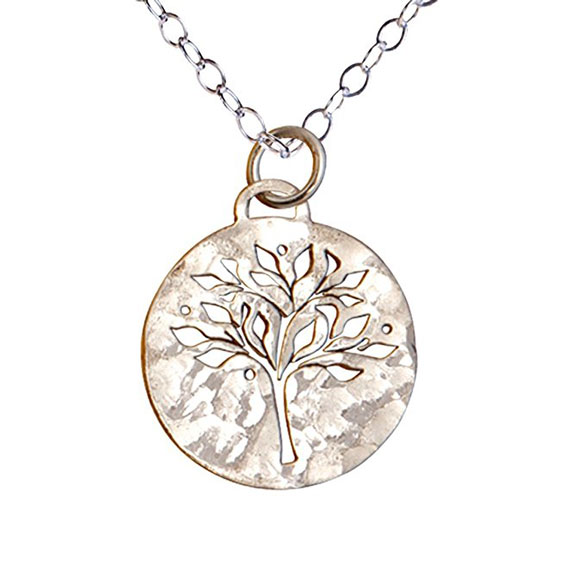 Like the idea of getting her a Tree of Life necklace, but can't afford a 10K gold pendant?
Good news… There's a plan B, and it's beautiful (and affordable, too)!
This sterling silver Tree of Life necklace was almost "designed for a Bat Mitzvah gift". Well, it is hand-crafted by an incredibly talented Jewish designer, so no wonder…
Plus, it's 100% eco-friendly, made of recycled sterling silver, so you get to preserve the environment while you're at it!
Blessing 1: "Here's a heart from the bottom of my heart"…
Blessing 2: "Many daughters have achieved greatness, but you have surpassed them all".
If the 2nd blessing sounds more familiar (and better) than the first one – its because it is.
I wrote the first one out of thin air.
King Solomon wrote the second one (Eishet Chayil) to honor the Jewish woman.
(And let me tell you… I'm no King Solomon)
As you might expect – the blessing written by the wisest man who ever lived is WAY more inspiring than my corny one…
So inspiring – that it's engraved on this magnificent sterling silver heart necklace.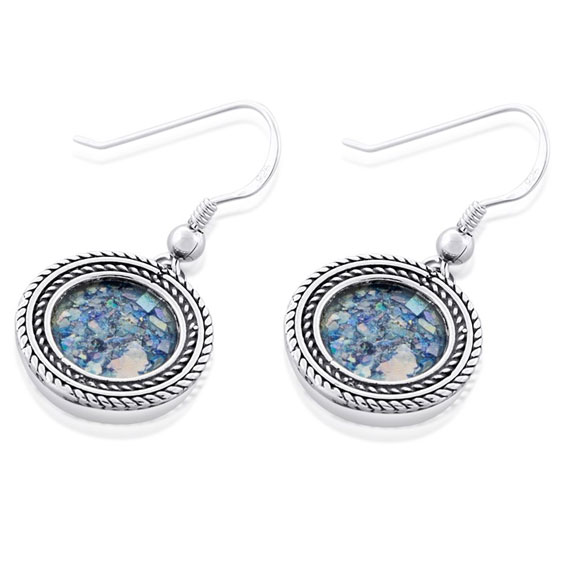 We had necklaces… We had bracelets. We had rings…
Did I leave any piece of Jewelry out?
Oh! Earrings! That's right!
But why these earrings?
I'm a sucker for Roman glass Jewelry. It has such a rich history behind it in Israel. Did you know that Israel was one of the largest producers of Roman glass in the ancient Roman empire? How crazy is that? Besides, they're so incredibly captivating… I could stare at them forever.
These earrings are designed by Rafael Jewelry. It reminded me of "our" Rafael – the founder of Amen V'Amen.
So yeah… my opinion is biased.
But I think I made the right choice 🙂
Wouldn't you agree?
Ever heard the saying: "Put your money where your mouth is?"
Well, apparently lots of folks have done just that with this bestselling crystal-clear Star of David necklace.
Made of a sparkling blue Swarovski crystal and wrapped by a gold-filled Star of David… not exactly the type of pendant you see every day, am-I-right?
A remarkable gem of a necklace any Bat Mitzvah would go crazy for.
Tip: For more Jewelry ideas – check out these unique Bat Mitzvah Jewelry gifts. In there you'll find anything from necklaces, bracelets, rings, earrings and more surprises (I don't want to spoil it)…
Traditional Bat Mitzvah Gifts (Judaica)
With all due respect to Jewish Jewelry, the whole point of a Bat Mitzvah is to start fulfilling Jewish commandments.
Here's the thing… you can help the Bat Mitzvah fulfill those commandments with traditional Bat Mitzvah Judaica gifts.
That way you're contributing to her Mitzvot (which is a Mitzvah in of itself).
Everybody wins!
Top Traditional Gift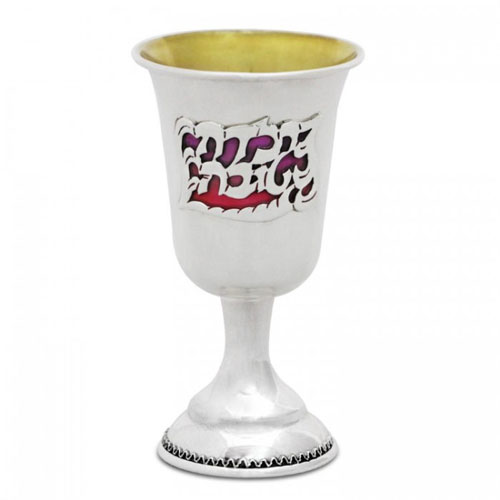 Make no mistake… just because a Bat Mitzvah means the young girl is now considered a Jewish "adult", doesn't mean she can start drinking alcohol to "wind down after a hard day in class".
That comes later in life.
But Kiddush?
That's a commandment she'll start practicing today (well, technically during Shabbat and Jewish holidays… but you get my point).
And you can help her get the ball rolling with her very own luxurious sterling silver Kiddush cup.
Imagine a lifetime of Kiddush blessings… every sip of Kiddush wine she takes from now on is largely thanks to you.
How great is that?
L'chayim!
Note: In case you were wondering – this Kiddush cup was virtually made for a Bat Mitzvah gift (the "Good Girl" written in Hebrew kind of gives that away) by Nadav Art – one of Israel's finest Judaica studios from Jerusalem.
Before she takes a sip from the Kiddush wine – she first needs to welcome the Sabbath in the first place.
Did You Know? The Mitzvah of Shabbat candles is the first commandment out of 3 that is exclusive only to Jewish women after the coming of age. (hint: the 2nd one is coming up next)
Guess what? You get to contribute to that Mitzvah as well (and in style)!
How?
With these lovely painted glass Shabbat candlesticks, designed by the talented Israeli glass artist Lily Shochat (from Lily Art).
Lily combined several traditional Jewish symbols in her candle holders:
Pomegranates
The blue colors of Israel
The words "Shabbat Kodesh" (Holy Sabbath) in Hebrew
Flowers (OK, they're not exactly Jewish… but they're so pretty!)
Just like with the Kiddush cup – you'll be the "unofficial sponsor" of every Shabbat candle blessing the Bat Mitzvah recites in her lifetime.
And she's young… she has till age 120 to live ("Ad 120!").
Tip: Ask the parents what the girl is planning for her Mitzvah project. If it's something related to Shabbat candles – that's another excellent reason to get her these Shabbat candle holders.
Did you figure out what the 2nd exclusive Jewish commandment for women is?
Well, since you're looking at a Challah board, there isn't much of a mystery to unfold anymore.
That's right, the answer is: kneading Challah!
When Shabbat comes in…
You light the Shabbat candles
You make Kiddush and sip from the Kiddush cup.
You bless for Hamotzi and serve the Challah on the Challah board
Which Challah board?
Remember Lily Art…?
(Hint: go back to the previous Shabbat candlesticks I mentioned earlier)
She's back! And this time with a vengeance matching Challah board!
Lily's unique stainless steel Challah board has an artistic pomegranate theme (sound familiar?), decorated with her signature glass design similar to the candlesticks you saw earlier.
Together with Lily Art (got to give credit where credit is due), you get to provide the Bat Mitzvah a stylish duet of Shabbat blessings.
Tip: If the Bat Mitzvah belongs to a conservative or reform community, then a Bat Mitzvah Tallit is also a terrific gift.
Personalized Bat Mitzvah Gifts
Pop Quiz: how do you get the Bat Mitzvah a "personal" gift?
The (obvious) answer: Um, you personalize it.
Believe me… if you personalize her Bat Mitzvah gift – you'll be one of the few people who went the extra mile to show her how much you care.
And it's those types of gifts that continue to live on in her memories – long after the Bat Mitzvah party is over…
Top Personalized Gift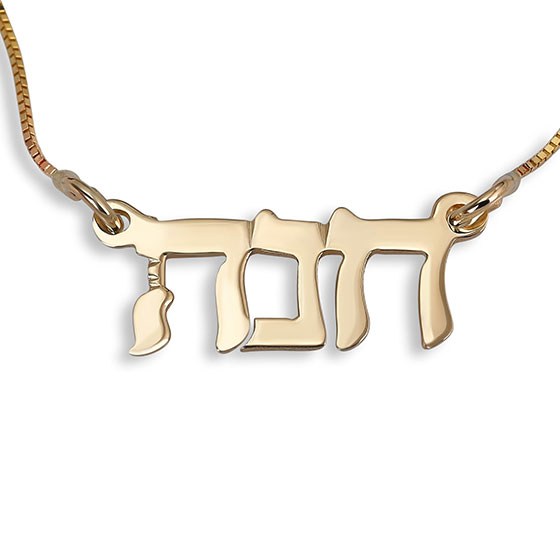 The Bat Mitzvah's name, in Hebrew, made from 14K yellow gold?
Do I need to say more?
Personalized name necklaces are typical Bat Mitzvah gifts that girls absolutely LOVE. In fact, chances are she'll receive at least one for her Bat Mitzvah.
But I can virtually guarantee – none of them will even be remotely close to this one.
Beautiful? Yep ✅
Quality? It's 14K gold, so double Yep … ✅
Memorable? You bet ✅
Hand-crafted in Jerusalem (that's a statement, not a question) ✅
Let me put it more bluntly: this personalized necklace will dwarf any other customized necklace she'll (likely) get for her Bat Mitzvah. Heck, it'll beat 99% of gifts she's going to get (what's the other 1%? keep reading 🙂 ).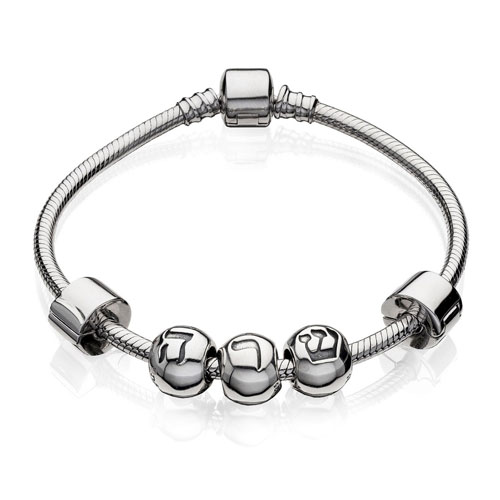 We already had a personalized necklace, now it's time for a personalized bracelet.
This beautiful contemporary piece of jewelry can be personalized with the Bat Mitzvah's Hebrew name, each letter on a separate 1 cm sterling silver disk, carefully written & handcrafted in a unique Torah-style script.
The good news is that while many folks buy personalized Bat Mitzvah necklaces, hardly anyone buys personalized Bat Mitzvah bracelets.
And just like they teach in business school 101: when supply = demand, beautiful things happen.
In other words – if you get em', she'll wear em'.
Tip: This is a particularly special if you're getting it for your granddaughter or niece (or even a young cousin).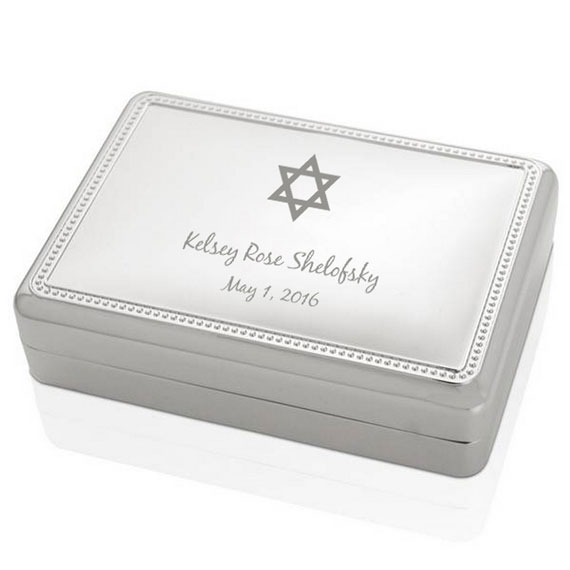 It's safe to say that after her Bat Mitzvah, the young girl will have more Jewelry than she'd ever dreamed of… The only problem is, she has no place to keep all that Jewelry safe.
Till now…
Relax. I'm not suggesting you should get her a safe box (or hire a personal security guard).
A Jewelry box will do…
But why settle for "any" Jewelry box… when you can turn the Jewelry box itself into an awesome, personalized Bat Mitzvah Jewelry box (with a Star of David and everything)!
This is the girl's Bat Mitzvah, not another kiddie's birthday party at Chuck E Cheese's.
You want her to remember your gift. And the way to do that is to go the extra mile, and show that you cared enough to personalize it just for her.
So, go ahead and:
Choose your favorite Jewelry gift from this gift guide
Personalize the jewelry box
Put your Jewelry gift inside
Imagine the look on her face when she sees one present, hidden inside another present!
Cool & Popular Bat Mitzvah Gifts
Remember: Jewish teenagers are still teenagers.
So far I've focused mostly on the Jewish part of that phrase.
Now – let's focus on the teenager part.
Question: what do adolescents LOVE?
Cool gifts
Driving their parents mad
I'll focus on the first thing… we'll let the teenagers deal with the second thing.
Hopefully, the first thing will help tone down the second thing.
Coolest Bat Mitzvah Gift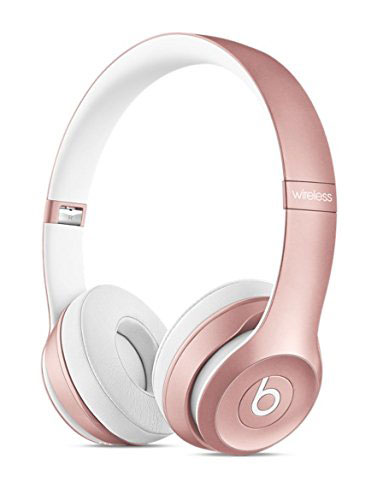 Parents complain that their teenage daughters don't listen to them.
How do you fix that?
Here's an interesting proposition: get them the best headphones on the market (Beats by Dr. Dre).
I know what you're thinking: "What tha?! Are you kidding? How is that going to help?!"
Wait! Hear me out!
If you do that, a couple of things will happen:
They'll walk around with their headphones on all the time… so they won't hear anyone (let alone listen)
They'll walk around with a fashionable pair of headphones and listen to music in style.
You're now able to set certain conditions: when the parents are talking to you – put the headphones down and listen to them.
Now – the parents have the upper hand!
If you don't listen to your parents… no headphones!
The lightbulb just went off, huh? 💡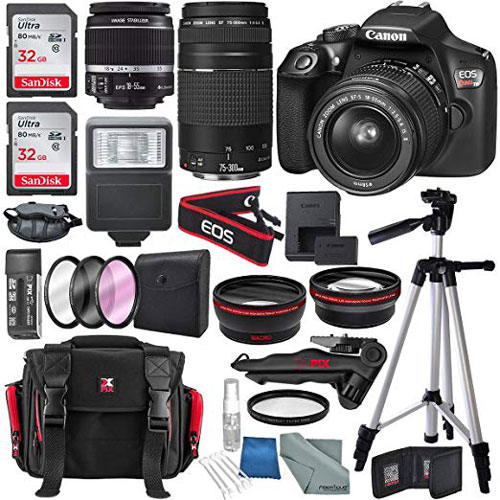 Remember Spiderman's famous saying?
"With great power, comes great responsibility."
When it comes to a Bat Mitzvah, the opposite is true:
'With great responsibility comes great power'
Click To Tweet
Selfie-time is over. It's time to grow up…
If the Bat Mitzvah girl has a love for photography – now's the time to help her get started on her journey to becoming a rockstar photographer.
This DSLR camera bundle gives her all the tools she needs to do just that.
She'll still need your support and encouragement along the way.
Because let me tell ya – it ain't easy…
It requires hard work, persistence, and sheer will to become a great photographer.
So be there to support her along the way. She'll need it.
If you do that – her world will become her Oyster!
Oyster? Oy vey, those aren't Kosher!
Scratch that… Her world will become her Falafel (much better)!
Doesn't matter if you're a Bat Mitzvah, Bar Mitzvah, baby, or alien. Bottom line? I don't know a single person who wouldn't LOVE to get an iPad as a gift.
Important: Make sure the girl's parents approve before buying one. You know how addictive these things can be (believe me, I do)
Unfortunately, we need a special occasion for someone to buy us an iPad (bummer, right?).
Lucky girl, because her special occasion is right now. And it's not just any special occasion, it's THE special occasion – her Bat Mitzvah!
And if she's a lucky Bat Mitzvah – she'll get a brand new, shiny iPad on her special day.
This special just turned into an unforgettable day!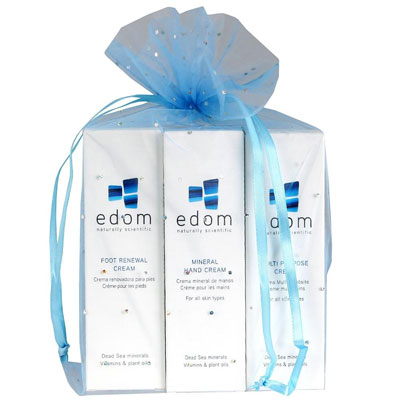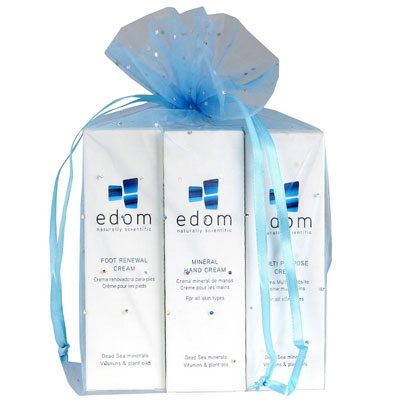 Let's face it – not every Bat Mitzvah girl gets to travel to Israel and float on the Dead Sea for her Bat Mitzvah.
Well, what if I told you that you can bring the Dead Sea to her?
OK, OK… not the actual Dead Sea. Only some of Israel's finest Dead Sea cosmetics.
Edom's best-selling Dead Sea mineral gift pack is a terrific way to spoil the young woman on her Bat Mitzvah.
It includes:
By the time her Bat Mitzvah party is over, she'll be so exhausted from all the dancing & partying… all she would want to do is relax and take a hot bath.
Thankfully, there will be a personal shipment from Israel waiting for her to help her do just that.
Recommended: Are you the parent? Don't forget to get her a gorgeous Bat Mitzvah dress!
Unique &Creative Bat Mitzvah Gifts
Creativity runs wild at the age of 12 (or 13)… You're about to nurture it and encourage it even further.
How?
With a unique, creative & meaningful Bat Mitzvah gift!
Let everyone else get her a "normal" (read: boring) gift. You? You get her an "abnormal" gift she won't forget (even if she tries really hard).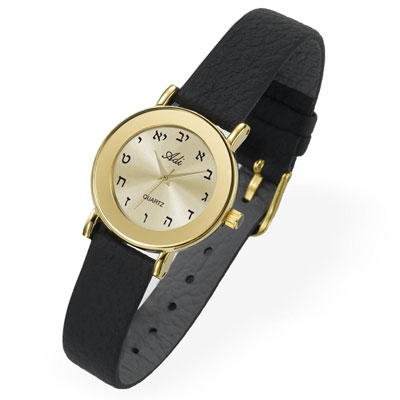 A watch?
What's so creative about that?
Look closely… this isn't a standard watch you give a little girl for her birthday.
You can't get her just-another-boring-watch on her Bat Mitzvah. That's a big no-no.
You'll have to do better than that.
Introducing: An elegant women's watch with classic Hebrew letters made of gold, made by one of Israel's top watch designers.
In other words: It's a grown-up's watch.
Now… tell me:
How would you feel if you knew that from now on, every time the Bat Mitzvah looks at the time – she'll see a beautiful, stylish Hebrew gold watch wrapped around her wrist?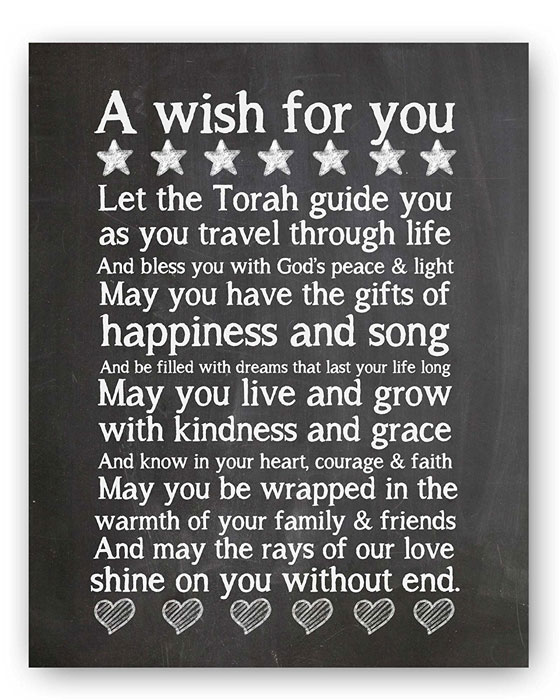 I'm guessing the young Bat Mitzvah has some posters of her favorite idol in her room (Justin Bieber? I sure hope not).
Wouldn't it be nice to decorate her room with something a little more meaningful? (sorry, Justin)
…Something enlightening.
…Something that will inspire her when she wakes up and put a big smile on her face before she falls asleep…
…Something that will remind her how much her family & friends love her.
I think it's time to tell Justin Bieber to take a walk…
I've gone this far without mentioning Hollywood.
Forget taking her on a trip to Universal Studios. That's too expensive… let her parents worry about that (if you are the parent – good luck).
How about throwing a Hollywood party pillow instead?
"Wait, what?"
OK, OK … don't throw a pillow at her. That's not very nice…
But you CAN get her a personalized Hollywood pillow… A pillow SHE can throw at her brothers and sisters 💪.
Bat Mitzvah Gift Cards
You went through the entire gift guide and STILL couldn't find an appropriate gift for the Bat Mitzvah?
(Really?)
Don't worry, there's a backup plan…In fact, there are 2 backup plans.
I already mentioned the first one: money in multiples of $18.
The second backup plan: a Bat Mitzvah gift card.
In case you don't really know the girl, whether she's your friend's daughter or a niece you haven't seen since she was a baby – you can get her a gift card, and let her decide what to get.
A gift card is actually a proper gift for a Bat Mitzvah (I actually recommend it over money in many cases). Trust me – it's way better to just get her a gift card than buy her something she'll never use.
Tip: If you're still confused on whether to get her money, a gift or a gift card – read our Bat Mitvah gift etiquette article. It will clear things up.
Top Bat Mitzvah Gift Card
I know, I know – she's not 21… But that doesn't mean she can't shop at Forever 21!
If you don't know her size, her taste or favorite style – then let her do the shopping.
With Forever 21's gift card, she can buy whatever she likes. And you know what? I have a feeling she'll like that better than some random dress that doesn't fit.
Kids these days spend most of their time on their phones: Downloading apps, games and all kinds of (addictive) stuff… only for their parents to find out about it on their credit card statement at the end of the month.
With Apple's gift card, they can enjoy all the App Store has to offer without worrying about their parents scolding them about their lavish app shopping spree!
Conclusion
If you made it this far, then congratulations!
That was a long gift guide… go grab yourself a cold beer (or wine), you deserve it.
…[Waiting for you to get drunk]…
Oh, you're back! Now walk in a straight line… I dare ya!
Just kidding…
My #1 goal with this gift guide was to help you find awesome Bat Mitzvah gift ideas you'll be proud to give the girl on her big day.
If I made that happen – consider me a happy camper 🤗.
Let me know in the comments (if you're not too drunk) which of these Bat Mitzvah presents you ended up getting?
Mazel Tov… and have fun at the party!