15 Stunning Opal Hamsa Hand Necklaces & Pendants (2020)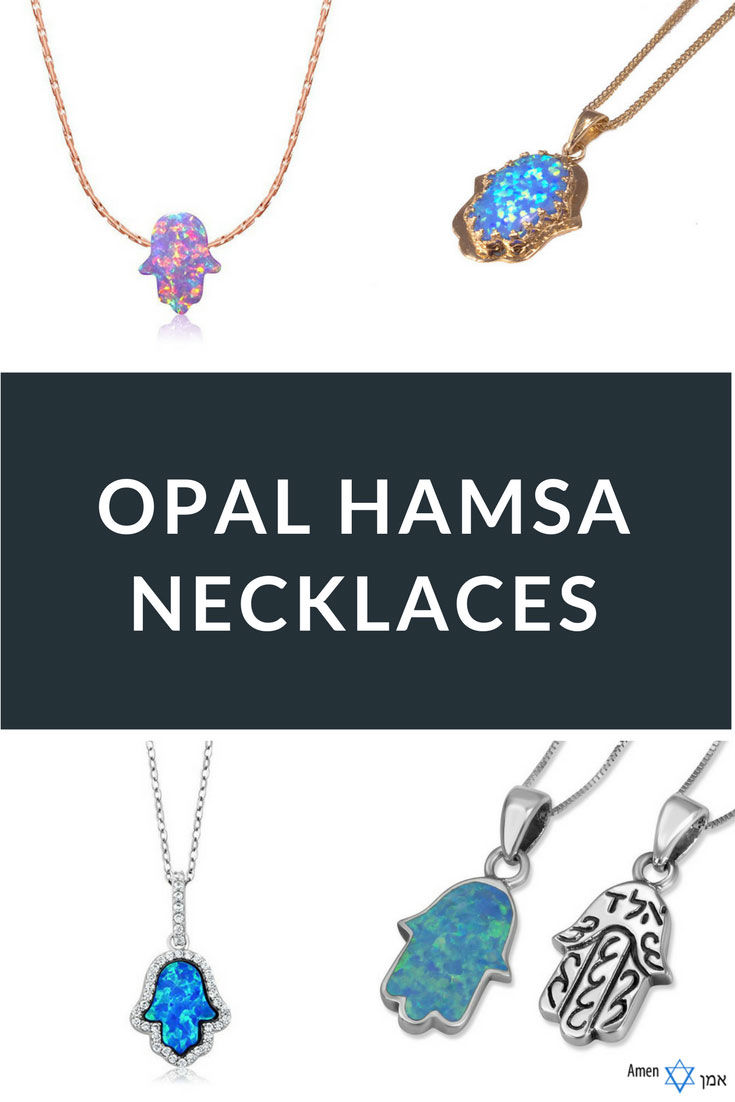 Hamsa necklaces are incredibly popular gifts women LOVE wearing, there's no doubt about it.
But not all Hamsa necklaces are created equal…
Imagine this:
You walk into a Jewelry store looking for a nice new necklace for someone you love (maybe yourself?)…
You ask the person working there to take a look at the Hamsa pendants.
He brings over a shiny collection of necklaces. And inside you're thinking: "Damn, they all look the same".

Then you dare look at the price tag on them… "DAMN, they're so bloody expensive".

Now, you're stuck with two options:
You decide to buy it and feel like you just got screwed
You decide not to buy it – and you feel sad 
Either way ⇒ you lose (Damn again).
What's the solution? Isn't it possible to find a beautiful and affordable Hamsa necklace?
Oh YES, there is!
The answer: opal hamsa necklaces.
Top Opal Hamsa Necklaces
Opal hamsa necklaces come in many of colors & shapes (as you're about to find out).
That's why it can get a little overwhelming choosing the one you like the most. You know what they say – the more options you have, the harder it is to choose something… and as a result, you just end up paralyzed and not choose anything. 
So, to make things easier on you – I put my favorite opal hamsa pendants in this cute table. And if you're brave enough to dive deeper into the rabbit hole – then keep scrolling down and you'll find a LOT more options…
Opal Hamsa Necklaces From Israel
Nothing beats authenticity. 
And where can you find the most authentic and real opal Hamsa necklaces?
In Israel of course – Jewish homeland, and the origin of the Hamsa symbol.  
Don't worry, I'm not expecting you to hop on a plane to Ben Gurion airport anytime soon to get one of these necklaces.
Instead, I've got a better idea: fly the Israeli opal hamsa necklaces to you.
Sound good?
Sterling Silver Double Sided Hamsa Necklace with Opal
Top Israeli Opal Hamsa Necklace
The Hamsa hand is a famous Jewish symbol known for keeping the evil eye away… Well, you're in luck: this Israeli opal (real) Hamsa necklace is double sided, so you get double the protection (or Hamsa Hamsa) 🙂
The double-sided pendant has the alef-lamed-daled letters engraved on one side: one of the 72 Kabbalistic names of G-d.
Tip: You can choose between a sterling silver chain and a black silicone cord, as well as the size of the chain. 
The opal stone itself looks incredible in the unique shades of blue-green, surrounded by sterling silver. It's versatile, which means it'll look gorgeous on any neck, on any women, anytime.
Sterling Silver Hamsa Necklace with Opal Stone
This is where you get to witness the Jewish Hamsa hand symbol in all its glory.
The Hamsa symbol goes back a long way into Jewish tradition. It famously represents a sign of protection against Ayin Hara (evil eye), strength and power.
Did You Know?
In the Kabbalah, the Hamsa represents the hand of G-d – the ultimate protection against all evil.
Opal stones are known to be emotionally responsive stones that foster love, passion & faithfulness.
So, guess what happens when you combine a beautiful Hamsa with an exciting-looking opal stone? A perfect & emotional gift is born…
Rafael Jewelry's breathtaking sterling silver necklace is staggering in of itself. The radiant opal gemstone in the middle is the icing on the cake – it turns it from a staggering necklace to an awe-inspiring piece of modern Jewish art.
Note: In case you're wondering – the designer, Rafael Jewelry, is not related to "our" Rafael. Unfortunately, our Rafael's Jewelry-making skills aren't quite the same 🙂
14K Gold Blue Opal Hamsa Pendant
The Hamsa symbol is known to bring good fortune, health, luck, and happiness… we all know that.
But what can turn it from "oh, that's nice", into a "WoW, that's very thoughtful!"?
It's handmade in Israel
The light blue opal pendant is covered with solid gold (you can also add a 14K gold chain) 
You can gift-wrap it in advance
A premium Israeli Hamsa charm placed in a beautiful gold surrounding. A great fit for Jewish women of all ages.
Blue Opal Hamsa Necklaces
Blue opal hamsa necklaces are by far the most popular ones. Surprising, isn't it? That a lot of women prefer to wear blue necklaces… who said blue is for boys only?!
And the good news is that they're usually much cheaper than the alternative Hamsa necklaces you can find out there.
Let's have a look…
Blue Opal Hamsa Pendant – Holy Land Jewelry
You're looking at one of the most elegant pendants on the list.
This Hamsa necklace comes straight from Israel with (or without, if you prefer) a 14K gold chain. It can (and should) be worn daily, on special events and social gatherings…
The blue opal hand necklace's gemstones are extremely radiant and vibrant – so be prepared to receive a lot of "Where did you get this?" type of questions.  
Blue Created Opal Hamsa Hand Pendant Necklace with Sterling Silver Chain
Top Blue Opal Hamsa Necklace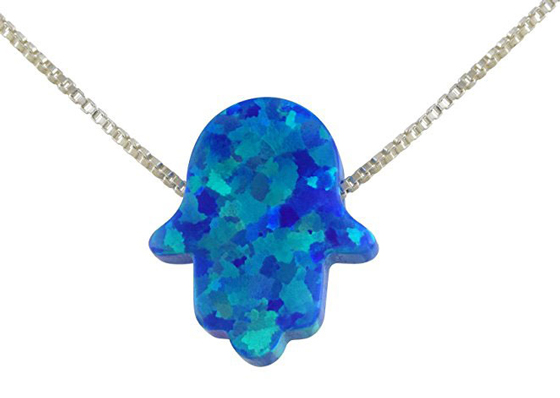 If you're after a blue opal hamsa necklace – then this gorgeous necklace is as it blue as it gets. It comes with a matching sterling silver chain which blends perfectly with the vibrant blue hand Opal gemstone and fits perfectly with any outfit.
The Jewish Hamsa Hand is known to bring good fortune, health, luck, and happiness. Thanks to this lovely necklace, you get to add "beauty" to the list.
No wonder it received such high ratings.
925 Sterling Silver 
Lab Created Blue Opal & Cubic Zirconia Hamsa Symbol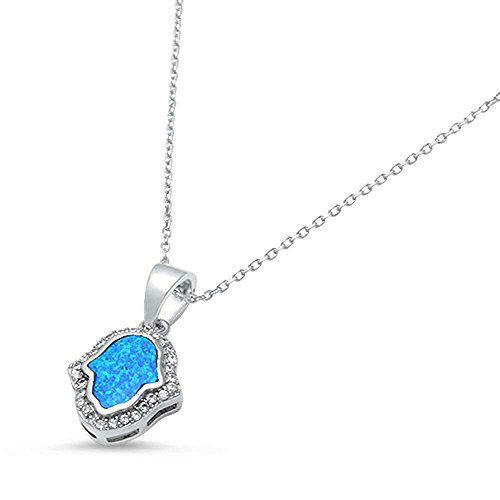 This gorgeous blue opal Hamsa luck hand necklace comes with an elegant twist to it: the sterling silver pendant contains a fascinating blue opal Hamsa hand surrounded by small, gorgeous shining Zirconia gemstones = now that's a blend you don't see every day.
It's bigger than most Hamsa charms out there, and the color is sharper too.
And if you thought all that goodness would cost you more, think again… it's (surprisingly) cheap.
Sterling Silver Opal Hamsa Necklaces 
I've got good news: you can have the cake and eat it too.
I mean, you can get an affordable opal hamsa pendant AND a luxurious piece of Jewelry – all at once.
How?
Sterling silver opal hamsa necklaces.
That way – you get a beautiful, shiny necklace that's affordable, but not too cheap that it's inappropriate to give it as a gift for a special occasion (birthday, Bat Mitzvah, wedding etc').
Sterling Silver 
Hamsa Necklace & Opalite Center
Top Sterling Silver Opal
I'm a sucker for minimalistic design, so I couldn't ignore this one.
Just as silence speaks volumes and whitespace creates focus – this minimalist sterling silver emphasizes the sheer beauty of the opal.
Less is more.
Lab Created  Opal Hand of God .925 Sterling Silver Pendant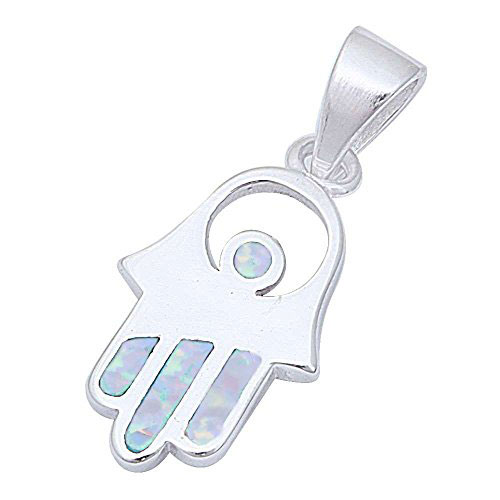 This sterling silver opal pendant stands out, doesn't it? Wait till you see it in real life, it looks MUCH better.
It has a sleek, modern design… very different compared to the other Hamsa pendants. The vibrant fire opal shines beautifully, and even though it's small – it's very noticeable.
A great gift for any occasion.
Handmade Sterling Silver + Blue Opal Hamsa Necklace
Like the idea of wearing a gorgeous sterling silver necklace, PLUS the shiny blue opal Hamsa pendant?
Thanks to Paula & Alissa from Alef Bet Jewelry – you can have your cake and eat it too.
OK, maybe she didn't actually bake a cake for you, but she did hand-shape this stunning Hamsa pendant… what more could you ask for?
Note: You're welcome to ask Alissa to bake you a cake here in the comments below, she might read it and surprise you 🙂  
With this beautiful opal Hamsa necklace, not only do you get to walk around with a brand-new & sparkling Hamsa necklace, you also get to support a lovely Jewish mother & daughter in their quest to design more & more beautiful Judaica Jewelry for us all!
White Opal Hamsa Necklaces
There's something pure about white opal Hamsa necklaces. They're more subtle, less eye-catching  – perfect for introverted women who don't like to stand out much but still like to wear a nice piece of Jewish Jewelry.
Let's see what makes these white opal Hamsa pendants so appealing…
Created Fire Opal Hamsa Hand Necklace White Opal Pendant + Sterling Silver Box Chain
Top White Opal Hamsa Necklace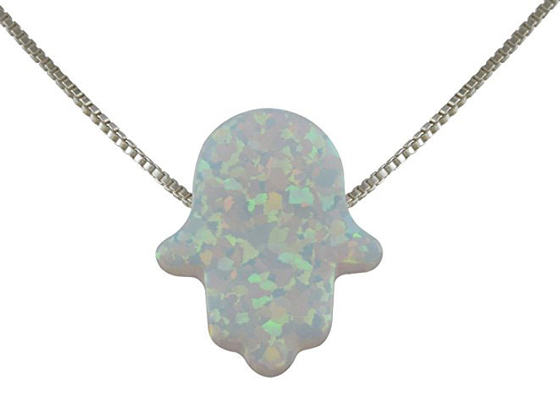 Starting off with the most popular white opal hamsa necklace you can get your hands on. 
What makes it so popular? Well, for starters:
Gorgeous color
Tarnish-resistant sterling silver chain
Cheap
What more could you hope for?
At times, you can catch a glimpse of rainbow shades reflecting off the gemstone. The white gemstone is a dose of fresh air in a sea filled with traditional blue Hamsa hand charms.
So, if you don't like any extra attention, and you're having a hard time matching your outfits to the vibrant colors, you can calm down now: white goes with (literally) everything!
Bria Lou 925 Sterling Silver Created White Opal Hamsa Pendant
Bria Lou's elegant white opal Hamsa necklace has a motto: "Every Day, Inspired".
Now when says "Every Day" – she means it.
Her cute opal hamsa pendant fits any type of clothing and any occasion: whether you're headed for work, going out for dinner or walking down the aisle – it's white, it's shiny, it's cheap… not a lot more you could ask for.
Bonus: Plus, it comes with a cute little gift pouch – all ready to be gifted for that one lucky person (Mom,? daughter? sister? ALL of them?)
Pink & Purple Opal Hamsa Necklaces
Let's face it – women love pink… And since the most popular opal hamsa necklaces are blue (most boy's favorite color) – we need to balance it out with some pink (and a bit of purple).
Luckily, pink hamsa necklaces became more and more popular over the years – so there are a lot of great options to choose from.
Created Fire Opal Hamsa Hand Necklace Pink Opal Pendant with Sterling Silver Box Chain
Top Pink Opal Hamsa Necklace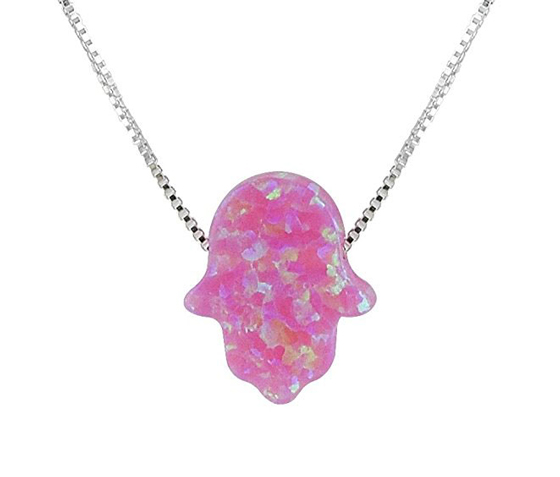 Most girls love pink… What do you get with a pink Hamsa (the symbol of protection)?
Love + protection.
I may suck at math, but I do know that 1 + 1 = 2.
Which means: Love + protection = a damn good idea 
Tip: The chain itself is durable and tarnish resistant, meaning – it can survive and shine on your neck for a very long time. 
Simulated Purple Opal Hamsa Necklace Yellow/Rose Gold Plated & Sterling Silver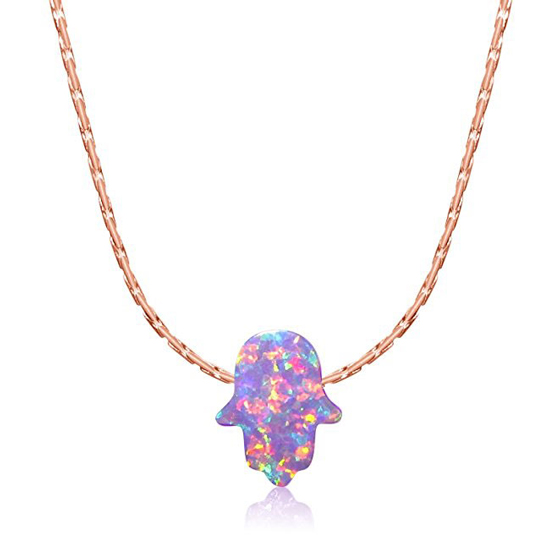 I promised you a purple opal hamsa necklace – it's time to deliver on that promise.
But this isn't just an average purple pendant – it's a dazzling purple Opal that makes the traditional blue Opal Hamsa look pale next to it.
The truth of the matter is, not all young women can relate to the traditional blue opal stone… so having this sparkling purple Opal stone is quite the gift, especially for a young Jewish Bat Mitzvah.
Note: There's a variety of chain colors you can choose from, including Rose-gold silver, Yellow-gold silver & sterling silver.

Bonus: It comes wrapped in a cute little gift pouch. 
Cheap Opal Hamsa Necklaces
I know what you're thinking: most opal Hamsa necklaces are cheap… so what gives?
Well, to be honest – there are a lot of great necklaces that didn't fit any of the other categories, so I thought I put them in this category 🙂
They're cheap, they're beautiful, they're unique – they deserve to be featured here… so here they are!
Blue Opal Hamsa Hand Necklace Yellow/Rose Gold Plated + Sterling Silver
Top Cheap Opal Hamsa Necklace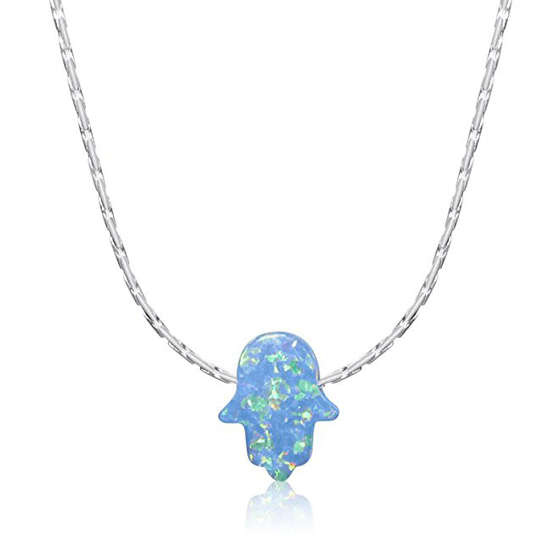 This small light-blue opal Hamsa necklace is very delicate and light on the skin. In fact, the chain is hypoallergenic… so you don't have to worry about rashes even if you have sensitive skin.
It has light blue and green shades in opal – a combination that makes your eyes gravitate towards it every time you see it.
This lightweight chain is designed to be comfortable and can be worn daily. It's free of nickel & lead, so it might be a good fit for someone with sensitive skin (no allergies with this one) 
Keep in Mind: The pendant is fixed to the chain – you can't remove it and put it in another chain.
Bonus: Comes packed in a cute little purple gift bag, which is a nice touch.
Opal Necklace Blue Opal Hamsa Gold Chain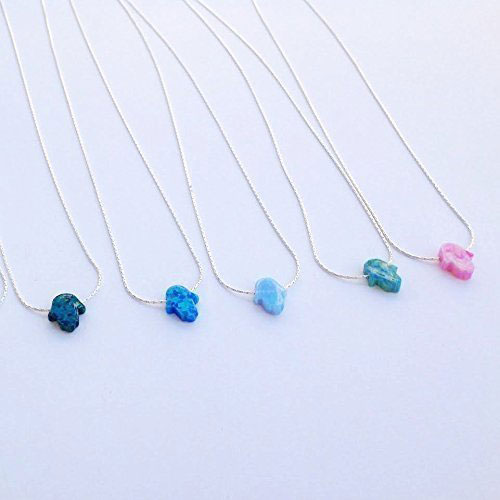 What if you prefer a premium necklace, minus the premium price-tag… Can it be done?
This necklace gets you close enough.
It's handmade, beautifully cut & carved and is relatively small – making it a great gift for young Jewish girls, and a modest Bat Mitzvah gift.
Plus, it comes with an intricate 14K gold chain, all that for a very reasonable price.
Conclusion
What happens when you combine the Jewish Hamsa hand's protection, blessing & power, with the opal stone's emotional qualities like love, passion & warmth? A meaningful & truly thoughtful gift is born.
The opal stone is a marvelous gem that represents beauty & modesty,  is less known (and therefore less cliche) than the gold/silver necklaces. Thankfully, it's also reflected in their relatively cheap price.
The message is clear: you don't have to spend a fortune to get a young woman an emotional & beautiful gift she'll proudly wear everywhere she goes… and these gorgeous opal Hamsa necklaces are living proof of that.
Now tell me, which of these opal hamsa pendants did you like best?