15 Beautiful Jewish Tablecloths + Table Runners for Shabbat & Jewish Holidays [Made in Israel] (2022)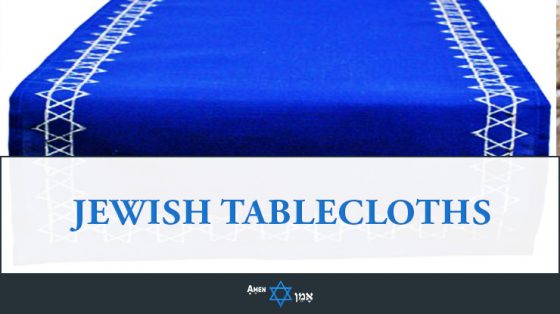 Amen V'Amen is supported by its audience. That means when you purchase something from one of our partners through one of our links, we may earn a small commission at no additional cost to you. Amen V'Amen is also an Amazon Associate, so we may earn a commission from qualifying purchases. Thank you for your support!
Jewish tablecloths – not exactly the most exciting item in a Jewish household, now is it?
But think of it this way: what makes special occasions like Shabbat, Hanukkah, Passover, or Rosh Hashanah so special?
They bring our family and loved ones together at the dinner table.
And since we FINALLY get to spend some time together… we better make our dinner table a warm, hospitable, and welcoming place… am I right or am I right?
Now that we're on the same page – let's go pick out a dazzling Jewish tablecloth, shall we?
Top Jewish Tablecloths
Spoiler Alert: Out of all the Jewish tablecloths we featured in this article – we chose the very best ones and awarded them with our exclusive Amen V'Amen award! Introducing… the lucky tablecloth (and their designers)!
Shabbat Tablecloths
What makes a great Shabbat dinner?
… Enjoying a peaceful dinner with the family?
… Reciting the Shabbat blessings?
… Eating the delicious Shabbos food?
That all sounds great…
But believe it or not – there's one small item… an item that is so easy to overlook… an item that without it – your Shabbat table will look chaotic.
You guessed it! I'm talking about the Shabbat tablecloth!
Top Shabbat Tablecloth
… You worked hard all Friday afternoon preparing Shabbat dinner for your family.
… It's getting dark… The kid's stomachs are starting to make all sorts of sounds.
… Shabbat is in! Time to set the table for Kiddush!
Which of these scenarios sounds better? If the little voice in your head just whispered "scenario 2" – it's 100% right!
When you stumble into one of Yair Emanuel's brilliant works of art – odds are you'll have to pay a fairly high price to put your hands on it. After all, we're talking about one of the top Judaica designers in the world…
But every now and then – there are exceptions. Every once in a while – you get to "have the cake and eat it too…"
Guess what? This is one of those special cases!
Yair Emanuel designed this spectacular tablecloth specifically for Shabbat (with "Shabbat Shalom" written in Hebrew)… and thankfully – he made it very affordable for every one of us to enjoy.
So go on… have your cake, put it on top of this Shabbat table runner – and eat it too 🙂
"Berachot" = blessings in Hebrew.
That's precisely what this handmade Shabbat tablecloth is covered with: a compilation of blessings in Hebrew.
In Judaism, Shabbat is regarded as a "queen". With this gorgeous-looking tablecloth, it'll definitely live up to its nickname.
If you look closely at this white Shabbat tablecloth – you'll notice quite a few Jewish symbols:
Menorah
Kiddush cup
Olive branches
"Chag Sameach" – "Happy holiday" spelled in Hebrew
"Shabbat" – spelled in Hebrew
Now, I know what you're thinking…
"Is this a Shabbat tablecloth? A Hanukkah tablecloth? I'm confused!"
(hey, at least you didn't have to decide in what section it belongs. Ahem ahem.)
Just like most Jewish tablecloths – the answer is both. In fact, in this case, the answer is more like "any time, anywhere".
Let me put it this way: If you're looking for an affordable, multi-purpose Judaica tablecloth you can use in any Jewish holiday or occasion – this is an excellent option.
Hanukkah Tablecloths
Hanukkah donuts, latkes, endless amounts of chocolates and treats…
Who doesn't love Hanukkah!
I'll tell you who… that poor hostess who's inviting the entire neighborhood over for Hanukkah dinner (hello, is that you?).
I've got two words for you: Oy vey!
But don't despair.
With a little preparation, a positive mindset (perhaps a few Hanukkah gifts so the kids don't go sugar-crazy) and one-or-two of these Hanukkah tablecloths – you'll survive this upcoming Hanukkah "storm" like a champion! Or, to put it in Hanukkah terms: your candle will stay lit for the entire 8 days!
Top Hanukkah Tablecloth
You're looking at one of the most popular Jewish table runners currently available online.
As you can tell – there's nothing particularly "Hanukkah-y" about Stars of David. You can use this table runner all year long or during Shabbat to give your dinner table a nice elegant look.
But Hanukkah is where this table runner truly shines. And shine it does… even without a Hanukkah Menorah!
But that's no fun… so grab that Menorah, put it on top of the Hanukkah table runner, and light that baby up (the Menorah, not the table runner)!
It's made of 100% polyester and is incredibly easy to wash (just give it a quick cold hand wash)… so you can continue using it if you can't stand the thought of removing it from your table after Hanukkah is over.
DII's second appearance in this article. This time, with a unique Hanukkah swirl!
This Hanukkah tablecloth is an excellent way to welcome Hanukkah in a fun and cheerful way.
It's 100% cotton – fully machine washable (and low iron if needed). That's good… because guess what? You're going to need it to get rid of those nasty stains from the Hanukkah donuts and chocolate gelt.
Tip: Needless to say – you can continue using it all year long for Shabbat dinner (or for a Kiddush luncheon).
Passover Tablecloths
In Passover, we get together with our friends & family to commemorate one of the most historic moments in Jewish history – our Jewish ancestor's escape from slavery in Egypt ⇒ to freedom.
We sit at the Seder table, read the Haggadah, eat Matzo, drink Kosher for Passover wine… long enough to enjoy deep & meaningful conversations with our loved ones (while we're half drunk 🙂 ).
Could you imagine doing all of that without a Passover tablecloth? You'd wake up the next day to a dining room table that looks like it got hit by the 10 plagues of Egypt.
These beautiful Passover table runners will give your Passover table a nice, warm atmosphere (and keep those nasty frogs at bay).
Top Passover Tablecloth
"Ma Nishtana Halayla Haze Mikol Haleylot!"
Everyone! Sing along!
What's that? You don't know the lyrics?
C'mon… it's written right there on the Passover table runner!
This classy tablecloth features the last verse from the famous "Four Questions" in the Maggid – where we tell the story of the Jewish exodus from Egypt.
The "Ma Nishtana" is traditionally recited by the youngest person at the Seder table – that is, if the little one is capable of reciting it… Well, it'll be a whole lot easier now that they can just read what this Pesach tablecloth says. No one said "cheating" isn't allowed on Passover!
The Passover Seder is divided into 15 stages or "signs" (called "Simanim" in Hebrew):
Kadesh (קדש): Reciting the Kiddush
Urchatz (ורחץ): Washing our hands
Karpas (כרפס): Dipping a vegetable in salt water
Yachatz (יחץ): Splitting the Matzah
Maggid (מגיד): Reading the Haggadah
Rachtzah (רחצה): Washing our hands the 2nd time
Motzi (מוציא): Reciting the Hamotzi blessing
Matzah (מצה): Reciting the Matzah blessing and eating the Matzah
Maror (מרור): Eating the bitter herbs
Korech (כורך): Eating a Matzah + bitter herbs sandwich
Shulchan Orech (שולחן עורך): Dining
Tzafun (צפון): Eating the Afikoman
Barech (ברך): Reciting Birkat Hamazon
Hallel (הלל): Reciting the Hallel blessing
Nirtzah (נרצה): Closing the Seder with songs and hymns
Lo' and behold – this Passover table runner features all of the Simanim!
Not only is it a unique way to decorate your Seder table, but your guests can also use it as a form of "Table of Contents" to stay on top of the Seder and not lose track of where everyone is in the Haggadah!
"Ha Lachma Anya" is the opening blessing of the Maggid section. In this blessing (written in Aramaic) – we mention our ancestors who ate Matzah – the "Bread of poverty" in Egypt.
In the blessing, we mention that "Today we are here… and next year we will all be in the land of Israel".
Here's the beautiful thing about this Passover tablecloth (besides the tablecloth itself): it's made in Israel. Now that's poetic!
Rosh Hashanah Tablecloths
The Jewish new year is upon us! Shana Tova!
We're all excited to hear the sound of the Shofar, dip apple in honey and celebrate the Jewish new year with our loved ones.
Hold on a second there, tiger!
Before you go off dusting that Shofar horn that's been lying dormant in your closet all year long… there are more important things to attend do… especially if you're hosting Rosh Hashanah dinner this year!
"Like what, Rebecca?"
Oh, I don't know… how about preparing (and decorating) the Rosh Hashanah table? That's pretty important, don't ya think?
Top Rosh Hashanah Tablecloth
'May your merits be as numerous as the seeds of the pomegranate'
Click To Tweet
The pomegranate has become the iconic symbol of Rosh Hashanah – the Jewish new year. In Judaism, the pomegranate seeds are often associated with the 613 Mitzvot of the Torah. It's also a symbol of fruitfulness, knowledge, and wisdom.
I think it's safe to say: it ain't such a bad idea to eat, serve and display pomegranates on Rosh Hashanah, now is it?
Yair Emanuel, the legendary Judaica artist from Jerusalem, knew exactly what he was doing when he designed this pomegranate tablecloth.
If that wasn't enough – Emanuel designed this wonderful centerpiece in gold embroidery with high-quality silk fabric…
This gorgeous Israeli tablecloth is a tremendous gift you can dedicate to a family member or a close friend. Whether it's a gift for Rosh Hashanah, a Jewish wedding gift, or for a young couple's housewarming party… this is one gift any Jewish couple will be lucky to have.
This Jewish table runner is something else…
Why?
The unique Israeli wheat (one of the seven species) theme
It's made by Yair Emanuel, one of the top Judaica artists in the world (plus, it arrives straight from Israel!)
The quality is impeccable
Just to name a few.
The wheat theme makes it a natural fit for Rosh Hashanah (and Sukkot)… a "whole-wheat tablecloth" if you will.
No doubt – it stands out among the other table runners… but more importantly – it stands out when it's displayed in your living room in all its glory.
I have to warn you though – it ain't cheap. But if you're looking for a fabulous compliment-grabber that'll give your home a warm and welcoming atmosphere during the Jewish high holy days – this is definitely the one.
Pomegranate tablecloth #2. Care to guess who's the designer?
Yair Emanuel is right!
Luckily – this colorful thing of beauty is one of Emanuel's more affordable Jewish table runners. In fact, you can stock up on a few of these (it comes in different colors, so you can mix & match) so you'll have enough pomegranates to last you for the whole year.
And you already know what pomegranates symbolize in Judaism, don't you? (hint: think fruitful!)
All-Year-Long Tablecloths
I've got bad news for you: Shabbat comes only once a week.
More bad news: Jewish holidays (at least the major ones) come every few months.
I know… sad, right?
Now for some good news!
Just because Shabbat & Jewish holidays don't come very often, it doesn't mean our dinner table needs to suffer the consequences!
No sir! You can make your dinner look attractive… EVERY day of the week (then when Shabbat/Jewish holiday arrives – you can dress it up with nice "Jewish clothes")!
How? That's exactly what this section is for.
Top All-Year-Long Tablecloth
Let's start this article off strong! With lots of color and flavor!
Flavor? Well, you can technically get this tablecloth in "coffee" color, but unfortunately, it doesn't really taste like coffee (don't try to eat the tablecloth! that's gross!).
Elegant, beautiful with flawless stitching.
It can easily sustain "food terror". Smudges, stains, kids rubbing their face all over it… you know what I'm talking about.
And the good thing is – no matter how many times you wash it – it'll still look as good as new every time.
That's a keeper!
Why go outside for fresh air… when you can get it from inside the kitchen?
Maison d'Hermine's hand-painted tablecloth has one impressive meadow view. You see tiny multi-colored blooming flowers and butterflies in vivid tones flying around.
Doesn't matter if it's the middle of the winter, Shabbat or just a Tuesday afternoon – you'll always get a nice ray of light coming from your own dining room table when it's wrapped in Maison d' Hermine's charming botanical tablecloth.
Designed in France, and now covering thousands of dining room tables all over the world.
EcoSol Designs' tablecloth is made of 100% Microfiber Polyester.
It's:
Stain Resistant
Waterproof & Spillproof
Wrinkle Free
Or, in other words, it's fool-proof (useful if you're a clutz like me in the kitchen).
Liquid spills are not absorbed into the cloth, they bead-up off the surface and can be easily cleaned with a damp towel or wipes.
And if push comes to shove – just shove it in the washing machine and it'll come out as good as new!
Bottom line? Use this tablecloth all-year-round, and get a Jewish or Shabbat tablecloth for special occasions!
Tip: The tablecloth is quite big. So make sure you choose the right dimensions.
Conclusion
With all the stress we get before cooking Shabbat or a holiday dinner, the last thing on our mind is having a nice Jewish tablecloth to cover our table with.
Truth is – a beautiful table runner can alleviate a LOT of the stress before, during and after the Shabbat/holiday dinner.
No more worrying about the kids spilling juice or rubbing their dirty hands all over the tablecloth.
No more buying a new tablecloth every other week (after the previous one got ruined)
No more decorating your table with a boring tablecloth that makes your food look pale.
Doesn't matter if you're having a Shabbat dinner, a Hanukkah party or a Passover/Rosh Hashanah Seder – with one-or-two of these Judaica tablecloths – you'll be set for years!
Shabbat Shalom, Chag Sameach and Kol Tuv!