16 Modern & Personalized Challah Covers [Bread Covers] for Shabbat (2022)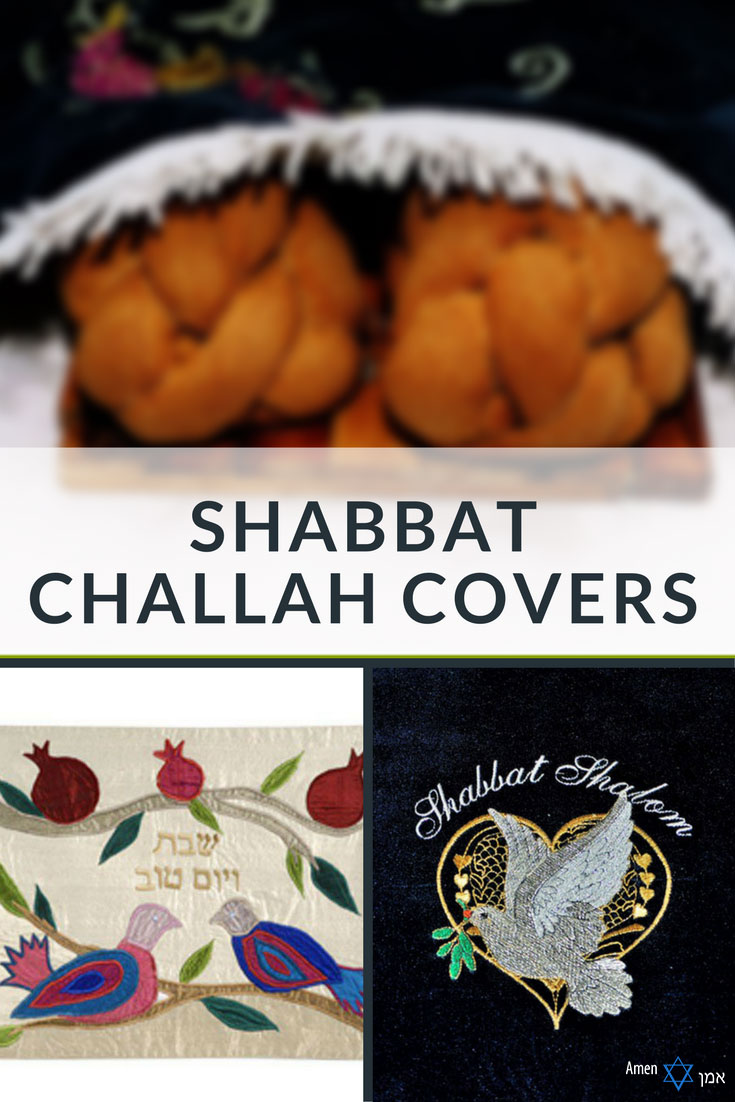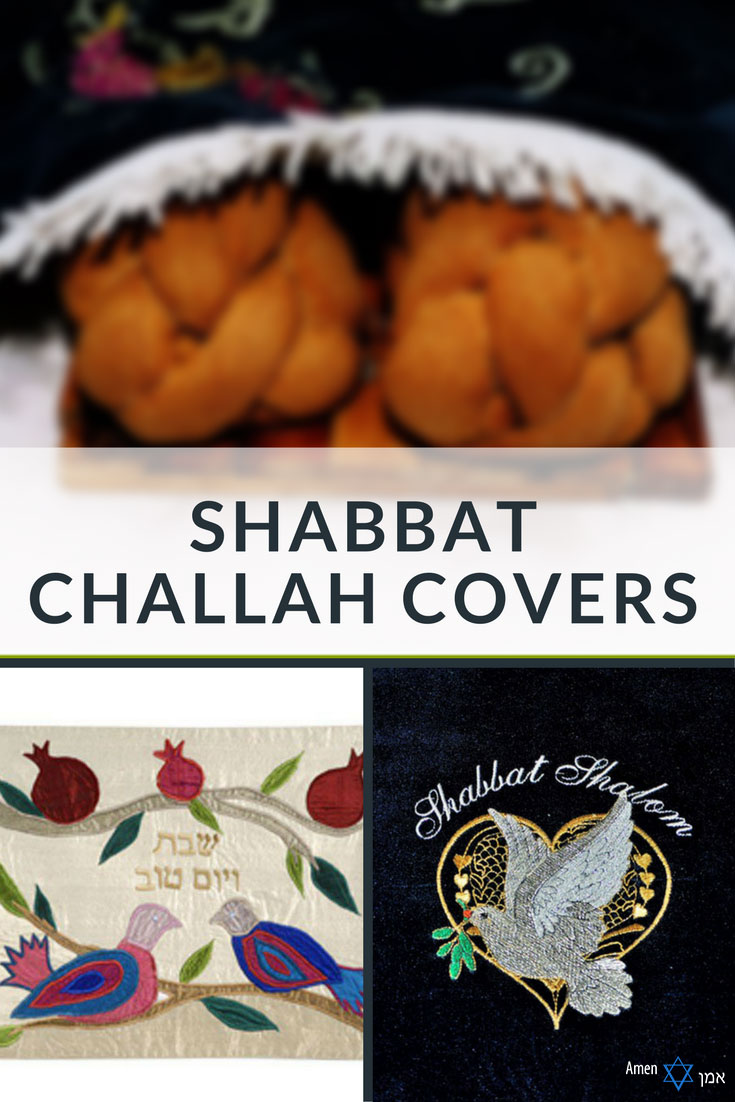 Amen V'Amen is supported by its audience. That means when you purchase something from one of our partners through one of our links, we may earn a small commission at no additional cost to you. Amen V'Amen is also an Amazon Associate, so we may earn a commission from qualifying purchases. Thank you for your support!
Everything is ready for Kiddush.
The wine is poured…
The Challah is ready for Hamotzi…
But wait a sec!
What about the Challah cover? You almost forgot, didn't you?
Just kidding… if you're reading this, you probably haven't forgotten…
Since you're looking for some covers for your hot & delicious Challah, what do you say we take a look at a few modern Jewish bread covers that will make your Shabbat table look amazing?
Top Challah Covers
Let me tell you this: all of the Jewish bread covers here are great. But there are those few that truly stood out among the rest, and I believe they deserve to be rewarded…
What are those mystery Challah covers? Here they are on full display:
Modern Challah Covers (Embroidered)
Shabbat bread covers have an important role: to cover the Challah before Hamotzi.
But if you're reading this, then you know that covering the bread with a plain-old, white Challah bread cover just doesn't cut it. Why choose a boring cover when you can choose a beautiful, artistic & modern cover that's also a magnificent piece of art?
The answer is: you shouldn't.
Let's look at the best modern Challah covers our creative Jewish designers from Israel have to offer.
Top Modern Cover
This gorgeous, bestselling Shabbat bread cover features the "seven species" of Israel, and it does so with a beautiful touch of color & quality materials (raw silk). It'll definitely add light & color to your Shabbat & holiday table.
The words Shabbat Veyom Tov are embroidered in Hebrew, which will add a touch of tradition & Israel to your table.
A beautiful Challah bread cover and our top pick for the "Modern Challah Covers" category.
Every holiday can use a spark of good old Jewish tradition. After all, the one thing in common every big Jewish holiday (and Shabbat) has is that it's filled with unique Jewish traditions & customs. This needlepoint Challah cover pattern represents exactly that.
It will definitely bring a unique touch to your holiday table.
If you appreciate good art, then this modern
challah bread cover design can easily become your main table centerpiece, one you'll look forward to showcasing every single Shabbat & holiday.
This Challah bread cover is quite different.
How?
It has a unique, minimalistic design without a lot of color "noise".
This minimalistic approach the famous Israeli artist took here puts the focus on the perfect embroidery & needlepoint.
The subtle design travels through the silk and gives the bread cover (and the bread itself) a royal feeling… just as our wonderful Shabbat does.
A very soft, high quality & traditional Shabbat challah bread cover that will make you feel like you're doing Hamotzi in Jerusalem.
This Shabbat & Yom Tov Jewish Challah bread cover design tells a story… Probably the most famous story in our long Jewish history – the days of creation, and it does so with deep attention to detail.
The variety of hues & colors in this Challah bread cover embrace the beauty of the god's creation. When they say that one portrait can tell an entire story, you realize it's true when you cover your challah with this cover.
A beautiful decorative piece in any Jewish home.
Personalized & Custom Challah Covers
Do you know what's even better than a Shabbat Challah bread cover?
A personalized Challah cover, custom-made especially for someone you love.
When you spend that extra effort into finding a gift for someone that has their name on it, it makes the gift truly special & memorable.
Let's personalize…
Top Personalized Cover
If you're looking to gift someone a personalized Challah cover, then this is definitely the way to go.
Whether for a Jewish housewarming, or a gift for your spouse for your own Shabbat table – this fantastic, cotton velvet bread cover definitely fits the bill.
Choose the colors of the fabric, add a personalized blessing, and you just got a fantastic gift any Jewish family will love.

Remember the good old days, where you would personally knit hand-made gifts for your loved ones?
Well, the good old days are still here!
This beautiful cover for the Jewish Challah bread is an ideal Jewish wedding gift, housewarming gift or fill-in-the-blanks gift.
The word "Shabbat" is knitted in Hebrew, as well as the names you would like to personalize it for.

How do you bring peace?
Send someone a personalized Challah cover with a big white dove.
Perhaps that will bring peace to the middle east? Hard to believe…but it will definitely bring a smile to your recipient's face every Shabbos, so let's start small…
Leather Challah Covers
Getting someone a bread cover is one thing, but getting them a leather Challah cover is a whole different ballgame.
It's not easy to find high-quality leather Jewish bread covers. But don't worry, I've done the heavy lifting for you (you can thank me later).
Top Leather Cover
Now, this is truly something special…
Not every day you get to see such a remarkable leather Challah cover.
Made in Israel from durable leather and three-dimensional white flowers, this unique bread cover is a must-have if you're looking for a truly remarkable Shabbat bread cover.
This remarkable piece of art was made by the talented Israeli artist Uziel Navah, who specializes in leather art design.
Another beautiful leather Shabbat & Yom Tov Challah cover craft.
Made from faux leather, and has "Shabbat & Yom Tov" written in the center of the cover (in gold).
According to Rikmat Elimelech, the designer of this beautiful leather cover, they crafted this cover to add beauty & grace to any Shabbos or Yom Tov (Rosh Hashanah, Passover etc') table.
You didn't think I would suggest leather Challah covers and leave Yair Emanuel out, now did you?
As usual, Yair Emanuel has stepped up and created a magnificent gray leather bread cover, with extraordinary bright pomegranates embroidered all over it.
Like many other Yair Emanuel's designs, the colors in this beautiful piece of art are very vivid and come to life.
This Shabbat bread cover is pretty affordable, and can potentially become a family heirloom you can pass down to your next generations.
Unique Challah Cover Designs
You're looking for a unique needlepoint Challah cover design…
Something that once you put it on the Shabbat dinner table, instantly grabs everyone's attention.
I get it…
Trust me, with these Shabbat bread covers, they won't forget who got them this unique gift for a very long time…
Top Unique Cover
This Challah cover craft has a uniquely complex, yet flawless look.
The vivid colors & fully embroidered pomegranates forest scene add an eye-catching distinction to the Shabbat table.
A very unique (it was chosen as the top unique cover for a reason) & original conversation starter, that's for sure…
And yes, it's durable enough to hold up for regular holiday use.
Oneg Shabbat: the pleasure of Shabbat. That's what this hand-embroidered, contemporary & relatively cheap Challah cover design represents (it's also what the text says in Hebrew), and it's what you'll remember every time you glance at it.
This one has a much "cleaner" design than the previous one by Yair Emanuel.
Part bread cover, part piece of art.
Bottom line – yet another authentic & traditional Jewish masterpiece by the amazing Yair Emanuel.
Righteousness, prosperity & wisdom. That's what the pomegranate & dove symbols represent.
This Challah cover, made from raw silk, has all three… so you're set for life.
Just kidding…but still, the eternal Jewish symbols of prosperity, righteousness, and freedom on your Shabbat table? Not a bad idea to have those on your Shabbat table.
Velvet Challah Covers
Velvet Challah covers have something special to them.
They have a special spiritual & soothing feel to them. So, it totally makes sense to get velvet Judaica bread covers… after all, they're popular for a reason.
Top Velvet Cover
Well, speaking of a spiritual feeling… You can see what I'm talking about right here.
This custom-embroidered, navy blue, velvet Shabbat Challah cover design features the Shabbos candles you just lit, the beautiful Star of David and a "Shabbat Shalom" writing in Hebrew.
Certainly a lovely addition to the Shabbat table, and an even better Jewish gift for a loved one.
Another gorgeous Challah cover craft, made of crushed velvet.
Handmade & Custom embroidered by Caryn Mayersohn, owner of "MyTallis" a US-based Jewish shop for custom Jewish items.
Perfect for any Jewish holiday (where there's Hamotzi involved), or as a Jewish gift for a special occasion.
Conclusion
Sure, the Challah cover has an important role – covering our bread on Shabbos.
But it can be much more than that.
It can be a symbol – a beautiful piece of art that adds a special feel to your dinner table.
All you have to do is choose the right challah bread cover and a matching Challah board – and Hamotzi will never feel the same again!