10 Beautiful Passover Tablecloths & Table Runners for Your Seder Table (2019)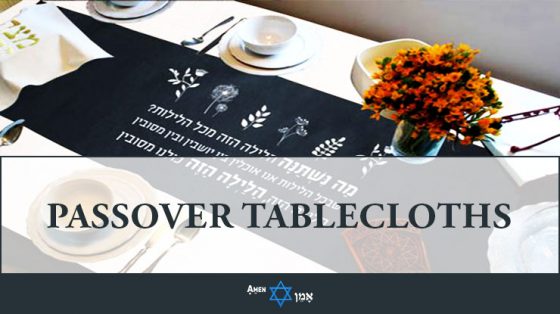 Passover is getting close!
And if you're reading this – I assume you're hosting the Seder this year. Yes?
Fantastic!
But before you start decorating your Seder table – first things first: the Passover tablecloth.
The Pesach tablecloth is ground zero: without it – you don't really have a table to decorate, now do you?
So before you start burning the midnight oil in the kitchen trying to make the most delicious Passover food ever seen (no pressure), let's first find you a nice Passover table runner, shall we?
Passover Seder Meal Table Runner – Ma Nishtana
Top Passover Tablecloth
"Ma Nishtana Halayla Haze Mikol Haleylot!"
Everyone! Sing along!
What's that? You don't know the lyrics?
C'mon… it's written right there on the Passover table runner!
This classy tablecloth features the last verse from the famous "Four Questions" in the Maggid – where we tell the story of the Jewish exodus from Egypt.
The "Ma Nishtana" is traditionally recited by the youngest person at the Seder table – that is, if the little one is capable of reciting it… Well, it'll be a whole lot easier now that they can just read what this Pesach tablecloth says. No one said "cheating" isn't allowed on Passover!
Hand Drawn – Illustrated Passover Tablecloth
This is without question the most colorful Passover tablecloth on this list. Heck, it's the most colorful one I've ever seen!
Believe it or not – all of these Passover symbols (the Seder plate, Matzos, Kiddush cups etc') are ALL hand drawn! How cool is that?
Passover marks the beginning of the spring. It might not be blossoming outside just yet… but the Seder table is definitely going to be blooming this year!
Passover Seder Signs Table Runner
The Passover Seder is divided into 15 stages or "signs" (called "Simanim" in Hebrew):
Kadesh (קדש)

: Reciting the Kiddush

Urchatz (ורחץ):

Washing our hands

Karpas (כרפס):

Dipping a vegetable in salt water

Yachatz (יחץ):

Splitting the Matzah

Maggid (מגיד):

Reading the Haggadah

Rachtzah (רחצה):

Washing our hands the 2nd time

Motzi (מוציא):

Reciting the Hamotzi blessing

Matzah (מצה):

Reciting the Matzah blessing and eating the Matzah

Maror (מרור):

Eating the bitter herbs

Korech (כורך):

Eating a Matzah + bitter herbs sandwich

Shulchan Orech (שולחן עורך):

Dining

Tzafun (צפון):

Eating the Afikoman

Barech (ברך):

Reciting Birkat Hamazon

Hallel (הלל):

Reciting the Hallel blessing

Nirtzah (נרצה):

Closing the Seder with songs and hymns
Lo' and behold – this Passover table runner features all of the Simanim!
Not only is it a unique way to decorate your Seder table, but your guests can also use it as a form of "Table of Contents" to stay on top of the Seder and not lose track of where everyone is in the Haggadah!
DII Embroidered Jewish Table Runner – Star of David
This tablecloth is pretty much the definition of a traditional Jewish tablecloth. In fact, it's one of the most popular Jewish tablecloths available online… especially during Jewish holidays (particularly Hanukkah, Passover, and Rosh Hashanah).
Did You Know? Believe it or not, this tablecloth is also popular among Christians! Especially among those who celebrate Passover (yes, some of them do).
It's made of 100% polyester and is incredibly easy to wash… so you can continue using if you became too attached to it. Just make sure to get rid of the Chometz and the stains if you're planning to reuse it on Passover next year.
Passover Seder Table Runner – Ha Lachma Anya
"Ha Lachma Anya" is the opening blessing of the Maggid section. In this blessing (written in Aramaic) – we mention our ancestors who ate Matzah – the "Bread of poverty" in Egypt.
In the blessing, we mention that "Today we are here… and next year we will all be in the land of Israel".
Here's the beautiful thing about this Passover tablecloth (besides the tablecloth itself): it's made in Israel. Now that's poetic!
Elegant Passover Gold Tablecloth
I'm sure you noticed – this is a pretty unique Passover tablecloth. (hint: look at the bottom right)
No… not because it belongs to the Cohens!
Hey, I'm a Cohen, does it belong to me? 😀
Unfortunately not! It belongs to anyone, with any name, you'd like to personalize it for! (you're always welcome to personalize it for me)…
That means…
Personalize it as a

Passover gift

for someone you care about.

Personalize it for yourself with your own family… you're Jewish, aren't you?
Berachot Tablecloth
The word "Berachot" in Hebrew – means "blessings". And let me tell ya – this tablecloth definitely has a whole lot of blessings:
Love (אהבה)

Happiness (אושר)

Abundance (שפע)

Shalom Bayit – Domestic harmony (שלום בית)

Prosperity (שגשוג)

Health (בריאות)

Wealth (פרנסה)

Satisfaction (נחת)

Brotherhood (אחווה)
I don't know about you – but a Passover Seder with such a warm & welcoming tablecloth – is definitely a Seder I'd like to attend.
Passover Wine & Matzah Tablecloth
Passover (Pesach), wine, and Matzah – the 3 traditional Passover elements – all in one fabulous customizable Passover tablecloth.
Is it Customizable? Yes – you can change the color, or even the image (although I kind of like this one) completely!
Tip: Try out the dark blue color. It looks better than the green one IMHO.
By the way – you probably can't see it from here – but the Kiddush cups have little Stars of David in them!
Yair Emanuel Wheat Sheaves Silk Jewish Table Runner
Wheat? On Passover?! Oy vey! That's Chometz!
Relax… it's not like your guests are going to be chewing the tablecloth…
Sure, wheat might be Chometz. But if you ask me – this is one of Yair Emanuel's finest Jewish tablecloths. And it'll be a shame not to display it in all its glory on Passover.
Besides, you'll be "teasing" your guests with all that wheat, while you serve them delicious (read: not delicious) Matzo 🙂
Yair Emanuel Giant Pomegranates Embroidered Table Cloth – Gold
"May your merits be as numerous as the seeds of the pomegranate"
Click To Tweet
This pomegranate tablecloth is arguably the most impressive one on the list. It's designed (in Israel) by Yair Emanuel – one of the top contemporary Judaica artists in the world.
It's made of high-quality silk and embroidered in gold – a pretty wonderful choice of colors for the Passover Seder, wouldn't you agree?
This is after all festive feast – where we celebrate our Jewish ancestor's escape from slavery in Egypt to freedom.
But not just freedom… this day, we celebrate the Jewish people's escape from poverty – to prosperity – the symbolism behind the Pomegranates (and the gold, of course).
Tip: Needless to say – you can (and should) also use this tablecloth on Rosh Hashanah, and any other Jewish holiday for that matter.
Conclusion
Now that you've got yourself a brand new Jewish Passover tablecloth… all that's left is:
Piece of cake (a Kosher one)!
Think of it this way – our Jewish ancestors had to escape Egypt and walk through the desert for 40 years.
In other words: perspective, people!
Now go throw an amazing Seder!
Chag Sameach!