25+ Beautiful Modern & Contemporary Jewish Mezuzah Cases from Israel (2022)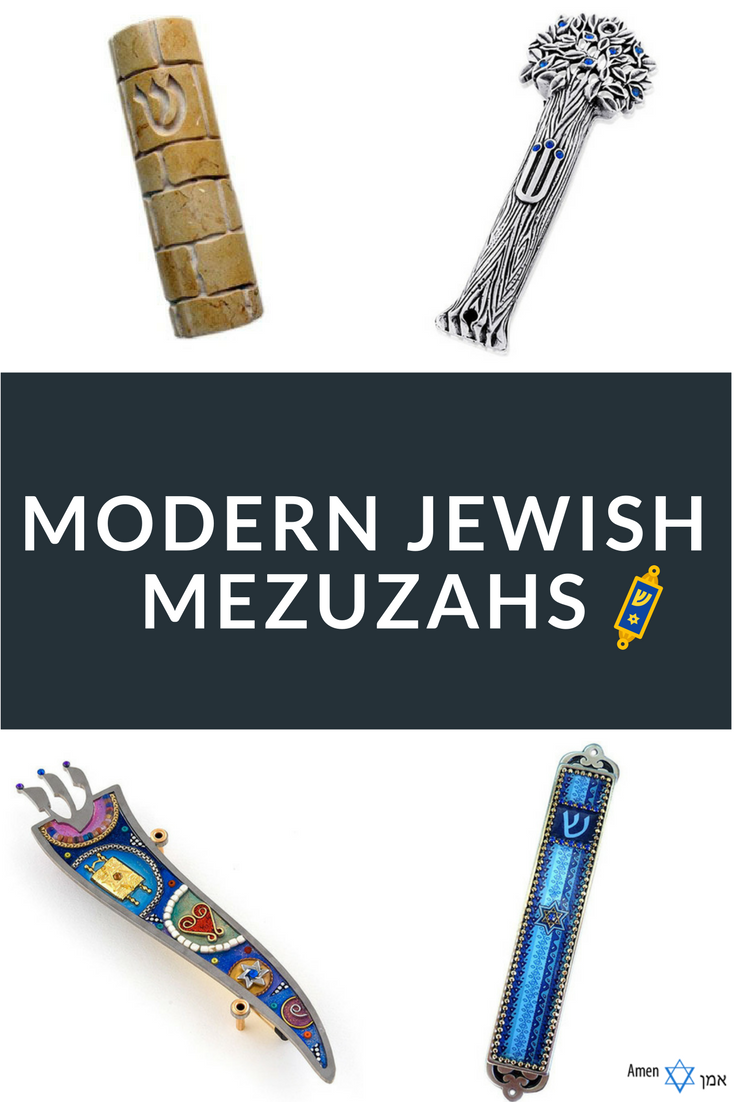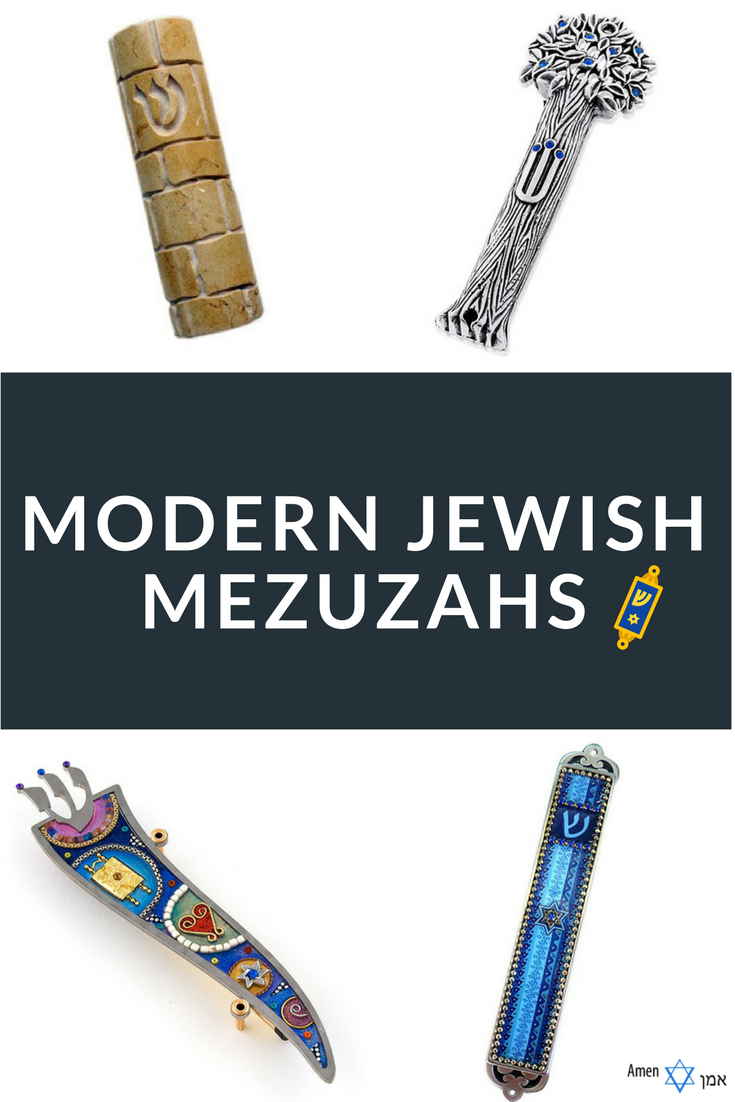 Amen V'Amen is supported by its audience. That means when you purchase something from one of our partners through one of our links, we may earn a small commission at no additional cost to you. Amen V'Amen is also an Amazon Associate, so we may earn a commission from qualifying purchases. Thank you for your support!
What's the first thing you do before you enter a Jewish home?
You hang a Mezuzah of course…
It's the main event of a Jewish housewarming, where the Rabbi blesses the Jewish door ornament and the new Jewish home.
This brings us to our main question of the day:
"What kind of Mezuzah case should I get?"
Excellent question!
Lucky for you, we hand-picked the most beautiful modern Mezuzahs that money can buy, whether you're buying it for your own home or for a friend/family member…
Top Jewish Mezuzahs
Hang in there…
One of these beautiful Mezuzahs will soon hang on your (or your recipient's) front door… which one will it be? (dramatic music plays)
Now, time to get to know each Mezuzah case on a more personal level…
Modern Mezuzah Cases
Besides blessing & protecting your home – your Mezuzah is the first thing you see every time you come home…
Wouldn't it be great to have a stunning, modern Mezuzah to welcome you and your guests every time you step in and out of your house?
Don't let it's size fool you… you'll be surprised how much such a small item can add to your house, and your mood.
Top Modern Mezuzah
Sure, it would've been nice to go visit the Kotel (western wall) more often…
As cool as that sounds, those plane rides add up (not to mention the taxi ride from Tel Aviv to Jerusalem, ugh…).
Good news! You don't need to go visit the Kotel yourself… it can come straight to your doorstep – and stay there permanently! Well, a small part of it, anyway…
Caesarea Art's hand-polished Jerusalem stone Mezuzah is made of the real thing – Galilee Stone. Imagine seeing a small piece of Jerusalem every time you come home…
I know they say Jerusalem is home to all Jews. Now, you get to make your own place a home for all Jews! (can I stay on your couch when I'm in town?)
Michael Aram is like the Elvis of modern Judaica… He rocks!
And if you're a fan of his, then you probably recognize his famous "Black Orchid" collection, which includes everything from:
Just like the rest of his fascinating collection – his contemporary Mezuzah is hand-crafted.
A dream gift for anyone celebrating a special occasion, especially a Jewish wedding or a Jewish housewarming party
If you've got a taste for modern art, yet you prefer a simple design without a lot of "Hoo-hahs" (I love Al Pacino) – then you'll want to check out Adi Sidler.
Sidler's contemporary Mezuzahs became a huge hit in recent years all over the world. In fact, there's a good chance you've seen some them hanging on doors in certain Jewish homes or workplaces, without even realizing it…
Now, look at the picture for a sec, and you'll recognize something interesting… Do you think the modern lines in the Mezuzah are there just for fun? No sir!
If you look closely, you'll recognize the shape of the letter "Shin" (ש), the first letter of "Shema" and "Shadai" (one of G-d's names)
Silver & Sterling Silver Mezuzah Cases
If I had to choose one particular style Jewish artists are famous for – it's silver Judaica.
Obviously, that includes silver Mezuzah – the first piece of Judaica a Jewish homeowner sees when they come home.
And if you think about it – it makes sense why silver Judaica (particularly Judaica Mezuzah cases) are so popular:
It's a fancy gift to get someone for a special event
That special someone may be ourselves
After all, who wouldn't want their home to be more beautiful and welcoming?
Top Silver Mezuzah
Danon's silver-plated designer Mezuzah arrives from Israel straight to your doorstep (you'll have to hang it on the door though, don't be lazy).
The silver-plated pewter case captures your (and your guest's) attention every time you get back from a long day at work. It doesn't matter how good/bad your day was, you'll sneak in a little smile as soon as you arrive at your doorstep.
Beautifully crafted with a blend of a modern and traditional look, and inscribed with the famous Priestly Blessing.
It's ideal If you've got a Jewish friend who's about to move into their new home. They could hang it anywhere in the house: the front door, living room, office… you name it.
If you've been following Amen V'Amen's gift guides for a while, odds are you're familiar with Matashi's gorgeous Judaica – one of the top premium Judaica brands in the world, especially when it comes to high-quality Jewish gifts.
Their hand-painted silver Judaica Mezuzah is no different. In fact, you know what? It kind of is…
How?
Most of Matashi's art is relatively expensive… Luckily, this doesn't apply to this remarkable Mezuzah.
The silver Mezuzah is decorated with 24K gold and Matashi's famous crystals, with an impressive amount of intricate details. It has a beautiful antique-y look, one that almost guarantees a comment from anyone seeing the Mezuzah for the first time (and the second time, maybe even the third?)
A great and affordable way to decorate a friend's house (or your own) with an incredibly eye-catching Mezuzah.
Anything related to sterling silver immediately brings to mind Nadav Art – one of Israel's oldest art studios, famous for their exceptional sterling silver Judaica.
And their sterling silver Mezuzah case is just that – exceptional. The unusually long, diagonal shape is decorated with a large shin (ש) – the first letter of Shaddai (שד"י) – which stands for "Shomer Dlatot Yisrael" – the guardian of the gates of Israel.
Gold Mezuzah Cases
We've had silver Mezuzah cases, it's only natural to take it one step further, isn't it?
Introducing: gold & brass Mezuzah cases!
If you believe your doorpost could use a little makeover – then one of these beautiful, shiny Mezuzahs will do the trick.
Top Gold Mezuzah
You've all been told stories that gold is expensive…Is it, really?
Not if you ask this golden Tree of Life Mezuzah (it's just a figure of speech, don't actually speak to the tree).
Interesting symbolism in this fabulous Jewish Mezuzah:
The Tree of Life is a symbol of the Torah's eternal wisdom. Artfully decorated, this is a great Jewish Mezuzah that will not leave you out of pocket.
The Mezuzah case contains a Kosher Mezuzah parchment scroll with two portions from the Torah (

Deuteronomy

)
If you like the combination of modern design + traditional Jewish symbolism + low price = this beautiful gold Tree of Life Mezuzah is a no-brainer.
Matashi's 2nd appearance on the list – this time with some gold and flowers on top (you know, for the ladies).
Imagine the surprised look on the woman's face when you get her Matashi's golden designer Mezuzah.
If the gorgeous flowers don't capture her attention when she comes home, then the 24K gold will…and if the gold doesn't, then the stunning purple crystals will. There's no escaping it…
Even if you're not used to kissing the Mezuzah every time you enter/exit the house, or if you sometimes forget – Matashi's eye-catching Mezuzah will likely change that.
Israeli artist, Orit Grader, is famous for 3 things:
Incorporating nature into her unique, personal designs.
Her signature style is lacy
Using brass to create her art
What happens when you add a Jewish Mezuzah to the equation? You do the math…
If you're used to having that "I can't wait till I get home" feeling every now and then, with Grader's designer Mezuzah hanging on your door, get ready to feel it a whole lot more…
Glass Mezuzah Cases
A glass Mezuzah case? Is that a thing?
You bet…
In fact, they're a VERY common gift for Jewish weddings.
But here's the thing – the ones you see gifted on weddings barely scratch the surface compared to the artistic glass Mezuzah I'm talking about.
Here, let me show you what I mean…
We, humans, are good at developing habits:
What once was hard, becomes easy…
What we used to consciously, we now do subconsciously…
What used to be exciting, eventually becomes "meh"…
Hanging your Jewish Mezuzah is a good example: you place the scroll inside the case, close it, hang it on your door – you're all excited.
But then, you walk past it 5 times a day, 10 times a day, every day, for years… soon enough, you'll barely even realize the Mezuzah is there anymore.
Not with Laura Cowan's modern glass Mezuzah case. The Mezuzah's glass tube is covered by a photograph of the actual Torah verses.
Like it or not, there's no way you're going to miss that…
Top Glass Mezuzah
I have a prediction:
The first thing your guests will ask you when they drop you a visit – will go something like:
"Wow, where did you get that Mezuzah?"
Tamara Baskin's tremendous piece of art is so unique, that you and your guests won't be able to ignore it, no matter how many times you walk through your front door.
Her glass designer Mezuzah is handmade, and beautifully gift-boxed – all ready to be gifted for a Jewish housewarming, wedding, birthday or any other occasion.
I obviously had to include a wedding glass Mezuzah in here… because, well, it would be foolish not to.
Made especially for a Jewish Chuppah, this stunning Israeli Mezuzah case features a cylindrical glass casing for the Mezuzah scroll, set inside an aluminum receptacle.
The cream doves on top – are the two cut-out doves, on top… (tried to be funny, didn't work)
Tip: It also comes in a variety of colors, including Gold, silver, purple & turquoise.
Wood Mezuzah Cases
When you think of wood Mezuzah cases, you're probably thinking: "an old & boring Mezuzah that no one even notices".
Well, you could get one of those if you wanted… but that's not exactly my cup of tea.
I prefer the vivid, colorful and meaningful wooden Mezuzahs, and that's what you'll see in this section…
Top Wooden Mezuzah
Speaking of vivid, colorful and meaningful wooden Mezuzahs – that pretty much sums up Yair Emanuel's gorgeous Mezuzahs…and this one is a great example of just that.
The vibrant design, the hand-painted illustrations of Jerusalem, the harmonious colors that brighten up the door – that's pretty much the opposite of a boring doorpost.
Not to mention the (ridiculously) cheap price, making it even more attractive than it already is.
OK OK, I'll include one traditional wooden Mezuzah that isn't exactly colorful… but it's not exactly boring either, is it?
I mean, how can a big wooden Mezuzah with a lovely leaf pattern and semi-precious stones be boring?
Especially when a Mezuzah case already comes with a Mezuzah scroll, and costs the same as 2 cups of coffee at Starbucks… pretty hard to argue with that.
We started this section with Yair Emanuel, and we're going to end it with Yair Emanuel.
This time, we have pomegranate branches under the microscope…
This high-quality, colorful wooden Mezuzah is also hand-painted (and lacquered) – just as you'd expect from Emanuel's fantastic craftsmanship.
Pewter Mezuzah Cases
Pewter Mezuzah cases are pretty common… But to be honest, I found most of them to be pretty bland and boring.
To find the really special ones, you'll have to dig deeper…
So I did… And boy, have I found some unique pewter Mezuzahs I can't wait to share with you here.
Excited? You should be…
Top Pewter Mezuzah
It's only symbolic for the scroll to live inside the Tree of Life – the ancient Kabbalistic symbol of the Torah's eternal wisdom.
Now you may be wondering:
"Where's the pewter exactly in this pewter Mezuzah?"
Don't worry, it's there…it's just covered in hand-painted in beautiful blue & silver tones, and enameled with sparkling crystals.
Sounds expensive, right?
Wrong! It's incredibly cheap (kind of shockingly cheap, actually).
Even though this modern, hand-painted pewter Mezuzah is made in Israel, it's completely decorated with Czech stones and metal beads on a glamorous blue background.
The Star of David is placed right on the center, where it belongs. And that says something… no matter how modern your house might be, or how modern this Mezuzah is, the Jewish tradition is still the core of our life.
This unique pewter Mezuzah looks like the spaceship Superman came in (go ahead, Google it). In other words – it's out of this world.
Unlike most Mezuzah cases, this contemporary Mezuzah does come with a scroll.
I recommend getting this pewter Mezuzah as a wedding or housewarming gift for someone who never settles for quality, and needs everything in their house to be shiny new.
Personalized & Handmade Mezuzah Cases
By now, I'm sure you agree that a Mezuzah case can be a brilliant gift (especially for a wedding).
But believe it or not – you can actually take it a step forward…
How?
By personalizing your Mezuzah to your recipient.
Because if there's something better than a Mezuzah, it's a personalized Mezuzah handmade especially for us.
Top Personalized Mezuzah
When Asaf Man, the designer (from Jerusalem) of this stunning Mezuzah, created this stunning wedding glass Mezuzah case – he didn't expect it to go "viral" and become so popular.
But it has – and now he has to keep up with the demand…
He uses his own two hands to hand-craft this remarkable Mezuzah from olive-wood.
And if you've got any custom requests – just let Asaf know and he'll be on top of it (not on Shabbos though).
Staying with the handmade wedding Mezuzah theme – this time with an extra stained glass heart/art (not a typo) added to it.
The lovely stained glass heart is topped with 2 crossing frosted glass tubes, a symbol of the bride & groom uniting on their special day.
And here's the fun part: you can personalize the Mezuzah by adding the couple's wedding date and family name to it (in English or Hebrew).
A truly one of a kind (and surprising) gift to get for the happy couple's Chuppah.
Enough personalized wedding Mezuzahs for one day… there are other days on the calendar beside the wedding day, you know?
For example a birthday, a housewarming, or just a Wednesday – all perfect days to get someone this personalized wooden Mezuzah.
Who wouldn't love to see their name on their Mezuzah every time they come back home from work/school?
Simply provide the name you'd like to include on the Mezuzah, and soon they'll proudly hang their brand new personalized Mezuzah.
Cheap Mezuzah Cases
What if you're not looking to spend a fortune on a new Mezuzah?
Does it mean you necessarily mean have you'll have to settle on quality? Not at all…
In fact, you'd be surprised how long these cheap Mezuzahs can actually last…
Top Inexpensive Mezuzah
If I had you guess the price of this Mezuzah, there's no way you'd be even close… I know that because I was VERY surprised when I discovered how much this pretty Mezuzah costs.
It's very authentic (plus it's made in Israel), and is completely silver-plated, making it look waaaay more expensive than it actually is.
Does this Mezuzah look familiar? If it does, it's because you've probably seen this classic Mezuzah (or similar ones) hang on many houses, synagogues, schools, and anywhere you could possibly think of in Israel.
This basic Mezuzah is ideally used for your internal rooms in your house (bedrooms, kitchen, study rooms, balconies… )
Here's what I would recommend:
For your front door – choose something a little more sophisticated.
For the rest of the rooms – you can use this Mezuzah.
Ever had non-Jews guests over, and they wondered what that "thing" hanging on your front door was?
Well, this brass Mezuzah case has a lovely blessing (written in English), greeting everyone who enters the house, so they'll have a better idea of what it is. They'll probably still ask you to tell them more about it, but at least you'll have a good starting point.
Ceramic Mezuzah Cases
Believe it or not, there are even cool ceramic Mezuzah cases out there, and they're really something too. They're handmade, with a modern look and are pretty affordable.
Top Ceramic Mezuzah
Have you ever tried folding Origami?
Did it ever occur to you to fold a Mezuzah in Origami?
No? That makes two of us… I say we leave the art to the artists…
This creative Israeli artist did just that – folds paper Origami models, and then translates it to ceramic molds – resulting in the cool ceramic Mezuzah you see before you.
And did I mention she hand-makes it from her studio in Jerusalem?
Antique & Vintage Mezuzah Cases
Confucius had a famous saying:
Sure, a modern Mezuzah can add a stylish look to your home… but an antique Mezuzah gives you the opportunity to own and display a small piece of Jewish history in your very own home.
Besides, you'll have a cool story to tell your guests about your vintage Mezuzah…
Care to have a little piece of Jewish history hanging on your doorstep – then let's hop on the time machine and visit Germany in the 17th century…
This majestic Mezuzah design was inspired by a 17th-century silver bookbinding decoration, made in Augsburg Germany.
And if you're an art enthusiast, you probably recognize the style… This kind of style was extremely common during the Italian Renaissance and spread all across Europe (and the world) during that time, influencing even our own Jewish art.
After visiting Germany in the 17th century, our next stop: Poland, the 19th century…
If you'll look closely, you'll notice an interesting decorative pattern of birds and flowers. This design was inspired by a unique Esther Scroll (Megillat Esther), created in Poland nearly 200 years ago.
The Israel Museum took that design and adapted it to a fascinating Mezuzah, and instead of holding the Esther Scroll, it will now protect the Mezuzah scroll… and you get to display that in your own home.
Top Antique Mezuzah
This rare Mezuzah is likely the fanciest piece of Jewish artwork on the list. It illustrates the Children of Israel receiving the Ten Commandments under a burning Menorah, adapted from Marc Chagall's legendary "I am the Lord thy God" painting.
The unique 18-color lithograph housing is set in a 24K gold plated bronze case. Both the lithograph and the case contain a replica of Marc Chagall's signature.
Remember – this Mezuzah is a limited edition (only 5748 copies were ever made in 1988), so act fast.
Conclusion
Hanging a Jewish Mezuzah is always an exciting event, especially when you move into your new home and invite your friends and family over for your housewarming party.
It's the first thing you see when you come home… so even if you had a horrible day, all you need is a beautiful Mezuzah staring at you to bring a smile on your face (alternatively, consider getting a dog 😉).
Hopefully this guide help you pick out the Mezuzah of your dreams!