10 Best Dead Sea Hand Creams & Mineral-Rich Lotions – Reviews (2022)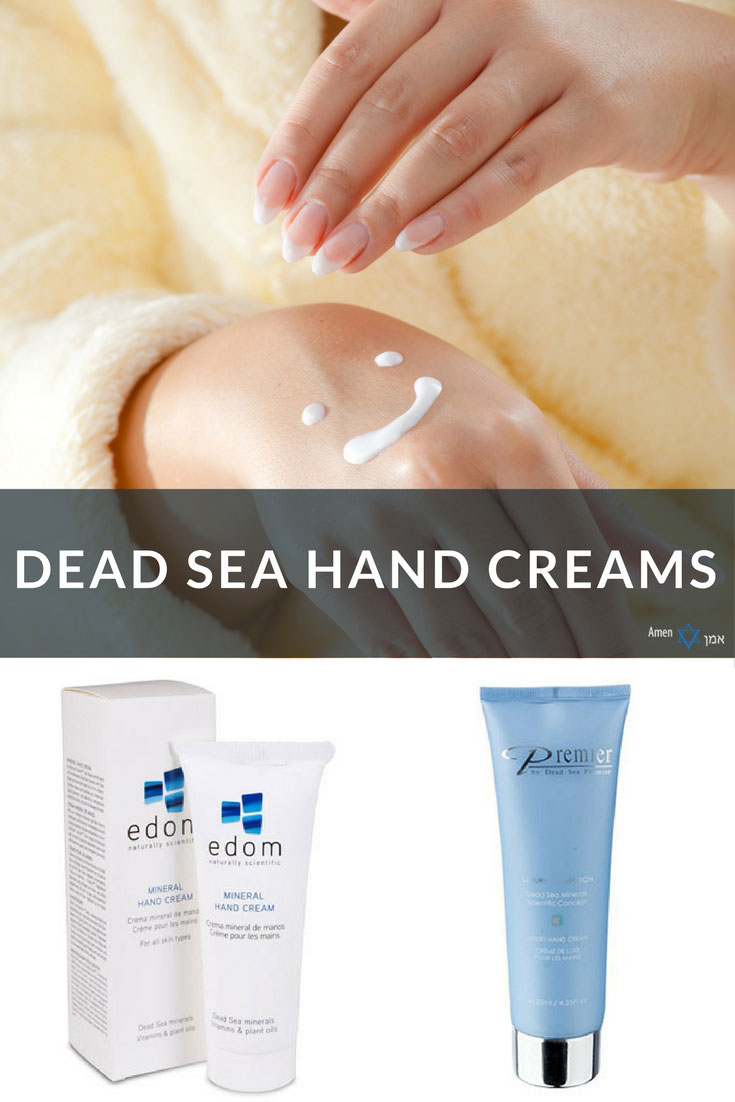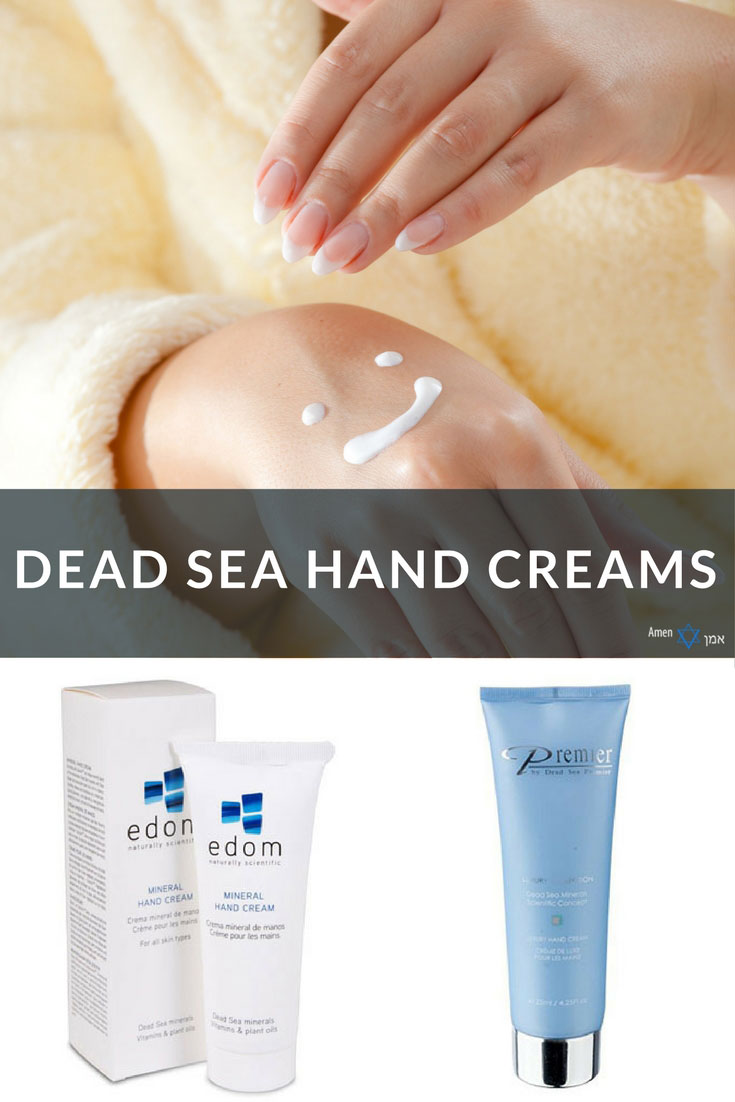 Amen V'Amen is supported by its audience. That means when you purchase something from one of our partners through one of our links, we may earn a small commission at no additional cost to you. Amen V'Amen is also an Amazon Associate, so we may earn a commission from qualifying purchases. Thank you for your support!
Let's all agree on one thing:
Dry hands are a pain (literally!).
And, as we all know, one known remedy to alleviate that "pain" is using hand cream.
But here's the problem… most hand creams promise to "take your hands all the way to the promised land", yet fail miserably, leaving you stranded "in the middle of the desert" (how's that for a Jewish analogy!)
Luckily, one of the most promising solutions comes straight from the promised land itself – the Dead Sea in Israel.
Dead Sea hand lotions are famous for their mineral-rich formulas that help hydrate, soften and moisturize your hands, without making them feel all greasy and disgusting.
Grab my hand, I'm going to help you find the best mineral hand lotion that will relax & moisturize your skin. By the time you'll finish reading this, you'll have one less worry in your mind.
Top Dead Sea Hand Creams
Let's have a quick look at the top Dead Sea hand creams out there – including our top choices…
And yes, we even gave out awards to the best ones!
Top Pick

Why Should You Get It?
If you ever tried ANY Dead Sea products – then there's a good chance you stumbled into AHAVA.
And if you haven't tried any yet – then allow me to introduce you to the number #1 Dead Sea cosmetics provider in Israel (from the Dead Sea actually).
AHAVA is one of the main reasons why Dead Sea products become so popular worldwide – they consistently pull of miracles, helping fight the most annoying skin annoyances you can possibly imagine.
Their hand cream is no different – the mineral-rich formula helps nourish and hydrate your hands, giving your hands a "velvety soft" feeling.
Plus, it absorbs quickly, leaving your hands softer without leaving a nasty greasy feeling – so you can move on with your day without your dry hands bothering you again.
Fun Fact: AHAVA means "Love" in Hebrew.
Who is it For?
Great if you have dry and sensitive skin that keeps you from doing your daily work, cooking or general productivity.
Tip: It's the exact right size for a purse or backpack.
Pros
Soothes your skin instantly
Absorbs quickly without leaving a greasy feeling
Fantastic smell
Vegan (cruelty-free)
Outstanding for sensitive skin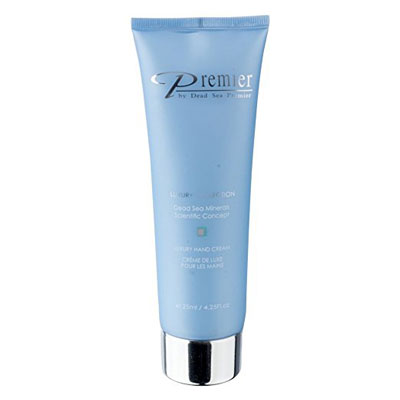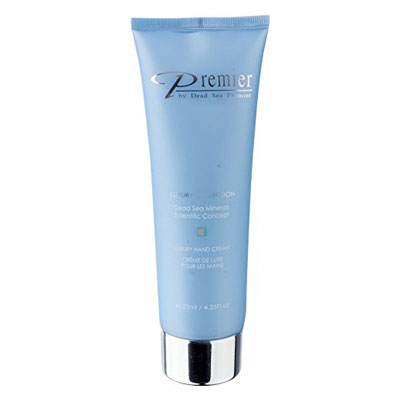 Why Should You Get It?
Premier Dead Sea's wonderful hand cream is extremely effective and lasts surprisingly long. You put it on in the morning, and it keeps your hands soft and smooth all day.
Their formula consists of Dead Sea minerals and plant extracts, which form a "silky" glove on your hands.
The Dead Sea salts can also help you get rid of skin allergies and protect your sensitive skin from unwelcomed rashes or guests.
Who is it For?
Especially suited if you live in warm and dry places… That's why when you travel to Israel, you see this flying off the shelf… it's freakin' hot and dry!
Pros
Nice smell
Feels like gloves
Great for warm climates

Why Should You Get It?
You really thought AHAVA wouldn't make a 2ndappearance?
Their witch hazel hand cream is a cheaper alternative in case you found their mineral hand cream too expensive.
It moisturizes the skin very effectively and keeps your hands soft for a good few hours.
The unique combination of Witch Hazel and the Dead Sea ingredients is a nice demonstration of "ingredients teamwork".
The natural anti-inflammatory & soothing properties of Witch Hazel deal with dry hands
The Dead Sea minerals help restore essential moisture – which is what makes your skin feel so soft and lovely.
Why Not?
The scent is pretty strong and artificial. Plus, it leaves your hands a little greasy after using it.
Who is it For?
It's nice if you're looking for a relatively cheap Dead Sea hand lotion to soothe and moisturize your hands.
But if you've got a sensitive nose and can't stand it when your hands get greasy – then you may want to choose a different hand cream.
Pros
Natural anti-inflammatory & soothing properties
Keeps hands soft
Good for both men & women
Cons
Strong artificial fragrance
Greasy
Our Favorite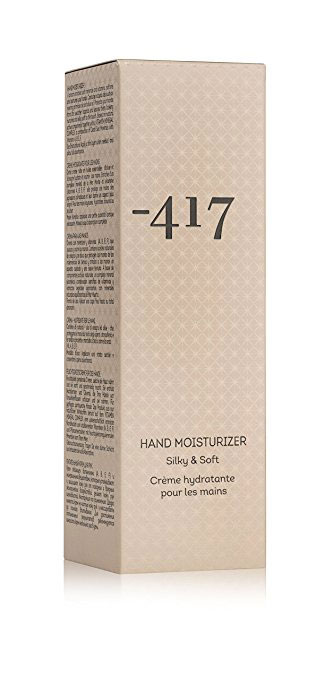 Why Should You Get It?
If I had to choose my favorite hand lotion – then 417's remarkable Dead Sea hand moisturizer would be it.
Just as the name implies – this is without a doubt the most moisturizing hand cream you'll stumble across.
After a few seconds of rubbing your hands with it, your hands become even softer than baby skin and feel like silicon gloves.
This hand cream is very hard to resist, and I'm not the only one who thinks so…
How often do you get to see something on Amazon that has a whopping 5-star review average (at least at the time I wrote this)?
Who is it For?
EVERYONE. It's extremely moisturizing, and I haven't met someone who doesn't like that yet. Great silky feeling, with a mineral-rich formula that also helps wrinkles.
Pros
EXTREMELY moisturizing
No animal testing
Feels like a silicon glove
Helps with wrinkles
Cons
The smell is quite strong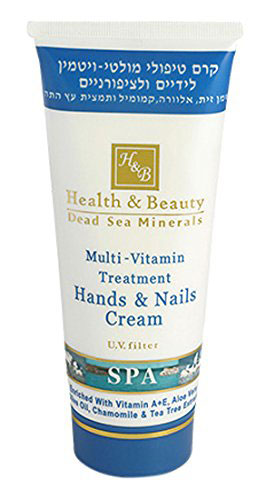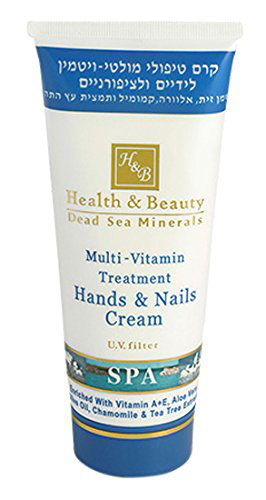 Why Should You Get It?
Do you read Hebrew?
If you do, then a quick look at the picture and you'll immediately notice the impressive blend of aromatic oils and the Dead Sea minerals in this hand cream.
For those of you who don't read Hebrew – allow me to translate:
Olive oil
Aloe Vera
Chamomile
Evening Primrose oil

Avocado oil

Tea tree extract (effective against fingernail fungus treatment)
Pretty impressive, isn't it?
Plus, it also contains UV filters to protect your hands and skin, which is especially important during the summer.
Tip: Use it every time you wash your hands with salt soap.
Why Not?
With all that being said – there's one little issue worth mentioning: it doesn't moisturize your hands very well…
Don't get me wrong – the cream is not at all greasy but in terms of moisturizing hands? I've seen better.
Who is it For?
Great as an introductory Dead Sea hand cream since it's very cheap. It's also a favorite among men, not just women… So your husband will also feel comfortable using it (it's blue!)
Pros
An impressive combination of aromatic oils & minerals
Includes UV filters to protect your hands
Good for both men & women
Very cheap
Cons
Doesn't moisturize for long enough
Strong, medicine-like smell
Also Recommended: Since you're already treating your hands with a Dead Sea salt lotion, you may want to refresh yourself with some energizing Dead Sea face wash.

Why Should You Get It?
This is AHAVA's 3rd (!) appearance in this article.
Like the others, this lavender hand cream smells terrific. The mineral-rich, aromatherapeutic formula has great calming effects, making your hands feel lighter than air after using it.
Why Not?
Compared to their other hand creams, this one does have quite a few downsides you should bear in mind. The biggest one by far is that it leaves a greasy residue after using it, and it doesn't last long at all…
Plus, it's quite pricey compared to their other ones.
Who is it For?
Great hand cream to keep in your purse for stressful days, where you could use a little lavender escape and let your hands relax a bit.
Pros
Calming effect
Nice lavender smell
Cons
Leaves oily residue
Doesn't last long
Expensive
Best Value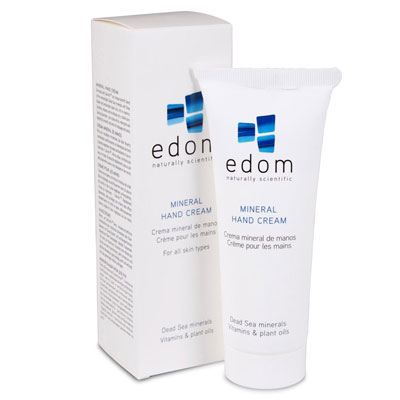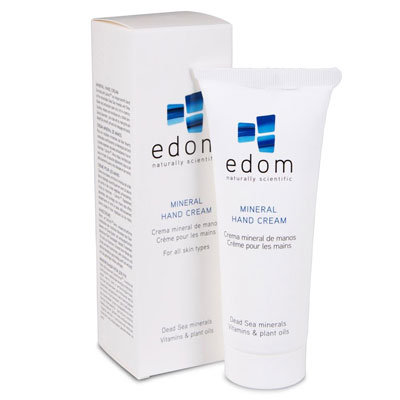 Why Should You Get It?
If it's value for money you after (aka – low price, high value) – then hands down (with a little hand cream on top): Edom wins big time.
Their formula is rich with Dead Sea minerals straight from the waters of the Dead Sea, and leave your hands soft and oil-free.
The cream absorbs VERY quickly, making the skin deliciously smooth while making sure your hands don't dry up again.
Soothing hand cream for a soothing price… not a lot more you can ask from Dead Sea hand cream.
Tip: You can even use it on the rest of your body, not just your hands.
Who is it For?
For those of you who'd like to spend as little as possible and get as much as possible in return. I especially recommend this if it's the first time you're trying out Dead Sea mineral hand creams… first impressions count, and Edom gives a fantastic first impression.
Pros
Rich & creamy
Absorbs quickly
Amazing value for a low price
Cons
Larger shipping time (ships from Israel)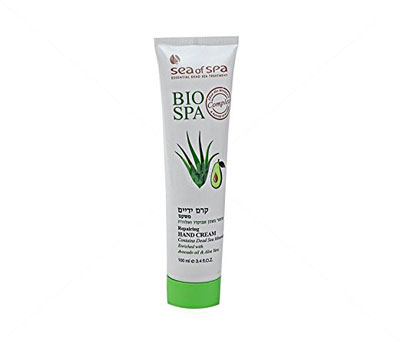 Why Should You Get It?
Sea of Spa's enriching and moisturizing cream has got to be one of the best scented Dead Sea hand lotions on the market.
But it's not just the heavenly fragrance… the unique mix of avocado-oil, Aloe Vera, and the Dead Sea salts are absolutely fantastic in dealing with dry skin and cracks. After a few days of consistent use – it will get rid of most of your cracks and moisturize your hands wonderfully.
Next time you're in Israel – look for it in the local stores… and if you're not planning a visit anytime soon – then definitely order it online.
Trust me, it's worth the longer shipping time.
Who is it For?
For people suffering from dry skin and cracks on their fingers. Especially if your nose is sensitive to smell – this hand cream smells like a piece of heaven on your hands.
Pros
Amazing fragrance
Great for dry skin
Cheap
Cons
Not great for sensitive skin
Longer shipping time (from Israel)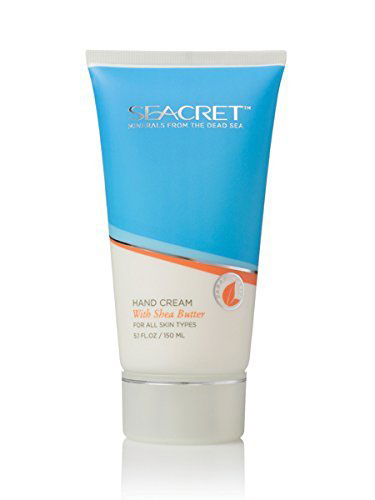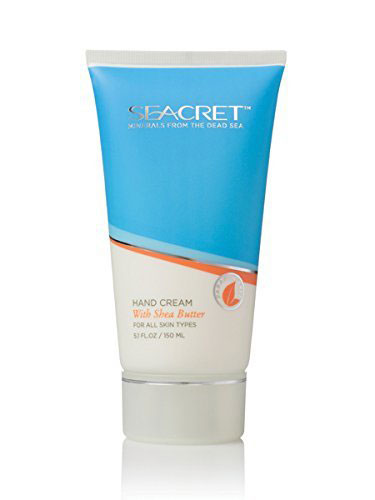 Why Should You Get It?
Seacret is known for their terrific hand & mineral foot creams – and this one is a great example of why.
This little bottle of shea butter hand cream is filled with plenty of Dead Sea minerals that perform wonders on dry hands.
It even helps construction workers soften their chapped hands, so it's safe to say it can deal with almost any type of skin.
Tip: Use it at night before you go to bed, and in the morning after you wake up for optimal relief.
Why Not?
Even though it's a pretty good hand cream, it does have a few disadvantages:
Leaves your hands pretty oily
Runs out pretty quickly
Pretty expensive for a hand cream
Who is it For?
If you're still shopping around looking for the best hand cream that works for you, then this Dead Sea hand cream might be worth trying out. But keep the problems I mentioned above in mind before you do decide to try it.
Pros
Lovely eucalyptus scent
Reputable Israeli brand
Can be used on other body parts
Cons
Leaves your hands a bit oily
Expensive
Best Gift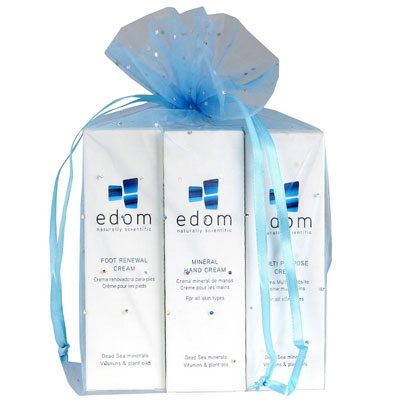 Why Should You Get It?
Edom already made an appearance on this list. Not only that, but it also won our "Best Value" Dead Sea hand cream award.
So what's this gift pack all about?
Well, since Dead Sea products are famous for relieving stress, I thought I'd throw this exceptional gift pack into the mix in case you know someone who could use a little "mental break" to replace her stress with a nice smile on her face.
Edom's best-selling Dead Sea mineral-rich gift pack includes some of Israel's finest Dead Sea finest creams:
One thing's for sure: it's much more than just relaxing your hands… this gift pack is TOTAL relaxation.
Who is it For?
For someone who could use a "break". Edom's gift pack provides total relaxation for someone with a lot of stress on her shoulders.
Tip: If it happens to be you, don't wait for someone to surprise you. Surprise yourself.
Pros
Absorbs quickly with no oily residue
Very relaxing
Softens & renews dry skin
Outstanding gift
Cons
Longer shipping time (from Israel)
Final Verdict
Top Pick: Dead Sea Minerals Treatment Hand cream
AHAVA's bestselling hand cream. The mineral-rich formula that nourishes and hydrates your hands like no other, providing your hands a "velvety soft" feeling.
Our Favorite: -417 Dead Sea Cosmetics Anti Aging Hand Moisturizer Cream
Lasts for an entire day when you put it on after you wake up. The Dead Sea salts protect your skin from rashes and make your hands feel like you have a silk coat over them.
Best Value: Edom Mineral Hand Cream
Probably the most soothing hand cream on the list, and personally one of my favorite Dead Sea brands from Israel. Especially considering the low price tag… simply put, the best value for your money.
Best Gift: Edom Gift Pack: Mineral Hand Cream, Foot Renewal Cream, Multi-Purpose
Dead Sea products are a popular gift to get women who could use a mental break and dose of relaxation. Edom's gift pack Is just that – relaxation wrapped in a gift pack. And since it includes Edom's mineral-rich hand cream, I had a good excuse to include their awesome gift pack in here 🙂
Conclusion
Dead Sea salts & minerals are terrific for your skin – and now your hands will get a chance to feel it.
Dry hands are just an annoyance, and there's no reason to suffer and be less productive when the solution is so easy (and cheap!).
Now that your hands are smooth again (or soon will be), type on the comments which of these hand creams you prefer – and how hydrated your hands feel from 1-10.