10 Phenomenal Dead Sea Foot Creams for Dry Feet & Cracked Heals – Reviews (2022)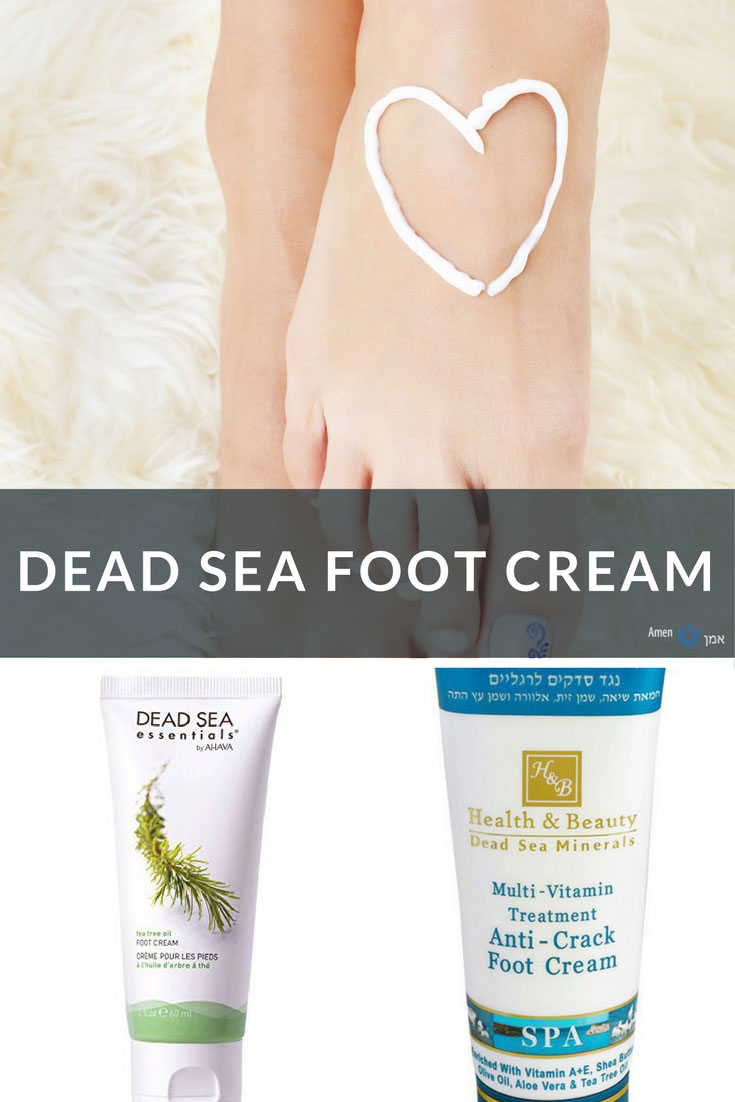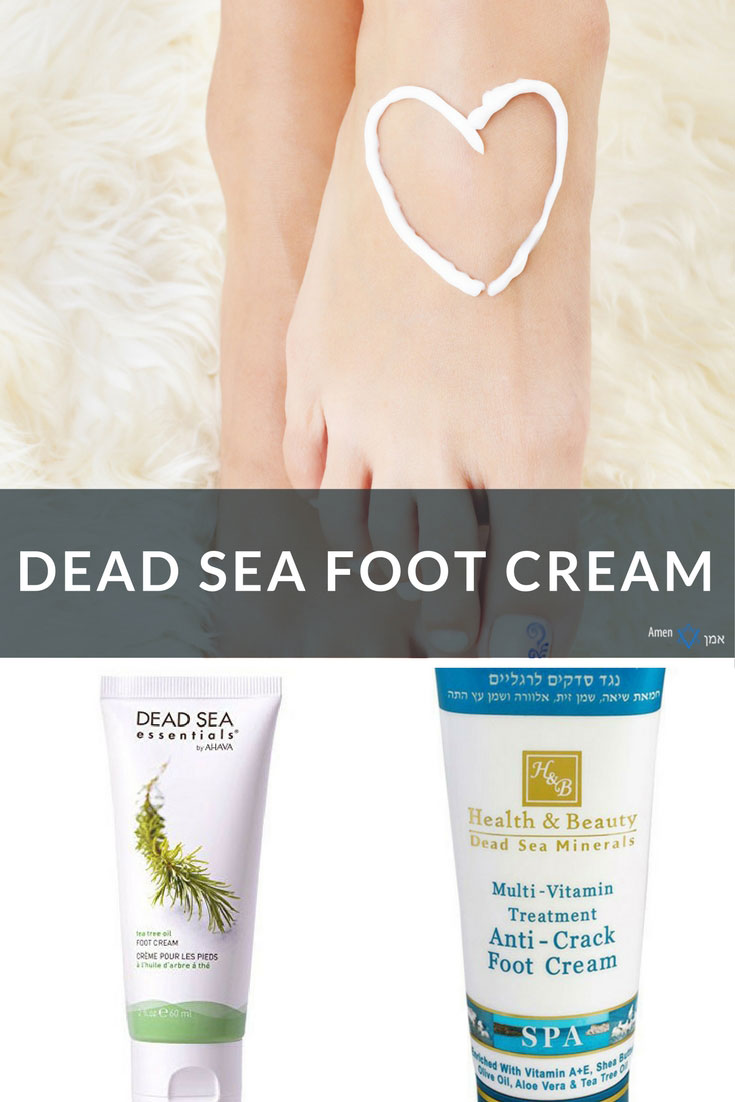 Amen V'Amen is supported by its audience. That means when you purchase something from one of our partners through one of our links, we may earn a small commission at no additional cost to you. Amen V'Amen is also an Amazon Associate, so we may earn a commission from qualifying purchases. Thank you for your support!
Your feet are killing you lately…
You get home from work, and the first thing you do is take off your shoes just so your feet can "breathe"…
You've been pushing off treating your feet, because "who's got time to deal with those things anyway"…
If that sounds anything like you, then allow me to say BRAVO for finally taking your first step.
Thankfully, once you get one of the mineral-rich Dead Sea foot creams you're about to see, your steps will become less painful and much more enjoyable.
Whether you have dry feet, suffer from cracks or looking to moisturize your feet to give them a nice, young look – you're in the right place…
Let's get (anti) cracking…
Top Dead Sea Foot Creams
Care for a quick glimpse of the top Dead Sea mineral foot creams that made it to our list?
Relax, take off your shoes and listen to what your feet are saying. Follow your gut foot instincts.
Top Pick
Why Should You Get It?
If you struggle with being on the go constantly, resulting in dry, painful heels that won't stop cracking to save a life, I'd like to provide you some relief (well not me exactly… I'm not offering foot massages).
AHAVA, the leading Dead Sea cosmetics brand from Israel, created a fantastic foot cream that can treat the most irritating foot problems you can imagine. The thick formula penetrates deep into those feet for a nice, luxurious pop of moisture and smoothness.
Busy? No problem. This one only needs to be applied once a day for the magic to work.
Also? It's got a dash of salicylic acid in there, the same product that is commonly used to clear up acne and calm angry skin, so your feet will be singing little tunes of happiness after a few doses of this.
Who is it For?
This cream is ideal if you desperately need some relief from the crunching in your shoes, but don't have much time to devote to it. It's a blessing for busy moms.
Pros
Thick, heavy cream for deep hydration
Very moisturizing
Contains salicylic acid to help remove dry, flaky skin
Lasts for a long time before a reapplication is needed
Cons
The smell is a little strong
Quite Expensive
Our Rating: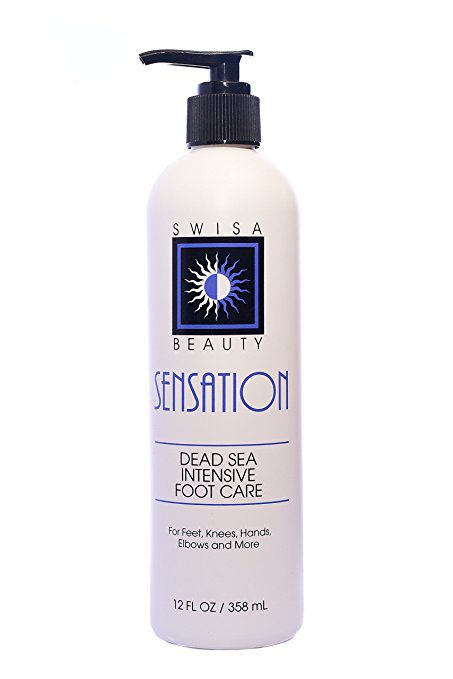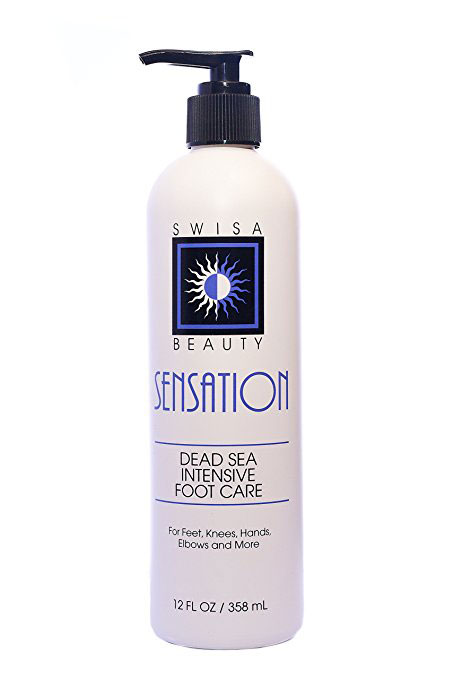 Why Should You Get It?
Foot pain on the outside? Foot pain on the inside? Doesn't matter – Swisa's Dead Sea foot cream can handle it all.
Thanks to the winning combination of eucalyptus oil, Aloe Vera, and warming agents, this cream is designed to penetrate deep beyond the surface of the skin and into the folds and layers – where diabetic and athletic-induced pain forms.
Tip: Also, it's not just for your feet. You can use it on any part of your body that aches and needs help with circulation.
Why Not?
It has a pretty strong smell. So beware if you're the "sensitive nose type".
Who is it For?
This cream is ideal for use in all areas of the body that need internal and external healing. It's specifically designed to treat pain and discomfort in all areas and layers of the skin.
Pros
Stimulates circulation and cell regeneration
Added eucalyptus oil & warming agents help with neuropathy pain
Can also be applied to other aching parts of the body
Cons
Strong smell
Can take some time to be effective
Our Rating: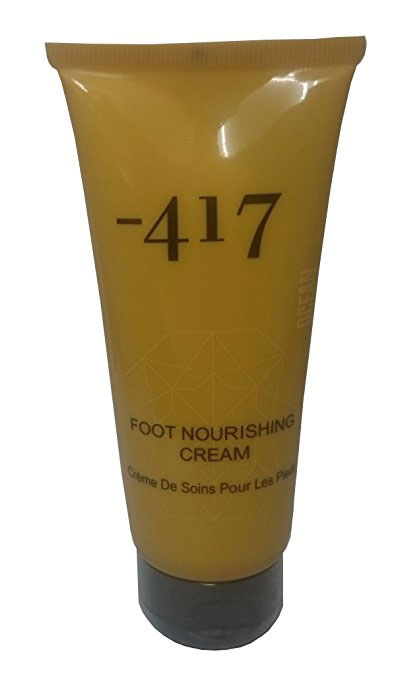 Why Should You Get It?
If you've been reading my blog for a while, you probably noticed Minus 417 makes an appearance pretty often… and their outstanding Dead Sea foot cream definitely deserves a spot in here as well.
Minus 417's Foot Cream was made with everlasting beauty in mind. It packs an extra-strong punch of vitamins to stop anti-aging and restore skin to its glorious, shining youth.
What Vitamins, you ask? It boasts a generous amount of:
Vitamin A
Vitamin B
Vitamin E
Vitamin F
Trust me, their vitamin-rich formula is so effective that it can hydrate a desert. So it certainly will moisturize and soften your feet nice and good.
Why Not?
If you're suffering from cracked skin, then this cream is not as effective as the other ones on this list.
Who is it For?
When it comes to anti-aging and youth-enhancing properties, this cream is number #1. Its light and airy texture provide moisture without leaving you greasy. It is even gentle enough to be used on your face if you desire. If we would've had a "Top anti-aging foot cream", then this would've been the clear winner.
Pros
Helps skin retain moisture
Fights against anti-aging
Improves fine lines
Cons
Thin consistency
Does not penetrate heavily cracked or thick skin
Our Rating:
Why Should You Get It?
Verbiena's Dead Sea salt & minerals foot cream are kind of the jack-of-all-trades of foot creams.
It contains a modest amount of Dead Sea minerals and tea tree essential oils, making it suitable for all skin types.
Why Not?
While this foot cream does have plenty of nice perks, it doesn't really have a significant effect on the cracked skin. It could also be made thicker IMHO.
Who is it For?
Everyone! This best-selling cream gets lots of love for good reason. It's suitable for all skin types, has a great smell and is very affordable – making it a great option if you're just getting your first Dead Sea foot cream.
Pros
Absorbs quickly
No greasy residue
Eliminates germs & bacteria
Cons
Not as effective for cracked skin
Could be made thicker
Our Rating:
Our Favorite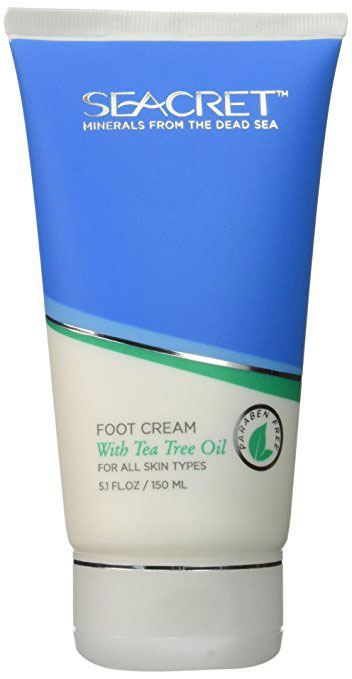 Why Should You Get It?
Another tea tree oil + Dead Sea mineral combination. What's the deal with that combination anyway? As they say, the proof is in the pudding (or in this case, the foot cream).
Seacret is famous for its phenomenal Dead Sea creams, so obviously, their foot cream also shines compared to its alternatives.
Besides the rich Dead Sea minerals, it also contains cocoa butter to make your skin much more soothing.
It does a perfect job fighting against irritating skin conditions of all sorts, and you can notice the difference pretty quickly too.
Word of Caution: If you ever step into a shopping mall in your area, there's a good chance you'll stumble into Seacret's products being sold by some of the pushiest salesmen. DO NOT give in to them and DO NOT buy them in these kiosks. Their prices are a complete rip-off (sometimes up to 10X more than you can find online)!
Why Not?
Just like most of Seacret's products, it's quite expensive compared to the alternatives.
Note: I'm talking about the online retail price, not the shopping mall's inflated prices which is just ridiculous.
Who is it For?
This cream is ideal for all skin types, but it is especially effective if you suffer from skin irritations or feeling a bit stressful. The cocoa butter is a nice touch that helps relieve some of that stress.
Pros
Provides deep healing
Non-greasy
Antiseptic properties
Cons
Expensive
Ineffective if not used regularly
Our Rating:
Why Should You Get It?
Let's start with the obvious reason: you get 2-foot creams AND 2 mineral hand creams – 4 bottles for the price of 1. That alone should get you fired up.
Now if you caught fire, allow me to throw some fresh water at your hands & feet. At least that's what it feels like when you apply Bio Spa's creams: like a cold, fresh glass of water in the middle of the hot summer. And you can trust that this popular Israeli based Dead Sea cosmetics brand knows all about hot summers (if you've ever been to Israel in the summer, you know what I'm talking about).
In addition to the purifying Dead Sea minerals, these creams also contain a considerable amount of avocado oil, which helps moisturize your feed very effectively.
Why Not?
This cream does wash off easily (this can be an advantage or a disadvantage, depends on how you look at it). Also, the smell isn't exactly "welcoming", compared to many of the other foot creams on here.
Who is it For?
As we age, our skin loses moisture. To combat this, and reduce itchiness and irritation, we need to supplement our skin with moisture-rich creams. The earlier, the better.
This avocado oil-rich cream is recommended for those whose skin just needs a few extra doses of hydration every now and then.
Pros
Moisturizing (good for dry skin)
Pretty cheap
Cons
Washes off easily
Medicinal smell
Our Rating:
Best Value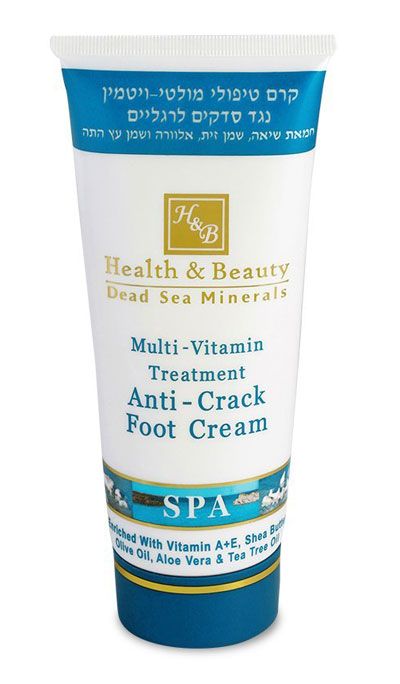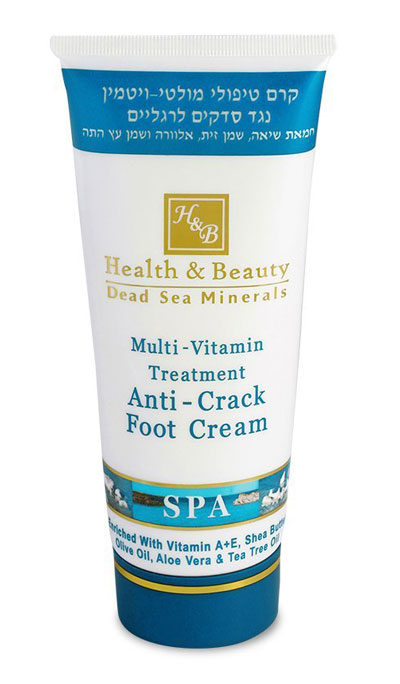 Why Should You Get It?
What can I say… H&B are known for their affordable prices without sacrificing quality. That holds true for their anti-crack Dead Sea foot cream as well.
This cream has a unique blend of tea tree oil, olive oil, Aloe Vera, shoe cream, and vitamins that are cultivated to stop skin issues on the feet before they begin.
Treating your feet after the fact is nice, but why not prevent dry feet from showing up in the first place?
Why Not?
All good things come to an end. Unfortunately, this foot cream comes in a tiny little bottle that runs out quickly (and then you'll have to reorder some more).
Who is it For?
While anyone can use this cream, it is specially created for people in very specific conditions: soldiers, athletes, and people who experience large amounts of sun exposure, chlorine, humidity, or heat.
Pros
Very affordable
Enriched with Vitamin A + E
Made in Israel
Our Rating: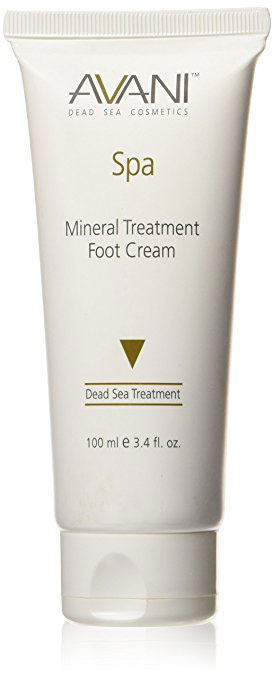 Why Should You Get It?
In addition to relieving dry skin and replenishing moisture, the Mineral Treatment Foot Cream by Avani has an extra blend of ingredients to fight against burning, irritation, circulation problems, and bacteria that cause foot odor.
This cream has extra amounts of Aloe Vera and Shea butter in order to specifically fight against these common skin issues that frequently accompany dry skin.
Why Not?
To be honest, Avani's Dead Sea mineral foot cream doesn't have very lasting effects. It may or may not be what you're looking for. But it's still cheap, so it can't hurt to try it out.
Who is it For?
This cream is the perfect little treat for anyone and everyone. It will relieve dry skin, along with the common foot issues that go along with it, and is gentle but powerful enough to be used effectively for all skin types.
Pros
Relieves burning and itching
Fights bacteria
Cons
Doesn't last long and needs to be reapplied often
Strong smell
Our Rating: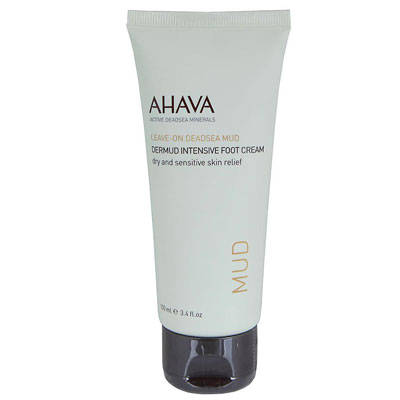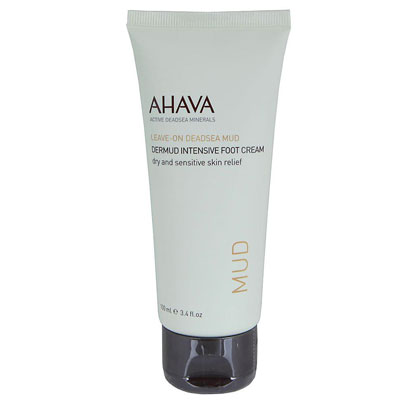 Why Should You Get It?
AHAVA's second foot cream on this list is also a huge hit. And as opposed to the previous one – this one also contains mineral mud from the Dead Sea, including the phenomenal benefits that come along with it.
It does a fantastic job relieving stress pain and inflammations. So it's a real treat if you're having a tough time at work or could use a little relief.
The formula is intensely thick and saturated with Dead Sea minerals that are sure to give a nice, long break from the pain of dry, cracking feet.
Who is it For?
Always on the go, working your feet as if they were made of iron, and now they are begging for relief because of it. Sound familiar? If so, your feet need a very long therapy session, and this cream will give them just that.
This cream is certified vegan and cruelty-free so that only the best of the best ingredients come into contact with your feet.
Pros
Intense moisture for those with extremely dry, breaking skin
Rich in minerals
Relieves stress pains, aching muscles, and inflammation
Cons
Absorbs slowly
Too greasy for those with only moderately dry skin
Our Rating:
Best Gift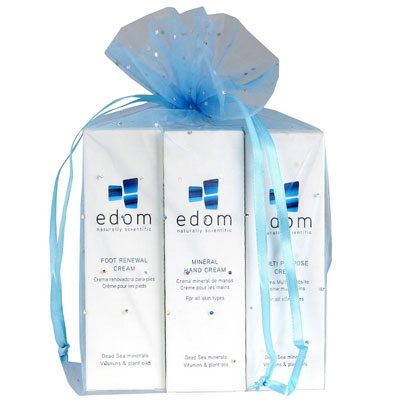 Why Should You Get It?
Dead Sea products usually make for a great gift…all of us know at least one person who could use a nice little "mental break" (hey, that person may very well be you). If you just thought of someone, then Edom's bestselling Dead Sea gift pack might just be the relaxing (and very cheap) gift pack you were looking for.
This pack contains a whole list of Dead Sea goodies:
Mineral hand cream
Foot renewal cream
Multi-purpose cream
Dead Sea Bath Sea Salts
A little something for every part of you that could use a little nourishing.
Who is it For?
Ladies (and gentlemen?), we hustle through life. A lot…
And although a relaxing day at the spa sounds compelling, it doesn't really fit well into our busy schedules (unfortunately). Luckily, Edom brings the spa experience straight to our own home. And guess what? It doesn't cost nearly as much, either.
The creams and salts contained in this mineral-rich gift pack are a relaxing addition to an otherwise busy life. They are specially designed for people who live their lives on the go, as many of us hustlin' ladies (OK OK, gentlemen as well) do.
Pros
Offers "all-around" treatment
Affordable price
Absorbs quickly
Very moisturizing
Cons
Longer shipping time (ships from Israel)
Our Rating:
Final Verdict
Top Pick: AHAVA Mineral Foot Cream
Our "Top Pick" award goes to the one and only AHAVA… Thanks to their thick and highly effective formula that can penetrate deep into the roughest feet imaginable and moisturize even the Sahara Desert. With a small dose of salicylic acid, commonly used to treat acne and other skin annoyances, you can kiss the bacteria goodbye.
My Favorite: Seacret Foot Cream with Tea Tree Oil
Let's face it – when we use a foot cream, besides treating our skin expectations, we'd appreciate soothing, moist and relaxed feet as well. Seacret's unique formula includes a nice amount of cocoa butter – which increases the soothing sensation. And that ladies (and gentlemen), is enough for me to become a cheerleader of this foot cream.
Best Value: Health & Beauty Dead Sea Treatment Anti-Crack Foot Cream
When it comes to value for money, Health & Beauty's Dead Sea anti-crack foot cream (which is made in Israel by the way) gets my thumbs up. The preventative nature and ability to heal cracks are extremely good, and for the low price point, it's really a no-brainer.
Best Gift: Body Treat Edom Gift Pack
Edom's Gift Pack is simply a treat if you're looking to spoil someone with some of Israel's finest Dead Sea cosmetics. You get three creams and one container of Dead Sea bath salts for the price of one bottle of cream.
Conclusion
Congratulations if you reached this far… It means that you just witnessed the top Dead Sea foot creams you can get your hands feet on.
And trust me, your feet will thank you after you give them some of the Dead Sea's awesome healing powers. They will become smooth, fresh and relaxed… and suddenly you'll discover that you're much more relaxed as a result.
You'll finally stop suffering and be able to focus on your day instead of stressing out about your feet.
I wish you a happy pair of feet and a smooth walk 🙂