20+ Modern Havdalah Sets & Jewish Spice Boxes from Israel (2022)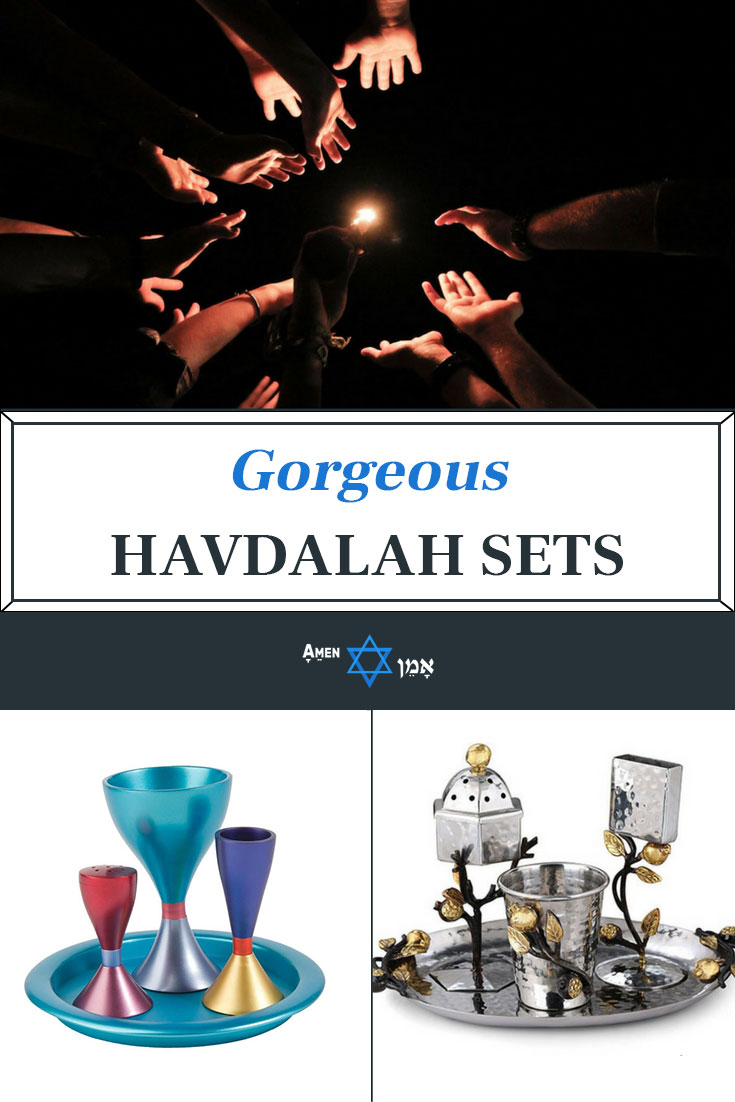 Amen V'Amen is supported by its audience. That means when you purchase something from one of our partners through one of our links, we may earn a small commission at no additional cost to you. Amen V'Amen is also an Amazon Associate, so we may earn a commission from qualifying purchases. Thank you for your support!
In Jewish tradition, the Havdalah ceremony marks the final stage of the holy Sabbath. During the ceremony, Jews light a candle and recite a blessing – where they conclude the end of the previous week – thanking God for providing them with a sacred day of rest in between "regular" days and welcoming the week ahead.
Even though a Havdalah ceremony can technically be conducted with a candle and a glass of wine, most Jews use a dedicated Havdalah kit to perform the ceremony.
In this guide, our editors hand-picked some of their favorite Havdalah sets they found on the internet. From minimalistic Havdalah sets that are designed to just get the job done, to artistic Havdalah sets that you can gift to someone for a special occasion… in this guide you will find it all!
Let's have a look, shall we?
Top Havdalah Sets
Introducing – Amen V'Amen's award winners for The Top Havdalah Sets & Jewish Spice Boxes for 2023:
Modern Havdalah Sets
Sure, you can light a standard Havdalah candle and call it a day… Or, you can transform the Havdalah ceremony into an exhilarating event that starts off your week on the right foot…
If you prefer the latter, then you'll LOVE these top modern Havdalah sets that will end your Shabbat on a beautiful note and kickstart the new week in style…
Top Modern Set
When it comes to modern Judaica, there's one name that stands out above everyone else: Yair Emanuel.
Emanuel is Israel's most popular Judaica artist, and arguably the leading contemporary Judaica artist in the whole world.
So It shouldn't come as a huge surprise that his magnificent Havdalah set was named the Top Havdalah set for 2023, now should it?
Just like so many of Emanuel's spectacular designs – his bestselling Havdalah set offers a seamless blend of contemporary design and Jewish tradition.
The entire set is made of stainless steel and is beautifully decorated with shiny pomegranates and leaves surrounding every single item in this Havdalah set: the Havdalah spice box, candle holder & Kiddush cup.
Now that's a helluva way to bid your farewell to the Sabbath or Jewish holiday (especially if its Rosh Hashanah or Sukkot).
Need more proof of Yair Emanuel's uncanny ability to design remarkable contemporary Judaica? How about a Havdalah set from the future? Is that "modern" enough?
I call this Havdalah set 2.0 – the next generation of Havdalah kits.
People say robots will soon take over our jobs. I challenge any robot reading this to create a modern Havdalah that looks half as good as this!
In case you found Emanuel's previous Havdalah set too "out there" – here's the same Havdalah set 2.0, only made of nickel.
It's just as impressive as the futuristic design, except more "toned down"… so it doesn't scream "LOOK AT ME!" when people first enter their home.
Let's complete the Modern Havdalah sets section with a more traditional-looking kit.
Don't let the image fool you – it doesn't do any justice with the beauty of the set in real life.
This contemporary Havdalah set is crafted from a highly polished metal alloy, with a unique, handmade mother of pearl design.
There are 4 pieces in the metal set:
Gleaming ceremonial wine goblet (Kiddush cup)
Jewish Spice box (with a pierced lit and a Star of David decoration)
Havdalah candle holder
Metal tray
Silver & Sterling Silver Havdalah Sets
Let's step it up a notch or two. If you're looking for a Havdalah set that "looks the part"; a set that lights the room up even before you actually light the candle – then you'll LOVE these silver (and sterling silver) Havdalah Sets…
Top Silver Set
In Judaism, Shabbat is often referred to as "The Queen or The Bride" (Shabbat Hamalka in Hebrew).
Speaking of a queen, this silver Havdalah set looks like it was taken straight from Queen Elizabeth's Jewish kitchen (taken with permission, not stolen).
The 4 pieces in this royal-looking, silver-plated Havdalah set include:
Kiddush wine cup
Havdalah spice box
Havdalah candle holder
Octagonal silver tray
Made in Israel, decorated with a beautiful filigree design, and ready to become a beloved item in a new Jewish home.
Jerusalem of gold?
Sorry, not this time… This time, it's Jerusalem of silver!
Not everyone is lucky enough to physically perform the Havdalah ceremony in Jerusalem… but this nickel-plated Havdalah set from Israel gets you pretty close.
Fully decorated with Jerusalem's stunning scenery of the old city, this elegant Havdalah gives you a small taste (and scent) of Israel before parting ways with the Sabbath.
Aside from the beautiful Jerusalem design, it also features the Havdalah blessing written in Hebrew, highlighting the transition from the holy Sabbath to the rest of the week.
Unlike most Havdalah sets we've seen so far, this sterling silver Havdalah set is mostly for decorative purposes.
Don't get me wrong, you certainly could use it for the Havdalah ceremony. But should you? If you ask me, it's not worth it… you'd be ruining a marvelous, gleaming Judaica piece – one that captures your attention the instant you enter the room.
It's certainly not for the light-hearted (or the price-conscious). However, if you're looking for a one-of-a-kind gift for a loved one (such as a unique wedding gift), then this is an absolute WINNER.
The entire set is made of 925 sterling silver, with a base made of glowing brass. The (ball-shaped) spice holder hangs on the brass stand for quick and easy access.
Also, notice that cute illustration on the bottom? That's an engraving of Jerusalem's skyline.
Like I said – one-of-a-kind.
Ceramic Havdalah Sets
If you appreciate high quality ceramic Judaica items… then boy oh boy will this section be a treat for you.
It's true that most famous Judaica ceramic sets are made of Armenian ceramics… but there's more to the story than that.
Prepare to be pleasantly surprised by the state-of-the-art ceramic Havdalah sets (both Armenian and not).
Top Ceramic Set
Let's start off with the most popular Judaica ceramic design: Armenian ceramics.
This traditional Havdalah arrives straight from Israel and features a colorful & cheerful floral design on the traditional blue Armenian theme.
The famous Havdalah blessing is obviously also present: "Hamavdil Ben Kodesh Le Chol".
If you're a fan of Armenian ceramics, and you're missing a ceramic Havdalah set from your collection – this would fill the spot for an incredibly affordable price.
Purity, Spirituality & Significance.
That's what Shabbat stands for… You could already see how this pure-white ceramic Havdalah set fits in the picture.
Combine the white & gold colors with the beautifully written Hebrew text of the associated blessings, plus the unique floral design – and you get a beautiful ceramic spice set to start off off your new week in the best way possible.
Oh, and it's very cheap… lucky you.
Having a tough time to gather the kids around for Havdalah? Problem solved.
Israeli artist Sharon Muchnick set out to transform the Havdalah ceremony into a fun, beautiful, and artistic ceremony kids (and adults) look forward to.
She did it by designing the traditional Havdalah items in a delightful way with her unique touch.
This playful ceramic Havdalah set includes:
Havdalah spice box (windmill)

Wine cup

Havdalah candle holder

Ceramic plate
Plus, every item in this set has the associated blessing engraved on it, so everyone could easily follow along.
No doubt – the cutest Havdalah set on our list, and a terrific gift for a young Jewish family.
Pewter Havdalah Sets
Speaking of royal, you can't talk about a royal-looking Shabbat Havdalah candle set and not mention the popular Pewter Havdalah sets. If silver doesn't cut it and you want to step it up a notch – then a Pewter set is the way to do that.
Top Pewter Set
"Wow".
That was my response when I saw this breathtaking Judaica piece for the first time. Expect a similar response when your guests, gift recipients or strangers from the street see it for the first time.
The style, the beauty, the "seven species of fruits" decoration… just wow (I sound like a broken record, don't I?).
The shining pewter on this piece is decorated with 24K gold, with highlights of iridescent enamel with sapphire crystals.
It includes all of the required items for Havdalah (and then some), all decorated with the "seven species of fruits" native to the land of Israel:
Havdalah cup
Saucer
Spice container
Havdalah candle holder
A magnificent Pewter Judaica Havdalah set. But more importantly – an unbelievable piece of Jewish artwork (and potentially a future family heirloom).
Now here's a Jewish Havdalah set from Israel that'll make you wonder how you ever managed to do the Havdalah ceremony without a Havdalah set (and this one in particular).
This pewter Havdalah set is pretty affordable, considering its high quality (unfortunately the photo doesn't do it any justice ).
It's made of thick metal with a fantastic finishing & varnish, adding a delicate feeling to it and practically guaranteeing it'll last for many years.
Wooden Havdalah Sets
Why are you getting a new Shabbat Havdalah set? Do you need one just for utility reasons?
In that case, then this section is not for you…
This section is for people who are looking for art, and only then for a set for their Havdalah ceremony.
The wooden Havdalah sets featured here function as traditional sets for Havdalah on Shabbat, and as gorgeous Jewish artwork, you can proudly display in your home the rest of the week…
If that's what you're after, then read on…
Top Wooden Set
Yair Emanuel returns.
Who am I kidding? He never left!
His gorgeous wooden Havdalah set is arguably the most artistic set on this entire list. The vivid colors of this hand-painted artwork will stand out in any Jewish household, even if the couple both studied at the Bezalel Academy of Arts in Jerusalem (incidentally, it's where Yair Emanuel studied!).
The lovely Havdalah set includes the following items:
Shabbat Spice box
Kiddush cup
Havdalah candle holder
Pedestal
That's right – I don't need to put this wonderful piece of art on a pedestal – it already has one 🙂
This Havdalah set by Yair Emanuel (who else?) looks innocent, doesn't it?
Well, it's not… Emanuel has done something beyond comprehension with this one. He turned it into a multi-purpose Havdalah set (oy vey, the horror!).
In other words – you're looking at a Havdalah set that moonlights as a Shabbat set:
At the beginning of Shabbat, it acts as Shabbat candlesticks.
At the end of Shabbat, you flip the candles over, and they magically turn into a spice box and a Havdalah candleholder!
Tadaa!
Believe it or not – but this piece is completely handmade by Amy Gilron – a talented artist from Beersheba, Israel. Amy carved and hand-painted the Sapele wood, leaving parts of the wood in its natural color.
As you might expect – it's not really intended for everyday use. But if you're looking for a special Jewish wedding gift, donor appreciation gifts or any other gift for a special occasion – this is an absolute gem.
Travel Havdalah Sets
Here's a challenge for you: How do you do Havdalah when you're on the road, with no sign of a synagogue nearby? Do you just skip it?
Hell no… that's what travel Havdalah sets are for: small, portable and space-efficient.
Top Travel Set
Need to do Kiddush and Havdalah on the road? I got your back (or, to be more specific, Yair Emanuel has got your back).
Emanuel's hand-made wooden travel Havdalah set is not only beautiful, but it's compact. That means you don't have to waste your precious luggage space on a large Havdalah set or Kiddush cup. Instead, pack a few more of your favorite shirts or pack a videogame (or two… or five).
Hard to believe that this condensed and space-efficient Havdalah set has everything you need for Kiddush, candle lighting, and Havdalah, all in one travel-friendly kit.
Plus, you'll be performing all of these in style – thanks to the vivid colors and pomegranate theme – the famous Jewish symbol of abundance.
Tip: Just like every other pomegranate-themed Judaica item, this would make a thoughtful Rosh Hashanah or Sukkot gift, especially for someone who often hits the road .
I know, I know – at first glance, this Havdalah set looks like something Bob Marley would own (or smoke).
But believe it or not – it's a fully functional, fully equipped portable Havdalah set.
And when I say portable, I really mean it: it's small enough that you could fit it in your purse, or even your pocket (!).
Here's how the magic unfolds: at first, it looks like nothing out of the ordinary (a cigar box, if you will) … but when you unscrew the ends, the real magic unveils: you discover a cute miniature Shabbat spice box on one end and a Havdalah candle holder at the other. How cool is that?
Another one of Yair Emanuel's original artworks – this time a unique set with a hammered finish, giving it an elegant, timeless look.
But it's not just about the looks, this set is practical too: it arrives with a braided Havdalah candle, Kiddush cup, and Jewish spice box holder. And most importantly, it's compact and portable – perfect if you need to carry it around while you're traveling.
Simply stick a braided Shabbat Havdalah candle into the rectangular opening, and blow out the candle with the Kiddush cup when you're done.
Unlike the other travel Havdalah sets on this list that were made for travelers first – this set could easily become your go-to Havdalah set even while you're at home.
It's solid enough to act as the main Havdalah set in any Jewish household – particularly in households currently being established (hint: considering giving it as a Jewish wedding gift or as a Jewish housewarming gift).
Glass Havdalah Sets
If you've been following our content in the past few years, odds are you've stumbled into some of Lily Shohat's (aka Lily Art) phenomenal artwork before. When it comes to glass Judaica, Lily is the undisputed queen.
For those of you looking for a new Havdalah set, you'll be happy to hear that Lily has applied some of her "glassy" talents into Havdalah sets as well!
Have a look…
There's a reason why Lily Art is dominating the glass Havdalah set section… and the reason is staring right at you. Well, at least an image of it (and a pretty poor photo I might add, it looks much better in reality)…
Lily's pomegranate-themed glass Havdalah craft includes:
Wine glass
Candleholder
Spice jar to hold the "Besamim" (fragrance)
Glass tray (featuring a multi-colored pomegranates illustration with gold accents, and an excerpt of the Havdalah blessing)
A beautiful piece of art for Shabbat evenings, or as a marvelous gift for Jewish holidays (particularly Rosh Hashanah and Sukkot – where pomegranates play a big role).
Well, the title says it all: a delicate & exquisitely designed Havdalah set.
Lily's glass masterpiece includes a candle holder, wine cup and spice jar for the fragrance blessing, in a unique flower design with dark purple stripes on top.
Like any other beautiful glass set for the Sabbath evening ritual – it's an excellent gift idea for any Jewish friend or relative.
Top Glass Set
Let's add some orange to the list (besides our buttons, that is).
This glass Havdalah set is very similar to the previous one, except this set is slightly more colorful (it's orange!).
You probably noticed the glass tray is a bit different too: this tray has a laser-cut design and the Havdalah blessing in Hebrew.
Cheap Havdalah Sets
While some Havdalah sets are more expensive than others, others are so cheap that it's impossible to ignore them.
Don't you believe that whole cheap = low-quality myth. It's just that – a myth.
Every time you hear someone spout out that ridiculous claim – it should make your BS detector go haywire!
Just to prove a point – here are cheap Havdalah sets, that are also high-quality.
Top Cheap Set
The wisdom of the crowd doesn't disappoint. That has certainly been the case with this popular Havdalah set.
This silver-plated beauty is made in Israel with great attention to detail. It includes everything you need to perform a lovely Havdalah ceremony: a spice tower, Havdalah holder, Kiddush cup and a round plate (all designed in a grapes theme, referring to Kiddush blessing).
Care to guess how much this very bright & reflective set costs? Go ahead, click on it (and prepare to be surprised).
Majestic Giftware produces great affordable Judaica gifts… and this Judaica Havdalah set is no different.
This high-quality, silver-plated set is elegantly designed, beautifully packaged and extremely affordable – everything you need for a great gift on a budget.
Conclusion
The Havdalah ceremony doesn't get the attention it deserves on Shabbat. We're so focused on Shabbat candles, Kiddush cups, and Challah boards that we often neglect Havdalah sets. Hopefully, that's about to change…
Now that you got yourself a brand-new Havdalah set, you can perform the ceremony with a bit more ease and comfort, and prepare yourself mentally for the week ahead…
Shabbat Shalom (or Shavua Tov) 🙂