20+ Unique Passover Gift Ideas You Can Bring to the Pesach Seder (2022)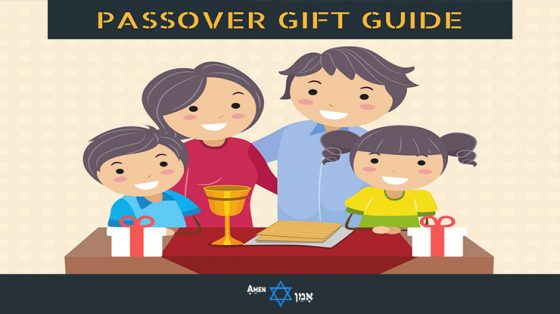 Amen V'Amen is supported by its audience. That means when you purchase something from one of our partners through one of our links, we may earn a small commission at no additional cost to you. Amen V'Amen is also an Amazon Associate, so we may earn a commission from qualifying purchases. Thank you for your support!
The Passover Seder is approaching.
Excited? You should be!
You finally get to see your family and loved ones around the Seder table – reading the Haggadah, drinking wine, eating Matzo balls (or Gefilte Fish)…
FREEDOM at last!
But before you start jamming to "Ma Nishtana" and scaring away the birds, you might want to get your friends and lovely Seder hostess an appropriate Passover gift.
Otherwise, as the Brits would say: that's bloody rude!
Luckily, our Jewish moms taught us better…
Now… the only question is:
"What gift should I bring to the Passover Seder dinner?"
That, my friend, is exactly what I'll answer in this special Pesach gift guide!
Introducing: Amen V'Amen's favorite Passover gift ideas for Pesach 2023.
Top Passover Gifts
Don't have time to go through the whole gift guide? Still got "shopping for Passover" sitting on your to-do list?
Say no more…
I took the very best Passover gifts and put them all in one cool table – so you can easily pick and choose the ones you like most!
Traditional Passover Gifts
Passover is one of the most important holidays in the Jewish calendar. In fact, it's one of three pilgrimage festivals (Shalosh Regalim), alongside Sukkot and Shavuot.
You know what that means…
Bring on the traditional Passover gifts!
Top Traditional Gift
Does the name "Spode" ring a bell?
If you've ever attended a Passover Seder in your life – odds are you've seen their signature Seder plate before.
And there's a good reason for it too…
The traditional blue & white color
The remarkable design
The tremendous quality
No doubt – it can easily transform any Seder table from a zero to a HERO.
So imagine how thankful your hostess will be when you give her a beautiful Spode Seder plate she can continue using for many years to come!
Guess what? Something tells me she'll continue inviting you for many years to come 🙂
"Wait a second… this design looks familiar…"
You bet it does!
If you're going to have Spode's Seder plate on the Seder table, you might as well use Spode's matching Kiddush cup.
As you can see – Spode is pretty consistent… But unlike the Seder plate, the hostess won't have to wait for Passover to come along in order to use it. She can use it every week on Shabbat (not to mention other Jewish holidays)!
You have to cover the Matzos somehow… and you can't use the regular Challah cover – that's Chametz.
What do you do? You cover it with a beautiful Matzah cover! This stylish cover features a vivid scenery of Jerusalem… so even if you didn't get to spend Pesach in Jerusalem this year, you at least have Jerusalem with you at the table!
Sure – Matzah doesn't taste great… But it sure can look fantastic!
I'm sure you 're wondering why on earth you'd give your hosts a Haggadah as a gift… Usually, the host gives you, the guest, a Haggadah… not the other around.
What gives?
Well, you're not giving them an ordinary Haggadah… you're giving them a one of a kind Haggadah created by two Jewish legends:
The late

Elie Wiesel

(the storyteller)

Mark Podwal (the illustrator)
Together, they created a masterpiece that draws you deep into the rabbit hole of the Passover story. With Wiesel's poetic interpretation and Podwal's fascinating illustrations, you might find yourself so enchanted that you "tune out" of the Seder completely.
A wonderful Pesach gift, and an even better Pesach reading material!
Unique Passover Gifts & Artwork
Traditional Passover gifts are nice… they're quite common too.
But what if you're looking for something uncommon? Something that evokes a speechless look on someone's face… A look that even though there are no words coming out of their mouth, has "Oh Wow" written all over it?
I have to warn you though – "Oh Wow" Passover gifts are unique, but they're also quite expensive… So unless you're getting a Passover present for someone close – you might want to skip this section.
Top Unique Gift
I just recently discovered Laura Cowan, and I have to say – her magnificent designs blow me away.
Take her modular Matzah tray for example. Who knew you could transform something as mundane as a Matzah tray into such a spectacular work of art.
I guess that's why Laura is the one creating these glorious art pieces, and I'm the one writing about them.
Laura Cowan gets a second spot on the list… I think she deserves it, don't you?
Somehow, Laura manages to transform seemingly mundane experiences into wonderful masterpieces. Her Ripple Effect Seder plate is another perfect example.
Her bestselling Seder plate was inspired by the rippling effect caused by a single raindrop.
The mirror-polished steel plate has the traditional "Ma Nishtana" seder song engraved in both English and Hebrew, leading up to the "Pesach" word in the middle.
If I had to summarize it in one word? E-p-i-c.
Note: This Seder plate flies off the shelves every year before Passover. I managed to find a seller that still has 1 left in stock (at the time of this writing)… hopefully it's still there by the time you're reading this.
The final Passover artwork gift isn't even related to Passover, but it's without a doubt the fanciest (and most expensive) piece of Jewish artwork on the list.
This stunning Mezuzah has a unique 18-color lithograph featuring the children of Israel receiving the ten commandments under a burning menorah (an adaptation from Marc Chagall's famous "I am the Lord thy God" painting.
And like the title says – this is a limited edition. So if you want it – act fast.
Passover Hostess Gifts
Your lovely hostess just spent hours (if not days) preparing everything for Passover.
She did all of that to make sure you and every other guest is having a great time.
The least we (I say "we", because I'm also a guest this year) can do is bring her a nice Passover present as a "thank you" for all her hard work… and for inviting us in the first place!
Top Seder Hostess Gift
The hostess has a LOT of guests.
Each guest drinks a LOT of wine… at least 4 cups (who am I kidding, we drink more than that)!
Think about how much wine, Kiddush cups or wine glasses our hostess had to buy just for this one Seder!
What can we do to help?
Two words: Kiddush fountain. Not just any Kiddush fountain – a gorgeous Kiddush fountain made by Yair Emanuel – the master of contemporary Judaica himself.
Instead of emptying three bottles of wine every time the Haggadah instructs us to pour a glass, the Seder host can now pour wine into the Kiddush fountain, which will then distribute it into those small, colorful Kiddush wine glasses.
Think about how much wine, time and money you'll be saving them! Not just this Pesach, but in every Shabbat dinner and holiday meal!
Story Time:
That story never gets old.
But while I can only tell that story with my voice (or in this case, my keyboard), talented artists like Yair Emanuel can tell the same story with bright colors and a paintbrush.
That's exactly what he did with this gorgeous, hand-painted Kiddush cup…
Now – we can add some color to the Passover story, while simultaneously pouring wine into our colorful Kiddush cup!
Giving your hostess a Passover cookbook is a wonderful gesture. Because don't forget – Passover is a weeklong holiday, so she'll probably do some serious cooking during the holiday. So give her a hand, would you?
This best-selling Passover cookbook features 65 contemporary dishes and recipes (not just for the Seder dinner) that will keep her busy for the rest of the week, and for many years to come.
Some of the unique recipes on the menu include:
Banana charoset
Peruvian roast chicken with salsa verde
Moroccan spiced short ribs
Sweet potato tzimmes
Eggplant parmesan
Frittata with Broccoli and Leeks
And much more…
Passover Gifts for Kids & Afikoman Gifts
Let's be honest: asking your kids to sit quietly at the Seder table for a few hours is like asking the Pharaoh to "let my people go".
On top of that – you're taking away all of their favorite snacks, and making them eat things they don't like (can you blame them for preferring Pizza over Matzah?).
Not to mention that annoying Easter bunny spoiling the non-Jewish kids with his fancy Easter eggs.
No wonder it's so hard to please kids on Pesach!
Here's the deal: to make your kids appreciate Passover, you have to involve them in Passover. Not just as bystanders, but as active participants.
How do you do that? That's another article for another time.
But for now, let's keep things simple and just focus on giving our kids an awesome Passover gift that'll keep them busy throughout the Seder dinner (and beyond)!
Top Children's Gift
Did you ever sit at the Seder table for hours, staring at the clock every few seconds, eagerly waiting for the host to announce: "Now we eat!".
As a kid? For sure!
As an adult? I hate to admit it, but yea (sometimes)…
Even though I put this unique Hagaddah Passover children's gifts section, it's by no means just for kids. Adults will enjoy exploring this Haggadah just as much as kids do!
The Israel Museum took the concept of "show, don't tell" to heart with their Passover Haggadah. They brought the characters from the Passover story back to life with cool, movable popups that pop out of the Haggadah.
You don't just read about the Passover story. You experience it. You become part of it.
They transformed the process of "passively" reading about the Exodus, into an interactive experience.
Take a look:
Now, you tell me… which Haggadah would kids find more entertaining? The one where they get to physically engage with Moses, Aaron and the evil Pharaoh? Or the one sitting in your kitchen cabinet right now?
"Put your blood mask on!"
Any other day besides Passover – that sentence would be "bloody" terrifying! But this IS Passover, and Passover plague masks are not only awesome… they're educational!
So be a good parent, and put that lice mask on your child's face. You can wear the frog mask… it'll fit you nicely.
There's a famous saying: "Learning is involving".
That's exactly right!
How can we apply that to Pesach? If you want your kids to learn about Passover – involve them!
These cute Plush Passover finger puppets are a good place to start. Especially if you have a bunch of little ones running around and they can't sit still for a split second.
Tic Tac Toe? Yawn… boring!
Tic Tac Toed? Now you're talking!
Frogs and Matzahs are just more fun, wouldn't you agree?
This is a great little toy that kids (and adults) can play with before, after, and during the Seder (you know, to keep them from bouncing around).
Speaking of bouncing around…
Have you ever tried bouncing around on a Matzah ball?
You haven't?!
Now is your chance!
This is one cool Passover toy both kids and adults can enjoy. Thank God Passover lasts for 7 days!
Kosher for Passover Gift Baskets
Don't you love getting gift baskets? You're not the only one…
Lucky for you, Kosher for Passover gift baskets are popular Seder gifts: they're pretty cheap, they represent abundance, and most importantly – you can all enjoy them together at the Passover Seder for dessert!
Whether it's for your Seder hostess, spouse, or friend – a yummy gift basket is a very appropriate Pesach gift (especially when it includes Israel's finest).
Top Passover Gift Basket
What do people like for dessert? Something sweet.
The only problem? Most sweets are Chametz. You need special Kosher for Passover sweets.
That's where this marvelous Passover gift basket comes into play.
Filled with gourmet chocolates and nuts, including foil-wrapped chocolate truffles, delicious bonbons, mouth-watering Viennese crunch, and roasted salted almonds.
And best of all? It's Kosher Parve!
You know what that means… it means you can sink your teeth in these premium snacks even after you had meat for Passover dinner!
A perfect way to greet your Passover guests, thank your hostess or send someone you love a delicious Seder gift.
"Don't judge a book by its cover".
Is one of the oldest idioms in the book. Here's the thing though: when it comes to food – it's just not true. In fact, the exact opposite is true – we do judge food by its cover… so it better be attractive!
Case in point: this elegant Passover gold mosaic/gift basket, shaped as a regal pyramid (you know, Egypt and stuff).
"A picture is worth a thousand words".
There's a 2nd idiom – this one is far more accurate in this case, wouldn't you agree?
Just look at the picture of this unique Passover gift basket. I didn't even tell you what's inside – yet it already looks extremely appealing.
And if it looks that appealing through a picture, imagine how appealing it looks when it's standing on the Passover Seder table in all its glory…
Kosher for Passover Wine
'Wine gladdens the heart of man' - Psalm 104:15
Click To Tweet
We drink like royalty at the Passover feast. Why? Because we can. Something our Jewish ancestors could never do when they were slaves in Egypt.
That's why there's always an abundance of wine at the Seder table. Because each person has to drink at least 4 cups of wine (we usually drink more) – the more wine there's available, the better.
Naturally, bringing a bottle of wine is considered one of the best Passover gifts you can give your Seder host/hostess. Simply because it's one of the few gifts that are guaranteed to be used right then and there.
And it's also one of the few gifts where you get to enjoy your own gift as a guest!
Top Passover Wine
Barkan classic is just that – a classic. It has been my go-to wine on Shabbat for years… unless I'm expecting guests, in which case I might also buy something a little more sophisticated (read: expensive).
Dry, yet rich in fruity flavor…it has no bitter taste whatsoever. Perfect for washing your mouth after bitter herbs!
The color? Deep, purplish-red.

The aroma? Fruity.

The texture? Smooth.

The taste? Rich… with a strong, lasting finish… oh, and did I mention

fruity

?
Delicious, affordable, and goes with any type of meat on the Seder table.
What more can you ask from a Passover wine?
Dalton's wine (and winery) is a gem! In fact, I would even go so far as say that Dalton is one of the best Cabernet wines we featured in our Passover wine list. 
It's well-balanced, with a rich, fruity flavor with a pinch of vanilla flavors of French oak (they're stored inside French oak barrels).
Even though it has quite a dark tone, It's not nearly as strong as many of the other Israeli Cabernets out there. It goes down very easily, which is important when you need to stomach 4+ cups at the Passover Seder.
Dalton's winery is located in the Upper Galilee, only five Kilometers from the Lebanese border… overlooking Mount Hermon (I've been there a few years ago, highly recommended!)
The wine is aged in French and American oak barrels for 9 months before the wine is tasted and the final blend is made.
Pairs wonderfully with beef, chicken, steak, and any other type of Passover food you'll find at the table (even Matzah)!
Finally, let's finish the Passover wine section with white wine – just in case the Seder table is already saturated with red wine (that's often the case).
Introducing: one of the best (if not the best) Kosher white wines on the market… and I don't just mean for Passover, I mean in general.
Made in at the Judean Hills just outside of Jerusalem, 2400 feet off the ground.
Not too oaky, not too sweet – it strikes a perfect balance, giving the fruit the chance to truly shine.
It can transform any Passover meal from good to great: whether you're serving chicken, beef, fish or things that truly require an upgrade (you know, things like Matzah, Gefilte Fish and other not-so-tasty dishes).
"Huh? This doesn't look like wine to me…"
Good eye! That's because it's not. It's authentic, 40% alcohol, Kosher for Passover Bulgarian Brandy that'll knock your socks off after one sip.
With all that talk about Passover wine, it's easy to forget that are other Kosher for Passover alcoholic drinks out there.
And if you truly want to catch your hosts off guard – surprise them with a hardcore (yet slightly fruity) brandy.
Passover Flower Gifts
My girlfriend always says to me: "You know, it's OK to give a girl flowers even when it's not a special occasion".
Then I usually change the subject…
But this time it's Pesach! Not only is it a special occasion… but you're also a guest at someone's Seder table… so I'm not going to change the subject this time :)!
Passover flowers just happen to be a common Passover gift AND a popular Seder centerpiece. That's a double win right there! Because just like with wine, it's one of the few cases where you can almost guarantee your gift is immediately put into good use.
Let's take a look at a few Passover flower gifts that can a lot of color to the Seder!
Top Passover Flowers
Wouldn't it be nice to fly to Europe on Passover…?
To see the flowers blossoming?
To take long walks and eat Fish & Chips Matzo?
Unfortunately, not everyone has the time to leave everything behind and head to Europe on Passover (I sure don't).
Luckily – we can "host" a European-style bouquet in our house that'll make us feel all warm and cozy on Passover.
This bouquet is filled with bright yellow sunflowers, green poms, pink tulips, and a bunch of other beautiful flowers I can hardly pronounce (here goes: Alstroemeria).
How exciting!
If there's such a thing as a "Jewish bouquet" – I believe this is it.
First – it's blue & white…
Second – the unique combination of flowers & colors makes you want to stare at it for hours. And once you do…
It'll capture your focus… soothe your soul… and you'll start to feel that inner sense of bliss…
You know – that feeling you get when you stare at the clear blue sky (hint: that's why this bouquet is called Sapphire Skies).
Now you see why this is a perfect bouquet for Passover? (or any Jewish holiday for that matter)
Listen up, boys & girls!
To arrive in style to the Passover Seder, you need:
Your finest Passover clothes (I recommend a white buttoned shirt)

A nice bottle of Kosher for Passover wine (we already covered that part above)

Or… arrive with the "Arrive in Style" flower bouquet
Beyond the catchy (and very appropriate) name, it has an impressive collection of white (and some Pink Roses) flowers:
White Asiatic lilies

White alstroemeria

White cushion spray chrysanthemums

White statice and colorful pittosporum
In Judaism, white is a symbol of purity. It's why you'll often see men wear white to the synagogue on Jewish holidays (particularly Passover).
Well, with this fine bouquet, you'd be dressing up your Seder table for Passover, too!
Funny Passover Gifts
Pesach gifts don't have to be all traditional and "by the book" (read: boring). I mean, where's the fun in that?
If you're looking for funny Passover gift ideas that would make everyone at the Seder LOL, boy oh boy do I have a few surprises for you 😏?
Funniest Gift
"Hey Rafael, get that Matzah off your head!"
Aww, Man! 🙁
These Matzah kippot (yarmulkes) are really funny, especially if all the men are wearing them during the Seder. I mean, how often do you see a bunch of grown-ups wearing a Matzah-shaped Kippah on their head (it's not like you're wearing a Moses costume, but still)? 
You have to be really drunk (and a little crazy) to do that.
Guess what? At the Passover Seder – odds are you will get drunk with all that wine we drink.
So why wait till you're tipsy?
Pillow fight!
Just kidding. You shouldn't throw food… Or food-shaped pillows.
Instead, lean back on this Matzah money cushion during and after the seder.
They say Matzah is good for your back…
Actually, no one says that, but hey – this pillow is 100% polyester, soft, and wrinkle-free… so this might be the first Matzah that actually is quite comfortable (and fun).
I saved the funniest (and least appropriate) gift for last. Congratulations if you made it this far, you got to see this hilarious toilet seat cover.
This is a pretty ballsy gift to give your Seder host. It definitely requires some guts and a special kind of relationship with the person you're getting it for. I'm pretty sure grandma wouldn't find it amusing… But if it's a Passover gift for a Jewish college student – you probably have nothing to worry about.
Just don't come crying to me if your Seder gift leads you to celebrate Passover on the street!
Conclusion
Phew… this Passover gift guide was an absolute beast!
I think it's the longest time I ever spent on one article (took me nearly a week!). But hey, if it helped any of you out – that's time well spent as far as I'm concerned!
Now… I'm curious – which of these Passover gift ideas did you like best? Which ones did you get? How did they respond?
Gossip away in the comments 🙂
Happy Passover everyone!