15+ Best Passover Flowers & Plants for the Seder Table (2022)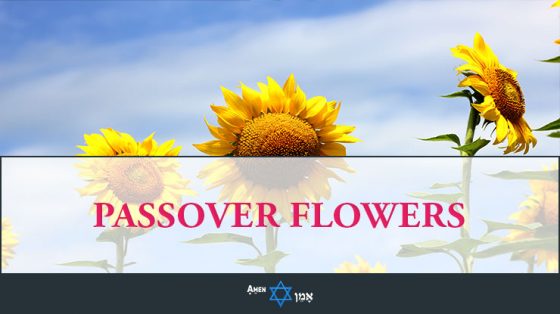 Amen V'Amen is supported by its audience. That means when you purchase something from one of our partners through one of our links, we may earn a small commission at no additional cost to you. Amen V'Amen is also an Amazon Associate, so we may earn a commission from qualifying purchases. Thank you for your support!
You're invited to the Passover Seder… how exciting!
We all get to sit together around the Seder table: family, friends and loved ones, to celebrate our Jewish ancestor's escape from Egypt… from slavery – to freedom! Hooray!
But before you get all excited and start singing "Ma Nishtana"… aren't you forgetting something?
You're not planning to arrive at the Passover Seder empty-handed, now are you?
Oy vey! The Chutzpah!
Rule #1 of Passover: NEVER arrive empty-handed.
Rule #2 of Passover: NEVER forget rule #1
The hostess just spent hours (read: days) preparing an awesome Passover Seder, the least we can do is give her a nice Passover gift as a "thank you".
As the adage says: "Action speaks louder than words".
A particularly appropriate gift? Colorful Passover flowers.
They make the Seder table look good.
Which makes the hostess look good in front of her guests
Which makes YOU look good
That's a triple win right there!
The only question that remains is: What are the best flowers for Passover?
Sit tight… things are about to get rosy!
Top Passover Flowers
Spoiler Alert: For those of you in a rush trying to finish your Passover shopping on time – these are Amen V'Amen's favorite Passover flowers you can bring to this year's Seder…
Traditional Passover Flowers
While technically Passover doesn't have a traditional set of colors… it does have a few things that make it unique:
It's a Jewish holiday – where we celebrate our Jewish ancestor's exodus from Egypt: from slavery to freedom!
It marks the beginning of Spring
OK… how does that help us?
Well, both Jewish holidays (actually, Judaism itself), as well as the Spring season, do have traditional color themes… AND flowers:
Jewish Holidays: Blue & White (think Star of David, like the one to the left)
Spring Colors: Bright colors namely a combination of yellow, green, pink, blue, orange, and purple (I often call them "rainbow colors").
Spring Flowers: Lilies, Carnations, Sunflowers, Tulips, Daisies, Violets, Irises, Orchids.
Now we're getting somewhere!
Next step: choose traditional Passover flowers that fit that description.
Here are my favorites…
Top Traditional Flowers
Wouldn't it be nice to fly to Europe on Passover…?
To see the flowers blossoming?
To take long walks and eat Fish & Chips Matzo?
Unfortunately, not everyone has the time to leave everything behind and head to Europe on Passover (I sure don't).
Luckily – we can "host" a European style bouquet in our house that'll make us feel all warm and cozy on Passover.
This bouquet is filled with bright yellow sunflowers, green poms, pink tulips, and a bunch of other beautiful flowers I can hardly pronounce (here goes: Alstroemeria).
How exciting!
"Happy Passover! Sending you and your family lots of hugs and kisses!"
Now there's a typical blessing you'll often get (and send) on Pesach.
Don't get me wrong, it's sweet and all… but you know what's even sweeter?
Sending ACTUAL hugs and kisses… DOZENS of them!
This thoughtful bouquet contains a fabulous array red roses, red tulips, and white daisies – accented with fresh greenery; from the fields straight to the Seder table.
This is one cute bouquet to send our loved ones. Whether you're looking for a "Honey, I Love You" or a "Mommy, I Love You" bouquet – this definitely sends the right message (especially if you don't get to see them this upcoming Passover 😢).
Like I mentioned earlier: Passover marks the beginning of the spring.
That's when all sorts of gorgeous flowers start blooming in our garden…
But why leave them outside only for the butterflies to enjoy? Why not bring em' INSIDE where all the action is?
This magnificent spring garden basket comes with a rich collection of gorgeous flowers.
And when I say rich, I mean RICH.
I mean, it doesn't exactly have a house in the Hamptons. But it does have:
Pink Tulips
Pink Spray Roses
Peach Alstromeria
Purple Button Spray Poms
A cute little birdie!
Like I said: Rich.
And here's the kicker: it's delivered inside a watering can (which is also a vase)! How cool is that?
Now there's a Passover flower bouquet that can even make Gefilte Fish look tolerable on the Seder table! (ok, that might be pushing it)
If there's such a thing as a "Jewish bouquet" – I believe this is it.
First – it's blue & white…
Second – the unique combination of flowers & colors makes you want to stare at it for hours. And once you do…
It'll capture your focus… soothe your soul… and you'll start to feel that inner sense of bliss…
You know – that feeling you get when you stare at the clear blue sky…
Now you see why this is a terrific flower bouquet for Passover? Or any Jewish holiday for that matter?
Lilies are my favorite (in case you ever like to surprise me)…
So you can see why these bright white Oriental Lilies made it to the top of the list!
They're so… what's the word? Graceful.
Peaceful, spiritual, graceful … it doesn't matter what you call it.
All I know is this: white Lilies fits Passover like Charoset fits Matza.
Just don't eat the flowers (or the flour), m'kay?
Listen up, boys & girls!
To arrive in style to the Passover Seder, you need:
Your finest Passover clothes (I recommend a white buttoned shirt)
The "Arrive in Style" flower bouquet
Beyond the catchy (and very appropriate) name, it has an impressive collection of white (and some Pink Roses) flowers:
White Asiatic lilies
White alstroemeria
White cushion spray chrysanthemums
White statice and colorful pittosporum
In Judaism, white is a symbol of purity. It's why you'll often see men wear white to the synagogue on Jewish holidays (particularly Passover).
Well, with this fine bouquet, you'd be dressing up your Seder table for Passover, too!
You know what they say: "Either go big or go home".
Nonsense!
Why not do both?
If you're hosting a Passover Seder and you like to be nominated for the hostess of the year award – this is the type of centerpiece that will get you featured on a magazine cover (if only Hostess Magazine was a real thing).
Hydrangea, Lilies, Tulips, Roses – all dressed in white especially for Passover – in one breathtaking bouquet that captures everyone's attention the moment they step into the room.
If you want to give your guests a good "taste" before you bring on the Maror – this luxurious bouquet is an excellent way to do it.
Passover Flower Arrangements & Seder Table Settings
It's true – some flower types are more appropriate for Passover than others.
But does that mean you can't choose other types of flowers to decorate your Seder table?
As I like to say in Hebrew: "Ma Pitom!" (heck no!)
Certain flowers (hint: Roses!) are known to upgrade any holiday table – yes, including Passover!
They allow you to decorate your Seder in various ways (a Rose on each plate would be lovely, no?) and get creative with your Seder table setting.
Let's explore a few of em', shall we?
Top Flower Arrangement
Oh boy, what a treat!
Lilies are my absolute favorite (did I mention that already?)…
Not only do they look divine (once the buds open up), they also smell AMAZING!
This phenomenal bouquet is no exception… because Lilies are in there, baby!
Along with "cameos" from Daisies, Alstroemeria (and some other flower I can't pronounce).
If you thought Lilies smell incredible, wait till you give this bouquet a good whiff… you'll wish perfume companies would make a fragrance out of it.
Either use it as your Seder table centerpiece or break them apart and sprinkle individual blooms across the Seder table…
No matter which option you choose – it'll be a treat!
What's the hardest part about Passover?
For kids – the answer is easy: most snacks and sweets (the good ones, anyway) are Chometz… aka – FORBIDDEN.
Who am I kidding… it's a bitter pill to swallow (literally… did you ever taste Maror?) for adults too.
What can we do to "sweeten" the deal a bit?
Well, if our taste buds will have to endure a bit of bitterness for the week, perhaps our eyesight and olfactory receptors (a fancy term for "what makes us smell") can reap the benefits with this cute bouquet.
Have you ever seen GIANT pink roses?
You have now…
Granted, you're seeing it through a computer/mobile screen… so it obviously doesn't look that big (unless you zoom in). But wait till you see it in person!
The pink roses and white alstroemeria are delivered in a pink fluted vase, wrapped in a cute pink bow…
So pink… so pretty!
We live in an ADD world these days… Everything is happening SO fast it's hard to keep up.
Thankfully, there are only a handful of days during the year – Passover being one of them – where we all say "time out! let's huddle!".
After all, how often do we get to see the entire family gathered together around one dinner table?
Not very often…
And since we've got everyone around the dinner table – we might as well give it a warm & welcoming atmosphere.
Holidays like Passover are the special moments we all get to cherish together… so we might as well cherish these moments with a Special Moments Bouquet that is designed to help us do just that.
Rise and shine, sunshine! It's Sunny and Bright!
And if it's not (if you live in Minnesota for example), then it is now – thanks to the Sunny and Bright bouquet.
This special little bouquet (there's a Premium/Deluxe option, too) contains a fresh mix of hot pink carnations, yellow lilies, and white daisy poms –
Colorful, affordable, and vibrant – exactly the type of bouquet you'd want to keep you warm throughout the holiday.
Passover Seder Plants
Believe it or not – flowers aren't your only option for decorating your Seder table.
Plants can decorate your Seder table just as well as flowers (if not better)…
And if you ask me, they don't get nearly as much attention as flowers do.
So, I decided to dedicate an entire section just for them so they don't get offended 🙂
At the Seder, we read all about our Jewish ancestor's journey in the desert (40 years… that's quite the journey).
I thought it'll be appropriate to not only read about it in the Haggadah but to actually have a mini-desert to point to… you know, to "visualize" it better 🙂
Except the Israelites weren't as lucky to have a succulent garden like this one… would've been much easier if they had (they also didn't have bread, they had to settle for Matzos!).
From the desert to something a little more colorful.
This adorable little orchid is a cute addition to the Seder table. Heck, it's a cute addition to your dinner table all year long, not just on Passover.
Top Seder Plants
Let's think outside the box. In fact, let's get a box made of bamboo!
How do you relax on Passover? And I mean really relax?
Easy: turn your living room into a calm, peaceful, Zen-like meditation room.
Don't worry, no Buddhist monks needed. This soothing Zen Garden will do the trick.
The garden is made up of pleasant plants, accented with smooth river rocks, decorated with natural river bamboo canes and presented in a beautiful, brown bamboo container.
Just sit back, relax, and have some Matzo next to your Zen Garden.
Displaying Your Passover Flowers & Plants
What good are Passover flowers if you're not going to bother displaying them?
Just getting a bunch of flowers, sticking them in a vase and putting them in some dark corner is pointless. You want to display them in all their glory – and give your home a warm & welcoming atmosphere…
Now… there are endless ways to go about it (I could probably write an entire article just on this topic)… but here are a few short & sweet ideas to help your creative juices flowing…
Display the flowers as the main centerpiece – at the center of the table
Put a flower (I recommend a tulip or a rose) on each plate (like the image above). You can even take it a step further: add a personal place card for each guest and make it even more welcoming.
Decorate the entrance of your house with bright Spring flowers (like the ones I mentioned above)
Place some flowers in the bathroom. Who needs an air freshener when you have fresh lilies spreading glorious scent!
Sprinkle a few flowers throughout the Seder table to make it look all cool and tidy.
Conclusion
As much as I like diamonds… they're a bit over our budget for a Passover gift.
Luckily, we don't have to spend nearly as much to make the Seder table shine. All we really need is beautiful Passover Seder flowers, and we're set! (plus, they smell much better than diamonds)
Not only do they brighten up the dining room – but they also shine a bright light on whoever us lucky enough to get them for Pesach (especially if it's the hostess…she's worked hard for days putting together an amazing Seder dinner)
And as the Egyptians learned: darkness sucks. Light rules 🙂
Happy Passover everyone!