10+ Unique Passover Costume Ideas for an Exciting Passover Seder (2022)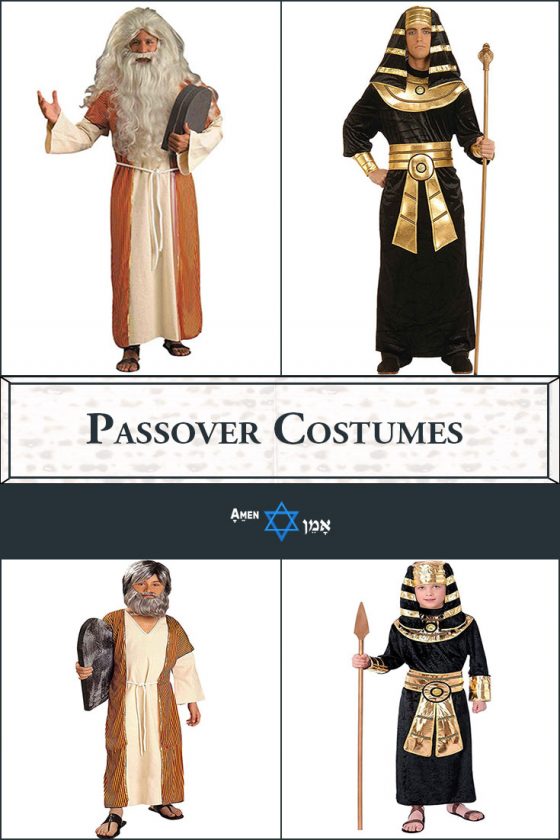 Amen V'Amen is supported by its audience. That means when you purchase something from one of our partners through one of our links, we may earn a small commission at no additional cost to you. Amen V'Amen is also an Amazon Associate, so we may earn a commission from qualifying purchases. Thank you for your support!
Look at you…
You barely took off your Purim costume… And here you are – about to wear a Passover costume!
Who knew Jewish holidays could be so much fun? 🙂
But wait a second… before you rush off to wear that cute Pocahontas costume (boys, I'm talking to you), you might want to wear something a little more "Pesach-y".
"Like what, Rebecca?"
Read the post, silly!
Top Passover Costumes
In a hurry? Still got a whole lot of Passover shopping to do? Don't have time to wait for the bread to rise (awful Matzah joke)?
I hear ya…Say no more!
Here's a quick and snappy table that shows our favorite Passover costumes for kids and adults!
Passover Costumes for Adults
What's that? You think you're too old (or fancy) to be wearing a Passover costume, are you?
Grow up already! And go put on your Passover costume!
You don't even have to work all that hard to search for a costume… I've collected all of the best costume ideas for Passover and put them all in here.
So enough with the excuses 🙂
Top Costume for Adults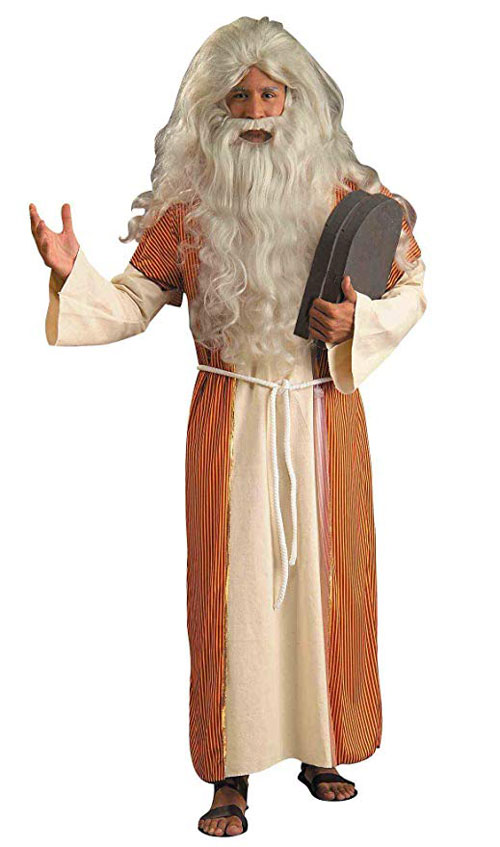 "Let my people go!"
Said Moses you, dressed as Moses!
If you're scratching your head, thinking "hmm… how can I get the kids (and adults) all excited about Passover"?
Tell me… what's more fun? Reading about our Passover hero in the Haggadah, or hosting him at your Seder?
I think the answer is pretty clear!
Note: The costume comes with a robe, under-robe, and belt… it doesn't include the beard and wig (a bit misleading, I know). You'll have to get that separately. Here's a cool white beard + wig I found (originally it's a Zeus wig… hope the Greek god can forgive us).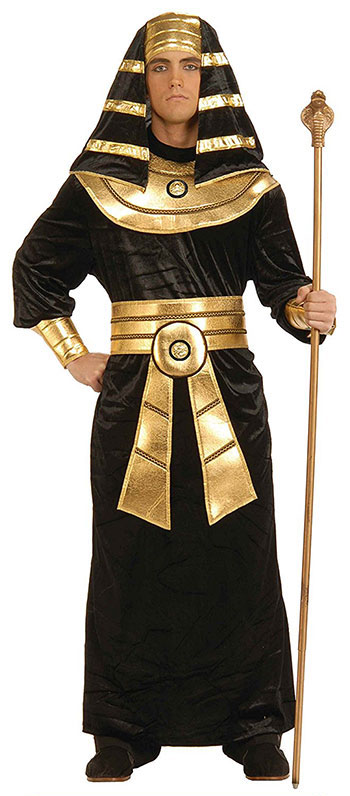 "Oh no… who invited the Pharaoh to the Seder? I thought we got rid of him"
We already had the Passover "good guy"… now it's time for the "bad guy"! The one who gave us such a hard time in Egypt!
But boy is he well dressed… Too bad Vogue didn't exist at the time, he definitely would've made the cover.
Don't worry though – the costume is way cheaper than anything he wore back then… (I suspect he wore actual gold?)
Let go, Pharaoh… Let go!
Tip: If you're really "serious", you can have one person dress up as Moses and another one as Pharaoh… Things are about to get heated!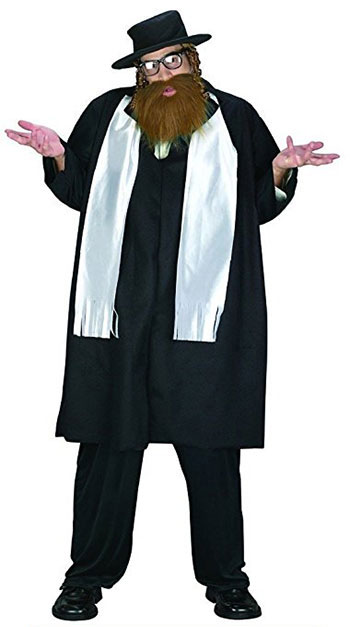 Are you having your Rabbi over for Seder?
If you aren't – why not become one for the night?

If you are – good look explaining this costume
This awesome Rabbi costume was one of our favorites in our Purim costumes edition… so it's making a comeback on Passover!
It includes a long coat, fringed scarf hat, Payot (sidelocks) and a beard…everything you need to become a great (fake) Rabbi!
A lovely way to evoke some laughs from your guests on Passover.
What about a female Pharaoh for us ladies?
Sure, we could technically wear the men's Pharaoh costume… but I don't know about you, I was never a Tomboy! I'd much dress up as Cleopatra – the female Pharaoh, thank you very much.
We need a properly dressed female villain (and we need to find the male Pharaoh a girlfriend)… and even though Cleopatra had nothing to with the Exodus (she became the queen of Egypt long after our ancestors had already escaped), she does have an extraordinary fashion sense!
So…Cleopatra it is 🙂
Passover Costumes for Kids
Let's face it – it's hard to get kids excited about Passover…
You're taking away their favorite Passover snacks (it's Chometz!)

They have to sit through the Passover Seder for a few hours (and hopefully participate)

Soon they'll have to sing songs like Ma Nishtana, Dayenu, Echad Mi Yodea in front of everyone (no pressure, darling)
Can you blame them for liking Hanukkah better?
We have to somehow make it up for them and get them into the Passover spirit (a cool Passover gift would be a nice place to start).
How do you get kids excited about the story of Passover? You make them part of the story with these awesome Passover costumes!
Top Costume for Kids
We've had adult Moses… now it's time for mini-Moses.
And if you have several kids – you can have several mini-Moseses!
What do you do with so many Moseses?
Easy… you get a bunch of sheep.
What's that? Your kids don't want to be shepherds when they grow up?
Ugh. Fine then…
Note: Just like the adult Moses costume, the child costume doesn't come with a wig and beard. You'll have to buy those separately. Here's a children's beard that looks similar (kind of) to the one in the image.

Did you ever think you'll witness the youngest child, dressed as Pharaoh, ask the 4 questions and sing Ma Nishtana?
That scenario is only possible if:
You drink A LOT of wine during the Passover Seder

You get your child this cute Pharaoh costume

One (or all) of the above
It'll be even cooler if you're dressed as Moses, and asking him to "let my people go".
And if he says "no"?
"Pharaoh, go to your room! You're grounded!"
Now that's a serious Rabbi right there!
You could easily fool the folks at the Seder with this costume, and make them wonder "who this small-sized Rabbi is, and where did he come from?"
It includes the beautiful coat and belt you see in the image (you'll have to purchase the beard and the hat separately).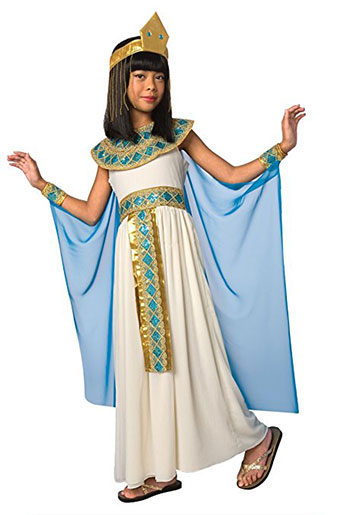 Passover costume or not – this is one gorgeous costume to get your little girl.
The vibrant colors

She shimmery organza-like cape

The cool headband/crown
If your girl missed the chance to dress up as Cleopatra for Purim, she now has a 2nd opportunity on Passover!
Why settle for a princess, if you could be a Queen?
Passover Seder Accessories
Not ready to go full-on "costume mode" for the Passover Seder?
That's OK… baby steps.
The least you can do is grab a hold of a few cute Passover costume accessories to play with during the Passover Seder… and beyond (Passover lasts 8 days, remember?)
Heck, you can even make them part of your Passover table setting!
Here are some prime candidates that'll turn the Seder into an insanely entertaining experience…
Top Seder Accessory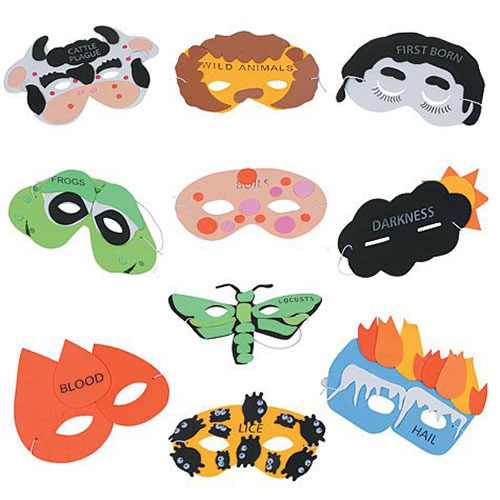 "Put your blood mask on!"
Any other day besides Passover – this sentence would be bloody terrifying! But this is Passover, that means they're not just awesome… they're educational, too!
So be a good parent, and put that lice mask on your child's face. You can wear a frog mask… it'll fit you nicely.
There's lots of reading going on during the Seder.
Little kids, especially during the Seder, are full of energy. They aren't exactly capable of sitting still for more than a split second…
You have to keep em' busy somehow… Who knew that the ten plagues could do that?
These finger puppets are terrific to keep the little ones from running all over the place.
And then when the time comes to read the ten plagues out loud – that's when the finger puppets become doubly effective!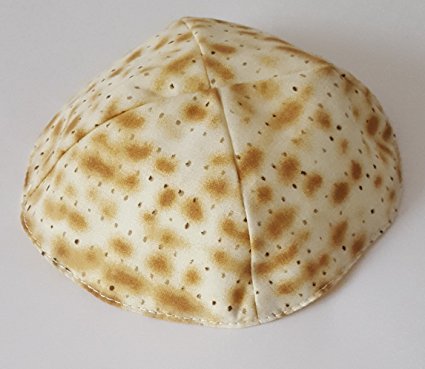 When I was young, every Passover my brother used to always put a Matzah on his head and pretend it was a Kippah. At the time, I thought it was pretty stupid.
Years later, I saw a bunch of people wearing a Kippah like this one, I immediately thought to myself… "Hmm, maybe he wasn't so stupid after all".
Maybe wearing a Passover costume is too much to ask of your guests… But guess what – everyone is going to wear a Kippah anyway… so you might as well make them wear a Kippah shaped like a Matzah!
Conclusion
A Passover Seder with the actual characters from the bible? Talk about liven things up… who the hell needs Passover wine at the Seder anyway? (Answer: everyone)
Decorating your Seder table is one thing… but with these cool Passover customers – you're actually decorating yourself.
That's how you transform the Passover Seder into an interactive Seder – where everyone gets to play a role (Yes, that includes you)…
This Passover – you'll be the host of the best show in town!
Excited?
Happy Passover! 🙂