12 Shiny Gold & Brass Menorahs for Hanukkah – Made in Israel (2022)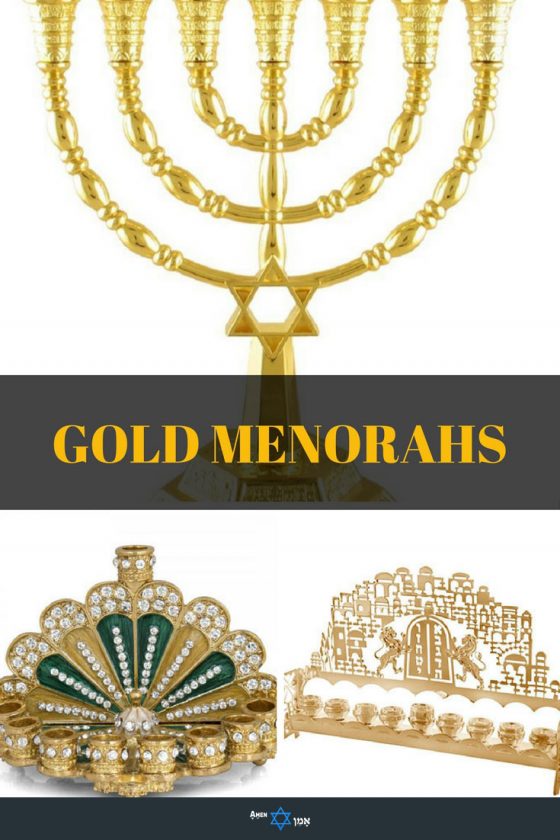 Amen V'Amen is supported by its audience. That means when you purchase something from one of our partners through one of our links, we may earn a small commission at no additional cost to you. Amen V'Amen is also an Amazon Associate, so we may earn a commission from qualifying purchases. Thank you for your support!
"The oil that was barely enough to light the Menorah for one day… lasted for 8 whole days! It's a Hanukkah miracle!"
We've all heard that story a million times.
But did you ever stop and think which Menorah it was? What Menorah is the hero of that story? Where it all began?
Yep… it was the huge 7-branch golden Menorah in the holy Jewish temple – where it was displayed in all its glory.
No wonder why so many people go out of their way to get themselves a shiny gold (or brass) Menorah to display at their home or synagogue.
And if you like the idea of having a golden Menorah shining in all its glory throughout Hanukkah (and beyond!) – then you're going to love this list of Menorahs we curated especially for Hanukkah!
Top Gold & Brass Menorahs
TLDR; Introducing – our favorite golden Menorahs, hand-picked by our staff!
Traditional Gold & Brass Menorahs
Let's start with the traditional Menorahs that we've all seen so many times, and we've come to love so much.
These classic Menorahs were designed after the original golden Menorah from the ancient Jewish temple, so obviously, it's the best way to start.
Israel Museum Hanukkah Menorah Replica – Early 20th Century Central Europe
Top Traditional Menorah
Time: Beginning of the 20th century.
Location: Central Europe
Since lighting a Hanukkah is an ancient Jewish tradition, and since we're in the "Traditional Gold & Brass Menorahs" section – I thought it'll be exciting to start with a classic Menorah designed a century-or-so ago.
This antique brass Menorah was originally designed in Central Europe somewhere at the beginning of the 20th century.
Unfortunately, like many other Jewish art pieces from that time – it got destroyed.
Thankfully, The Israel Museum in Jerusalem stepped up and reconstructed this fabulous piece – so us lucky Jewish descendants get to enjoy this wonderful Jewish masterpiece a century later (The Israel Museum even provides an original certificate of authenticity along with it).
Only this time – this wonderful Menorah will arrive at your doorstep straight from Jerusalem – the capital city of the Jewish homeland.
The eternal dream of establishing a Jewish state – has finally come true, and you now got an authentic gold Menorah to prove it.
Antique Gold Artistic Tree of Life
Menorah
"Antique gold? Doesn't that belong to the Antique Gold Menorahs section?"
Well, technically yes…
Problem is – when people think of an antique – they immediately associate it with expensive. That's not the case this time.
In fact, this wonderful Tree of Life Menorah is incredibly cheap.
So I thought I'd be remiss if I didn't include it in the beginning.
And wait till you see it light up… it looks much better.
Gold Color Star of David 7 Branch Temple Menorah by Chen Design
Allow me to introduce you to the first 7-branch gold Menorah in this series…
This stunning, golden Menorah is handmade (in Israel) and combines two of the most ancient Jewish symbols:
Star of David
The Menorah (obviously)
These two symbols are inseparable from the Jewish tradition, and it's the two symbols we've been carrying around for over 2,000 years.
Add that to the amazing resemblance to the Jewish temple's golden Menorah, and you get to add one fine-looking gold Menorah to your collection (and one helluva conversation piece).
Seven Branches Brass Menorah
Let's end this section with another traditional 7-branch brass Menorah, resembling the original golden Menorah sued in the ancient temple of Jerusalem.
This brass Menorah is quite large (14 inches high), is made in Israel and acts as a beautiful decorative piece that can brighten up any living room.
A perfect Menorah to add to your Judaica collection (and if you don't have one yet – then this is a great way to start).
Modern Gold & Brass Menorahs
You can get really creative with gold Menorahs.
In fact, many artists did.
They took the traditional Hanukkah Menorah, and "remixed" it with a modern look.
The result?
A whole section of modern gold Menorahs that'll catch you off guard 🙂
Matashi Hand Painted Menorah with Gold Accents & Crystals
Top Modern Menorah
I'll cut to the chase: this is one of the most beautiful Hanukkah Menorahs I've ever seen in my life (and I've seen many)… and without a doubt the "Top Modern Gold Menorah" award-winner by a mile.
And for those of you with a sharp eye that noticed the Matashi is behind this amazing work of art – this wouldn't come as a surprise.
Matashi is like the "Apple for crystals" (only a LOT cheaper than Apple's $1000 iPhone).
Yes, those are crystals running throughout the Menorah.
And the gold accents? They're 24K, in case you were wondering.
Normally – when people stare at a Menorah – its usually the Menorah lights they're looking at.
In this case – I think its safe to say it won't be the Menorah lights they'll get captivated by. It'll be the gold & crystal Menorah.
Orit Grader Leaves Menorah
This luxurious Hanukkah brass Menorah candles holder is a tremendous piece of art.
The soft colors…
The nature design & inspiration…
The lacy cover…
Orit Grader drew her inspiration for this Hanukkah Menorah from the beauty in nature. Her signature "netting" covers the delicate (yet sturdy looking) Menorah.
A fantastic Hanukkah gift for a close friend or family member.
Enameled and Jeweled Miniature Menorah (Sunrise) – Green + Gold
Ever heard the word peacocking? Peacocking is when someone dresses up to catch people's attention.
Well, allow me to introduce you to the FIRST peacocking Hanukkah Menorah… and I mean it quite literally (looks like a peacock).
And boy oh boy does this breathtaking Menorah have a reason to peacock… This Israeli-made (in Jerusalem actually) miniature Menorah is completely enameled and covered with Jewels.
Needless to say that this Menorah can, should, and will be used as a decorative art piece after Hanukkah is long gone.
A beautiful gift if you're looking to dazzle someone you love, especially during Hanukkah.
Menobster: Lobster Menorah
"I thought lobsters aren't Kosher?"
This one sure is!
Lisa Pierce (the designer behind this unique idea) made this from repurposed plastic toys and metal candle cups, with a nice gold finish.
(There she is repurposing old junk into marvelous art pieces, while I'm just hoarding it like crazy…sigh)
To be honest, I should've created a whole new award for Lisa's lobster Menorah – the "Most Creative Gold Menorah" award.
But I thought it wouldn't be fair to the other "contestants"… who the hell can compete with a lobster Menorah?!
Antique & Vintage Brass Menorahs
After we've just seen a bunch of contemporary gold Menorahs, what do you say we go and revisit history?
Did you know that some of the most stunning golden Menorahs were created hundreds of years ago? Unfortunately, very few (if any) of them survived…
But what if I told you that some of those ancient Menorahs were reconstructed, and are now available for any of use to buy? Kind of exciting, huh?!
Care to join me for a trip on my time machine and discover some of the gorgeous vintage brass Hanukkah Menorahs that stood the test of time?
Buckle up…
Israel Museum Hanukkah Menorah Replica – Brass "Big Lions" Menorah, 18th Century Poland
Top Antique Menorah
Time: 18th Century
Location: Poland
We're starting off strong with an extraordinary antique brass Menorah… and without question – one of the most impressive Menorahs I've ever seen.
Originally designed and influenced by Polish design in the 18th century, this breathtaking Menorah includes four solid brass feet (for extra stability), a swirled back that resembles a plan structure, and two big lions (as the name suggests) protecting the crown in the center.
And in case you were wondering what these two extra candle holders on the sides are: they're special Polish candlesticks that were used as Shabbat candlesticks during the rest of the year.
The front row of the oil lights is displayed in a built-in decorative platform rack, giving this authentic piece a stunning shine on your Hanukkah celebrations, or all year round.
Modernist Articulating Blackened Brass Menorah
I thought hard whether to include this amazing, modernistic Hanukkah Menorah in the "Modern Menorahs" section or the "Vintage Brass Menorahs" section… because surprisingly, it fits both.
How is that even possible, you ask? Easy:
The Menorah design is clearly modern.
This is a vintage Menorah from the 1960s.
You know what that means? Whether you're looking for a unique Hanukkah Menorah to add to your Hanukkah or Judaica collection, or you're looking for a gift for someone who is crazy about Jewish antiques – this modern/vintage brass Menorah is a winner.
Israel Museum Hanukkah Menorah Replica – Poland Early 20th Century
Time: Early 20th Century
Location: Poland
We're staying in the 20th century… this time jumping to Poland to visit this fascinating Menorah.
Based on a children's Menorah, this Star of David Menorah indicates the rise in passionate Zionism in the beginning of the 20th century.
The design actually dates way beyond the 20th century: it's based on a Sicilian design from the 1400s (!).
It's hard to find a Menorah with such a rare combination of influences from different periods in history.
You just found one…
Conclusion
Hope you're not blinded by all the gold.
But look at it on the bright side (pun intended): not you've got a brand new & shiny gold Menorah for Hanukkah!
Even though we can't visit the holy temple in Jerusalem and see the golden Menorah shining in all its glory, we most certainly can have a small version of it in our very own living room.
Let me know which of these Menorahs you liked the most… and if you're reading this before Hanukkah – then happy Hanukkah!