12 Amazing Oil Menorah Lamps for Hanukkah (2022)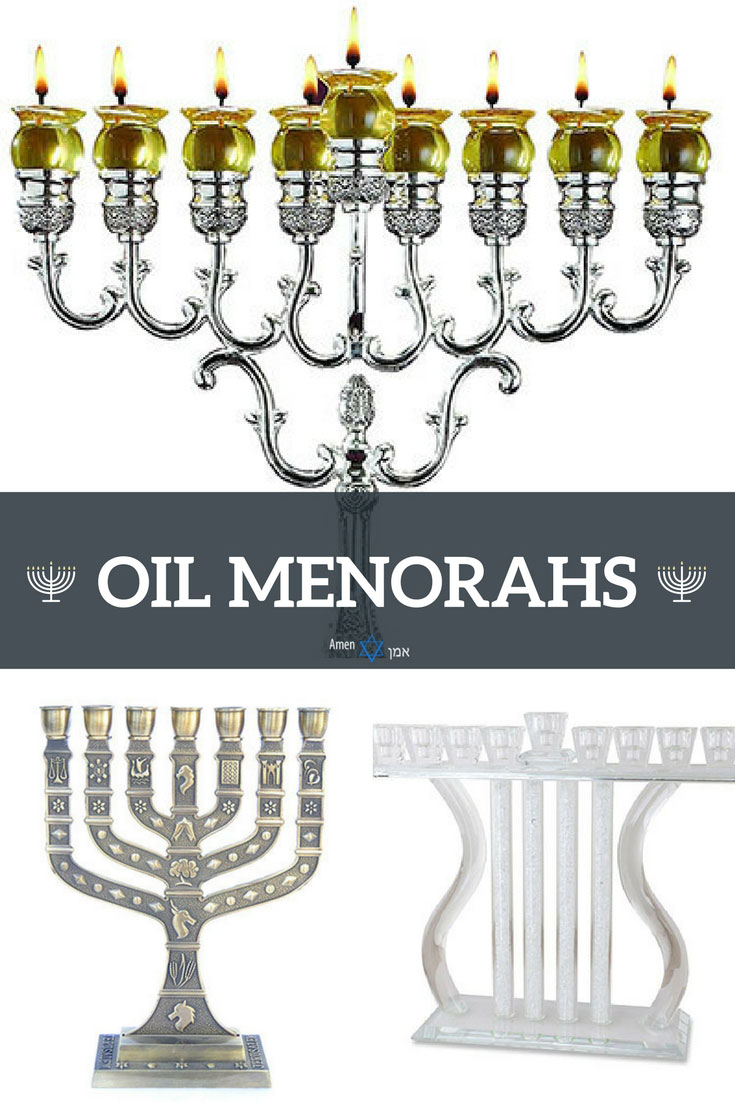 Amen V'Amen is supported by its audience. That means when you purchase something from one of our partners through one of our links, we may earn a small commission at no additional cost to you. Amen V'Amen is also an Amazon Associate, so we may earn a commission from qualifying purchases. Thank you for your support!
I'm sure you've heard about the miracle of Hanukkah a million times:
A very small amount of oil, barely enough to light the temple Menorah for one day – lasted for 8 whole days!
Ever since – we celebrate the miracle of Hanukkah by lighting a Menorah (Chanukiah) for 8 days.
And if you like to relive the Hanukkah miracle and do it "right" – there's no question: you light an oil Menorah.
After all, it's called the "miracle of the oil", not the "miracle of the candles".
The only question that remains is:
"Which oil-burning Hanukkah Menorah should I get?"
Well, my friend, the answer to that question is right here…
Top Oil Menorahs for Hanukkah
Good news: I did more than just select the best oil Menorahs for your upcoming Hanukkah. My team and I actually gave out awards to the absolute best ones!
More good news: you're about to get a sneak peek of our award-winning oil-burning Menorahs. 🕎
Behold:
Traditional Oil Menorahs
Since we are talking about a Jewish holiday, it's quite natural to start off with some traditional oil Menorahs, isn't it?
Frankly, there's no better way to relive the miracle of the oil than with these symbolic Jewish Menorahs.
You'll see what I mean in a moment…
Top Traditional Menorah
The first Hanukkah Menorah on the list is also my favorite one and our "Top Traditional Menorah" award winner.
This classy, gorgeous & elegant oil Chanukiah is one of those Menorahs that make you count the days backward for Hanukkah, just so you get a chance to see it light up again.
Try this:
Turn off the lights in the room.
Say the Hanukkah candle blessings
Light the candles/oil
Take a step back, and register this remarkable scene in your memory (because who needs Instagram?) while you witness the gorgeous oil Menorah light up.
This unique Menorah could've easily fit into any category on this list… but I decided that it's worth a spot in the beginning so you don't out on it!
Designed after King David's famous harp and made from crystal (both the harp strings and the candle holders) with beautiful dangling stones in the center.
This traditional oil Menorah is a marvelous Hanukkah centerpiece – full of rich history and symbolism.
And when I say centerpiece – I mean that literally. It'll be the center piece of your Hanukkah celebration. It's a true eye-catcher… whether it's lit up or not (you're reading this now, aren't you?)
Even when the lights turn off and Hanukkah is over – you can continue displaying it in your living room…
All. year. long.
(and count the days till the next Hanukkah comes along).
Way to make your Hanukkah celebration more authentic!
In case this Menorah seems a bit different than the other ones on this list, it's because it is different: it has 7 branches, not 9.
This oil Menorah is jam-packed with Jewish symbolism:
Designed after the original golden Menorah from the holy temple in Jerusalem – which was made of 7 branches.
Features the 12 tribes of Israel.
Made in Israel – where it all began.
A beautiful, traditional Jewish oil-fueled Menorah filled with plenty of history and meaning.
Modern Oil Menorahs
Where traditional meets modern → MAGIC happens.
And when you're thinking magical Judaica, there's a good chance you'll find exceptional artwork made by Yair Emanuel – the top Judaica artist from Israel.
Indeed – Yair Emanuel is the star of the modern & contemporary oil Menorahs section…
Top Modern Menorah
Oh look, colorful birdies came by for a visit, and they brought pomegranates with them. They must really like this Menorah…
Oh wait… they're part of the oil Menorah!
Of course, they are… it's Yair Emanuel's design. He's known for incorporating traditional Jewish symbols in a modern & artistic way.
And what do you know… it works fabulously! His artistic Menorah is flying off the shelf like mad!
"We are all weird" – and that's a good thing.
Just look at Yair Emanuel's "weirdness" – without it, we wouldn't have had the chance to witness his remarkable designs, such as this unique oil-burning Hanukkah Menorah.
With such an unusual design and colorful blend, it takes a wonderfully "weird" person to appreciate this unusual oil Chanukiah.
I consider myself "weird" … how about you?
I hated geometry when I was a kid.
Perhaps if they taught me how to use geometry to build amazing artifacts like this one, I would've thought differently… in fact, I know I would LOVE it.
Only a creative genius like Yair Emanuel can make cylinders, spheres, and circles into a flawless geometric design that makes you all of a sudden see math in a bright and shiny way.
A great gift to make your kids appreciate math, and prove to them that geometry is actually a useful skill to learn.
Silver & Sterling Silver Oil Menorahs
Now we're getting a little fancier…
Introducing: Silver (and sterling silver) oil Hanukkah Menorahs!
But I've got news for you – the fact that it's made of silver doesn't mean it's expensive! In fact, you're about to find a few incredibly cheap silver Menorahs that will leave you wondering how that's even possible (even cheaper than the traditional ones).
Don't believe me? See for yourself…
Top Silver Menorah
If I told you to close your eyes and picture a traditional oil Hanukkah Menorah – odds are it would look something like this. Not only is it a traditional silver Menorah – but it's also made in Jerusalem… that's pretty traditional, yes?
Just because you can't light a Hanukkah Menorah in Jerusalem this year – doesn't mean Jerusalem can't come to you!
I promised you a cheap Menorah oil lamp for Hanukkah – and I'm here to deliver.
This beautiful, elegant 9-branch Hanukkah oil-burning candelabra is completely silver plated… which combined with the low price tag, makes it a complete no-brainer.
And just as the brand name suggests – this Jewish oil candelabra is an excellent Hanukkah gift, and a great way to celebrate the festival of lights.
Nadav Art is known for crafting some of the most remarkable silver Judaica artworks from their studio in Jerusalem, and of course, their sterling silver Hanukkah Menorahs stand out way up there… like a Shamash.
Don't let the "classic" part of the title fool you. Nadav Art's sterling silver Menorah is NOT something you light up for 8 days and then let it collect dust in the closet for the whole year.
After Hanukkah is over, you better clean up the remainders of the candle wax (or oil cups), polish it a little – and display it in your living room (or anywhere else you like) – otherwise you're robbing yourself from the bright & shining beauty this wonderful Menorah can project.
Antique Oil Menorahs
From modern, we jump back in time to discover timeless, antique & vintage oil Menorah lamps you can add to your collection.
What's that? You don't have a collection (yet)?
Well, after you discover these vintage oil-burning Menorahs, there's a good chance you'll get the urge to start one (don't say I didn't warn you)…
Top Antique Menorah
One of the most extraordinary oil Hanukkah Menorahs on this list, and one of the most amazing Menorah I've stumbled across.
The oil holders are shaped like ancient oil jugs and are best when adding oil and wick to them.
This magnificent brass Menorah is a replica of a 200-year-old Menorah that lived on for centuries.
The Menorah contains two crowning peacocks set above two wide-eyed doves, displayed against a beautiful boxed background design.
A truly fascinating and rare artwork to add to your collection.
Another masterpiece that originated in Poland in the 18th century, and was brought back to life by the Israel Museum.
Originally designed and influenced by Polish design in the 18th century, this breathtaking Menorah includes four solid brass feet (for extra stability), a swirled back that resembles a plan structure, and two big lions (as the name suggests) protecting the crown in the center.
And in case you were wondering what these two extra candle holders on the sides are: they're special Polish candlesticks that were used as Shabbat candlesticks during the rest of the year.
The front row of the oil lights is displayed in a built-in decorative platform rack, giving this authentic piece a stunning shine on your Hanukkah celebrations, or all year round.
Still reading this? Bravo, you're quite the voracious reader!
Well, your patience has paid off, because you got to discover one of the most special Hanukkah Menorahs you'll ever come across (make sure the kids are asleep, you don't want them to see this).
This Menorah oil lamp tells the story of Judith's beheading of Holofernes, Nebuchadnezzar's general, who was sent to suppress the Jewish people.
The Jewish people, besieged by the enemy, are about to lose all hope and surrender. Judith, in a final attempt to increase morale and retrieve courage in the Jewish camp, decides to seduce Holofernes with her beauty, and finally, cuts off his head when he's drunk. She holds up Holofernes' severed head as a trophy and managed to regain the Jewish camp's courage to fight off the enemy.
Just like the other vintage oil Menorahs on this list, this one is a replica of a Polish Menorah from the 1700s.
As you may have guessed – this is an incredibly rare collectors' item and isn't meant to be used as your average Hanukkah Menorah.
Oil Menorah Supplies
It's always a good idea to stock up on oil Menorah supplies… you know, just in case s**t happens.
You don't want to sit in the dark on Hanukkah if all of a sudden you realize something's missing, now do you?
Not kef (fun).
Tired of filling messy cups with oil and replacing those greasy wicks (yuck)?
Enough!
Why work hard, when you can work smart?
These oil Menorah bulbs come pre-filled with oil. All you need is to light up the Shamash (included in the kit) with matches (also included), say the Hanukkah blessings (yep, included kit) and go eat a Sufganiya (Not included. But I have a delicious Sufganiyot recipe here!)
If you do want to mess with the oil cups yourself, then better stock up!
Each set comes with:
9 plastic oil cups
9 metal wick holders
50 cotton wicks
To fill the cups – you need… Kosher olive oil!
Just do me a favor and don't use this olive oil for cooking, yes?
Have you seen the movie "John Wick"? Then you probably know by now that Wick never "gets going" unless you light him up first!
Same with oil cups… you first need to light "the wick" to get things going.
Conclusion
The oil that was supposed to light the Menorah for 1 day, lasted for 8 whole days!
It's a miracle!
Yawn… 😴
You probably heard that story a million times now.
But now it's your turn…
Your turn to have a Hanukkah miracle of your own with your brand new oil Menorah!
Hooray! Happy Hanukkah!
P.S: Which oil-burning Hanukkah Menorah did you like the most? Tell me in the comments!