10 Stunning Wooden Menorahs for Hanukkah 2020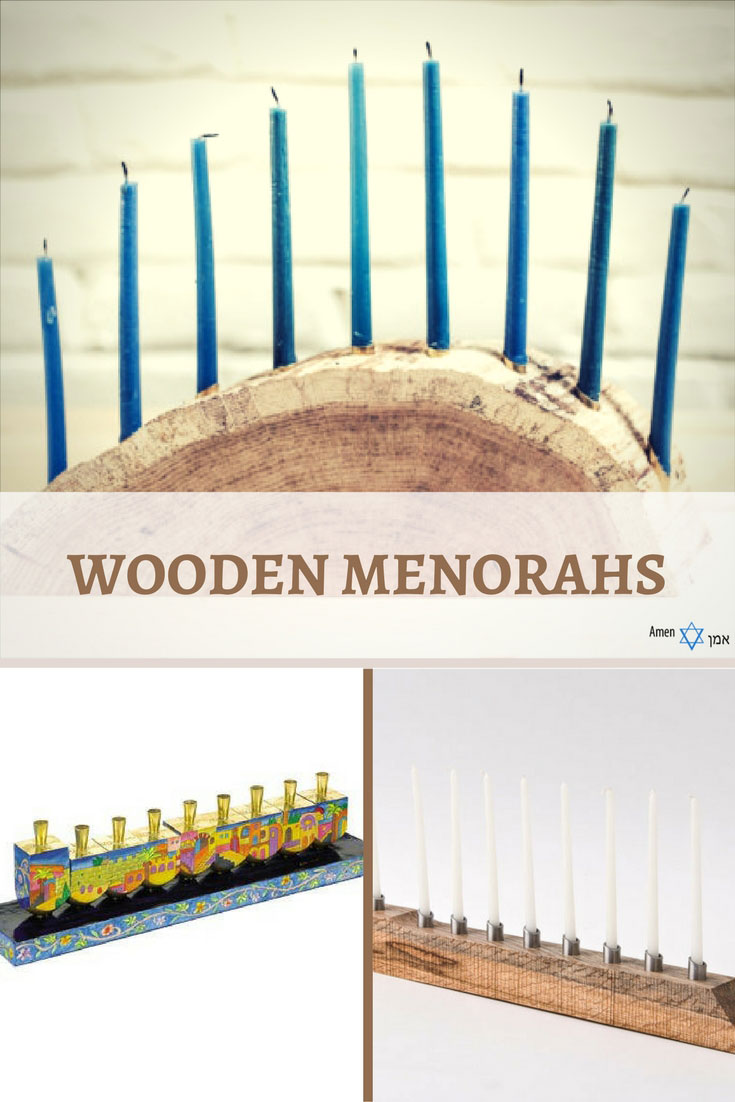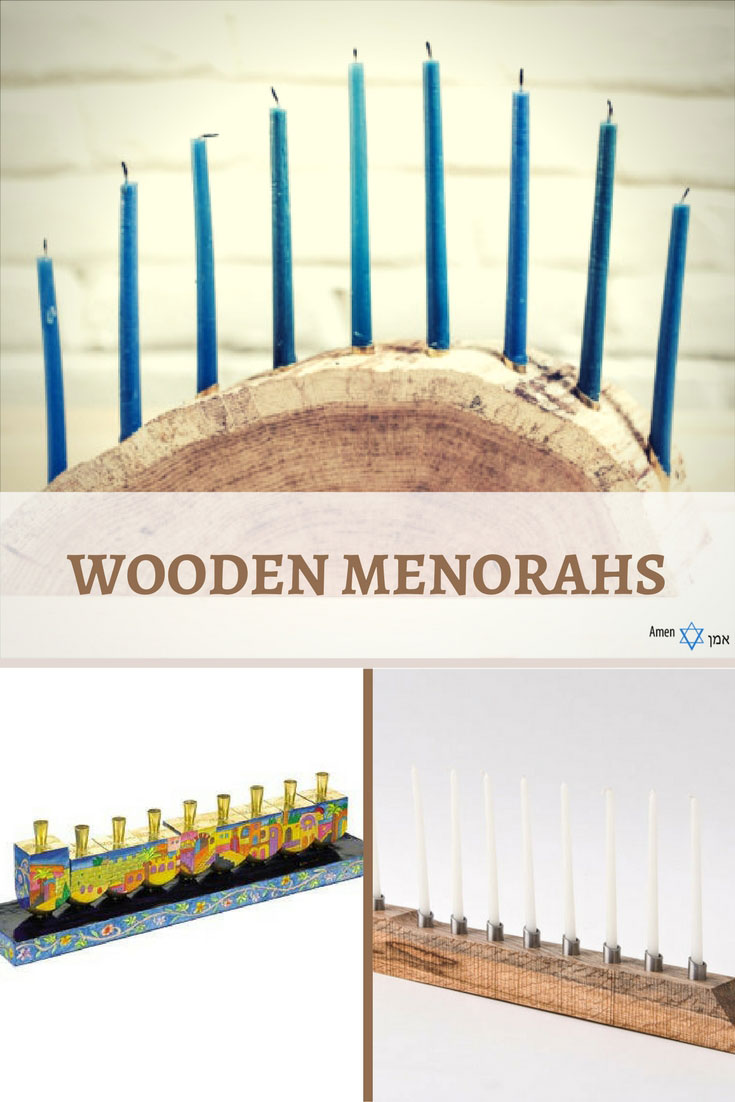 You're looking for a new Hanukkah Menorah…
But you want something a little different than the typical Jewish Menorah.
Something unique. Something that stands out.
You want a wooden Hanukkah Menorah!
Say no more! I've got you covered!
Boy, are you in for a real treat today…  a wooden treat!
Top Wooden Menorahs
You'll find a bunch of cool wooden Menorahs on this list. But which ones are the best ones?
Spoiler Alert: These are are my favorite wooden Hanukkah Menorahs:
Modern Wood Menorah
Hanukkah is an opportunity to demonstrate your creative spirit.
Because let me tell you – there's nothing like combining contemporary with traditional Jewish design… and there's one particular Jewish artist that does that better than anyone else in the world – Yair Emanuel.
Let's take a look at some of the gorgeous wooden pieces of art Israel's number #1 artist has crafted for us for Hanukkah. 
Yair Emanuel Wooden Fitted Menorah – Jerusalem
Top Modern Wooden Menorah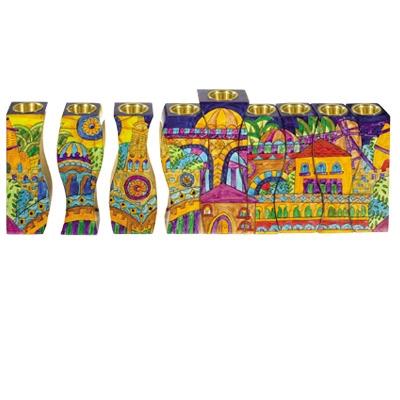 In case you're not familiar with Yair Emanuel's work – then this artistic wood Menorah is a good representation of his unique style:
Modern (obviously)
Lively & colorful
A delight to look at
This gorgeous, interactive, hand-painted Menorah features a vibrant look of Jerusalem, each side showing different aspects of Jerusalem.
So even if you're not physically spending Hanukkah in Jerusalem, you get to enjoy the beautiful scenery of Jerusalem from your own home.
How great is that?
Yair Emanuel Wooden Dreidel Menorah – Jerusalem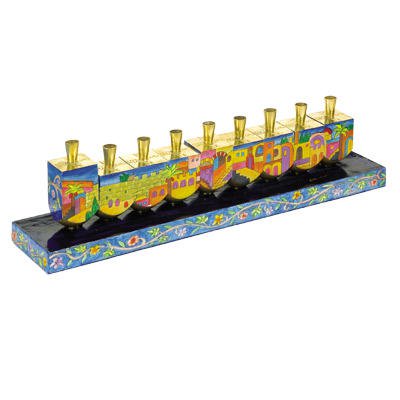 What are the two most famous Jewish symbols of Hanukkah?
Menorah
Dreidel
And 3: Sufganiyot (jelly doughnuts), not exactly relevant here, but I couldn't help it…
Well, the 3rd symbol aside, did you know you could combine the two famous Jewish symbols? Now you do!
This incredible Menorah is made out of 9 dreidels in a row… hand-painted and gorgeously designed.
But here's the coolest part: you can play with each dreidel individually (!).
If that doesn't wake up your inner child, I don't know what will.
Yair Emanuel Wooden Accordion Menorah – Jerusalem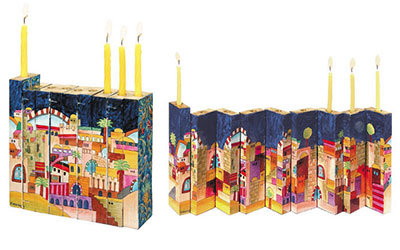 Before, we combined a Menorah and a dreidel.
Now, we're combining a Menorah and an accordion (told you Yair Emanuel was creative)!
The accordion is designed to expand for each day of Hanukkah:
On the first day: one candle holder is open
On the second day: two candle holders are open
Guess what happens on the 3rd day?
And so on…
Bonus: You also get a free Hanukkah blessing pamphlet in Hebrew + English, so you can say the Hanukkah blessings and sing Maoz Tzur with your beautiful voice.
You May Also Like: Like these modern wooden Menorahs? Wait till you see some of these modern glass Menorahs.
Handmade & Custom Wood Menorah
If you're a craftsperson, you'll definitely appreciate these handmade wooden candelabras.
Hanukkah is all about spreading the Hanukkah lights publically. These wonderful Menorahs are perfect (and quite literal) examples of that.
The upcoming custom wood Menorahs are a great read – not only for purchasing but also to draw some creative inspiration.
Tangram Hanukkah Wooden Menorah
Top Handmade Wooden Menorah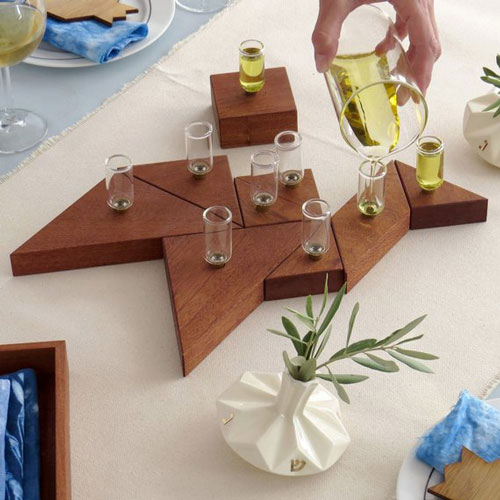 There's a lot in common between the Jewish and Chinese tradition.
Both have an incredibly rich history and culture
Both are full of ancient & eternal wisdom
Both share a lot of common values
Now, imagine what its like when the two join forces: the Jewish Menorah – combined with the Chinese Tangram (a Chinese geometric puzzle)
Actually, you don't have to imagine it… 
Not only artists Anat & Hadas from Israel imagine what that would look like  – they actually brought it to life.
The result?
A one-of-a-kind handmade Tangram Hanukkah Menorah you can use to play with your family and surprise your guests with.
The Menorah/Tangram is made of 10 modular parts – the big square tray holds nine candle holders… and the 10th? Well, you can use that to hold Hanukkah snacks while you light the Menorah 🙂
Tip: You can choose between different designs: a camel, cat, boat, dancer, Samurai figure or any other geometric shape you like.
Modern Hanukkah Menorah Salvaged Wood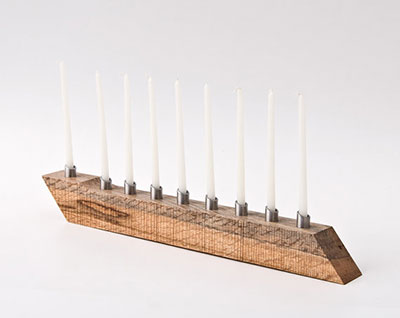 Another oak was salvaged, and used to create a lovely Hanukkah Menorah!
Inspired by the tree of life, this remarkable piece represents the perfect blend of modern and tradition… of old and new.
The natural tree cracks, irregularities, and wormholes were enhanced to give each carved wood Menorah its own distinctive character – so if you order several ones, don't be surprised that they look different. Heck, you can even go the next steps and give your Menorah a name.
Designed up to the small details, with a slightly elevated Shamash that observes the rest of the candles from his own pedestal.
The final touch – finished with an environment-friendly oil that keeps the oak's authentic look, allows it to "breathe" and last for a long time.
Olive Wood Menorahs
I can't have an entire article about wooden Hanukkah Menorahs and leave out Olive wood Menorahs, now can I?
Olive wood has been used for centuries – ever since ancient Israel. To this day, if you visit Jerusalem or Bethlehem – you'll notice shops carrying beautiful Olive wood Judaica. Including – Olive wood Menorahs.
But no need to catch a plane ride to Bethlehem. You can get em' right here 🙂
Olive Wood Hanukkah Menorah – Handmade
Top Olive Wood Menorah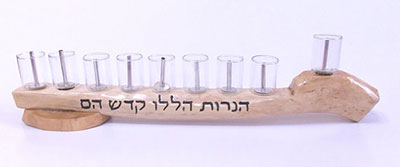 This cute olive oil Menorah comes to you straight from Israel… not exactly shocking, considering the fact it has the Hebrew text of the famous Hanukkah song, "Hanerot Halalu", on it.
This splendid Kosher Hanukah Menorah isn't only made of olive wood, but it also follows the ancient Jewish tradition of using olive oil to light the candles.
An excellent Menorah to celebrate your Hanukkah with, both at home and the synagogue. 
Olive Wood Personalized Hanukkah Menorah Candle Holders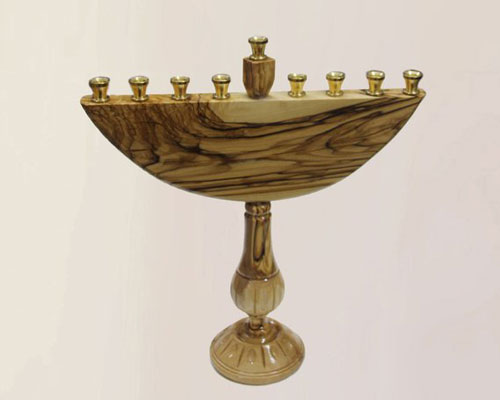 You know what's even better than a traditional olive wood Hanukkah Menorah?
A personalized one!
See all that empty space in the center of the Menorah?
That's a whole lot of room for some extra customization.
What kind of customization?
Lovely Illustrations: Pomegranate, Jerusalem, The Western Wall, Grapes, Rachel's Tomb and many others.
Personalized Text: A personalized name, blessing or a lovely dedication
How cute is that?
Note: Oh and in case you were wondering: yes, it's made in Jerusalem, Israel. Talk about authentic.
Olive Wood Hanukkah Menorah with Hand Painted Illustration
There are 2 types of traditional Hanukkah Menorahs. 
The one that looks like the letter Shin (ש) – like the previous one.
The "flat" design.
This is the 2nd type.
Just like the previous olive wood Menorah, you can customize it with a nifty illustration, and/or a warm & personalized blessing of your choice.
And just like the previous one – it ships to your house straight from Jerusalem.
Also Recommended: The most beautiful oil Menorahs for a traditional Hanukkah.
Children Wooden Menorah
Don't worry, I haven't forgotten the little ones.
Hanukkah is one of the kid's favorite Jewish holidays, primarily because of the candy, chocolate and delicious Hanukkah donuts (Sufganiyot).
With these cute wood Menorahs, they might find a new reason to love Hanukkah (who am I kidding, they'll always prefer the candy and stuff… but you get the point).
KidKraft Wooden Chanukah Set
Top Kid's Wooden Menorah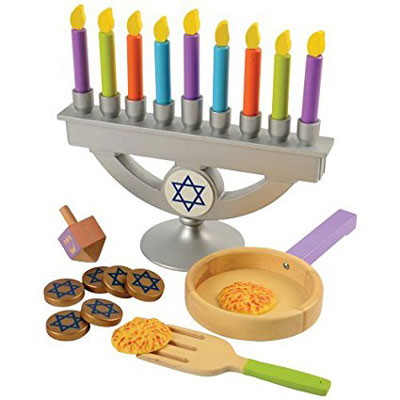 The kids deserve their own Hanukkah Menorah.
Thankfully, KidKraft created a very compelling one, that makes even adults want to play with it (but don't, stick to your own wood Menorah!)
This great set doesn't just include a Menorah. It also includes:
Dreidel
Six coins
Two potato latkes, spatula, pan, and a storage bag
Thanks to the kid's new Hanukkah set. they'll able to learn all about the sweet Hanukkah meals and cool traditions. 
Children's Wooden Chanukah Menorah With Removable Candles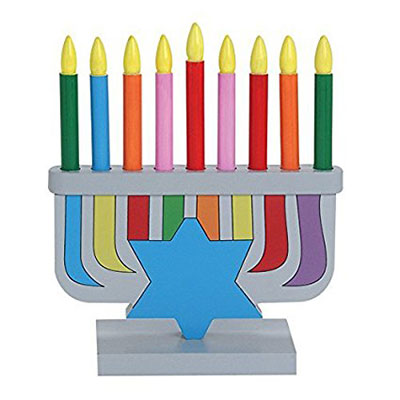 Children's wooden Hanukkah Menorah, take #2.
Hanukkah essentials made a worthy competitor to KidKraft's Menorah.
While it doesn't include the other cool extras (dreidel, coins, latkes…), it's still a cute, colorful and small wooden Menorah.
The candles are metal and independent, so children can insert a candle every night during the 8 days of Hanukkah.
A sweet little gift for sweet little kids.
Conclusion
I promised you unique wooden Menorahs… and I've got a good feeling I delivered.
Not because I'm so special (although my mom says I am special, so… 🙂 ), but because these remarkable Menorahs are! 
These Menorahs are proof that wood Menorahs don't have to be dull. In fact, with the right dose of Jewish creativity, they become quite the opposite.
I hope you found some inspiration, or perhaps your next wooden Hanukkah Menorah…
If you did, let me know in the comments which one you loved the most.
Hanukkah Sameach 🙂