10 Classy Bar Mitzvah Shoes for a 13-Year-Old Boy (2022)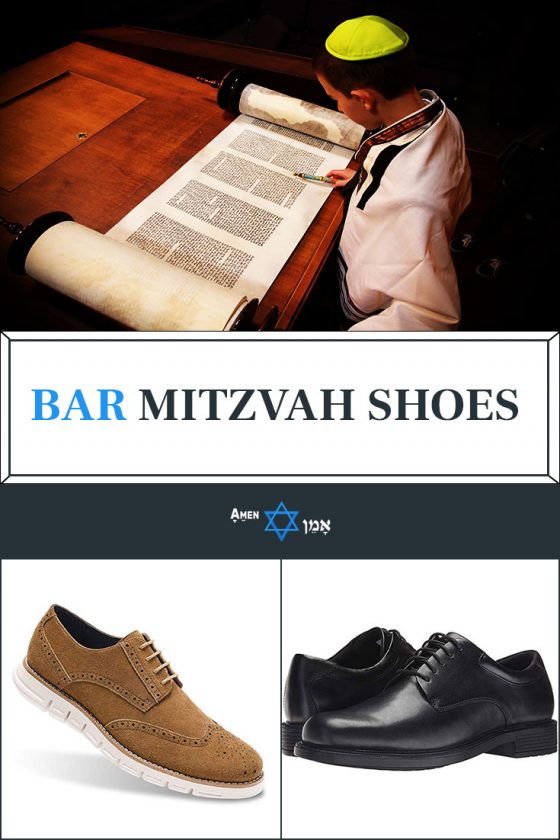 Amen V'Amen is supported by its audience. That means when you purchase something from one of our partners through one of our links, we may earn a small commission at no additional cost to you. Amen V'Amen is also an Amazon Associate, so we may earn a commission from qualifying purchases. Thank you for your support!
When was the last time you stepped foot (pun intended) in a shoe store?
I remember the days we had to walk all the way to the shoe store, try on 16 different pairs of shoes, only to notice the store owner slowly getting annoyed that we're wasting their time… Until you eventually had to give in and buy a pair… not because you liked it, but because you felt bad for the store owner.
Thank Goodness – those days are long gone… because today, you can buy any pair of shoes without ever leaving your comfy chair (or bed? or bean bag?).
Including… your boy's Bar Mitzvah shoes!
Wait. Did I just say boy's shoes? I'm sorry, I meant man's shoes.
Because guess what…? Your little "boy"? Not such a boy anymore…
The young man is about to celebrate his Bar Mitzvah – the day he finally transforms from a kid → to a young Jewish adult (at least according to the Torah… hold off on the alcohol there, fella).
One thing is for sure: a Bar Mitzvah boy deserves to show up to his big day wearing a pair of fancy shoes.
That's exactly why I wrote this article – to help you find the shoes your boy is going to wear as he steps up to the Bimah – and fills you up with pride, joy, maybe even a few tears.
Top Bar Mitzvah Shoes
Call me crazy – but I don't like scrolling through dozens of pages of Bar Mitzvah shoes, only to get overwhelmed by the sheer number of (virtually unlimited) options.
And call me crazy (again) – I have a feeling you feel the same way…
So instead of wasting your precious time looking at shoes – how about a short, succinct table, with the absolute best Bar Mitzvah shoes your money can buy (and believe you me, you don't even need a lot of it)… Wouldn't that be great?
Way ahead of you, big guy (or gal)!
Enjoy 🙂
Top Bar Mitzvah Shoes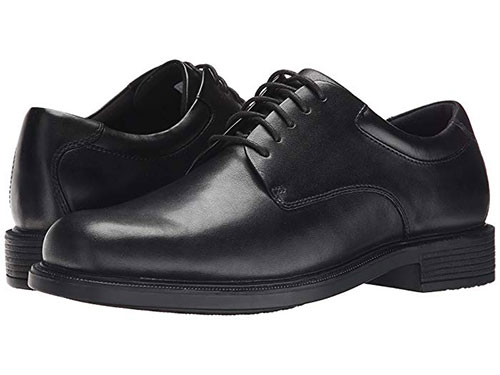 When it comes to elegant men's shoes – Rockport certainly know what they're doing. No doubt – they managed to develop one helluva brand for themselves…
But unlike many other shoe brands (I won't name any names) – in Rockport's case, it's totally warranted.
And this fabulous pair is a prime example of why.
If there's such a thing as the perfect shoe for Bar Mitzvah boys – not just in terms of quality, but also in terms of price – this might be a worthy contender.
Comfortable like a pair of running shoes

Attractive like a pair of Italian shoes that cost 10X more

Durable like good old Cabernet Sauvignon (minus the alcohol part)
The only "bad" thing about these shoes? The young buy will eventually outgrow them. (at which point – you can just get him a larger size and pass his old ones over to his younger brother… or some other lucky kid if he doesn't have a young brother).
But until then – he'll be one handsome-looking boy wearing these on his Bar Mitzvah, and many other special occasions after that.
Did You Know? Rockport was founded in 1971 by a Jewish father and his son. Hmm… it all makes sense now! 🙂
Our Rating:
Johnston & Murphy produced a lot of beautiful men's shoes over the years. But I doubt there has been a more popular one than this pair.
Just as you'd expect – they're incredibly comfortable. Wearing them – your boy will be able to survive his entire Bar Mitzvah ceremony without suffering from any foot pain. And that's saying something…
It has a cap toe – an extra piece of leather giving the shoe a more versatile look compared to a traditional Oxford shoe.
Add that to the subtle contrast between the black and the brown heel – and you get a formal shoe that would impress even the girl he secretly has a crush on.
Note: You can also get the shoe in brown… but the black one looks better IMHO.
Our Rating:
Top Bar Mitzvah Loafers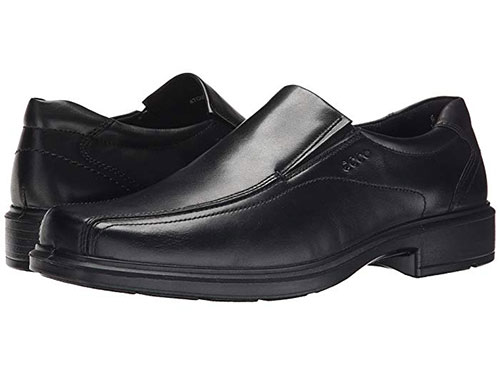 I'm a loafers guy.
Why? Laziness efficiency.
No messing with the laces…

No getting down on one knee (I'm not ready yet. Don't tell my girlfriend)…
Simply slip your foot in – and you're off to the races, or in this case, off to your Bar Mitzvah ceremony.
And when it comes to loafers – ECCO constantly has a few bestsellers on their "shelf". But there's one shoe in particular that tops the bestseller list, year after year, for G-d knows how many years now: ECCO's Helsinki loafers.
I can see why…
ECCO's Helsinki slip-ons are designed for sustainable comfort. What does that mean? It means you can wear them for hours – for walking, dancing, Torah reading… and they'll be as comfortable on the 10th hour as they were on the 1st hour.
And unlike other fancy dress shoes – once the Bar Mitzvah ceremony is over, you don't have to shove them in the back of your closet to start collecting dust.
HELLO! We're talking about loafers here! Your boy can wear them with anything, anytime, anywhere.
With jeans on a Friday night Kiddush

At casual or formal events where (such as the other classmates' Bar & Bat Mitzvah ceremonies)

For school – to impress the girl he secretly has a crush on
Without a doubt – one of the best shoes a boy can wear on his Bar Mitzvah ceremony.
Full Disclosure: I was considering giving the ECCOs the "Top Bar Mitzvah Shoes" award. But then I realized that some parents consider loafers too casual for their son's Bar Mitzvah; Oxford shoes are considered more appropriate for such an important event. Even though I personally disagree with that claim, I decided it makes more sense to give Oxford shoes the gold star.
Our Rating: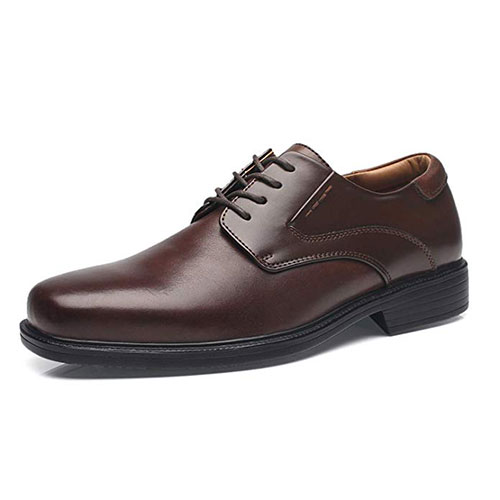 Slick.
That's the first thing that came to mind when I first saw this shoe.
Smooth, comfortable, attractive, and comfortable…
I know, I just said comfortable twice. That was on purpose.
You see, when I celebrated my Bar Mitzvah party a long time ago, my parents got me the most uncomfortable shoes EVER (it's wasn't their fault, they couldn't have known). I remember I escaped to the dining table every few minutes, just so I can take off my shoes for just a few minutes to relieve my feet from that awful torture. Granted, I did push my shoes to the limits with my kickass breakdancing skills. Can't blame a foolish kid for showing off 🙂
That's why it bears repeating: parents – make sure your boy's Bar Mitzvah shoes are comfortable.
La Milano's dress shoes certainly qualify.
Our Rating: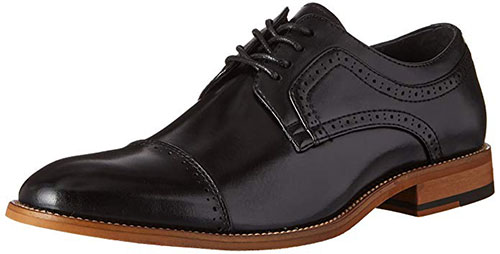 I know what you're thinking: this shoe looks familiar.
That's because you've already seen a similar shoe on this list: the Johnston & Murphy Oxford shoe. It has a strikingly similar style (it even has the same looking cap toe).
So what gives? Why feature another shoe that looks similar?
Price.
Because as much as I like Johnston & Murphy's Oxford shoe – it ain't exactly cheap. So I thought it would make sense to include a cheaper alternative… ok, ok – a MUCH cheaper alternative.
Where's the catch?
Quality.
Stacy Adams's shoes aren't bad, but compared to Johnston & Murphy – there's simply no comparison. The soles are of lower quality (they're shockingly thin!), and they don't exactly age well.
That said – if you're looking for a great-looking shoe your boy can wear on his Bar Mitzvah, but don't like the idea of paying that much for a shoe your boy will wear once – this shoe is a nice, cheap alternative.
Our Rating:
Top Luxury Shoes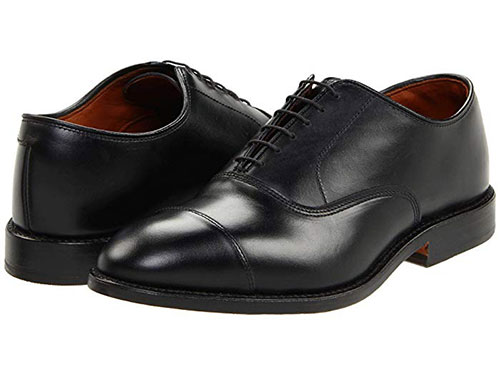 As you might've guessed – I personally don't like spending a lot of money on shoes. But hey, this is the boy's Bar Mitzvah, so I had to include at least one pair of high-end Bar Mitzvah shoes for parents who would like to spoil their son for his big day!
And let me tell ya – with Allen Edmonds' extraordinary Park Avenue shoes – spoiling you will indeed.
The shoe is entirely made of premium, smooth and breathable leather that makes the shoe shine like a polished diamond – the type of leather that lasts for a very long time (until he eventually outgrows them).
Note: If not – Allen Edmonds provides a lifetime (!) warranty, so you're covered either way.
Sturdy, yet cushy from the inside so it feels like you're walking on a cloud.
But most important: they look simply phenomenal on a suit.
If you're still totally convinced that your 13-year-old boy is a young man now – you will be when you see him dress up like a young James Bond (minus the gadgets and the women – that comes later in life).
Our Rating:
Top Casual Shoes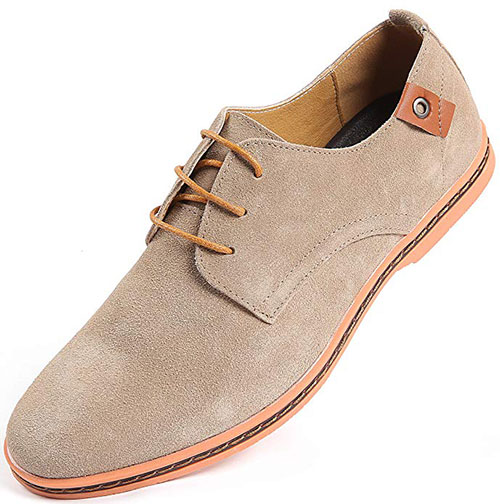 So far we've focused exclusively on dress shoes. Now, let's slowly drift towards dressy-casual Bar Mitzvah shoes.
Don't worry, I won't keep you on your toes ( damn, these shoe puns keep popping out of my keyboard 🙂 ). Allow me to introduce you to Amen V'Amen's favorite casual shoe award winner right off the bat: Marino's Oxford shoes.
Unlike the other Oxford shoes we've seen so far – this one is made of Suede, not leather.
Did You Know?
Technically, Suede is also considered leather. The only difference is Suede has a softer, less shiny exterior compared to leather.
The sole of the shoe is made of rubber – guaranteeing a soft "landing" every step of the way. Not to mention the light-brown sole color which contrasts perfectly with the shoe's Hazel Wood color.
Note: The shoe is available in a variety of fascinating colors. Check out the Hickory, Moss Green and Midnight Black colors in particular.
What makes this shoe truly unique is that it upgrades any outfit you can imagine: from suits, jeans or a set of pajamas – these shoes give your boy a sleek & stylish look the moment he places his feet inside.
It looks particularly phenomenal on jeans (which is why I highlighted the word jeans).
It's the type of shoe that stands out and invites the oh-so-exciting question: "Where did you get those shoes?!" (that question is doubly exciting when people ask that at your son's Bar Mitzvah).
What's even more exciting – it's ridiculously affordable!
A spectacular shoe to have in any young man's wardrobe – Bar Mitzvah or not.
Tip: If you prefer getting your boy a dressier shoe for his Bar Mitzvah, at least get him these as a Bar Mitzvah gift or something. It's just worth it.
Our Rating: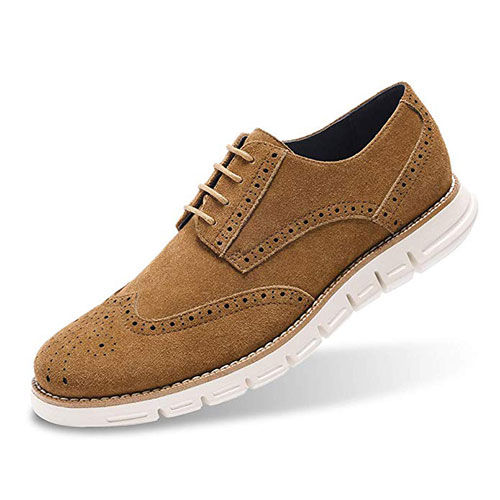 Just like the previous shoes – these shoes tilt more towards casual than formal. Nevertheless – they can still compliment your boy's Bar Mitzvah outfit – depending on the type of event and the location.
For example – If he's wearing a full-on Bar Mitzvah suit for his ceremony – then you're better off skipping these and opt for one of the dress shoes on this list.
However, if you're looking for shoes for something more casual – like a Bar Mitzvah luncheon or a Bar Mitzvah at the Kotel, then these would be a terrific (and cheap) choice.
They're comfortable for walking long distances; they feel more like sneakers than dress shoes – perfect for walking long distances in Jerusalem.
Unfortunately, these shoes do tend to wear out over time… but for such a low price – who cares, really? Plus, your boy will eventually outgrow them anyway.
Our Rating: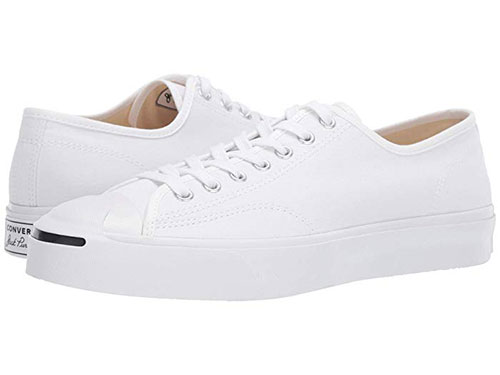 What tha? What are Converse shoes doing here?
Believe it or not – not everyone likes to dress up formally for their Bar Mitzvah. Some boys manage to somehow convince their parents to get rid of the suit and wear something casual (good luck, boys). These kids don't want dressy shoes, they don't even want dressy-casual shoes. They prefer casual shoes.
And that's where Converse's Jack Purcell comes into play.
It's casual, comfortable AND appropriate for a Bar Mitzvah (if you indeed dress casual).
Our Rating:
Conclusion
(if by any chance you haven't got the other items – what are you waiting for?)
Your boy is all good and ready! Now, he can march forward to the Bimah and follow his parent's "footsteps" (sorry, I can't help it! 😀 ) with his brand new Bar Mitzvah shoes!
Way to make your family proud, young man!
I hope you found this helpful. (don't worry, I don't expect a Bar Mitzvah invit̊ation in return… although a comment would be nice 🙂 )
Mazel Tov!