The baby has finally arrived!
Mazel Tov!
Time to celebrate with the young parents… they waited for so long!
But let me guess…
You're probably asking yourself:
"What exactly do you give for a baby naming ceremony?"
Don't worry –  I've got you covered.
I wrote this Jewish baby gift guide to help you find the best Jewish baby naming gift out there for the upcoming bris or brit milah ceremony.
Let's get the ball rolling…
Best Jewish Baby Gifts
This Jewish baby gift guide is packed with some amazing Jewish baby gifts… 
But just in case you don't have time to go through this entire gift guide, then I featured the best bris gift ideas from each category in this lovely blue table
Traditional Jewish Baby Gifts
A Brit milah or Bris party is a traditional Jewish event. So, what's the best Jewish baby gift you can get the young parents? A traditional Jewish baby gift of course!
We're talking about a Jewish baby at the end of the day. You'd want to the baby and his parents a meaningful & appropriate Judaica baby gift for their Jewish naming ceremony, right?
Uncle Goose Hebrew Blocks (Made in USA)
Top Traditional Jewish Baby Gift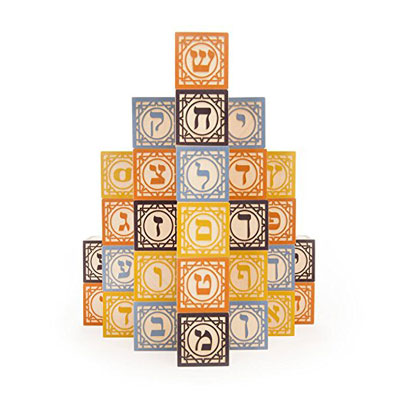 Aleph-bet-gimel…
The young Jewish baby will have to learn Hebrew sooner or later… Why not start sooner?
These aleph-bet blocks are a great way to surround the young child with the Hebrew alphabet from a very young age.
And it's not just boring letters, no-no…
This set includes 27 blocks featuring:
Hebrew letters
Numbers & Symbols
Animals (a lot of them)
Pretty cool gift, huh?
Plush Torah
Sure, you can get the new baby a stuffed animal and call it a day.
But it's a Jewish baby we're talking about… better act accordingly!
This plush Torah gives you everything a stuffed animal can, plus the added Jewish feel!
And let's face it…seeing a little baby dance with a Plush Torah is a hilarious Jewish baby shower gift.
Yealat Chen Silver Plated Blessing Wall Hanging
How can you bless the newborn baby and his young parents?
This magnificent silver plated moon wall hanging is inscribed with a very emotional blessing for the new baby, decorated with an elegantly colored ribbon.
A fabulous work of art will add a dose of charm, light & protection to the sweet baby's room.
Danon Hamsa Wall Hanging with Baby Blessing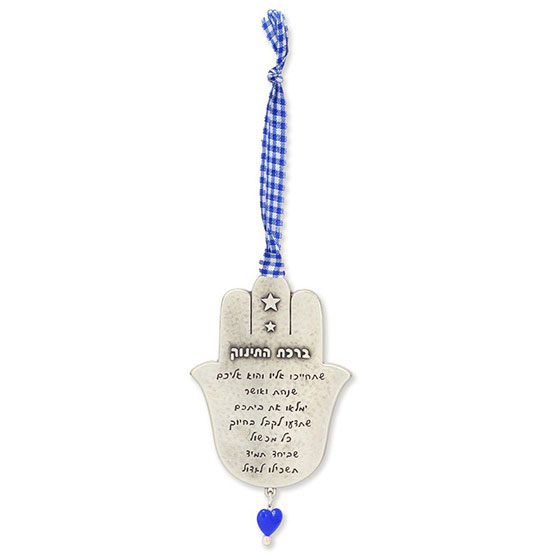 Did you know there's a baby blessing?
You do now…
This beautiful sterling silver Hamsa wall hanging is inscribed (in Hebrew) with a wonderful, emotional blessing for the newborn baby:
"I wish for every smile you give, to get a smile back.
I wish your home be filled with calmness and happiness.
I wish you to accept every challenge with a smile.
And to continuously grow – together."
Now imagine tying it to the baby's carriage, crib or hanging it on his wall… A true source of strength and inspiration for the young child, as he grows into a wonderful human being.
Danon Baby Feet Wall Hanging with Baby Blessing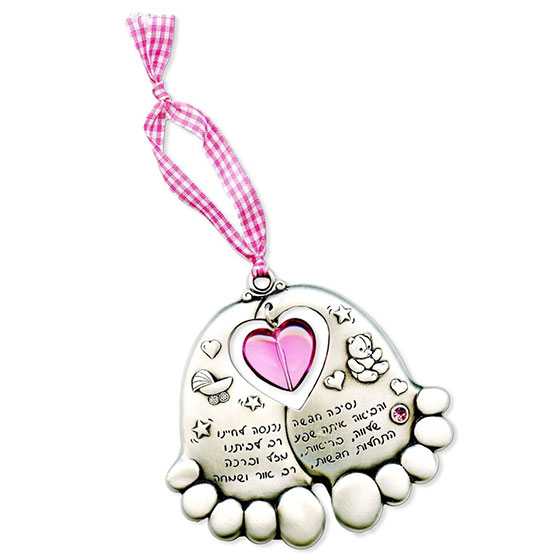 This is a pretty unique wall hanging that is different than the traditional Jewish wall hanging gifts out there.
This gorgeous sterling silver wall hanging is designed in the shape of baby feet and inscribed with an emotional & spiritual blessing for the new baby.
You can choose to hang it on the baby's carriage, crib or on his room wall.
Want to get our brand new Jewish gift guides straight to your email inbox?
Jewish Baby Boy & Brit Milah Gifts
After the Brit Milah ceremony, people go on to celebrate in the parent's home, or even in an event hall. This is where you're traditionally expected to bring a gift for the little Jewish baby boy.
After all, he's just been through a painful procedure… he (or his parents for that matter) could use a little brit milah gift to cheer him up.
Beautiful Bris Milah Pillow (Circumcision Cushion)
Top Brit Milah Gift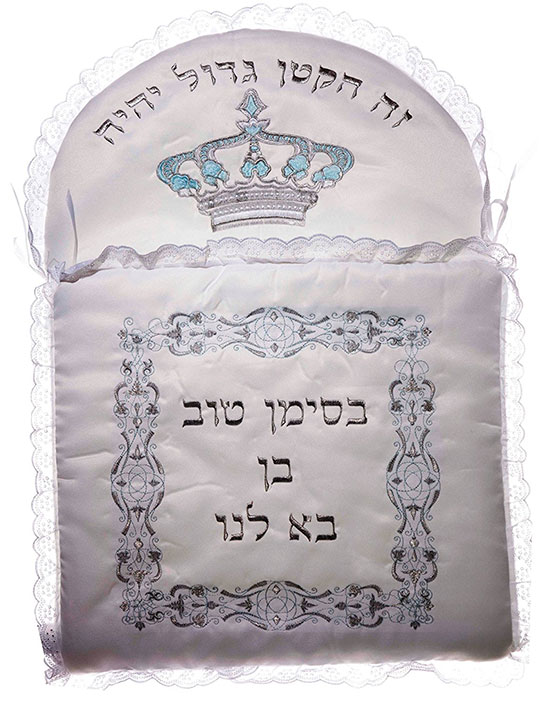 The brit milah is a very special event for the Jewish baby's parents (and a painful one for the Jewish baby boy).
So, it makes sense to honor this precious event with a beautiful Bris Milah pillow cushion.
The parents will appreciate it, the baby will suffer (a bit) less, and you'll be thanked immensely.
Dorit Judaica Wall Hanging – Son's Blessing
What better way to protect a newborn Jewish baby boy than with Jacob's wish for his two sons, Efraim and Menashe.
Jacob's blessing became the official blessing of a father to his children and is being consistently used to this day.
Add the big Hamsa, pomegranate, and of course, the traditional Jewish symbol of peace – two doves, and you get one blessed & protected the little boy.
A wonderful Brit Milah gift for the little treasure.
Personalized Baby Birth Announcement Baby Elephant Decorative Pillow Cover
Looking to add a personal touch to the sweet little boy and his parents?
Made out of 100% cotton linen material with a hidden zipper design – only the best for the little prince.
And of course, the crème de la crème – the little man's name written beautifully in the center.
Nadav Art Sterling Silver Kiddush Cup – Good Boy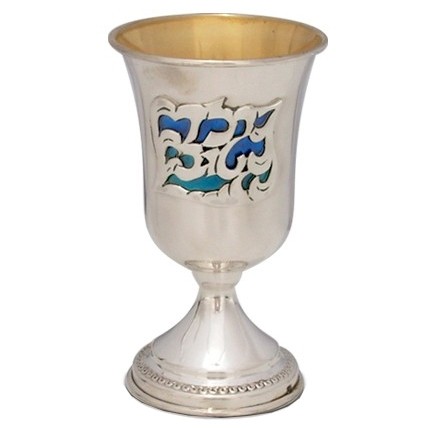 Good boy! Have a glass of wine.
I'm kidding. Don't give a little baby a glass of wine, are you crazy?!
All jokes aside, this gorgeous sterling silver Kiddush cup is a perfect gift for when the little baby grows older.
This precious gift will serve as a keepsake of the young man's Brit milah, which he'll be able to cherish forever as an adult.
Jewish Baby Girl & Simchat Bat Gifts
Jewish baby girls have it easier. They get the party, the Simchat Bat gifts (also known as Zeved habat or Brita), and no pain.
Poor Jewish baby boys… they must be so jealous of the Jewish baby girls.
Well, let's give them a reason to be jealous about with these marvelous Jewish baby girl gift ideas for their upcoming bris ceremony!
Dorit Judaica Wall Hanging – Daughter's Blessing
  Top Jewish Baby Girl Gift
The traditional Jewish blessing we wish our daughters every Shabbat.
Add that to Dorit Judaica's magnificent, decorative wall hangings – and you get a true masterpiece for the little princess' room.
A very special gift for someone you love, to protect their newborn daughter they love so much.
Personalized Pink Swiss Dot Scalloped Pillow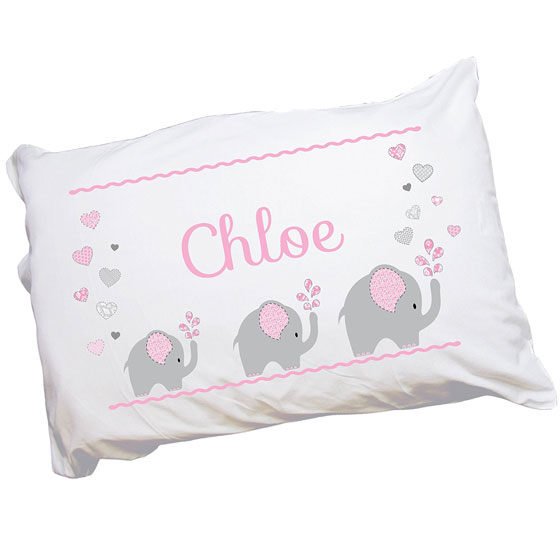 The little princess also deserves a personalized pillow of her own!
Made out of 100% white cotton and decorated with cute little elephants all glorifying the young princess' name.
And of course, the crème de la crème – the sweet girl's name written beautifully in the center.
A very meaningful useful Jewish Simchat Bat gift for the little princess.
Nadav Art Sterling Silver Kiddush Cup – Good Girl
What did I say about giving babies alcohol?!
Don't you do it! I'll call child services!
Just kidding…
Actually, with this gorgeous sterling silver Kiddush cup, you're not buying it so the baby will use it now. You're getting her a keepsake that will serve as a lifelong memory of her bris (Simchat Bat) for years to come.
There's no better keepsake for a Jewish baby than a custom-made Kiddush cup she'll actually be able to see and use for many many years to come.
Iris Design Hand Painted Girl's Room Hamsa
A pink, elegant Hamsa wall hanging?
With blessings for health, luck, success & more luck?
Decorated with genuine Czech stones, metal beads, and a "girl's room" design?
Now that's a people pleaser – you're pleasing both the little baby boy and more importantly – the baby's parents.
Jewish Baby Clothes & Outfits
"Aww, she's so cute".
"He looks adorable in this cute outfit".
"Look at her! Isn't she the sweetest??"
If you want your gift to evoke these comments, then Jewish baby outfits are definitely the way to go.
WARNING – high levels of cuteness ahead.
Mini Mensch Baby Bodysuit
You're buying a present for a little mensch.
We want the little mensch to grow into a big mensch, right?
This cute little bodysuit is definitely a good start and will transfer the sweet Jewish baby boy into a cute little mensch.
100% Kosher Organic Cotton Baby Bodysuit
Yes, he is 100% Kosher!
If you didn't eat the adorable little baby by now, I guarantee someone will when the baby wears this hilarious bodysuit (they're Kosher, so why not).
Jacqui's Baby Boys' Star of David Bunting Gown
A sweet little Jewish baby, covered with a Star of David outfit. Now that's a good Jewish baby we're all proud of!
A perfectly designed Jewish baby shower gift and very comfortable for the newborn baby.
This will definitely be the hit of the bris ceremony!
Oy Friggin' Vey Baby Bodysuit
Top Jewish Baby Clothing Gift
Oy Vey!
An adorable baby onesie!
Oy friggin' vey! Someone will get a heart-attack laughing when he sees the baby wearing this!
Oy vey!
Tip: A very popular Orthodox Jewish baby gift.
Noah's Ark Blessing Blanket
Imagine the sweet little thing wrapped in this beautiful, cotton Jewish baby blanket embroidered with the Priestly blessing, designed & inspired by the biblical story of Noah.
A lovely Brit Milah gift for the Jewish baby's naming ceremony.
Personalized Jewish Baby Naming Gifts
Now that you know the baby's name: time to personalize!
Babies care only about themselves, right? So the little Jewish baby will definitely appreciate your gesture. (don't worry, the parents will teach him to care about others later)
Lucky for you, there are a TON of great personalized Jewish baby gift ideas waiting for you right here (thank me later).
Personalized Stuffed Elephant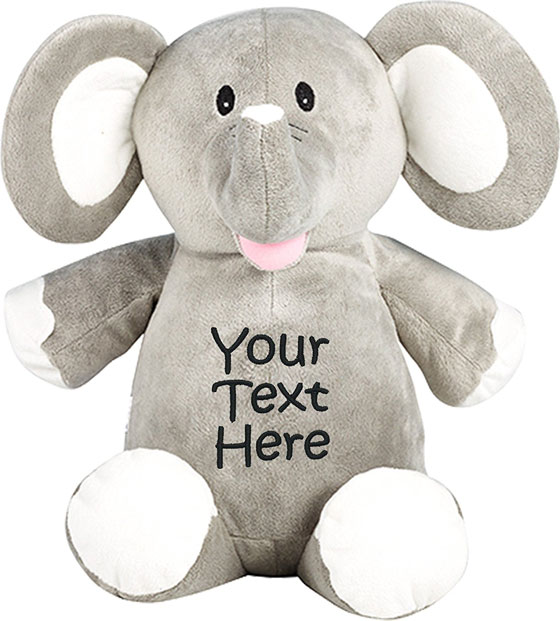 No baby can resist a stuffed animal.
Heck, I know some adults who can't resist a stuffed animal.
You know what happens when you add the child's name to a Jewish stuffed animal? All hell breaks loose, and an addiction is formed.
If you're getting the sweet baby this personalized stuffed elephant, don't be surprised to find him 30 years later still sleeping with his precious stuffed animal.
Personalized Wooden Name Puzzle
Top Personalized Baby Gift
Who's the baby's favorite person in the whole wide world?
Before you start debating whether it's mommy or daddy, you better think again…
The baby's favorite person is… himself of course!
Now that you know the truth… what better gift than a puzzle with his very own name on it?
Personalized Satin Trim Custom Blanket
Wouldn't it be great to wrap the cute baby with a ultra soft & comfy blanket with his name on it?
The baby's name, along with the cute little feet and hearts design give this gift a very nice sentimental touch the parents will love.
There's no better way to protect the baby while they sleep, plus give them a precious keepsake they'll appreciate when when they grow up.
There's a reason why this custom baby satin blanket has a full 5 star review on Amazon: it never disappoints the young parents, or the baby!
Personalized Wooden Child's Name Puzzle Stool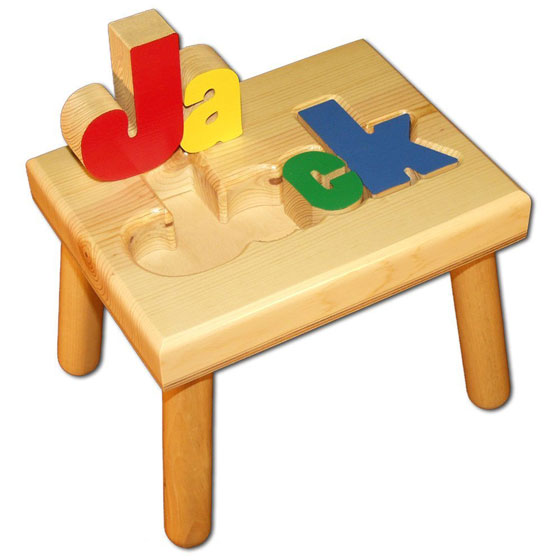 First, the little baby puts the letters in and out of the stool. Level 1 complete…
They grow up, learn how to spell their name on the puzzle, and even learn the different colors on it… Level 2 – check.
They grow even older… now they start to brush their teeth alone. Uh-oh, the child can't reach the sink yet! Hang on…that's what the stool is for! Level 3 – done.
Different uses for different ages – definitely a worthwhile investment the child can use for many MANY years.
Personalized Hebrew Name Banners
Every parent wants to decorate their baby's room in a special way.
Well, what's more special than the special name they chose for their little angel?
A beautiful & meaningful gesture for the young parents and their sweet little baby.
Jewish Baby Gift Baskets
You know what's sweeter than babies?
Chocolates, candy, and Jewish baby gift baskets!
Don't agree? Take a look at these gift basket ideas and you might change your mind.
Because no matter how sweet the baby is, the baby's parents still can't eat him (if they try to, call child services) … But they definitely can eat yummy chocolates, sweets & drink wine!
Baby Boy Bassinet Parve Chocolate Gift Basket
Top Jewish Baby Gift Basket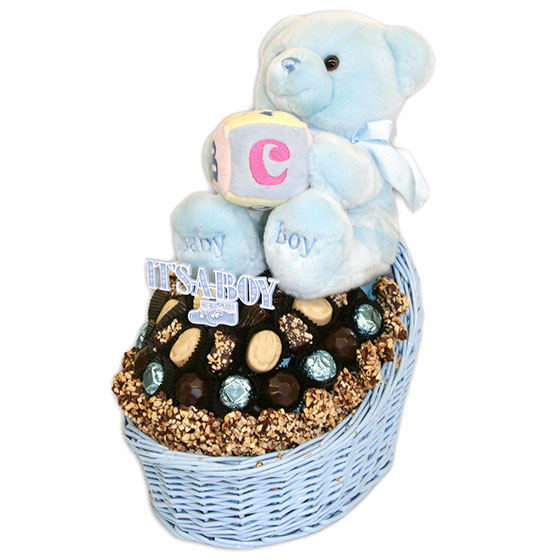 What's the obvious way to welcome a new baby boy to the world? Chocolates of course (ok, it's actually for us adults)!
Delicious chocolate treats, combined with an adorable baby bear, all beautifully arranged in this wicket baby bassinette = a very attractive gift and a statement of love to the newborn Jewish baby and his parents.
For the Girls: Don't worry we didn't discriminate the baby girls! There's the exact same gift basket for girls (in pink!).
Baby Girl Chocolate & Nut Square Gift Basket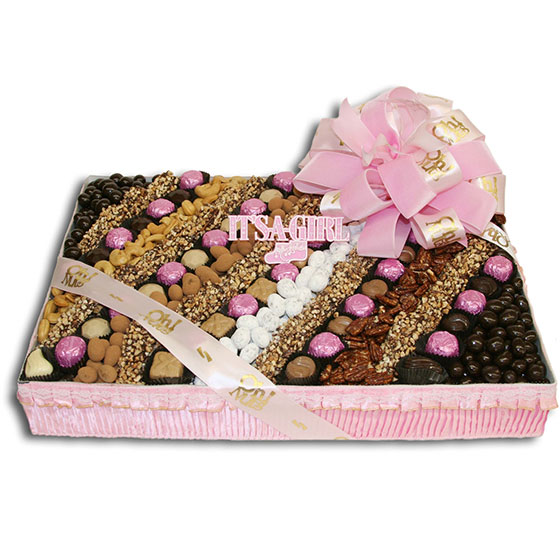 Looking to step it up a notch? Then this is the gift basket you're looking for.
Filled with amazing Viennese crunch, an assortment of chocolate truffles, toffee almonds & a variety of delicious chocolates – this gift basket is a classic gift idea for a bris ceremony.
For the Boys: And of course, there's the exact same gift basket for a Jewish boy's brit milah right here.
Chocolate Glass Gift Tray
If you're looking for a rich yet affordable gift tray – then this chocolate glass gift tray is probably the best bris gift basket you'll find anywhere.
With a delicious selection of premium nuts, chocolates, Viennese Crunch & juicy candy, this gift tray will be a wonderful gift for the upcoming Jewish baby naming ceremony.
Lin's Farm All-Natural Gift Box with Wine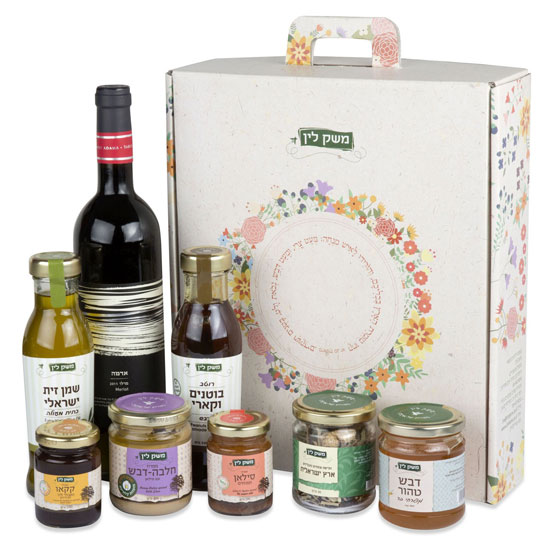 The little baby is finally here! Time to introduce the little sweetheart to some of Israel's finest product.
This beautifully designed gift box comes straight from Israel's farms and includes some of Israel's finest gourmet treats:
A bottle of Israel's finest wine – straight from some of the best internationally acclaimed vineyards
A bottle of extra virgin oil
Delicious organic sweet spreads
Herbal Tea Infusion
Peanut and curry honey marinade
Honey-halva spread
Pure Honey
Apple-silane spread
Cocoa and hazelnut spread.
Note: You can ship this gift basket to Israel in case you couldn't fly over.
Galilee's Exclusive Boutique Red Wine Gift Box
Enough chocolates… time for wine!
This classy gift box includes 2 premium, exclusive Kosher red wine bottles, straight from Galilee's boutique winery.
A rich and delicious tasting wine with a light hint of spring flowers, very fitting for the Jewish baby.
I mean, the Jewish baby's parents…
Jewish Baby Jewelry Gifts
There's no wrong time for Jewelry… especially when it's Jewelry designed to protect (and decorate) our sweet babies.
Sure, the little rug rats may not appreciate Jewish baby jewelry gifts yet, but they're parents do. And let's face it – that's what really counts.
Danon Evil Eye Charms Safety Pin with Swarovski Crystal
We all wish our kids safe from the evil eye (Ayin Hara).
This is especially true for young parents, who fear for the well-being of their newborn babies, and they'll do anything to protect them.
Well, you can help!
This adorable safety pin has the following charms hanging from it:
Bottle
Bead
Baby image with a Swarovski crystal
Pearl
Hamsa
If you're Jewish (or have seen Jewish grandmas in action), you know how much they value the Hamsa and the bead. It's a traditional Jewish symbol that protects against the evil eye.
A beautiful addition to baby's clothes or strollers.
Yealat Chen Silver Plated Baby Pin with Hamsa & Blessings
Top Jewish Jewelry Baby Gift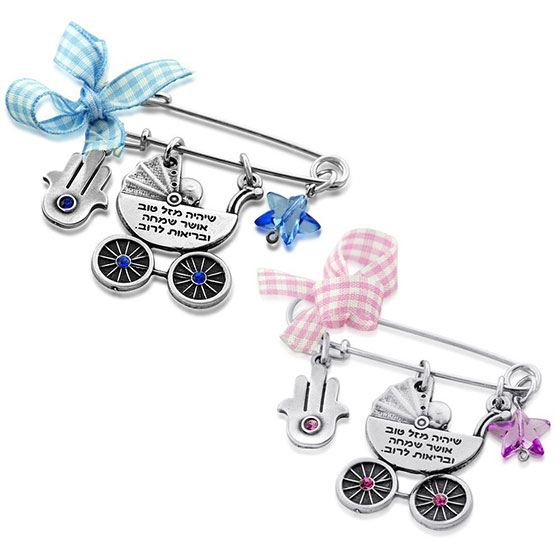 This lovely Yealat Chen silver plated baby pin is full with playful charms for the little munchkin, and impactful blessings for Mazal tov, joy, happiness, and health.
What baby wouldn't want to be surrounded by a beautiful star, ribbon, Hamsa & baby carriage?
Yealat Chen Silver Plated Baby Pin with Blessings & Charms
Another beautiful Yealat Chen silver plated baby pin, with magnificent blessings and charms for the sweet Jewish baby.
This time, besides the other playful charms & blessings I mentioned in the previous baby pin, this baby pin also includes a beautiful pacifier and a heart.
A thoughtful baby gift, straight from Israel.
Danon Baby Safety Pin with Star of David & Psalms Book
This safety pin is different than the others.
How?
This adorable silver plated safety pin is decorated with a bunch of cute symbols & Jewish charms on both sides of the pin.
What charms?
Star of David
Heart
Hamsa
A blessing (in Hebrew) for happiness & protection
A genuine miniature book of Psalms in Hebrew
This is the "luxury" pin if you will (even though it's very cheap to be called that).
A wonderful addition to any baby's crib, stroller… and later, when he's older – the grown-up child can wear it on his necklace for many years.
Unique Jewish Baby Gifts
There are baby gifts, and then there are unique Jewish baby gifts.
Sure, you can get one of the traditional Jewish baby gifts you've seen up to this point.
But keep in mind that this is one of the most special days in the young parent's lives. Don't you want to help them remember it as such with a creative & unique Jewish baby gift?
I thought so…
Yair Emanuel Anodized Aluminum Children's Train Hanukkah Menorah
Top Unique Jewish Baby Gift
Who said a Menorah has to be a Hanukkah gift?!
Well, I got news for you… This beautiful, aluminum children's train Menorah is, first of all, a marvelous children's gift, and only then is it a Hanukkah gift.
The rest of the year, the little darling can play with this beautiful steam train…
And in Hanukkah? Well, he'll get to see the train in action and actually light up – led by the Shamash in front of the train (the engine).
A true one-of-a-kind gift that will definitely make your gift stand out from the rest.
Avi Luvaton Baby Bunny Kiddush Cup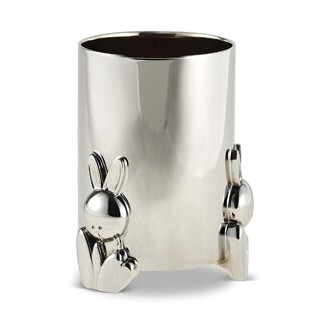 Hop hop hop…
3 adorable little bunnies hopping around this gorgeous Kiddush cup.
Because when the little ones start to join in the Shabbat table, they'll need their own unique Kiddush cup wouldn't they?
Custom made specifically for a Jewish birth (before or after)or bris ceremony, this Kiddush cup is the ideal gift for your upcoming Hebrew naming ceremony if you're looking for something truly unique that both the child and the parents will remember for MANY years to come.
Blessing & Protection Sterling Silver Teaspoon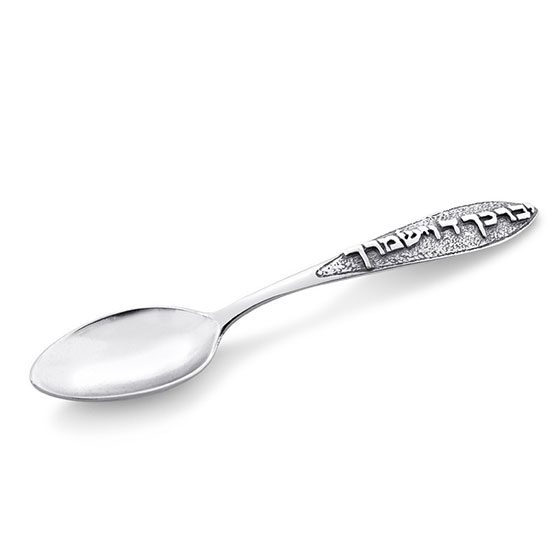 This beautiful sterling silver spoon is engraved with the famous Priestly blessing: "May God bless you and protect you".
What makes this a unique Jewish baby gift, besides being a protective charm for the lovely child, is that he/she will grow up one day, and cherish this magnificent keepsake for years and years to come.
Besides, in times of crisis, the parents can choose to feed their kid with this spoon…
Silver Priestly Blessing Figurine
Looking for a unique, beautiful & affordable blessing for the Jewish baby's room? 
You'll get exactly that with this beautiful statuette.
This beautiful figurine brings a delicate and shining glow to the child's bedroom. And the Priestly blessing (Birkat ha cohanim) will add another layer of protection to the sweet little angel.
It's super-cheap, super-spiritual and super-gorgeous all at the same time.
Conclusion
Those were some great & unique Jewish baby gifts huh?
We all know how important & special this day is for the young couple and their expanding family.
That's why I created this guide – to help you find the best Brit Milah gifts for the young couple's special celebration.
The young parents will remember this day for the rest of their lives, and I hope your present contributes to that memory.
Have fun in the bris ceremony… and wish the happy couple Mazel Tov!
P.S – would love to hear from you which of these bris gifts you ended up getting the young couple… let me know in the comments below!