16 Best Electric Menorahs (LED) & Battery/USB-Operated Menorahs for Hanukkah (2022)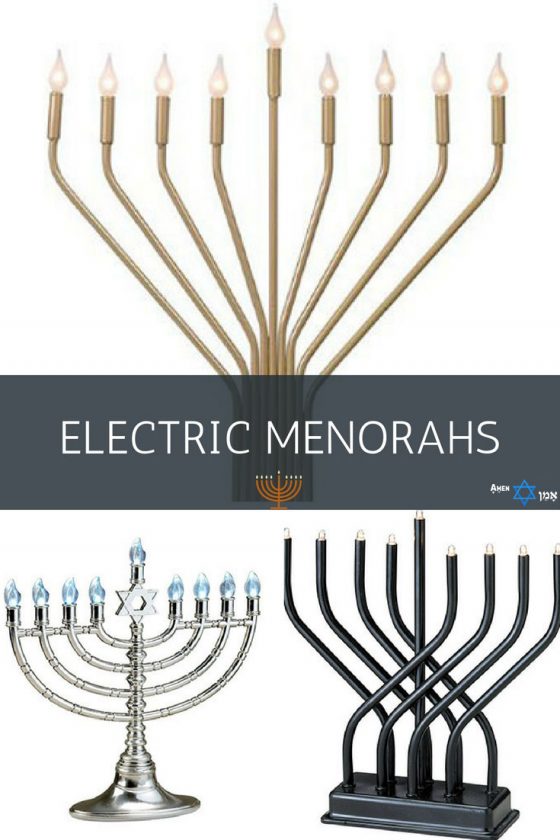 Amen V'Amen is supported by its audience. That means when you purchase something from one of our partners through one of our links, we may earn a small commission at no additional cost to you. Amen V'Amen is also an Amazon Associate, so we may earn a commission from qualifying purchases. Thank you for your support!
Hanukkah is all about spreading light and joy to our friends, family, and neighbors. What better way to do just that than by having a gorgeous electric Menorah shine a bright light in our house?
While it's not a replacement for a true (Kosher) Hanukkah Menorah – an electric Menorah can surely spread light (literally and spiritually) and bring the spirit of Hanukkah to our friends and loved ones… and that's exactly what the festival of lights is all about!
So without further ado, here are the best electric & LED Menorahs that will brighten up our house, street, and moods during the 8 days of Hanukkah…
Top Electric Menorahs
We went out there and cherry-picked the very best electric Hanukkah Menorahs… Then, we also gave awards to the top ones that deserved their 15 minutes of fame! Here's a quick look at our award-winning Jewish electric Menorahs:
Small (Mini) Traditional Electric Menorahs
A traditional electric Menorah looks exactly like a classic Jewish Menorahs – except it's smaller (and it's electric, of course).
These mini electric Menorahs are small enough to display on your window, nightstand or anywhere else you'd like to carry it to feel the Hanukkah spirit (you can't carry the Sufganiya everywhere you go – mommy will kill you!)
Top Traditional Menorah
A blue & white electric Menorah with a Star of David? You can't get any more traditional than that, now can you?
Unlike so many flimsy and unreliable electric Hanukkah lights out there – this one will stay "lit" for the 8 whole days of this Hanukkah… No special Hanukkah oil miracles are needed (because it's electric, duh!).
You can power it with USB (the cable is included), batteries or even connect it to the power outlet with an adapter.
Cute, reliable, and inexpensive ⇒ everything you could possibly hope for from a battery & USB-operated Hanukkah Menorah.
Our Rating:
This classic electric Hanukkah menorah looks absolutely terrific. It has a sharp design, with a nice Star of David in the center – raising the Shamash up high… that's a traditional Hanukkah Menorah alright.
When it comes to the quality, though – I'd say it's a C. It's made of cheap plastic (which is fair, considering it is pretty cheap).
It's perfect if you'd like to display a shiny tall Menorah on your windowsill on Hanukkah.
Just don't expect it to last for decades – and you won't get disappointed.
Our Rating:
This traditional Menorah looks pretty good for an electric Menorah. It strikes a nice balance of a traditional look with a slightly contemporary look.
Quality-wise, however, it could definitely be improved. Let's just say that in a few years you'll be back reading this article (don't worry, I'll welcome you with open arms!).
I do like the variety of light patterns this Menorah has to offer: it can blink, it can "dance" (dancing lights), and a few other cool lighting modes.
Imagine your metal electric window Menorah blinking and flickering from your windowsill – who the hell needs Santa climbing down the chimney when you have such a cool Hanukkah Menorah?
Our Rating:
Have you ever visited Beit Chabad during Hanukkah?
You walk for miles in Lima, Tokyo, or even New York… all you can think of is eating a warm Kosher meal (maybe even a Hanukkah donut).
Then all of a sudden… you spot the Chabad electric Menorah from a distance!
"Look! We're finally home!"
Doesn't matter where you spend this Hanukkah – with Chabad's classic electric Menorah – it'll feel just like home!
Our Rating:
Modern Electric Menorahs
If you're the adventurous kind, you might be looking for a LED Menorah that is a little more "eye-catching".
Introducing: creative, unique, and modern electric Menorahs that make you hold your breath the first time you see them light up.
Israeli artists are known for their creativity… you're about to see proof of that.
Top Modern Menorah
Speaking of modern electric Menorahs, this one probably has the most magnificent design on this list.
But it's not just the design that is worth mentioning here: while most electric window Menorahs are known for their cheap plastic, this one also stands out from the rest thanks to the high chrome plated candles and eye-catching gold accents.
A fantastic, modern electric Menorah for your house/window, or to get as a Hanukkah gift for someone you love.
Our Rating:
A small electric Menorah that isn't made of cheap plastic? That's a breath of fresh air. This one looks way more attractive than your average mini electric Menorah.
Notice I said mini – it's very small (some might think it's too small). Don't expect it to light the lobby or hallway. You'd be utterly disappointed…
That being said!
If you're looking for a contemporary electric Menorah to hang outside the window or in one of the bedrooms (or living room) – this is a lovely choice.
Our Rating:
Is it a traditional Menorah? Is it modern Menorah?
Not sure… doesn't matter!
What does matter – is that this cute, small LED Menorah lights up beautifully.
I also appreciate that Rite Lite includes 2 spare LED bulbs – just in case 1-2 goes out (which can happen if you leave it on for 8 days straight). Most vendors don't go the extra mile, so I have to give credit where its due!
A bright & charming addition to the cold Hanukkah winter… that's for sure!
Our Rating:
I managed to go this long without mentioning Yair Emanuel… until now.
When it comes to Hanukkah Menorahs, Yair Emanuel is known for creating the best pieces of art Israel has to offer. And he hasn't neglected electric Menorah candles…
Needless to say, this modern electric Menorah's contemporary style stands out from the pack, with his original silver arch design.
And once turned on – the room lights up with a soft glow, turning even the most stressful rooms into a peaceful ones.
Large Display Electric Menorahs
If you're looking for a large display electric Menorah you can put on the street or in your synagogue, then forget about the Menorahs you saw up to this point.
You need something "heavy-weight", not just in size… but in WOWness… A Menorah that anyone walking by couldn't help but notice…one that forces a smile on their face.
Top Large Display Menorah
Did you notice the empty "Cons" list – that wasn't by accident… I just haven't found any.
The design is great, the size is perfect, the material is fantastic, the price is fair.
A simply awesome-looking Menorah that simply steals the show as the main centerpiece.
Our Rating:
Yair Emanuel strikes again! This time with a simply STUNNING, highly polished, chrome plated Menorah.
The flickering bulbs make it seem like a real Menorah, which gives it a nice touch.
This fascinating, large Menorah is a good fit for your house, street or even synagogue – where it will do you a public service by capturing the attention of your fellow Jewish friends.
It is fairly expensive, but you do get a HUGE return on your investment with this one, so you won't get disappointed if you choose to get it.
You wouldn't expect anything else but the best from this master Israeli talent, and he definitely hit a home run with this fantastic large display electric Menorah.
Our Rating:
This stainless steel electric Menorah is one impressive-looking Menorah. Just like the other large electric Menorahs, it flickers very nicely… so there's no chance your neighbors will miss it when you display it outside your window
Very easy to set up, especially compared to some of the cheaper Electric Menorahs that require a solid beating to get it to work.
Plus, you can light each bulb individually, so you don't have to put the cart before the horse (aka light up the whole thing on the first day of Hanukkah). After all, part of the fun is the expectation to light tomorrow's candle…don't ruin it!
Our Rating:
Cheap Electric Menorahs
Battery-operated Menorahs aren't particularly expensive, to begin with… but if you're just dipping your toes and getting your first electric Hanukkah Menorah, then perhaps it's a good idea not to waste too much money when you're just getting your feet wet.
Thankfully, there are LOTS of inexpensive electric Menorahs you can choose from. The problem is – many of them are poorly constructed – and some of them are outright horrible.
How do you avoid those?
You read this section… Tadaa! 🙂
(you can thank me later with a Sufganiya).
Top Cheap Menorah
You're looking at one of the best electric Menorahs (and the most popular one) on this list.
And that's surprising – considering it's also one of the cheapest electric Hanukkah Menorahs on the market.
…The design is gorgeous
…The LED bulbs are flame-shaped, very bright and last FOREVER
…You can plug it into a USB port, and turn on one candle at a time by a push of a button.
A simply tremendous USB/battery-operated LED Menorah to display on your window, at your office or in the synagogue – and share your Hanukkah lights with your friends & neighbors.
Our Rating:
This micro-USB-powered Menorah is a cute little thing to put on your window or in the office.
The LED bulbs are quite nice, and you can plug it to your Android phone adapter…but, to be honest, besides that it does like quite cheap (I mean it is, but you get the point).
It is a little overpriced IMHO, especially when you compare it to the alternatives.
All in all, a decent battery-operated Menorah with bright LED lights, but for the price, I would go for one of the other options here.
Our Rating:
This cute little white Menorah comes folded and is easily assembled – in a few seconds you'll have a LED Menorah lighting up your room nicely.
And the reason I highlighted the word little, is because it's very small – so don't expect it to light up to the whole street.
It does allow you to connect a Micro-USB power cord, making it very convenient enough so you don't have to worry about replacing batteries every few days.
But let me be clear: this USB Menorah is cheap for a reason.
Remember the age-old saying: you get what you pay for. So don't expect to be blown away by the quality of this plastic electric Menorah.
Our Rating:
Children's Electric Menorahs
You didn't think I was going to forget the little fellas, right?
Hanukkah is most kid's favorite holiday (Purim is a strong competitor though), so getting them a cute electric Hanukkah Menorah is just a good idea… Besides, you have to keep them busy somehow after they inhale all the sugar cookies and Sufganiyot.
Top Children's Menorah
When you light the Menorah for the first few nights, you tend to put a smile on your face… Well, this travel-size battery-operated Menorah actually smiles back at you, how nice of it!
And if the cute emoji doesn't make you and your kids smile, then the chasing & blinking lights surely will.
Plus, it doesn't consume a lot of energy (I bet you're smiling now).
It's small enough that you can carry it with you when you travel, cute enough for your kid to get excited by it, and cheap enough for you to get it without breaking the bank.
You won't be able to escape it – you WILL have fun lighting this mini electric LED Menorah, whether you like it, or not!
Kids love it, adults love it, you'll love it.
Our Rating:
This Knesset Menorah could've easily gone on any of the other categories here…
Why then did I choose to include it in the kids' electric Menorah section? Because you get to kill two birds with one stone:
You get the kids interested and excited about learning about the tradition of lighting the Hanukkah Menorah
You get to teach the kids about the history of Israel, and about the Knesset Menorah in Jerusalem.
When seen from afar, it looks stunning… when you get close though, you can't help but notice that it's pretty cheaply made…so keep that in mind.
A nice, affordable, and exciting little Hanukkah gift, for both adults and kids!
Our Rating:
Conclusion
Our job as loving & caring Jews (are you a mensch or not?!) is to spread the Hanukkah light to our friends, family & neighbors
And I mean that literally!
When you display a beautiful electric Hanukkah Menorah outside your window, inside your house or in your synagogue – you shine a bright light to every guest or passerby.
You give everyone a nice, warm feeling on a cold winter night.
And the good thing about electric Menorahs – is that you don't need a miracle to keep the lights on for 8 days straight (unless you buy a piece of junk).
Your new battery-operated (or USB) Menorah will stay "lit" for the entire holiday.
Happy Hanukkah!