10 Stunning Flowers & Bouquets for a Happy Purim (2022)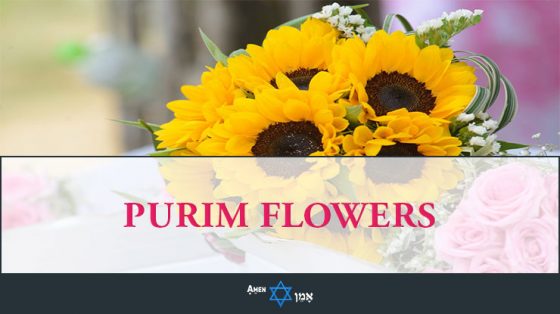 Amen V'Amen is supported by its audience. That means when you purchase something from one of our partners through one of our links, we may earn a small commission at no additional cost to you. Amen V'Amen is also an Amazon Associate, so we may earn a commission from qualifying purchases. Thank you for your support!
Believe it or not – there's more to Purim than baking a few Hamantaschen, getting a goofy costume, and sending out a Mishloach Manot.
Sure, the Mitzvah does require us to send a Shalach Manot to at least one person…
But some (read: ALL) of us care about more than just a single person… and some of us (read: ALL again) tend to love some people more than others (waving to my boyfriend in the stands 👋).
How do you express that love? Whether it's for our spouse/significant other or a beloved family member?
The answer is (hopefully) NOT "by getting them a bigger Shalach Manot" or "by getting them Hamantaschen with more chocolate inside".
But one of the answers may certainly be: "by getting them beautiful Purim flowers."
Now… let's assume my boyfriend is reading this article (no pressure, darling) – what flowers do I secretly wish he'd get me for Purim?
Let's explore that question further… shall we? 🙂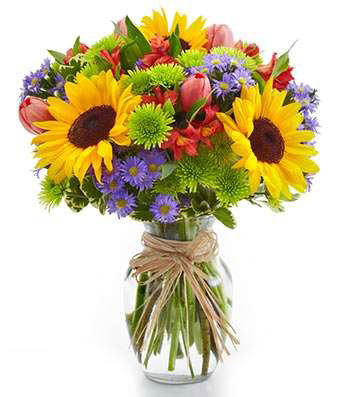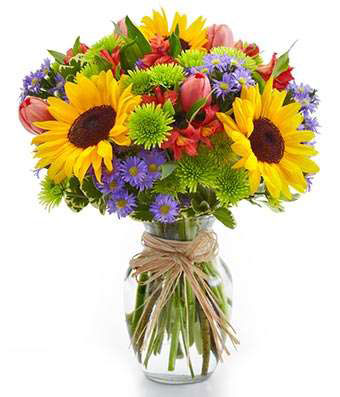 Flying to Europe on Purim is probably pushing it. Unfortunately, it only lasts one day (but Passover is coming up!).
Luckily – you can still get a European style bouquet – ripped straight from a French couple's garden…
Just kidding (about the poor French couple), but it does smell incredible fresh – as if it just came from a divine garden!
This bouquet is filled with bright yellow sunflowers, green poms, pink tulips, and a bunch of other beautiful flowers I can hardly pronounce (here goes: Alstroemeria).
A delightful bouquet to surprise someone you love on Purim!
A wise man named Robert McFerrin once said:
"Don't worry…
Ooh, ooh ooh ooh oo-ooh ooh oo-ooh be happy
Ooh, ooh ooh ooh oo-ooh ooh oo-ooh don't worry, be happy"
Smart man! While it would be amazing to invite him to your Purim festival, it'll probably too expensive!
Fortunately, you can "settle" for the next best thing (for much cheaper).
This big smiling bouquet is overflowing with gorgeous yellow roses and daisies, all contained inside a giant mug.
And here's the best part: you can reuse that mug (after you wash it, of course) to make a GIANT cup of coffee/tea!
Now there's a bouquet that basically guarantees a GIANT small from anyone who gets this bouquet!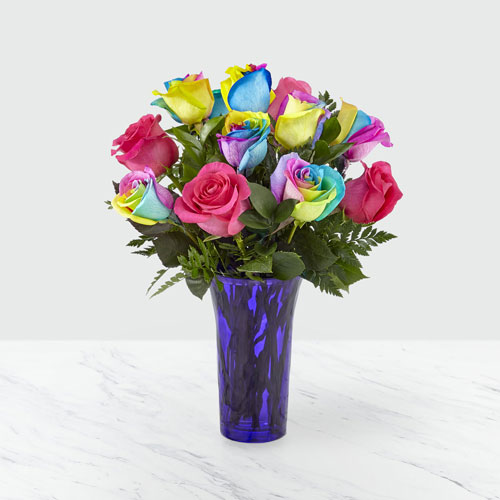 Purim is a celebration!
We celebrate the survival of the Jewish people from the evil Haman's attempt to kill the Jewish people (wait in line, Haman!).
So… since you're planning to send flowers anyway, you might as well choose a colorful rose bouquet that looks and feels (and is named) as a celebration!
Each rose was picked fresh, hand-gathered and colored with a variety of vivid festive colors… making it a natural fit for the festival of Purim.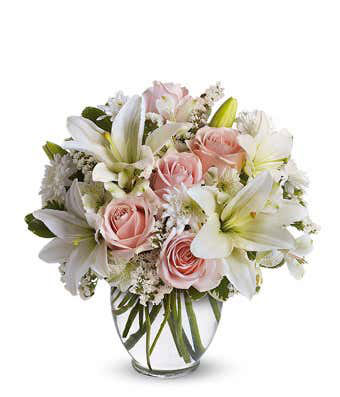 "Serenity and Bliss": I can't think of a better way to bless our Purim party hosts than those two words.
Scratch that, I've got something better: a bouquet that embodies Serenity and Bliss more than the mere words ever could.
And in case you're wondering what this sweet bouquet has to offer: Lots of light pink roses, mixed with (brace yourself):
White Asiatic

lilies

White alstroemeria

White cushion spray chrysanthemums

White statice and colorful pittosporum
Go crazy with your Purim costume, but be blissful with your Purim flowers. That's my motto (which I just made up)!
Bonus: You can even add a stuffed animal and chocolates to go along with the bouquet (appropriate for your spouse or significant other, less so if it's for your mom or mother-in-law)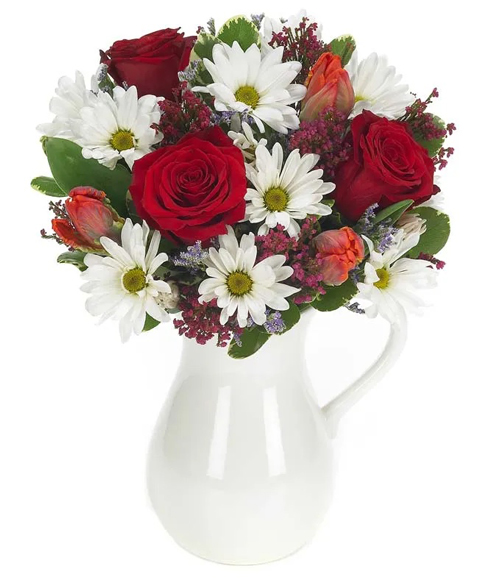 "Purim Sameach! Sending you and your family lots of hugs and kisses!"
Now there's a typical blessing you'll often get (and send) on Purim.
Don't get me wrong, it's sweet and all… but you know what's even sweeter?
Sending ACTUAL hugs and kisses… DOZENS of them!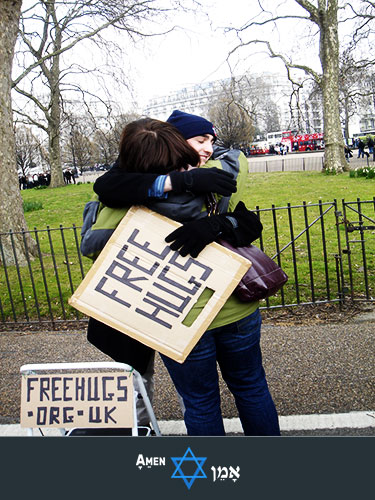 This is one cute bouquet to send our loved ones. Whether you're looking for a "Honey, I Love You" or a "Mommy, I Love You" bouquet – this definitely sends the right message (especially if you don't get to see them this Purim 😢).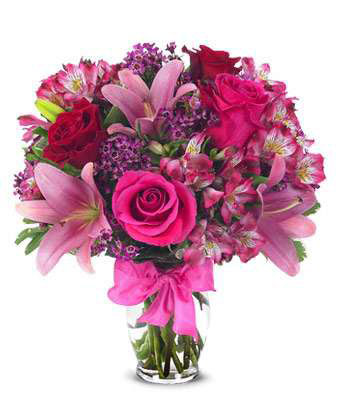 Are Rose and Lily invited to your Purim celebration?
You better invite them! They're so colorful! They bring joy everywhere they go!
True Story: I actually do have good friends named Rose and Lily who inspired me to write this 🙂
This fantastic bouquet includes a breathtaking (literally) array of flowers – all arranged by hand at a local florist shop:
Pink Asiatic Lilies

Pink Roses

Red Roses

Purple Waxflowers

Alstroemeria (I hate that word)
All contained in one lovely glass vase and a cute decorative ribbon.
Have you ever seen GIANT pink roses?
You have now…
Granted, you're seeing it through a computer/mobile screen… so it obviously doesn't look that big (unless you zoom in). But wait till you see it in person!
The pink roses and white alstroemeria are delivered in a pink fluted vase, wrapped in a cute pink bow…
So pink… so pretty!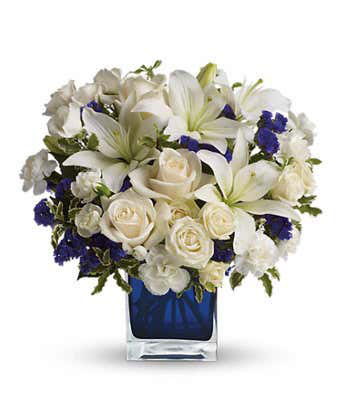 If there's such a thing as a "Jewish bouquet" – I believe this is it.
OBVIOUS JOKE: No, not because it's circumcised! Haha, you're such a joker (not).
First – it's blue & white…
Second – the unique combination of flowers & colors makes you want to stare at it for hours. And once you do…
It'll capture your focus… soothe your soul… and you'll start to feel that inner sense of bliss…
You know – that feeling you get when you stare at the clear blue sky…
Now you see why this is a terrific flower bouquet for Purim? Or any Jewish holiday for that matter?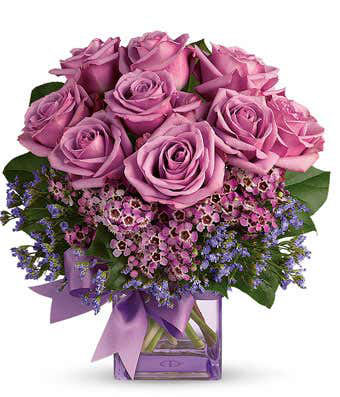 There's a downside to sending/receiving so many Mishloach Manot baskets on Purim – sugar. SO MUCH SUGAR!
And we all know what happens when you dive headfirst into a Mishloach Manot filled with chocolates and treats? You get a sugar-high, following a sugar-crash.
By the afternoon, we feel so lethargic that we're practically walking and talking zombies.
Well, what if you can get a similar sugar-high, without consuming any sugar… and without the crash?
All you've got to do is to choose a bouquet that appeals to slightly different senses: our visual and sense of smell.
There's a reason why this bouquet is called a Purple Melody.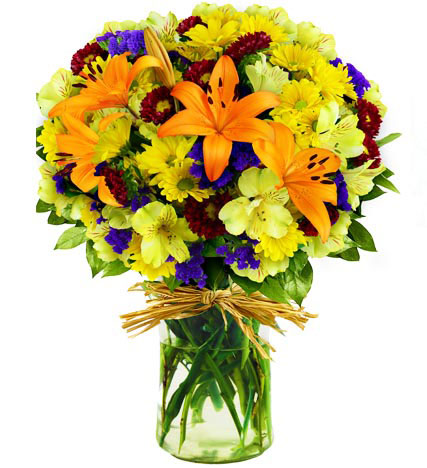 Oh boy, what a treat!
No, I'm not talking about the Hamantaschen. I'm talking about this treat-of-a-bouquet.
Say hello to Lilies. And because it's Purim… Orange Lilies!
Combined with "cameos" from Daisies, Alstroemeria (and some other flower I can't pronounce) – this bouquet can definitely light up a room like a Hanukkah Menorah (and it's Purim).
Not to mention that the flowers in this bouquet smell a-m-a-z-i-n-g. So much so, that you'll wish a perfume company could step up and make a fragrance out of it.
You can use the flowers as your main Purim table centerpiece pull or use it sprinkle blooms across the table.
Either way – it'll be a treat!
Conclusion
I have to say – I wrote this entire article asking myself: "If my boyfriend would have surprised me for Purim with a nice flower bouquet – which flowers would I like the most?"
Which was pretty weird… but it helped me focus on the most beautiful flowers for Purim I could find!
Now, let me be clear – if he does happen to read this article and he does decide to get me a bouquet for Purim – that's obviously OK (a yummy Mishloach Manot basket is fine too)!
I'm not going to shoot myself in the foot here! That's bad for business (read: relationships)!
Anyway, I hope you found this helpful!
And don't forget to wear a kickass Purim costume!
Happy Purim!