17 Stunning Etrog Boxes for this Year's Sukkot Festival (2019)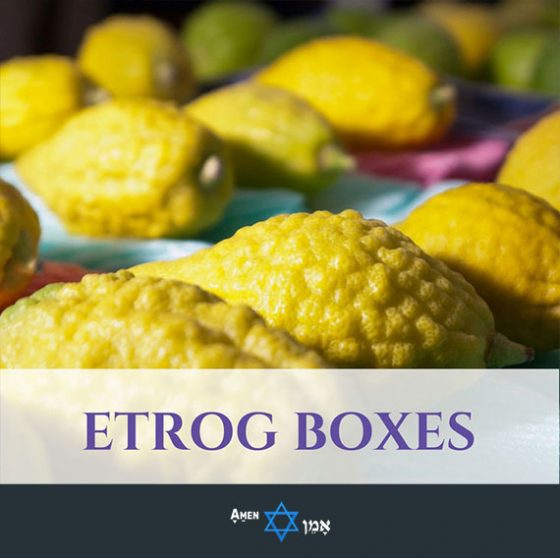 The Etrog is the "richest" of the four species.
It's rich in taste (Etrog Jam anyone?), small and fairly expensive.
And what do you do with such an important Jewish symbol?
You protect it!
No, I'm not saying you should hire bodyguards… an Etrog box would do the job just as well (it might even take a bullet for the Etrog) – and it looks much better and costs less, too!
Etrog boxes have evolved into a kind of Jewish heirloom. In fact, they often look like treasure chests taken from straight King Solomon's castle.
You'll see what I'm talking about in just a moment…
Best Etrog Boxes
These are the best Etrog boxes you can buy for Sukkot (or beyond):
Silver Etrog Boxes
The most popular Sukkot boxes are definitely the silver ones. If you ever visited a religious Sukkah or synagogue, you probably saw the yellow fruit all covered in a luxurious silver box that often takes away the focus from the Etrog itself.
Let's look at the most amazing silver Etrog boxes by one of Israel's finest silver Judaica designers: Hazorfim.
Hazorfim 925 Sterling Silver Etrog Box – Belino
Top Silver Etrog Box
Hazorfim's oval Belino box is one gorgeous looking Etrog box. It's intricate design immediately catches your eye, thanks to its unique combination of shape, decorations, and engravings.
Etrog containers should demonstrate the importance of the fruit, and Hazorfim's tremendous craftsmanship and extreme attention to detail definitely do exactly that.
A wonderful addition to any Jewish Sukkah.
Bonus: Hazorfim's Judaica items are beautifully wrapped in an exclusive gift packaging, a certificate of authentication and a warranty card.
Hazorfim 925 Sterling Silver Etrog Box – Compatilo
The Compatilo silver Etrog box (some might argue) looks even more impressive than the Belino, and is significantly cheaper as well.
Inspired by a dramatic neo-Gothic design, this sensational Etrog cover is decorated with gorgeous leaves and elegant swirled engravings. It looks more like a traditional Etrog container compared to the Belino's oval shape.
It comes with a historical-looking & easy-to-carry handle to easily carry your Kosher Etrog during Sukkot.
Hazorfim 925 Sterling Silver Etrog Box – Filigree Oval
This has to be the silver Etrog box with the most simplistic, yet intricate design…and that's exactly what makes the beauty of it…
The sweet design of this oval Etrog container has an intricate filigree craft surrounding the box, giving it a rather interesting feel and a lovely addition to the Sukkah.
Note: Filigree is an ancient Yemenite craft handed passed on through the generations of silversmiths. Hazorfim is experts in combining intricate, ancient art with contemporary Jewish design.
Hazorfim 925 Sterling Silver Etrog Box – Sukkah
The last sterling silver Sukkot box in this section is also the most unique one (and the most expensive one).
This silver Etrog container is designed after a typical Jewish family gathering in their decorated Sukkah – which is what the Mitzvah of Sukkot is all about.
Which is ironic – because this Etrog box will likely be the most gorgeous Sukkah decoration in ANY Sukkah.
The sides of this stunning box feature a unique interpretation of the Four Species, cast in solid sterling silver & accompanied by their names in Hebrew.
Truly one-of-a-kind…
Wooden Etrog Boxes
A wooden Etrog box is a cheaper alternative if you're just after a nice, affordable box to cover your beautiful Jewish citron during Sukkot.
But that doesn't mean that you have to just stick your Etrog into a random wooden box and call it a day… Etrogs require a lot of care, and therefore quality Etrog containers.
Fortunately, you don't necessarily have to sacrifice quality for price…and here's my proof.
Yair Emanuel Etrog Box – Jerusalem
Top Wooden Etrog Box
You didn't expect a traditional Judaica item without any appearance of the talented Yair Emanuel, did you?
Israel's most famous Judaica artist handcrafted this colorful, magnificent Esrog cover with an artistic view of Jerusalem's old city.
Turns out – you don't have to book an expensive flight ticket to Ben Gurion and drive all the way to Jerusalem.
You can bring Jerusalem to your own Sukkah for 10X less!
Fancy Wood & Silver Plated Esrog Box
Quite the elegant silver-plated Etrog box for safe storage of the symbolic Sukkot citron fruit.
Zion Judaica's high polished wooden box has a silver plaque on top, engraved with the Hebrew text: "Pri Etz Hadar" – which means "Fruit of the Majestic Tree", also known as the Etrog.
Did You Know?
Unlike any other fruit, the "bumpier" the Etrog is, the more beautiful it is considered to be. The reason is that the Etrog represents life.
Life is filled with bumps… it's those bumps that help us build our character and ultimately enable us to grow stronger and wiser.
The Jewish Etrog is a symbol for persistence: the more bumps you overcome, the more you improve as a human being…
Sukkot Etrog Case Brown Wood with Colorful Design – Made in Israel
Well, there is no doubt what this wooden box is for: there's a huge picture of an Etrog with "Etrog" labeled in Hebrew right on the lid.
This made in Israel wood box is a colorful one: it's entirely comprised of Yellow & Green, as well as some symbolic Jewish fruit: grapes, Pomegranates, and of course the Etrog.
Personalized Handmade Olive Wood Sukkot Etrog Box
Looking to customize a Jewish Etrog box and personalize it with your own message? Then this is exactly the one you should get.
Made of real, natural Olive wood, this stylish & durable box is a wonderful way to wish someone a successful new Jewish year & happy holiday.
Simply choose your favorite style & design, add a personalized message – and your recipient's new wooden Etrog case will be handmade and present in his Sukkah in no time.
Get brand new holiday gift ideas for your lovely friends & family - just in time for the next Jewish holiday!
Modern Etrog Boxes
Traditional Jewish Etrog boxes have a very specific look. They all try to fit a certain "box" (metaphorically speaking) they try to fit into in order to "look the part".
But then there are the "rebels"… a few modern Etrog covers (and their Jewish designers) who decided to shake things up and recreate something sleek, unique and of course: modern.
Baruch Sterling Silver Citron Box
Top Modern Etrog Box
Talk about a dazzling, modern Etrog box…
This remarkable Citron box for Sukkot is made (in Jerusalem) of sterling silver and handcrafted in a unique hand-carved technique.
You shouldn't expect anything less than the best from Avi Nadav, one of Israel's most famous Judaica designers and owner of the famous Jerusalem-based studio – Nadav Art.
A very special Sukkot gift as well as a Jewish housewarming gift.
Agayof Etrog Box
Is it an egg? Is it a rocket ship? Is it an Etrog box?
Well, I don't think it will fly, but this egg-shaped aluminum Sukkot box will surely protect your Four Species member in a very fashionable & sleek way.
Your Etrog's personal Iron Dome, if you will…
Tip: Available in a wide range of vibrant colors: from green, purple, all the way up to gold & silver.
A remarkable piece of art to gift on Sukkot, or on any other Jewish occasion.
Hazorfim Gold and 925 Sterling Silver Football Etrog Box
A sterling silver football shaped like an Etrog box? That's as modern (and unique) as it gets…
This is truly a one-of-a-kind design with an exquisite attention to detail, once again demonstrating Hazorfim's expert craftsmanship and artistic taste.
The gleaming silver is carefully textured to resemble leather (coming up next), and features a BROAD accumulation of gold stripes and stitches, shockingly mirroring the look of a real American football.
Even though it's standing on four gold legs, I urge you NOT to kick this ball… both for the sake of this premium Etrog box and for your foot…
A really magnificent gift for a special Jewish occasion for a football lover or anyone who appreciates remarkable art (made in Israel).
Leather Etrog Boxes
Leather Etrog boxes are not for the average Sukkah. If you're looking for an Etrog case that simply covers your precious yellow fruit, then you don't need a leather cover.
However, if you're looking for a special gift… a unique keepsake to get someone for Sukkot or perhaps their birthday – then a leather Sukkot box is a tremendous gift any religious man will appreciate.
Brown Leather Etrog Box + Carry Handle for Sukkot Holiday
Top Leather Etrog Box
Congratulations, you just found a treasure chest from a pirate ship.
Just kidding… although it does look like one, doesn't it?
(Un)fortunately for you, it's a leather Etrog case designed to carry & store your precious Etrog in and out of your lovely Sukkah…
Leather Etrog Chest
Another leather treasure chest?!
Sorry to keep disappointing you today… Or perhaps It's good news?
This leather Etrog chest Is labeled with the Hebrew text: "You have taken thy fruit of the majestic tree".
A very elegant & convenient way to carry your Kosher Etrog around during Sukkot.
Leather-Look Esrog Chest
The final leather treasure chest for today… (am I pushing the treasure chest joke too much?)
Similar to the previous chest, this one is also engraved with the Hebrew text: "You have taken thy fruit of the majestic tree".
Another nice leather option for carrying your Jewish citron fruit on Sukkot.
Antique Etrog Boxes
This one is especially for you collectors out there: Jews & Christians alike. Rare Judaica antiques are incredibly sought-after by antique collectors. And if that's you, you know how valuable antique Etrog boxes are… they're easily one of the highest items on any collector's list.
If you're looking for a new (old) Judaica Etrog box for your collection (or a friend's perhaps), then boy oh boy are you up for a treat…
1850 Antique Ukraine Etrog Box
Top Antique Etrog Box
This antique Etrog box goes waaaay back. All the way back to the 1850's (perhaps even older).
It's assumed to be made in Ukraine (or Germany) by an unknown silversmith.
As you can see – there are quite a few question marks.
But a few things are clear – this antique Etrog box is filled with symbolical elements:
At the top of the box: a winged angel driving a chariot and three horses (symbol of G-d's kingdom)
On the upper edge of the box: egg and dart (an ancient symbol of the balance of life and death)
At the sides of the box – you'll find an eagle (a symbol of power) holding an egg on top of a nest of laurels.
At the front: Cyrillic initials (that's why it's presumed to be from Ukraine as opposed to Germany)
A truly powerful Etrog box with deep history and meaning.
Vintage Antique Pre-War Viennese Austrian Silver Etrog Box
Thought the previous Jewish Sukkot box was antique?
Be prepared to travel even further down history…
This antique Viennese (Austrian) silver Esrog box dates all the way to the beginning of the 20th century. The marks on the lid date it between the years 1900 – 1929 (!) in Vienna, Austria. That's right: around the time of WWI…
Imagine carrying Sukkot's iconic in this silver piece of history…
1880 Antique German Silver Etrog Box
 
Did you notice a certain theme with these antique Esrog boxes? We're going deeper & deeper down on memory lane… our next stop: the 1880's.
This surprisingly-old Etrog container was produced in Germany (or Austria) during the 1880's (maybe earlier) by an Unknown silversmith.
It has a pretty unique set of design elements:
Fantastic Griffin feet with lion's paws and swan wings.
Egg & Dart band frames the upper edge of the box.
A distinctive pear with very rich details
These arrays of elements symbolize strength, life, abundance & grace… no huge surprise that this ancient masterpiece is priced so high…
Summary
Etrog boxes vary in material and in price, as we've seen through this beautiful collection. But one thing these Etrog covers all have in common: they're all high quality and all look pretty impressive.
That's exactly what the Jewish Sukkot citron represents, and exactly how it should be handled… so treat it accordingly. You don't have to spend a fortune to find a fancy Etrog container (as the wooden Etrog boxes section proved), so please don't sacrifice quality and buy a decent looking box.
And if you have the budget to spend or you're looking for a wonderful Jewish gift for Sukkot or a special occasion – good news, you have some amazing options to choose from.
Chag Sukkot Sameach! 🙂
(or just have a great day if you're reading this after Sukkot)