10 Best Dead Sea Mineral Mud Masks to Purify Your Face – Reviews (2022)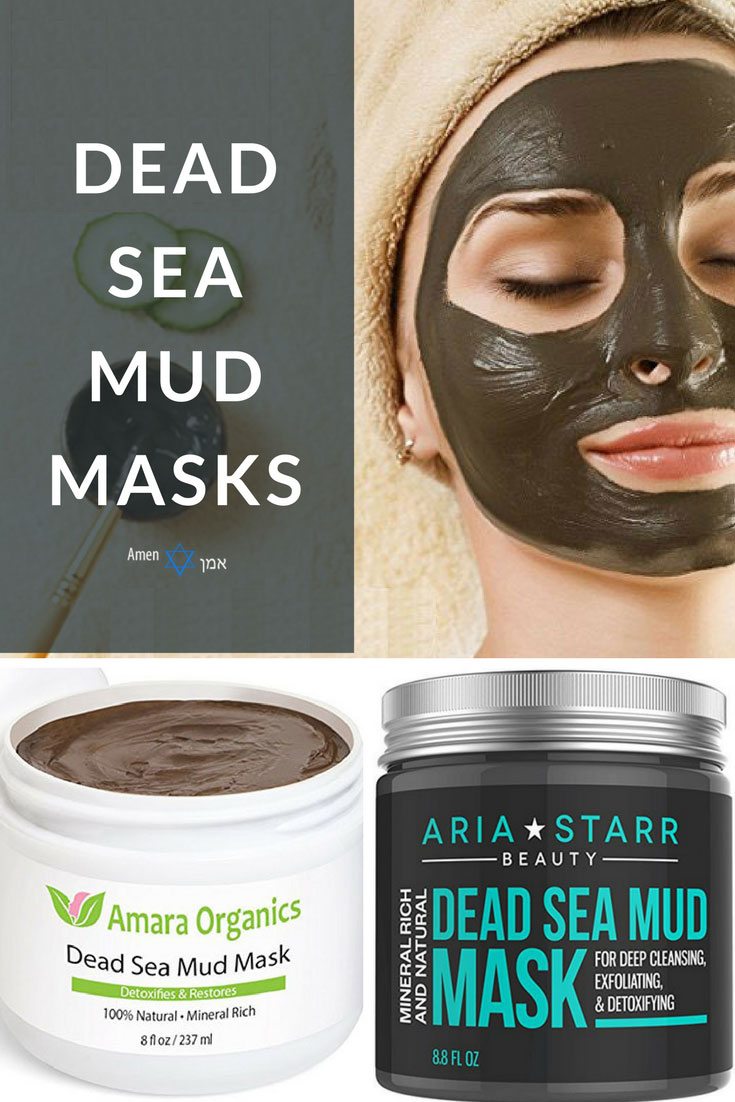 Amen V'Amen is supported by its audience. That means when you purchase something from one of our partners through one of our links, we may earn a small commission at no additional cost to you. Amen V'Amen is also an Amazon Associate, so we may earn a commission from qualifying purchases. Thank you for your support!
Millions of people from all around visit the Dead Sea every year just to cover themselves with mud. Sure, some do it just for the Instagram pic… but most people do it for a far more practical reason: skin health. That's right, this odd-looking mud contains a wealth of healthy minerals that are effective in treating all sorts of skin conditions and injuries.
Luckily, you don't have to travel all the way to Israel just to get your hands on Dead Sea mud (although if you can, go for it!). This guide will save you the trip and bring you some of the best Dead Sea mud masks right to your doorstep…
Ready? Let's go purify our skin!
Top Dead Sea Mud Masks
TLDR: We hand-picked these products out of hundreds of Dead Sea mud masks. But if you like to shorten your list even further, and go for the creme de la creme (or mud de la mud) – this table features the products that came at the top of their respective category and earned themselves our special Amen V'Amen award!
#1 Best Seller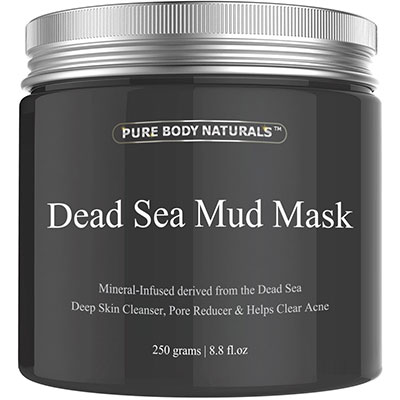 Why Should You Get It?
Starting off with the top Dead Sea facial mask on the market: Pure Body Naturals' Dead Sea Mud Mask. And no, that's not just my opinion, it's everyone's opinion.
You're looking at the #1 Best Selling mud mask in Amazon's Body Mud category.
The wisdom of the crowd has spoken… What makes is it so popular, you ask?
A natural black mud mask treatment for acne that removes dead skin cells, dirt and toxins from your skin
Can fight pimples, blackheads and fade those annoying acne scars
Stimulates circulation, leading to healthy skin
Comes straight from Israel
Plus, it works flawlessly. Just hop onto the Amazon reviews and see the before & after for yourself.
You can get it 2 sizes:
8 Fl.oz
16 Fl.oz
This makes it convenient for you to just try it out without breaking the bank… and if it doesn't work: no harm, no foul.
Who is it for?
This product is for, well, everyone… At least anyone who's looking to smoothen their skin, get rid of those annoying pimples, wrinkles or any other skin annoyances.
Plus, it's made of all-natural ingredients, so it won't react with any other products you're trying out.
As it starts to cleanse & moisturizes your skin, you'll be able to get rid of all the other products you tried but haven't made a lot of difference… because this one surely will.
Pros
#1 Best Seller
Gets rid of wrinkles, pimples, blackheads and acne scars
Softens the skin
Reduces wrinkles by tightening the skin
Smells incredible
Cons
May cause a reaction on sensitive skins
Top Pick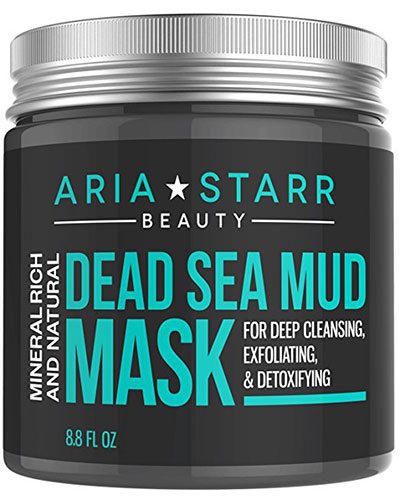 Why Should You Get It?
Sure, Pure Body Naturals' mud mask is fantastic… but it's far from the only one that flies off the shelves.
Aria Starr's black mineral mud mask is a close runner-up and is also extremely popular.
In fact, some people even argue that it does an even better job getting rid of the severe blackheads and skin pores.
Starr's unique formula is made of high-quality and highly effective ingredients:
Aloe Vera
Shea Butter
Jojoba Oil
These ingredients truly bring it home and help both men & women exfoliate, detoxify and cleanse their skin.
It also stimulates the blood flow to your skin cells. You know what that means, right? Anti-aging & anti-wrinkle baby!
To quote a woman who gave it 5 stars: "It's heaven for your face". Heaven sounds pretty nice…
Tip: The quick drying time means you can use it when you're in a hurry!
Who is it for?
You'd be surprised, but Aria Starr's Dead Sea black mud mask is extremely popular among women & men in their 20s, 30s, and of course – much older than that.
The various facial treatments this mud mask tackles make it a great fit for pores & pimples treatment, acne scars, and of course – anti-aging skincare.
Tip: And yes… it's popular among men as well! Who says they don't deserve soft skin as well?
Pros
Gets rid of the most "challenging" pores & blackheads
Quick-drying time
Helps with excess oil
Cons
Some people find the smell too strong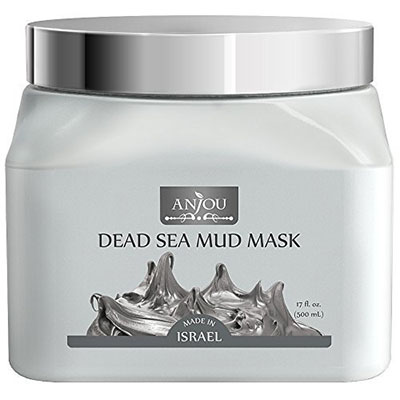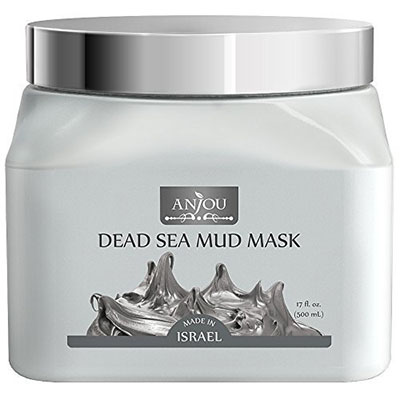 Why Should You Get It?
Made in Israel, Anjou's Dead Sea minerals & mud mask helps cleanse, purify and detoxify your skin – just as if you were covering yourself in mud and floating in the dead sea. Regular use of their Dead Sea skin mask will help you remove toxins, dirt, and dead tissue – leaving you with fresh and healthy-looking skin.
Tip: Their formula includes therapeutic ingredients with additional Allantoin and Aloe Vera gel that helps reduce rash, pimples, and acne scars.
What's even more impressive is the amounts they provide: a 17oz (!) bottle for a cheaper price than all their competitors… that's unheard of in the Dead Sea facial masks market.
For such a cheap price, you get to experience an authentic Israeli Dead Sea spa treatment from the comfort of your own home.
Who is it for?
For those looking to enjoy some of Israel's finest Dead Sea products from the comfort of your own home. If you wish you could be in the holy land right now, covering yourself up in mud and floating away at your pleasure in the Dead Sea, that's as close as it gets.
An outstanding anti-aging solution, thanks to the mix of Dead Sea salts and minerals that help stimulate blood flow to your face, thereby eliminating the wrinkles and lines you tried so hard to get rid of.
Pros
Provide double the amount of their competitors
Very inexpensive (great value for money)
Made in Israel
Includes therapeutic ingredients
Cons
A possible burning sensation at first


Why Should You Get It?
Freeman's anti-stress mask is famous for its soothing fragrance, texture, and color (it's blue!). It's made of natural ingredients only, including a special mixture of Lavender & Bergamot, making your skin relax and get rid of those annoying pores.
The unique aromatherapy qualities make this minty Dead Sea mineral mask one of the most popular clay masks out there… So popular in fact, that customers keep reordering it just so they can enjoy a facial "treat" after a long day.
Why Not?
Not the best for oily or acne-prone skin (there are much better options for that). I also noticed that this mask tends to dry up your skin more than the alternatives… so if you have sensitive skin, you might want to consider other mud masks.
Who is it for?
If you're looking for an affordable Dead Sea mineral face mask, that can both cleanse and relax your skin at the same time, then Freeman's refreshing clay mask is exactly what you 're looking for.
The minty scent & relaxing texture makes your skin feel refreshed unlike any other mud mask out there. It's like having a cold shower and actually enjoying it (I'm a warm shower kind of girl).
Pros
Anti-Stress & relaxing aromatherapy (thanks to Lavender & Bergamot)
Absorbs excess oil instantly
Contains only natural supplements
Cons
Not the best solution for acne
Leaves skin dry
Not suitable for sensitive skins
Why Should You Get It?
ArtNatural's Dead Sea mud mask really excels in getting rid of wrinkles and lines from your face. It's also proven to be effective against dermatitis and cellulite, unlike other solutions out there.
It does what it's supposed to do, and pretty effectively: it moisturizes, revitalizes and detoxes your skin extremely well.
Tip: ArtNatural offers excellent customer service… so in case something is wrong with your mud face mask, they'll be able to help you sort it out.
Why Not?
If you're suffering acne or have hypersensitive skin, then perhaps you should consider other options… It can really make your skin burn if you suffer from sensitive skin.
Plus, the scent is quite strong. It smells a bit salty, like a combination of strong perfume and salt. But I guess it's just a matter of taste…
Note: The smell isn't that much of a big deal to me anyway…as long as it's able to get the job done, I don't really care about the smell.
Who is it for?
Perfect as an anti-aging mask and for removing blackheads from your skin. It also combats eczema, dermatitis, and psoriasis rather effectively. Women can also use it to get rid of cellulite, which is a constant pain that is tough to find solutions for.
Pros
Helps with adult acne
Removes dead skin effectively
Cruelty-free (no animal testing)
Cons
Can irritate the skin
The scent is pretty intense
Not suitable for sensitive skins
Best Value
Why Should You Get It?
I have to say, I had a very hard time choosing who to grant the "Best Value" award. There were at least 3 candidates I was considering for this award, and they all deserved it… but it was Sol Beauty's magnificent mineral face mask that finally made the cut.
Why?
First of all, the price. They pretty much "broke the market" with their unbeatable price, which definitely makes them stand out.
But when you combine an affordable price with a tremendous product – that's when the real magic happens. Speaking of magic, that's exactly how they get rid of pores, blackheads, and pimples – with black (mud) magic!
It's just jaw-droppingly amazing how fast this Dead Sea mineral clay mask is able to get rid of awful skin problems. It reduces pores and clears acne as if they weren't there in the first place.
Plus, you feel so refreshed after using it, it feels as if you just came back from a swim in the ocean… Rejuvenation at its best.
Who is it for?
For those looking for an anti-aging solution, reduce their skin pores, eliminate acne once and for all and do it all for a bargain price.
On top of that, the packaging is very eye-catching (and beautiful). This makes it a great gift to give to someone with oily and/or wrinkled skin.
Pros
VERY competitive pricing
Cruelty-free
Great for both men and women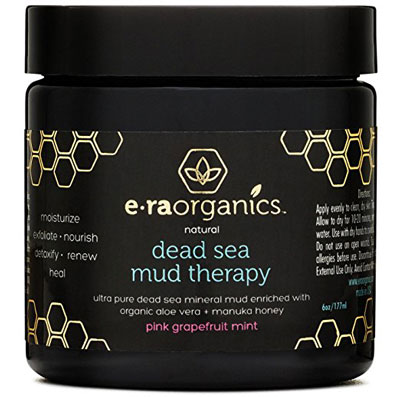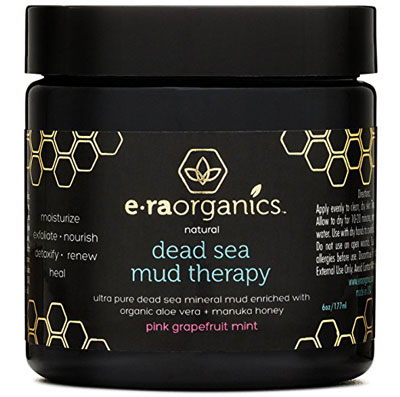 Why Should You Get It?
Not too often do you run into a product that gets almost a unanimous 5-star rating on Amazon (at least at the time I wrote this) … you're looking at one right now. I don't know about you, but that's one hell of reassurance, especially when it's your first Dead Sea facial mask you're trying out.
Era Organic's delicious formula is made of organic ingredients that give your skin a boost of healing and moisturizing superpowers. Here are some notable ingredients for you: Manuka Honey, Aloe Vera, Shea Butter, and hemp oil. The perfect mud mask for sensitive skin!
Their unique formula is able to absorb excess oils, dirt, and toxins very effectively. It can treat acne, and most importantly – prevent future breakouts.
Why Not?
Might sting a little, but nothing serious…
Who is it for?
Perfect for both women and men of all shapes and sizes… but guess what – it's best experienced with your spouse as a home-spa experience. It's the closest you'll get to feeling like you're in the Dead Sea… you know, just without the burning salt water (it's great though).
Pros
Very soothing
Easy to remove
Smells amazing
Flawless 5-star rating on Amazon!
Why Should You Get It?
Baebody's formula has a very nice & smooth texture. Their Dead Sea minerals mud mask has been proven to work extremely well in shrinking those annoying pores, and it's able to diminish those fine lines pretty impressively.
It also attacks severe acne pretty good. And for such a cheap price, it's a no-brainer.
Note: Baebody is a small family-owned business that goes out of its way to provide its customers with a fabulous experience.
Who is it for?
Good for anyone with a range of skin annoyances: from pimples, acne, all the way up to blackheads.
Pros
Shrinks pores & diminishes fine lines effectively
Smooth texture
Very easy to use
Great price
Cons
People may not like the murky color
Hard to get off your face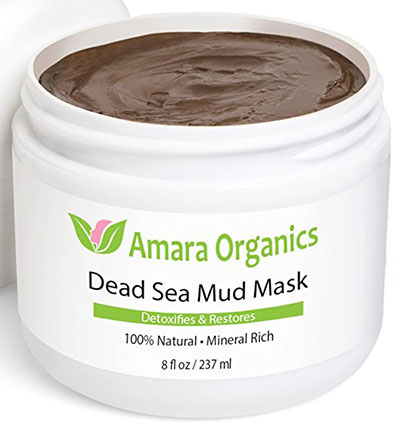 Why Should You Get It?
Time. Stress. The sun… All of these things can make your skin dry, increase acne and affect your overall complexion.
Amara Organics is a vegan-friendly black mineral mask that helps treat it and all sorts of other annoying skin problems while moisturizing & restoring your skin to a beautiful condition.
Also worth mentioning is Amara's second to none customer service and money-back guarantee. Basically – if you don't like the product, you get your money back, no questions asked. That level of confidence says something about their awesome product, and indeed very few people ever take them up on their offer (they don't have to).
Amara's facial mud mask helps to prevent this, moisturizing the skin and helping it to survive the test of time.
Why Not?
Their price is a bit more expensive than the other facial masks. But one the other hand, it does work pretty flawlessly.
Tip: They do offer a 100% money-back guarantee, so it's definitely worth a try.
Who is it for?
It's a great choice for anyone looking for a natural & vegan mud mask, filled with rich minerals from the Dead Sea that moisturizes and detoxifies your skin. The mask helps restores the skin's glow, correcting a range of skin problems all at the same time.
Pros
100% vegan & cruelty-free
Mineral-rich, not diluted with fillers
Great warranty & customer service
Cons
A bit pricey
Scent is "muddy"
My Favorite
Why Should You Get It?
Announcing "Our Favorite" Dead Sea mud mask award winner: AHAVA's purifying mud mask!
AHAVA is one of the top Dead Sea cosmetics & minerals brands in the world, with a range of impressive skin-care & mud products coming straight from the Dead Sea in Israel, like the one you're currently looking at.
Their Dead Sea black mud mask is able to absorb excess oils from your skin like no other mud face mask on this list. By just using it twice a week, you'll be able to draw out impurities and your skin will start radiating like never before.
Tip: It can also be used as a face wash, so you can start off your morning feeling all refreshed and ready to take on the day.
A much-needed product that you'll also be able to carry around when you travel (you probably noticed the unique bottle design).
Did You Know?
AHAVA in Hebrew means "love", and that's exactly the kind of treatment you'll give your skin with this wonderful clay mud mask.
Who is it for?
AHAVA's Dead Sea mud mask bottle is a great option for anyone who is out and about a lot. The ease and the multitude of benefits it offers appeal to people of all ages.
Tip: AHAVA's products also make great gifts.
Pros
Absorbs excess oils from your face with ease
Comes in a squeeze bottle, not a tub
Rejuvenates the skin
Can be used as a face wash
Great gift
Cons
May react on sensitive skin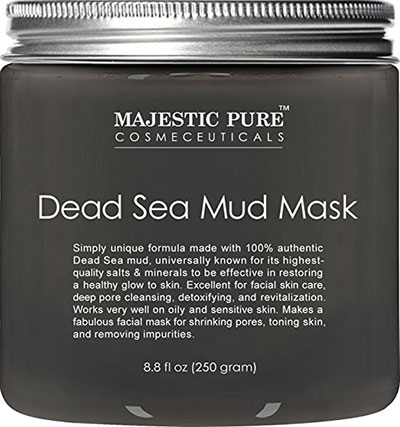 Why Should You Get It?
Majestic's natural mud facial mask is terrific for getting rid of pores. It also smells amazing and is a delight to rub on your face.
The price is also a big Yes factor. It's cheaper than most of the other Dead Sea clay masks on this list, and a great value for money (although it's less effective for acne).
Why Not?
If you're looking to treat acne, then there are better black mud masks out there to choose from. It's also quite watery and takes a while to dry out.
Who is it for?
If you're looking to dip your toes in Dead Sea facial masks, and your price is a factor – then Majestic's purifying mud face mask is definitely worth considering. I recommend it for light skin treatments (pimples, pores, and blackheads), not for the more challenging treatments (acne, psoriasis, dermatitis).
Pros
Great for reducing pores
Cruelty-free (NOT tested on animals)
Smells wonderful
Affordable price
Cons
Not effective against acne
Pretty watery
Long-term use may result in irritated skin
Final Verdict
Let's recap and present our top, award-winning Dead Sea mud masks:
#1 Best Seller: Pure Body Naturals Dead Sea Mud Mask
You can't argue with demand. Pure Body Naturals has the #1 best-selling mud mask in Amazon's "body mud" category… When you have a mud mask flying off the shelf like that, it's very hard to argue otherwise. A truly outstanding mud face mask that outperforms its competition, and it has the results to prove it.
Top Pick: Aria Starr Beauty Natural Dead Sea Minerals Mud Mask
Our own personal pick goes to Aria Starr's natural Dead Sea minerals mud mask. Starr's mud face mask includes several unique ingredients that make it stand out from the rest, including Aloe Vera, Jojoba Oil and Shea butter, all of which are known for their tremendous skin benefits and their ability to smoothen the skin. Coupled with the Dead Sea mud, it's bound to have a great long-term effect on the skin. Add the fact that it dries incredibly quickly, and you'll start to get why it's referred to as "Heaven on your face", and why it won our "Top Pick" award.
Our Favorite: AHAVA Purifying Mud Mask
Talking about mud masks from the Dead Sea and not mentioning AHAVA is like talking about sneakers and not mentioning Nike…that's not just possible. AHAVA is one of the top Dead Sea cosmetics brands in the world, coming straight from Israel. Their mud face mask has the ability to absorb excess oils from your skin like no other comparable clay mud masks, leaving you with a smooth, healthy and radiating skin as proof. Great as a gift, both for yourself or for someone you love, especially if the receiver has a very busy life (the bottle makes it easy to carry it around).
Best Value: Sol Beauty Dead Sea Minerals Mud Mask
Honestly, if I could give Sol Beauty's mineral mud mask more than a single award, I would. But I think you'll agree it clearly deserves the "Best Value" award more than any other award. Somehow they were able to create a formula that is able to deliver blazing fast and lasting results, at a price that is unheard of. Add the cruelty-free policy Sol Beauty follow, and you get a Dead Sea facial mineral mask that is just too hard to say 'no' to.
Summary
Does your skin feel smoother already?
Well, soon enough it will.
After you start to witness the incredible healing powers the Dead Sea has to offer, you'll wonder why the hell you waited so long before you started using them.
I hope these Dead Sea minerals mud mask reviews helped you choose a facial mask to try out, and I sincerely I'm sure that if you choose one of these – they'll make your skin glow like a dream. I'm confident that no matter which of these you ended up choosing, you won't be disappointed… these are the best options available out there.
But don't forget: to see promising results, you need patience & persistence. Keep using the mud masks as described, and soon enough you'll start seeing excellent results. Just keep at it!
Now tell me: which of these Dead Sea mud masks did you choose?