7 Easy [and Cheap] Sukkah Kits for Sukkot (2018)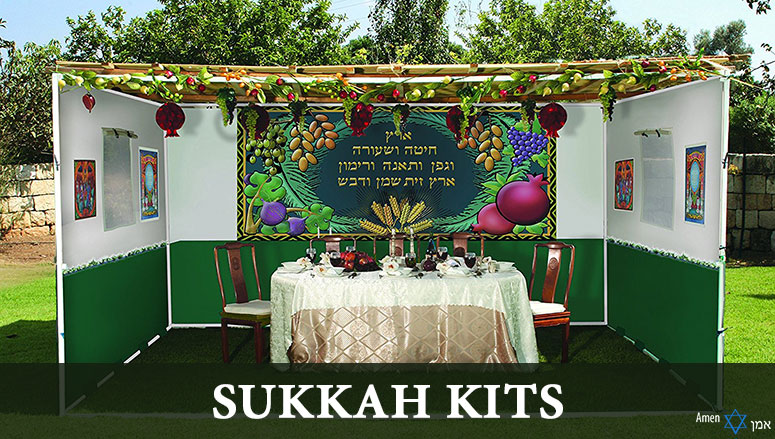 Let's be honest…
Not having your own Sukkah on Sukkot sucks.
You walk around and see your Jewish friends & neighbors in their Sukkah having a good time, and you say to yourself: "I wish I had set up my own Sukkah"…
This Sukkot, we're going to avoid this feeling…Sound good?
Now you might be wondering: "How do you make your own Sukkah for cheap?"
Truth is, for years I thought that building a Kosher Sukkah was a chore, and it always seemed so complicated and intimidating to me, so I never bothered trying… until a few years ago I finally decided: "What the hell, let's give it a shot". Boy, am I glad I did…
Apparently, It's VERY easy to build one: all you need is the right Sukkah kit, and from there it's not that different than building Legos.
If you're a Sukkah-building virgin, or if you're just looking for an affordable & easy-to-assemble Sukkah kit for Sukkot, then you're in the right place…
Top Sukkah Kits for Sale
Choosing the right Sukkah kit is critical. It's what separates between a joyful, easy experience and a labor-intensive & horrible experience.
This guide will help you choose the right Sukkah bundle that will make setting up your new temporary home a breeze…
Let's start with a quick glimpse of the Sukkot kits we'll be covering here:
The Sukkah Spot – Easy to Build Sukkah (Certified Kosher)
Top Pick

"Pros"
VERY easy to assemble
Clear instructions & diagrams
No tools needed
Strong and long lasting
"Cons"
Doesn't include a Schach (bamboo mat roof cover)
Why Should You Get It?
Simply put – the best Sukkah kit on this list.
Incredibly easy to assemble, thanks to the extremely user-friendly instructions & diagrams. I mean even complete amateurs can figure this Sukkah out…
Remember I said that choosing the right Sukkot kit will make setting it up a breeze?
Well, this is exactly the kind of modular Sukkah that will guarantee an easy (and satisfying) experience: both while you're staying in the Sukkah and when you're setting it up.
It's also available in several sizes:
The cherry on top: it's the most affordable Sukkah kit on here…
Note: Keep in mind that the Schach is sold separately. You can purchase one from the same seller over here.
Who is it For?
For anyone (small/large families), anywhere (your backyard, synagogues, schools…). 
Bottom Line: Easy to set up, strong, and honestly – the best Sukkot kit on here, and a fantastic way to celebrate the festival of Sukkot with your family & friends.
EZ-Lock Sukkah Kit With Schach Mat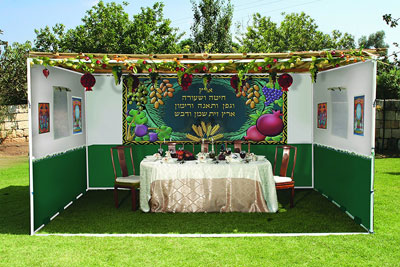 "Pros"
Durable aluminum frame (heavy duty canvas)
Triple-layered windows to keep out cold air & insects
Includes a Kosher Bamboo Schach mat
Why Should You Get It?
Sukkah Depot's EZ-Lock Sukkah kit is without a doubt the most luxurious kit on the list. As the name implies, this Sukkah was designed for durability & security first:
Made of extra strong & durable (yet lightweight) aluminum poles that easily connect to each other, without the need for any screws or nails.
Heavy-duty canvas wraps around the Sukkah & protects it with straps.
Windows are triple-layered to keep the Sukkah warm and keep out insects & other unwanted guests. Plus, they come with roll-up window shades for privacy
And if that wasn't enough, it's the only full-size Sukkah kit that comes with a Kosher Schach mat included. All you've got to do is decorate the Sukkah and have a good time.
Why Not?
It's quite expensive… so if you're on a budget you might want to take a look at one of the more affordable options I listed here.
Bottom Line: A remarkably designed Sukkah, built with durability & security in mind. Quality comes with an expensive price.
Sieger Sukkah – Easy to Assemble – Snap Button Sukkah Kit
Best Value
"Pros"
Easy to assemble, easy to take apart (in minutes, actually)
No tools needed
Long lasting
Very affordable
"Cons"
Doesn't include a Schach (roof cover)
Why Should You Get It?
This Snap button Sukkah is probably the easiest to set up and take apart, and as close as it gets to a ready made Sukkah. In just a matter of minutes, your Sukkot hut will be "up and running" and ready for your beautiful decorations.
It also comes with a very convenient storage bag so you can store the Sukkah for the rest of the year and reassemble it the next year.
Their instructions are very clear and fully delivers on its promise of setting up your Sukkah in a quick & easy way. A fabulous experience all around, especially for you beginners who dread setting up your own Sukkah for the first time. 
To be honest, if it only had a few additional sizes to choose from, it probably would've been our "Top Pick".
Update: The folks over at "Sieger Sukkah" team contacted me to let me know that they now offer several size options, including 6X6, 6X10, 10X10, 10X12, 10X16 & 10X20. So one thing is for sure: you'll find the best Sukkah kit that fits your needs for the most affordable price. 
Note: Doesn't include a Schach. You can get a Kosher Schach (mehadrin) separately from the same supplier over here.
Who is it For?
For complete beginners looking to set up their first-ever Sukkah in a matter of minutes, for a very cheap price.
Bottom Line: A sturdy, extremely easy to assemble & cheap Sukkah that will give you the best value for your money.
Mitzvah Land Easy & Compact Sukkah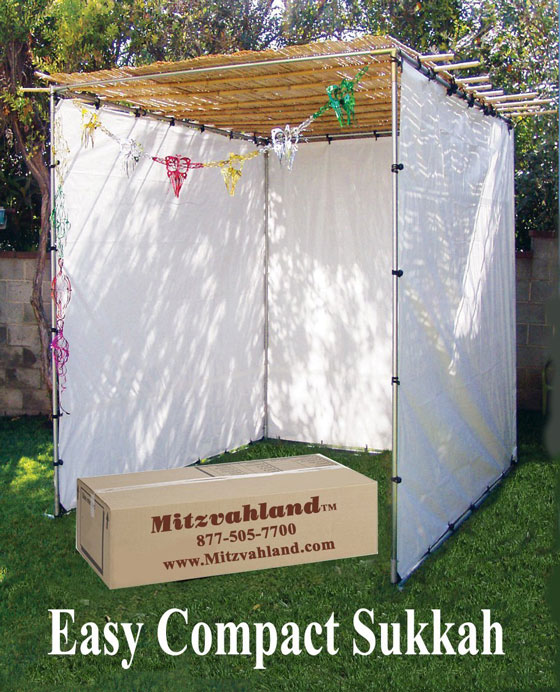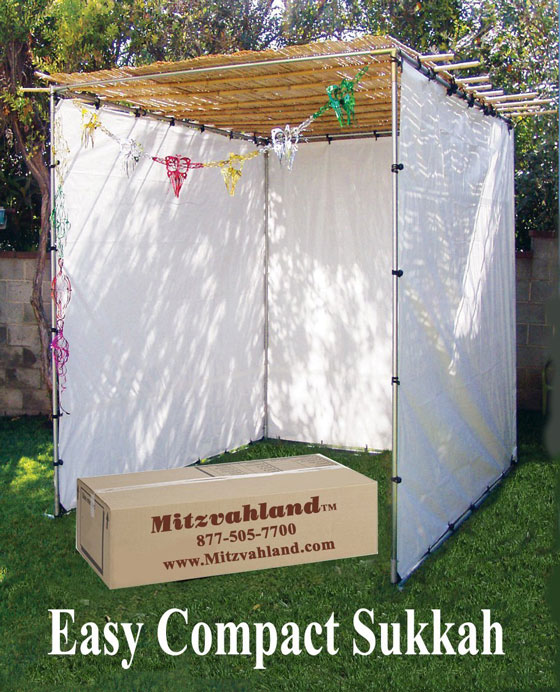 "Pros"
Easy to assemble
No tools necessary
Fair design
Durable and lasts long
"Cons"
Directions are a bit unclear
Doesn't come with roof supports
Why Should You Get It? 
Mitzvah Land's modular Sukkah is fairly straightforward to set up. No tools are required whatsoever, which makes it an ideal Sukkah for men with a tools-phobia (like myself).
It's extremely light yet very sturdy, so it will stand strong even under a windy challenge.
This kit comes in several sizes, so you can choose the size that fits best in your backyard.
After Sukkot is over, store the Sukkah in a safe place and you'll be able to use it for many Sukkots without worry (the frame is aluminum-based so it won't rust).
Why Not?
The instructions that come with this Sukkah are pretty poor, which isn't good news if it's the first time you're setting up a Sukkah and your confidence is low, to begin with.
Fortunately, it's pretty easy to just "figure it out", and there aren't any complicated moving pieces to deal with here.
Also, keep in mind that this Sukkah bundle doesn't include a Schach (roof cover), so you better get one separately if you plan on getting this Sukkah.
Who is it For?
For those who want a straightforward Sukkot kit to fulfill the Mitzvah of Sukkot. A little warning though – If you're the kind of guy (or girl) that COMPLETELY relies on instructions, then maybe you should take a look at one of the other options. 
Bottom Line: A relatively easy to assemble, compact & light Sukkah.
Fold N Go Sukkah Portable Pop up Travel Sukkah with Bamboo Mat Schach
Best for Travel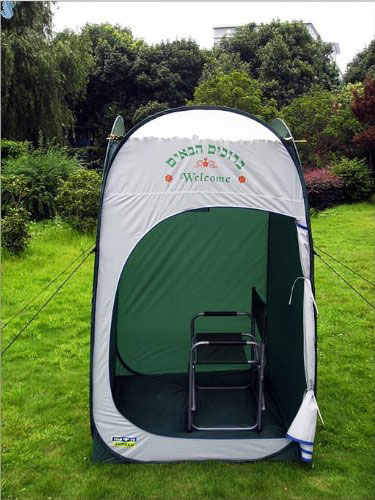 "Pros"
Portable – ideal for travel
Pops open instantly
Schach (bamboo mat) included
"Cons"
Hard to unfold
Problematic under heavy wind
Why Should You Get It?
If you're looking for a portable Sukkah you can carry with you on the road, then frankly this travel Sukkah is your best (and only) option for you… 
Ideal for a small family (of 2), very easy to transport and to set up… in fact, it miraculously pops open in a few seconds/minutes, leaving you staring in awe at this amazing invention.
And yes, It's completely Kosher(!) and even comes with a Schach(!)… How great is that?
Why Not?
Could be challenging to set up if you expect heavy wind during the week of Sukkot. Might be a good idea to check the weather forecast to make sure you're in the clear.
Who is it For? 
The obvious answer: if you're traveling, then this portable Kosher hut is the perfect solution you were hoping for…
But other than that, it's also an ingenious way to set up a Sukkah if you lack the space to set up a traditional-sized Sukkah.
Bottom Line: An impressive, high-quality pop-up Sukkah for the road, or if you have a small family and very little room for a Sukkah. Worth every penny.
Get brand new holiday gift ideas for your lovely friends & family - just in time for the next Jewish holiday!
Children's Play Pop Up Sukkah 
"Pros"
Easy to assemble – Pops open instantly
Guarantees Jewish fun for the little ones
"Cons"
No grown ups allowed (you won't fit)
Why Should You Get It?
Ok, maybe it's not a traditional Sukkah, and it's not really a kit either… but don't you think the little ones deserve their one Sukkah? Good luck trying to convince your children to let go of their toys and come sit at the "grown-ups Sukkah"…
Thanks to this play pop up Sukkah, you don't have to. With their own little Sukkah, they're now the masters of their own universe…and guess what – no grown-ups allowed! That's what your brand-new Sukkah kit is for.
This children's Sukkah is a great way to educate the little ones about the festival of Sukkot and let them have their own feast of tabernacles, without forcing them to sleep outside in the cold (that's reserved for you)
Note: Probably stating the obvious here – this is not a Kosher Sukkah.
Why Not?
If you don't have kids or don't have little nieces or nephews, then stick to the traditional Sukkah… this one is off limits (even though I have to admit it looks like fun).
Who is it For?
If you DO have little children at home or DO have little nieces or nephews, then by all means – go ahead and get them this lovely play hut.
Bottom Line: A lovely pop up Sukkah for kids to play in and learn about the Jewish feast of Booths.
Final Verdict
Let's recap and take a look at the best & easiest Sukkah kits you can set up for the upcoming Jewish feast of tabernacles…
Top Pick:  The Sukkah Spot – Easy to Build Sukkah
Hands down the best Sukkah kit available for sale. It has everything you'd expect from a Kosher Sukkah: it's easy to assemble and take apart, very sturdy and long-lasting and comes in a range of sizes – so you'll definitely find one that fits your needs. An absolute joy to spend the 7 days of Sukkot in. 
Best Value: Sieger Sukkah – Easy to Assemble – Snap Button Sukkah Kit
Probably the easiest Sukkah to assemble: within minutes you'll have it "up and running", all ready for your precious Sukkah decorations.
Now that they started offering several size options, you basically get the cheapest Sukkah kit and the highest value for your money. Lucky you…
Best for Travel: Fold N Go Sukkah Portable Pop up Travel Sukkah
A few of us might find ourselves on the road during Sukkot. Does that mean you'll have to skip the Mitzvah of Sukkot? Hell no… That's exactly what the Travel Sukkah is for. A great solution for when you're traveling, or if you just want to save up some space and set up camp outside…you know, just like the Israelites did.
Summary
Sukkot has become one of my favorite holidays since I started assembling my Sukkah every year.
During Sukkot, we build a temporary home for 7 days, void of any material possessions. We eat, we sleep and we celebrate the festival of Sukkot under this modest hut. Building the Sukkah is our demonstration of our faith in God and symbolizes the clouds of glory that protected our ancestors during the Exodus.
Wouldn't you like to experience that as well?
Then trust me, get a cheap & easy to assemble Sukkah kit… you won't regret it.
Chag Sameach!