Best Shabbat Hot Plate & Kosher Warming Tray [Blech] for Shabbos – Reviews (2018)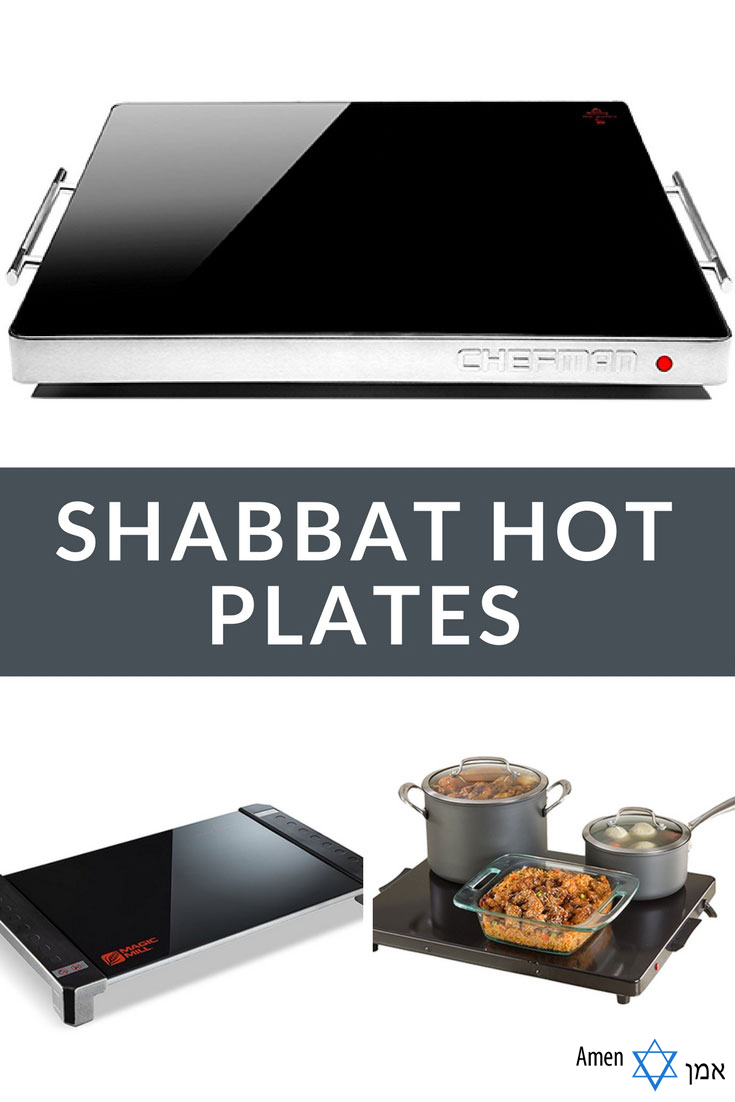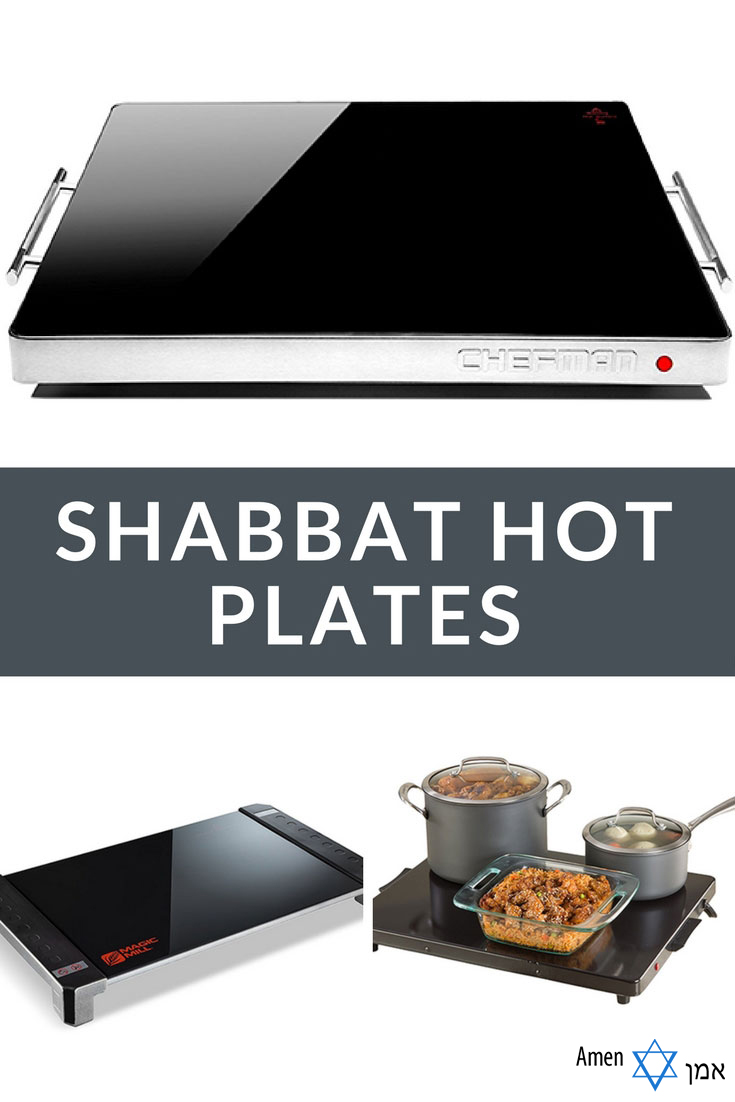 You're cooking & preparing food for Shabbat.
It all looks delicious…
But how do you make sure it stays that way during the entire Shabbat & Yom Tov?
With a Shabbat hot plate of course.
Whether it's for your own kitchen, or for one of your children's new apartment, a blech for Shabbos is one of the most important items every Jewish family needs in their kitchen.
But which Kosher hot plate should you get?
I'm glad you asked… let's find out what the top Shabbat warming trays are, shall we?
Best Shabbat Hot Plates
There are many Shabbat hot plates out there. Which ones should you choose?
We worked hard to find the best hot plates for Shabbat, and here they are sitting before you.
Let's dive into each and every one of these warming trays…
Deluxe Glass Buffet Warming Tray Full by Classic Kitchen
Top Pick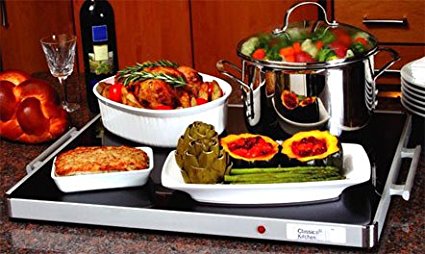 Pros
Sturdy aluminum sides carry handles
Red indicator light for increased safety
Large surface area
Made for Sabbath observers in mind 
Why?
Classic Kitchen called their Shabbos warming tray "Deluxe", and for a good reason.
Not only does it keep your Shabbos food hot and ready to serve, it's also a very elegant & low profile warming plate.
This impressive blech for Shabbos was made for Sabbath observers in mind:
It has a very large surface area, so you'll pretty much have room for all your delicious prepared meals.
The hot plate control is on the back, so it's not even approachable during Shabbat, therefore avoiding "Shabbat accidents". Plus, it has a red pilot indicator, to let us know the hot plate is turned on so you won't forget it.
Doesn't give off a lot of heat, which is good news during the hot summer days 🙂
Who is it For?
It's a great fit for any Jewish kitchen, whether you have a small kitchen or a jumbo-size kitchen, this Shabbos hot plate will definitely fit the bill.
Tip: This Shabbat hot plate is often purchased with a timer to turn it off automatically.
It's no surprise that this warming tray has gotten so many great reviews, and why it became such a popular Jewish housewarming gift.
Bottom Line: Simply put – the best Shabbat hot plate on this list. An impressive addition to any Jewish kitchen, and a great Kosher hot plate for Shabbat or Yom Tov.
Deluxe Shabbat Electric Blech Warming Tray by Magic Mill
Pros
Warm food quickly
Attractive design
Easy to clean
Thermo-insulated cool-touch ABS handles for easy handling
Cons
Emits heat
Might make the food too warm
Doesn't have UL listing
Why?
When you first see Magic Mill's Shabbat warming tray, you cannot help but be impressed. The design is truly something else. It's extremely attractive to the eye, and will definitely upgrade every Jewish kitchen's look just by standing there.
But hey, it's obviously more than just a kitchen prop… Surprise surprise –  it also warms up your food for Shabbos! And it does a fantastic job doing so.
It's also very convenient to handle, thanks to the thermo-insulated cool-touch ABS handles. That is a huge benefit and something we haven't seen in any of the other Shabbat hot plates.
Why Not?
The big downside in my book is that this Shabbos blech isn't UL certified. Plus, tends to get pretty hot (some might say too hot).
Who is it For?
The stylish design makes this blech a great fit for any Shabbat or Yom Tov event… so if you're planning on having people over for any Jewish occasion, then this is a great option.
Bottom Line: Although it does overheat the food a bit, it's still a good option if style & convenience matters to you… especially if you're planning to have people over for Shabbat or Yom Tov, or hosting an event.
Kosher Innovations TechYid Co Shabbos Safe Hot Plate
Our Favorite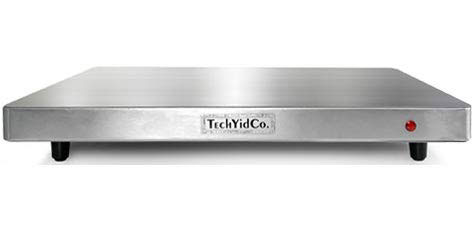 Pros
Extremely safe (ETL certified)
Energy efficient
Very solid, durable & reliable
Easy to clean
Why?
If there was an award for the most "famous" Shabbos warming tray, then TechYid's hot plate would win, hands down.
Ben Tzion Davis, Jewish electronic engineer & designer of the hot plate definitely did a remarkable job bringing this fabulous & safest Shabbos hot plate to life. It even became "famous" on Kickstarter, pledging over $67K to make sure a lot of Jewish families get warm food on Shabbat.
And it definitely lived up to the expectation: TechYid's innovative hot plate is very safe, efficient & reliable, and should last you for many many years.
You can leave it on for extended use without worrying, and you'll also save electricity in the process.
Who is it For?
A fantastic hot plate for Jewish families who put safety first, and are used to keeping your hot plate for extended periods.
Great for Shabbos or a 3-day Yom Tov.
Bottom Line: Definitely one of the best Kosher hot plates out there. Heats quickly, safe, durable & easy to clean. Not a lot more you can demand from a Shabbos blech. 
Chefman Electric Warming Tray
Best Value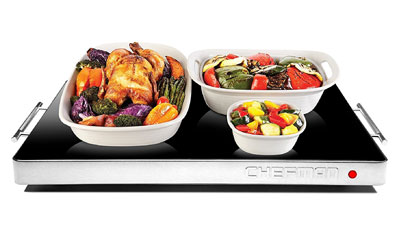 Pros
Very Affordable
Large surface – able to hold a lot of food
High quality – sleek stainless steel design
ETL & SGS certified to fit UL safety standards
Why?
And the "Best Value" award goes to…
Chefman's electric warming tray!
Why?
Because it's cheap, it's safe, and most importantly: it does what it's supposed to do – keep your food warm.
Safety first, right? Chefman certainly believes so. This electric warming tray is both ETL, SGS & UL certified, which basically means: this Shabbos hot plate is definitely safe to use.
Note: This doesn't mean you should put your hands on it or anything! This hot plate gets pretty HOT, so keep it away from kids.
Besides the obvious, Chefman's Shabbos warming tray has quite a sleek design. It's made out of cool touch aluminum handles and a black tempered glass cooking surface, which makes it very easy to clean.
Tip: Chefman also won our "Best Value" Shabbat hot water urn award.
Who is it For?
If you're on a budget and you're looking for top value for your money – then this is exactly the electric Shabbat hot plate you're looking for.
Bottom Line: A very safe, very good-looking and very affordable Kosher hot plate! You'll definitely get the best value for your money with Chefman's blech for Shabbos.
We've got a TON of special Jewish guides & products we're working on... Want us to keep you posted?
ISRAHEAT Shabbat Hot Plate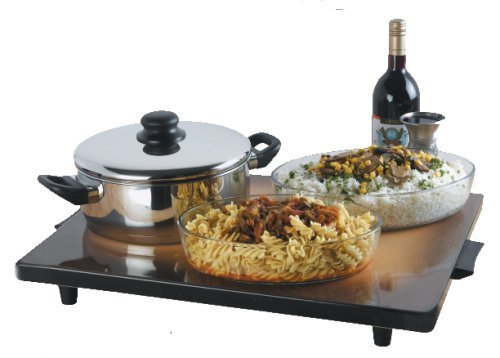 Pros
Heats up very quickly
Can be used with a timer (purchased separately)
Cheap
Cons
Gets extremely hot
Power cord poorly constructed
No warranty
Why?
ISRAHEAT's Shabbos hot plate is extremely powerful. You can heat up your food in around an hour, and enjoy a hot meal as if you cooked it just now.
Why Not?
Its upside is also a downside: it's a little too powerful.
In fact, so powerful that some people even reported that it burned their food.
But the biggest problem is the lack of warranty. Even though the blech is made in Israel and may be reliable, it doesn't come with a US warranty…which is a huge bummer.
Who is it For?
If you're looking for an affordable hot plate that does what it's supposed to do, and you don't mind the lack of warranty.
Bottom Line: This plata for Shabbat is pretty cheap, and it does its job pretty well… However, it tends to overheat the food and lacks a warranty, which is a bummer.
Recommended: What do you do with the rest of the food after Shabbat dinner? You store it in a Sabbath mode refrigerator and enjoy your food for the rest of Shabbos, and for the rest of the week.
HotMat Electric Food Warming Tray
Top Innovation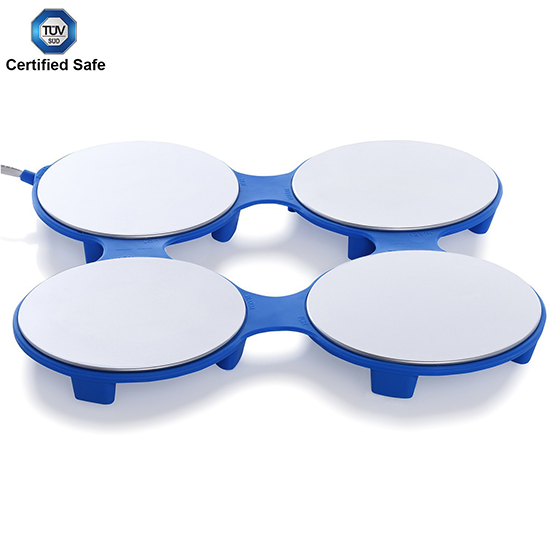 Pros
Lightweight, portable & folds for convenient storage
Huge space-saver: Ideal for small kitchens & traveling
Great for parties & holidays
Innovative warming solution
Why?
This innovative, electric, Kosher Shabbat warming tray is definitely one of its kind.
How innovative, you ask? Well, it's:
Completely foldable (!) – you can store it in a drawer, on a shelf or in your travel bag.
Lightweight, and a huge space saver
Incredible design (patented!)
And don't let the lightweight design fool you – it heats up your food very quickly, and keeps your Shabbos food warm & delicious.
What can I say, I'm a sucker for innovation, especially when it's made in Israel.
Who is it For?
An ideal solution if you have a small kitchen like mine, and especially great for traveling, Yom Tov or for camping outside.
Bottom Line: A truly innovative & efficient solution compared to the traditional, bulkier alternatives. A wonder product for a small kitchen or for traveling. 
Heis HP151 Extra Large Shabbat Hot Plate
Pros
Suitable for large family meals
Safe handles
Why?
Let's face it, some of us have pretty large families. And therefore, a lot of food to keep warm on Shabbat.
Well, in that case, you could use a large Shabbat plata.
Sorry, I mean an EXTRA large hot plate.
This is where HEIS's huge Shabbat hot plate comes into play.
This hot plate will definitely keep the food for your family during Shabbat & Yom Tov.
Why Not?
It comes with a price… and a pretty high one, so take that into account before purchasing this blech.
Who is it For?
A good option for large families or big events.
Note: If this Shabbat plate warmer is too big for you, then you should probably get the smaller hot plate.
Bottom Line: A great & very big hot plate suitable for large families or events, but very expensive.
Final Verdict
So, what's the verdict?
Let's have a look at our award-winning hot plates for Shabbat: 
Top Pick: Classic Kitchen's hot plate proved to be the best performing hot plate, mostly due to its sturdiness, performance & space. This is an ideal warming tray for if you're a medium-large sized family who ccooksa lot of food for Shabbat. This hot plate is also a very popular gift for young Jewish families who are about to set up their new home.
Top Innovative Hot Plate: Well, HotMat's hot plate is a clear winner in the innovation category. They managed to solve the biggest problem most other hot plates "suffer" from bulkiness & space-hogging. HotMat solves both these problems by being foldable, which makes it the only worthy hot plate for traveling, even if you're not religious. 
Our Favorite Hot Plate: Our favorite hot plate has to be Kosher Innovation's Shabbos safe hot plate. This blech was designed for safety first, and it has the ETL certification to show for it. And after all the horror stories we hear in the news the past few years about hot plates burning down houses, do you still wonder why it's our favorite? 
Best Value: Chefman has done a remarkable job creating a hot plate that is both high quality and extremely affordable. These days it's hard to find hot plates that young couples can afford, without replacing their hot plate every few years (or months). Well, Chefman definitely fits the bill and doesn't require a lot of bills. Best Value = Chefman's electric warming tray.
Summary
Choosing a good Kosher hot plate for Shabbat is extremely important.
Shabbat Hamalka is the day of rest… You shouldn't worry about having warm food.
Thankfully, using a hot plate on Shabbos makes our lives so much easier.
All you need is a great Shabbat warming tray. And if you chose one of the hot plates from this list, then you'll be off to a great start 🙂
Which of these Shabbat hot plates did you end up choosing, and why?