Ahh… That feeling of a long week coming to an end…
That warm & special feeling that signals: Shabbat is almost here.
Don't you love it?
The house smells aromatic. Everyone looks their best for Shabbos. All that's left is for you (or your wife) to light the Shabbat candles & welcome the long-awaited Shabbat.
To do that, You need a pair of Shabbat candlesticks – the famous Jewish candle holders that symbolize Shabbat in its entirety.
And don't you want the beautiful reflection of the flame flickering off a pair of beautiful Jewish candlesticks? Shabbat candlestick holders that will make your guests' eyes light up, just like the Shabbat candles?
Well, in that case, you're in the right place…
Best Shabbat Candlesticks
Before we go any deeper, let's have a quick look at our Jewish candlesticks champions from each category.
Want to find out why they're the best Shabbat candlesticks, and what other fantastic Jewish candle holders deserved a spot on our list? 
Keep reading…
Sterling Silver Shabbat Candlesticks
While Sterling Silver Shabbat candlestick holders are going to be a bit higher in price, they're invaluable on Shabbat and Holidays. The way the fire flickers and reflects off of these will make any home feel like a true Jewish palace.
Nadav Art Sterling Silver Shabbat Candlesticks
Top Sterling Silver Candlesticks
These Shabbat candleholders have a very elegant & unique look.
While the words "Shabbat Shalom" are sort of hidden in the art, these candlesticks look as though they are created for the sole purpose to hold the delicate Shabbat flame. You can't go wrong with these Jewish candle holders since all they can do is add a delicate charm to any home.
Nadav Art Sterling Silver Florentine Candlesticks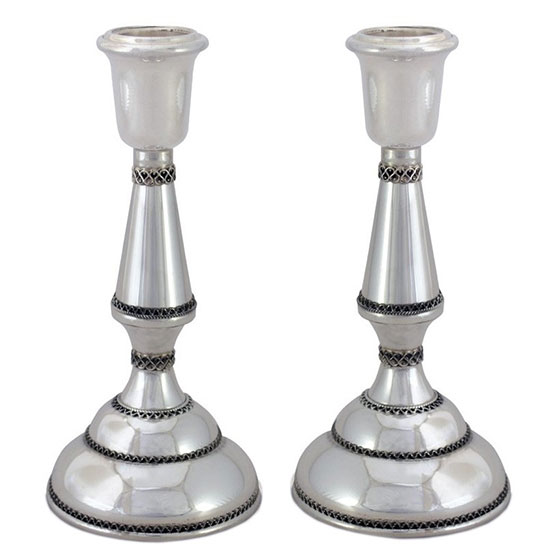 It would be hard to not want Jewish candle holders such as these!
The beautiful design throughout this sterling silver Shabbos candlestick set makes it difficult to pull your eyes away. The way they were uniquely created makes it feel like you're back in a more peaceful time and place and the world are full of harmony.
These Shabbat candle holders are sure to not only get you some compliments but have people feeling your home is just about as good as it gets on Shabbat.
Hazorfim 925 Sterling Silver Candlesticks – Comino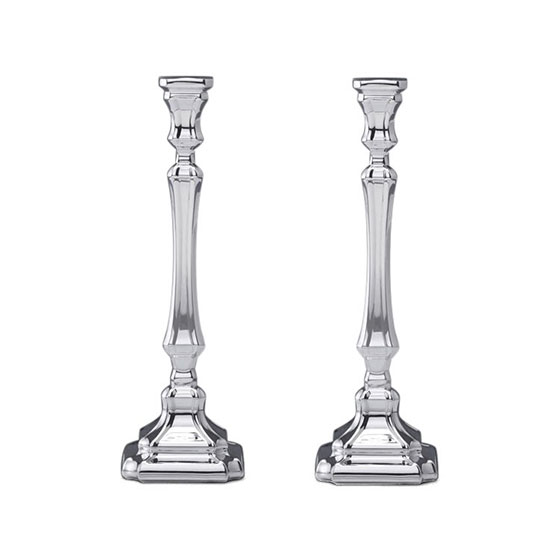 What's not to love about these unique, handcrafted Jewish candle holders?!
This family-owned & operated business take much pride in creating perfectly made sterling silver Judaica products, such as this beautiful sterling silver Shabbat Candlesticks.
This makes a wonderful gift for a new bride or for any Aishet Chayil and will be sure to wow anyone who's fortunate enough to see them up-close and personal.
Stainless Steel Jewish Candlestick Set for Shabbat with Matching Oval Tray
While technically this fabulous Shabbat candlestick set is made of stainless steel and not sterling silver, I thought it would be a shame not to include it.
This fine hammered stainless steel Jewish candle stand set is trimmed with exquisite diamonds – and are hands down THE perfect Judaica candlestick holders gift for a Jewish wedding, engagement or any other Jewish occasion.
Now you see why I couldn't resist?
Modern Shabbat Candlesticks
You're looking for something modern…Something with a unique charm & refined beauty. Well, look no further.
Because here I've collected the best modern Shabbat candlesticks that are bound to add that modern feeling you're looking for to your Shabbat and holidays.
Nambe Sabbath 8-inch Candlesticks
Top Modern Candlesticks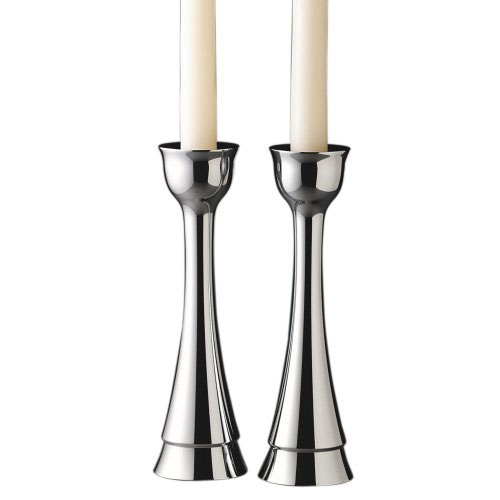 Modern is "in". The elegance of clean cut and a sharp edge is sweeping the nation. So, why not compliment your own home or a home of someone you love with these exquisite Shabbat candlestick holders? 
Not only are they reasonably priced, but they add a level of beauty to your Shabbat and Holiday meals that other candleholders just can't compare to.
Aluminum Shabbat Star of David Candlesticks with Blue and White Decorative Inlay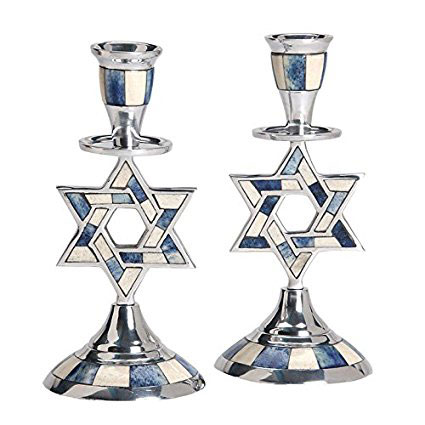 These Shabbat candlesticks truly make you stop and stare! The ingenious idea to not only mix materials to create an original textured look, but then to also incorporate a significant symbol of Judaism makes these holders almost poetic.
They will certainly have your guests in awe and asking just where they can get a pair (when they do, send them to me).
Yair Emanuel Textured Nickel Conical Candlesticks
The texture these Jewish candlesticks possess will make the light of the flame appear to be flickering in all directions.
The unique look this set has will undoubtedly stand as a work of art alone and make the Shabbat meal feel like something truly special.
Not to mention, the ring towards the middle comes in a variety of color options, so it's sure to match your style.
Yair Emanuel Anodized Aluminum Jewish Candlesticks – Blue (Large)
What an awe-inspiring set of Jewish candlestick holders. These blue aluminum candlesticks bring a rare charm to your Shabbos and holiday table.
The harmonious blend of different shades of blue can't help but draw your attention to them. Can you imagine the drastic increase of elegance when they are lit?!
Want to get our brand new Jewish buying guides straight to your email inbox?
Unique Shabbat Candlesticks Design
One of kind is what we Jewish people are! We've been honoring Shabbat and Holidays for centuries and what better way to celebrate something so special and rare than with unique Shabbat Candlestick holders every week.
Below you will find some of the most exquisite, original & unique Shabbat candlestick sets you've ever seen.
Michael Aram Black Orchid Shabbos Candleholders
Top Unique Candlesticks
Talk about special! These black orchid Shabbat candleholders are a hand-crafted beauty. The artist who masterfully created these was a true genius in creating such a place for Shabbat candles to rest.
These will get you some serious admiration from family and friends and add a grace to your home all week long.
Laura Cowan Solomon's Shabbat Candlesticks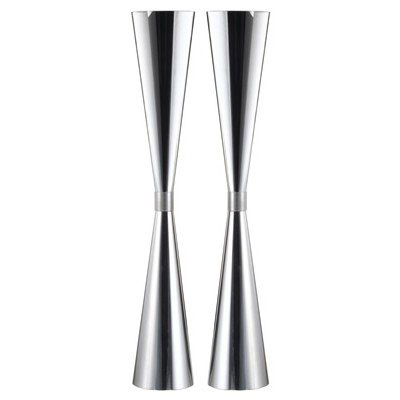 These Shabbat candlestick holders are an exclusive set. With a touch of modern flair and a designer with a real eye for art, these Shabbos candle holders will add something special to any room even where they're being proudly displayed.
However, when they're lit, the unique design will create an elegant beauty while the flame is reflected off of every angle.
Silver Plated Mounted Jerusalem Shofar Tealight Candlesticks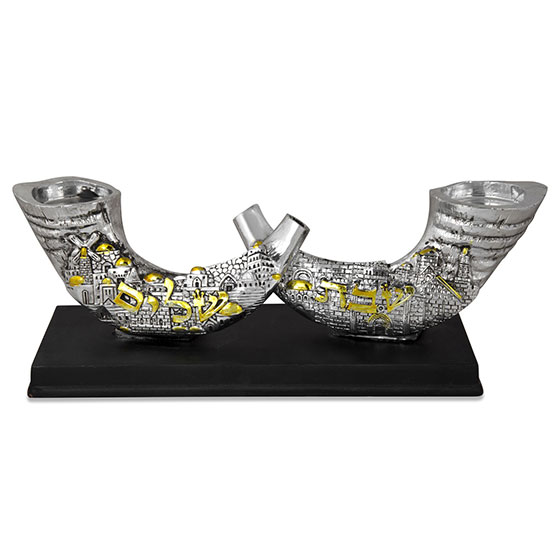 While being positively unique, these couldn't have combined 2 more perfect Judaica symbols.
The Israel Shabbat candle holder together with the shofar makes a fantastic masterpiece… they're sure to add an extra special flair to any Shabbat or holiday. The level of impeccable details in these Hebrew candle holders will surely keep you mesmerized.
Travel Shabbat Candlesticks
Let's face the reality that even though Shabbat is meant for resting and relaxing, we're often on the go. Whether it's for vacation or work, traveling over the weekend for many is inevitable.
This doesn't mean Shabbat has to be placed on the back burner. When you can't be at home for Shabbat, take a little bit of home with you with these elegant travel sets.
Travel Jerusalem Candlesticks – Octagon
This travel Shabbat set looks like a special treasure, and it absolutely is.
Designed in a one of kind octagon shape, with a beautiful engraving of the old city all around it, this contemporary Hebrew Shabbos candle holders will make Shabbat anywhere feel special.
In fact, this set is so beautiful, you may want to use it at home too!
Yealat Chen Jewish Travel Candlesticks – Shabbat Shalom
Top Travel Candlesticks
With the words "Shabbat Shalom" engraved in this beautiful Jewish candle holder, it's hard to pass up such classic Judaica Shabbat candlesticks. The unique vintage style that this Shabbat tea light set brings will make you want to use these even when you aren't traveling!
Not only is it small & convenient, but it'll bring a rare beauty and true Shabbat feeling wherever you may be.
Danon Old Jerusalem Travel Candlesticks
This design is simpler, yet speaks volumes. With the beautiful city of Jerusalem all around the edge, the flame looks like it's being placed on a throne when lit.
This travel set emulates the real beauty of Shabbat and focuses on the soulful blaze that Shabbat flame brings regardless of where you are.
Cheap Shabbat Candlesticks 
Who said Shabbat candlesticks can't be beautiful and affordable at the same time?
Well, whoever said it, was wrong… And I'm going to prove it to you.
Trust me, people are going to be really surprised when you tell them how much you paid for these beautiful & cheap Shabbos candlesticks…
Jerusalem Crystal Shabbos Candlesticks
Have you ever seen something so unique? These Shabbos candle holders are a cut above the rest.
Not only are they truly affordable but the laser-cut Jerusalem scene will be quite difficult to stop staring at. The creative design of crystal and metal will make a beautiful holder for those special Shabbat candles and a beautiful display for the rest of the week.
Jerusalem Ball Silver & Gold Candlesticks
Top Cheap Candlesticks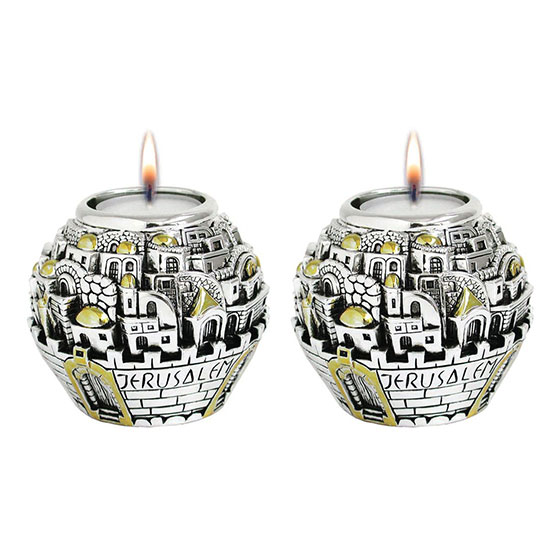 How would you like to light your next Shabbos candles in Jerusalem?
Well, unfortunately, I can't promise you that… but these unique Jewish Shabbat candlesticks will get you pretty close.
These round Shabbos candle holders feature a beautiful scenery of the old city of Jerusalem, in a very special & intricate design.
Tip: These Shabbos candlesticks fit both are great for Sabbath and regular dinner candles, so you can even enjoy using them in a lovely or romantic dinner with your partner.
Silver Pomegranate Candlesticks with Jewels and Golden Highlights – Jerusalem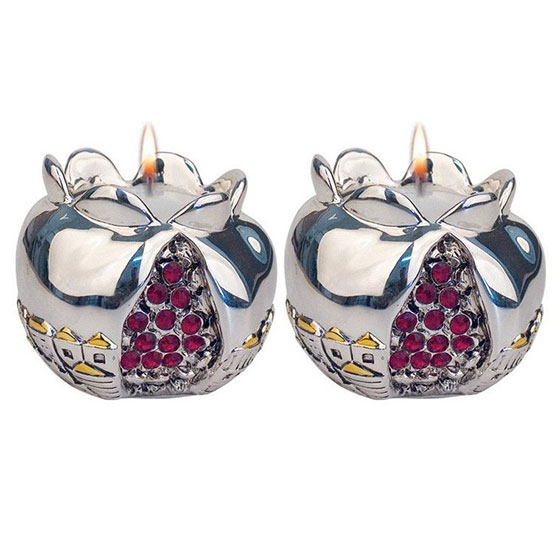 The ultimate Jewish symbol for abundance & fruitfulness (the pomegranate), on a set of gorgeous & cheap Shabbat candlesticks… Now that's irony right there.
This is proof that you don't have to pay a fortune to get beautiful Jewish candle holders… as they say, the proof is in the pudding.
Jerusalem Judaica's interesting combination of the Jewish pomegranates, filled with a cluster of red jewel seeds, and Jerusalem's old city makes it a no-brainer for such a low price. 
Antique & Vintage Shabbat Candlesticks
Shabbat is something special that has been observed for centuries. It's a moment of pure holiness that is shared amongst Jewish people throughout the world and a uniqueness that brings us all together. What better way to remember simpler times than with antique & vintage Shabbat Candlesticks?
24K Gold Plated Jerusalem Candle Holders + Tray – Turquoise with Sapphire Crystals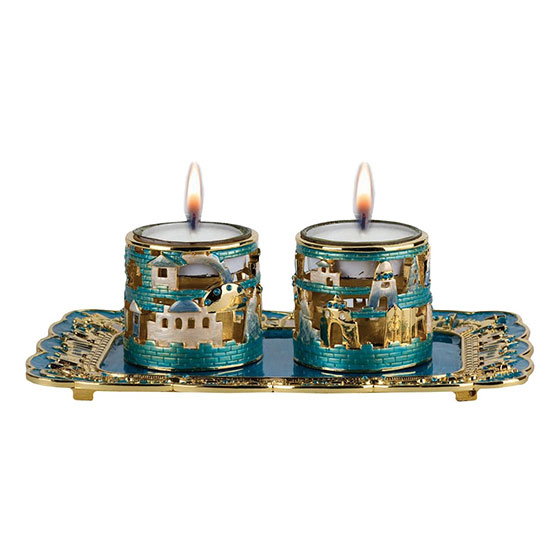 Remarkable! Simply remarkable. There is no other way to describe this truly exquisite candle Shabbat candle set.
Made with 24k gold and inlaid sapphire crystals, there can't be a better way to show off your Shabbat and holiday candles. And with its antique charm and charisma, this will be a set passed down for generations!
Yealat Chen Stone and Silver Plated Sabbath Candlesticks: Jerusalem
The exceptional beauty these Jewish candlestick holders possess is almost too much to put into words.
The silver is designed to look like Jerusalem with a mixture of texture that looks like bricks, windows, and archways. The innovative use of both stone and sterling silver make these Shabbat candles truly one of kind and will get admiration from everyone who sees them.
Nadav Art Antique Sterling Silver Candlesticks with Blessing & Stones
Top Antique Candlesticks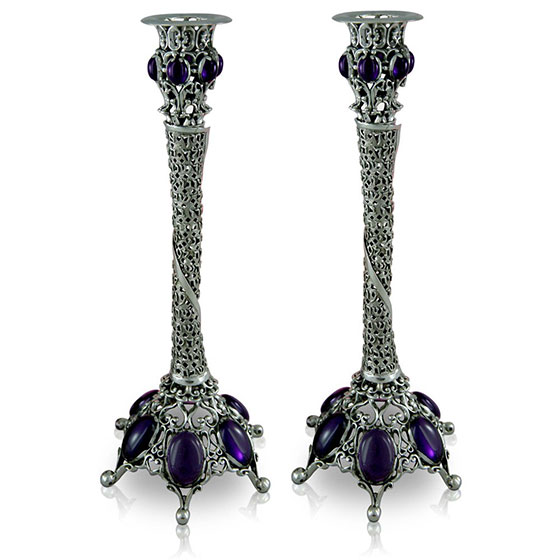 These candlesticks are so precious and rare, they basically sell themselves.
Handcrafted with gemstones and the traditional Shabbat blessing inscribed in the design, you'll be at a loss for words when watching the flame dance about. You can't pick a more perfect and worthy set to show off part of your candles. 
Ceramic Shabbat Candlesticks
If charismatic and unique is what you're going for in your Shabbos candle holders, ceramic Shabbat candlesticks just may be what you're looking for.
The smooth finish brings a bit of a modern look while the design and colors say, "look at me and what elegance I have." These make a great and affordable gift for any loved one.
Spode Judaica Sabbath Candlesticks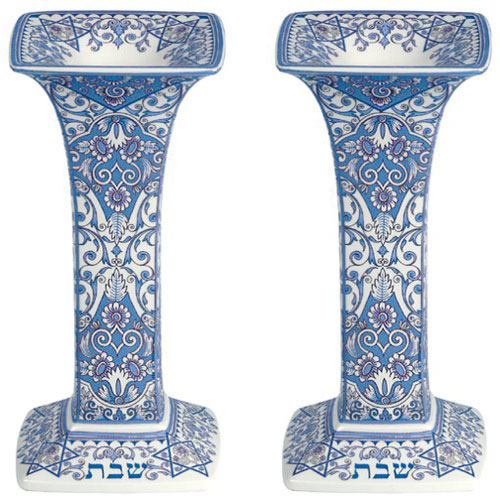 Just look at that design! Flowers and swirls with the Star of David integrated all over, and of course the colors white and blue representing the Holy Land. What a masterpiece!
Alone, these Hebrew candleholders have the ability to get endless compliments but adding that special Shabbat flame, will truly make these candlesticks sing!
Armenian Ceramic Shabbat Candleholders – Shabbos & Holidays Set
Top Ceramic Candlesticks
A set that is sure to wow! This Shabbat candle set will be sure to get you some rave reviews by admiring guests.
This truly special set is handmade with clay and then painted. The little tray that comes with this set doesn't just hold the candles but adds a flair of beauty and grace that otherwise wouldn't be there.
Glass Shabbat Candlesticks
Glass Shabbat candlesticks are simply stunning! It's an art that takes a true professional to form, which is why you'll see a lot Lily Art's fabulous Shabbos candle holders in here.  
Jewish candle holders made from glass are easy to clean while being beautifully elegant, and a great inspiration for any Shabbat or Jewish holiday.
Lily Art Ocean Blue Glass Candlestick Holders and Tray 
Top Glass Candlesticks
These Jewish glass candle holders look like the ocean was trapped in the design! When you hear the ocean, you think of relaxing and that's exactly what Shabbat is for.
What better way to relax than to watch the glimmering flame on these ocean-like candlesticks. The tray makes this set even more appealing and charismatic.
Painted Glass Candlesticks, Matches and Tray: Pomegranates (Red). Lily Art
This Shabbat candle holder set is far from the traditional one. Not only does it come with the beautifully crafted Jewish candle holders, but also has a tray and matchbox that are all hand painted.
A deep red color is integrated throughout the set bringing it all together in a warm way that will only compliment the flame that will emanate from it.
Painted Glass Candlesticks with Tray & Match Box: Pomegranates and Flowers (Blue). Lily Art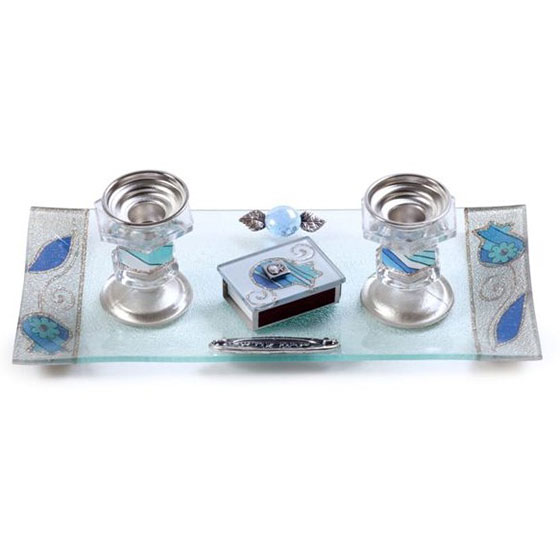 Similar in style to the one above, this set is also hand painted and beautifully crafted. Yet it is clear to see that a difference in color makes an incredible difference. The mix of blues in this set emits the feeling of complete calmness making you wish it was Shabbat all week long.
Brass Shabbat Candlesticks
Go back in time a little…have something special and rare to pass down for generations.
Brass candle holders bring a historic and conventional look to any home, table, or mantel. Lighting these weekly for Shabbat and throughout the year on holidays will make them even more treasurable for years to come.  
Orit Grader Tall Leaves Candlesticks
Top Brass Candlesticks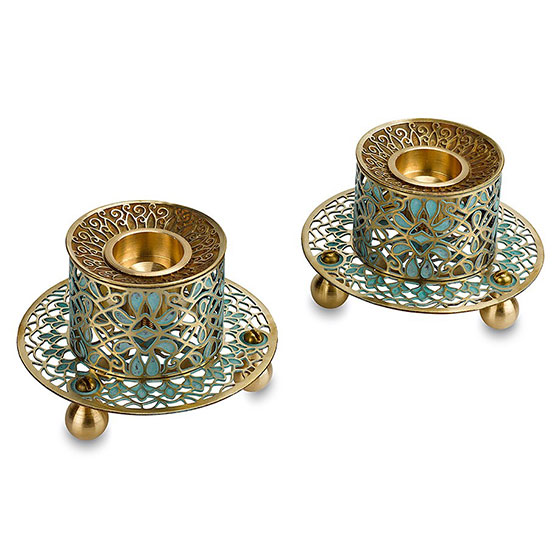 These Jewish candleholders scream originality! Can you think of a better way to bring in Shabbat than with these graceful candlesticks?
The gentle hint to nature, beautiful green color mixed with brass, and the uncommon design will surely be a great conversation starter and add a certain charm to any room.
Jerusalem Fitted Shabbat Candlestick Holders, Hand Painted by Yair Emanuel with Brass Candle Inserts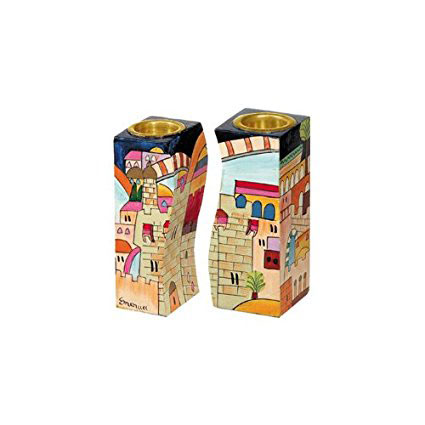 Hand painted! Each and every set of these absolutely amazing candlesticks is hand painted, with a beautiful scene of Jerusalem giving them a level of charisma you won't find anywhere else.
The brass candleholders on the inside add even more appeal. And, when you aren't using them to welcome Shabbat, push them together to complete the scene bringing just another piece of Jewish history straight from Israel into your home.
Electric Shabbat Candlesticks
Most of the time, we can light Shabbat and holiday candles the more traditional way…with a real flame.
However, many of us have either been in or known someone who has been in a situation where flames weren't an option. Usually, places like retirement homes, hospitals (after birth) or even synagogues –  flames aren't usually allowed.
The solution? Electric Shabbat candlesticks you can "light" anywhere.
Jewish Shabbat & Holiday Electric 2 Light Candleholder Lamp
Top Electric Candlesticks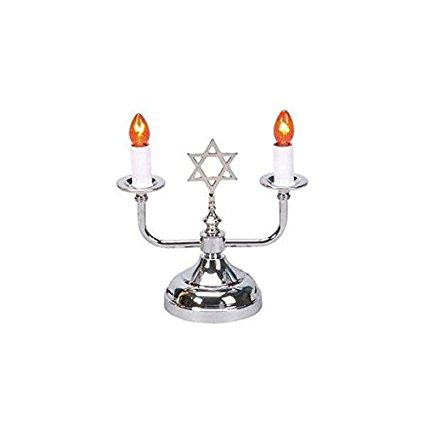 This is absolutely a perfect option for those who need electric Shabbat candles as opposed to traditional. A simple on and off switch make them easy to use and the elegant look will bring that special Shabbat feeling to wherever they are placed.
A great Jewish candle stands for retirement homes, hospitals or dorm rooms.
Summary
That was fun, wasn't it?
I hope I was able to shed some light (get it?) & help you find the best Shabbat candlestick holders you were looking for.
I'm curious, which of these Jewish candle holders did you end up choosing? Let me know in the comments!
Shabbat Shalom 🙂