The Passover seder is approaching.
Can you feel the pressure?
I bet you do…
Probably because you're not really sure what you should bring to the seder (the Jewish Passover feast) dinner.
But you do know that it's not really a good idea to come to the seder empty-handed…
And I guess if you're reading this, you're looking for some special Passover gift ideas for your special hostess, friends & family.
So first of all relax… I'm here to help.
And that's exactly what this article is for: to help you find the best Kosher for Passover gifts.
Top Passover Gifts
Care for a little bite before we start the Seder?
No! No eating before we finish the Haggadah!
OK OK, I will give you a peek of the top Passover gifts from each category in this gift guide… fair enough?
Traditional Passover Gifts
Passover is one of the holiest Jewish holidays in our calendar. Which obviously means plenty of traditional Passover Judaica gifts & novelty items play a major part of it.
Whether you're hosting the seder yourself or looking for a Passover gift for your hostess, the Passover items I listed here are a common sight on any traditional Passover table.
Top Traditional Gift
Spode has been around for quite some time, and they are known to create some of the most beautiful (and affordable) Judaica novelty items in the world.
Spode's seder plates are no different.
This amazing Seder plate is a beautiful & memorable gift for any special occasion, not just for Passover (it's also a popular wedding gift).
A special item to display on your seder table, and later decorate your house.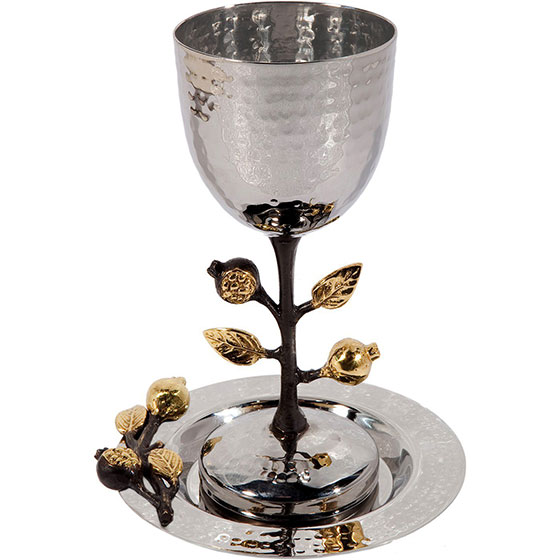 You can't really have a proper seder without a proper Kiddush cup, can you?
Now take a look at this beautiful Kiddush cup, and tell me: how's that for an appropriate Kiddush cup?
This gorgeous shiny cup is held on a slender branch-like stem, from which golden pomegranates & leaves sprout out to the sides.
And yes, the good thing about gifting this Kiddush cup is that the receiver will be able to use it on Shabbat & other holidays.
You know what they say – if you're doing Kiddush, do it right (well ok it isn't a real saying…but it's true)
Beautiful pomegranates with golden highlights covering your Matzah & Afikoman…how does that sound? 
There's no better way to make your seder dinner feel more royal and "anti-slavery" than that. 
Yair Emanuel beautiful Matzah & Afikoman cover has the word "Pesach" and "Afikoman" written in Hebrew in the middle of the cover, surrounded with colorful pomegranates and golden highlights.
This is a beautiful gift and a magnificent centerpiece for any seder table, whether it's your own or your hostess'.
Bonus: this cover has three pocket linings for ease of use during the Seder.
The title says it all: The complete Passover seder in one box.
This makes for an essential gift, especially for a young or newlywed couple hosting their first ever Passover seder.
The box includes the following must-have seder items:
Traditional silver-plated seder plate
Beautiful Kiddush cup with a matching saucer
Embroidered Matzah cover
Art scroll Hagaddah (with English translation)
Armenian Ceramics are pretty much "born" for a Passover seder.
This fantastic hand-made, hand-painted seder plate adds a colorful sense of beauty & traditional feel to the Passover dinner table.
It also has a clear label of every seder plate item in both English and Hebrew. Just in case you're curious what's the weird thing you're about to put in your mouth.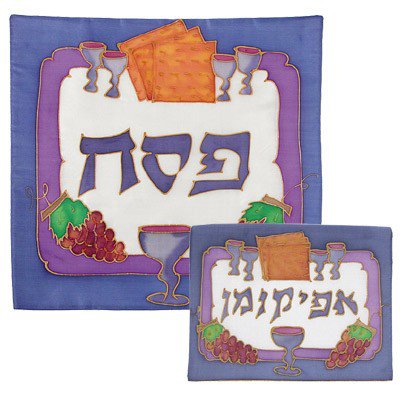 Since you're covering your Matzah and Afikoman anyway, you might as well dress them up beautifully.
This gorgeous silk Matzah & Afikoman gift Is designed (hand-painted) with matzot, bunches of grapes, 4 cups of wine, and Elijah's cup.
The matzah cover has three pocket linings for ease of use during the Seder.
This will definitely plenty of color to your Passover dinner table.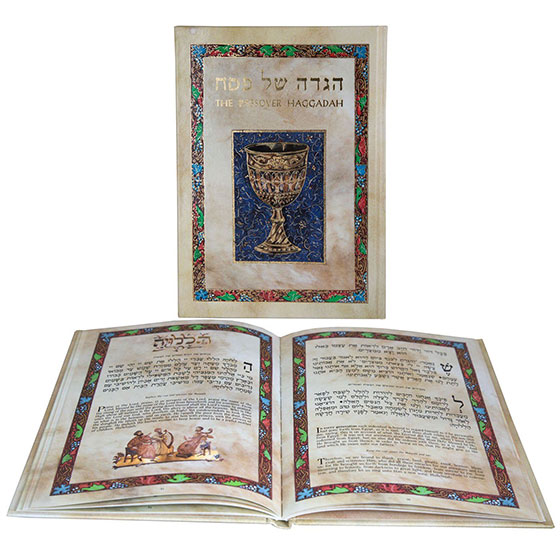 Well, everyone needs a Haggadah for Passover (Haggadah Shel Pesach) on the seder table.
But if you want to read your Haggadah in style and enjoy every minute of it, then this is the Haggadah you're looking for.
It includes the original Hebrew text, followed by a full English translation – filled with numerous full-color artistic illustrations, making it an enjoyable reading experience (no wine needed).
We drink a lot of wine for Passover…at least 4 (but usually a lot more).
Luckily, that's what wine fountains are for. And if you're getting a wine fountain – then you might as well choose this elegant Kiddush wine fountain.
This beautiful, made in Israel Kiddush wine fountain is made from nickel. Besides being covered with elegant floral & Star of David motifs, the fountain is also beautifully decorated with the names of the four rivers that flowed through the garden of Eden – a Kabbalistic omen for salvation and blessings.
A wonderful item to have on any Passover seder table.
Get our brand new holiday gift guides straight to your email - before the next Jewish holiday arrives
Passover Artwork 
This is where modern meets classy. Passover artwork is one of the most popular & appropriate gifts you can buy.
it makes sense if you think about it: the seder table is the perfect art exhibit, where you get to host your own "personal art show" and amaze your guests.
The good thing about Passover art is that it's actually practical – it's not just a nice little art gallery. You can actually use (some) of the beautiful artistic items I mentioned here during your Passover dinner.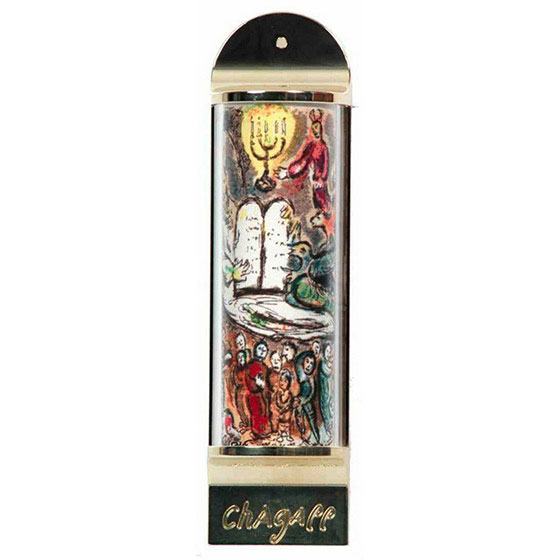 Probably the fanciest (and most expensive) piece of Jewish artwork on the list. This stunning mezuzah has a unique 18-color lithograph featuring the children of Israel receiving the ten commandments under a burning menorah (an adaptation from Marc Chagall's famous "I am the Lord thy God" painting.
And like the title says – this is a limited edition. So if you want it – act fast.
Talking about actually using Passover artistic items – there's probably no better example than this incredibly designed wooden seder plate.
The seder plate is what you and the rest of the guests will reach out to the most during the seder. With this artistic Passover plate, you might even consider reaching out for the "Maror" and actually enjoying it.
This wooden Passover plate depicts Jerusalem in a very colorful and eye-catching way, giving you a sense of doing the seder in our beautiful Jewish capital.
Top Passover Artwork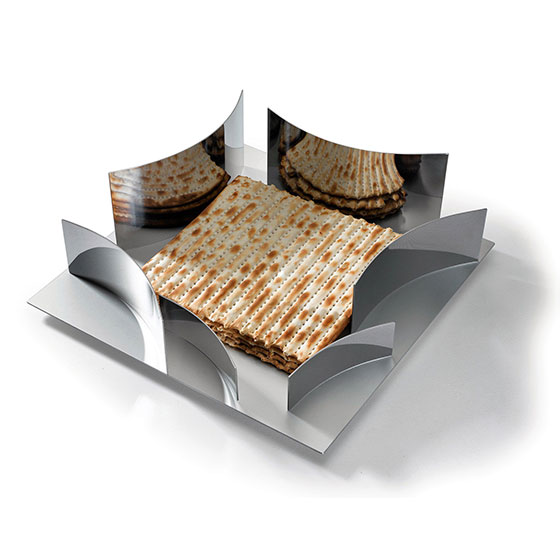 I just recently discovered Laura Cowan, and I have to say – her designs are amazing… And this spectacular matzah tray proves it. 
Created in high quality shiny stainless steel, the top pieces of the Matzah plate are hand curved into gentle modular waves (inspired by the Tel Aviv sea view of yachts on the ocean) – meaning you can choose how to arrange the waves on the plate.
Our wonderful Torah is beautiful from the inside, and apparently also from the outside.
This bestselling, stunning, deluxe Torah book includes the complete text of the Hebrew Bible (alongside its English translation), accompanied by beautiful illustrations, paintings & work of art spanning the ages and the history of our Jewish culture.
It is printed with vivid colors and printed on fine paper – making it not just a stunning piece of art that shines your home, but also a very valuable gift to read and learn from our beautiful Torah.
Yes, Laura Cowan gets a second spot in the list.
You probably noticed that Laura gets her inspiration from special places & events, and this seder plate is no different.
This bestselling, unique seder plate was inspired by the rippling effect a single raindrop can have a much bigger pool of water.
The mirror-polished steel plate has the traditional "Mah Nishtana" seder song engraved in both English and Hebrew, leading up to the "Pesach" word in the middle.
The tear-shaped porcelain bowls are included and can be arranged in any pattern on the beautiful shiny surface.
Simply beautiful.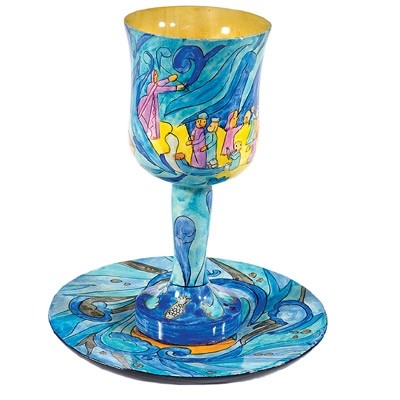 "Let my people go" – said Mozes.
And we did. We left Egypt through the miraculously split dead sea, on our way to the holy land.
This is exactly what Yair Emanuel's beautiful, hand-painted stemmed Kiddush cup illustrates.
Kosher for Passover Wine
Passover is all about celebrating freedom. And like King David says in Psalms: "Wine gladdens the human heart". So naturally, wine plays a big role in every Seder table, which is a sign of wealth & abundance.
That's why a bottle of wine is considered one of the best Passover gifts to give to your host or hostess. If you're hosting the seder this year, then you might be worth getting a wine case (you can buy cases for any of the wine brands mentioned below).
Allow me to introduce you to some of the best Kosher for Passover wine brands for this seder.
We're starting off with The Chosen Barrel Reserve Cabernet Sauvignon – an excellent, award-winning wine straight from one of Israel's finest boutique wineries.
Chosen Barell's Cabernet Sauvignon has a "fruity" taste to it, which obviously goes very well with steak & grilled meats, making it a great choice for a seder dinner, or as a Passover gift.
Tip: Aging it for an extra 3-5 years will really give it enhanced notes of ripe black fruit and cassis.
A smooth, luxurious dark-red color wine with a strong black fruit and cassis aroma. Even though this wine is "Mevushal", but tastes like "Not Mevushal".
Pairs nicely with steak, burgers, or any other type of meat, and is definitely a "crowed-pleaser".
Top Wine Gift
The Dalton Cabernet's is a very smooth dark ruby-red color wine. It has a lovely aroma of berries, cassis, mint, and shades of vanilla from the barrel.
The "dark", chocolaty flavor might actually remind you of French wine.
This Cabernet is the perfect example of richness and modesty – the modesty part being represented by its cheap price.
This Dalton is a must-have for every Cabernet Sauvignon lover.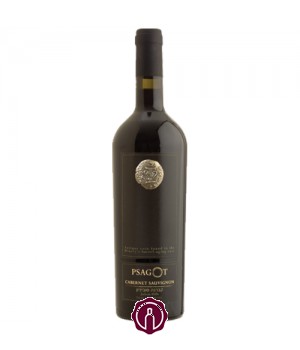 Another Cabernet Sauvignon, this time from Psagot.
Similar to the Dalton Cabernet, this Cabernet displays rich red and dark forest fruit aroma with a hint of vanilla and spicy overlay to the fruit, originating from the small French oak barrels where it was aged for 13 months – giving it additional "firmness".
Great texture, great boutique winery, great wine for Passover.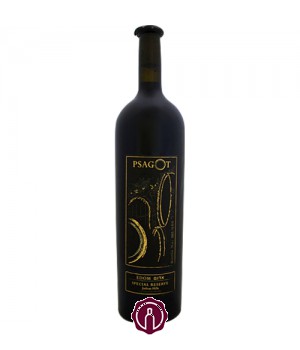 As always – I saved the best for last.
The Psagot Edom Magnum is simply incredible.
This dry, "Not Mevushal" wine is a firmly-structured red with classic and pure flavors of blackberry, plum and cigar box. It has an amazingly rich & mellow texture along with bold red-berry flavors.
The fact that it has been aged in premium French & American oak barrels adds complex vanilla and spice characteristics to the flavor.
This is considered "gourmet wine" – It's not cheap, but definitely better than many more expensive French and Israeli wines.
Tip: If you're hosting a large Passover seder or want your wine to last for the entire holiday, you might be better off ordering a Passover wine case, featuring 12 excellent Kosher for Passover wines (including some of the ones I mentioned above)
Kosher for Passover Gift Baskets
Don't you love getting gift baskets? You're not the only one.
Kosher for Passover gift baskets are a very common Passover gift: they represent abundance, freedom & love – which is what Passover is all about. Whether it's for your seder hostess, spouse or friend – this makes for a very thoughtful Passover gift (especially when it includes Israel's finest).
Top Kosher Gift Basket
You know what makes a Passover seder memorable?
The seder dessert. 
You know what people like for dessert?
Delicious gourmet chocolates, bonbons, and roasted nuts.
You know what comes in this beautiful wooden gift tray?
Exactly that, and more – and all of it is Kosher Parve.
A perfect way to greet your Passover guests, thank your hostess or send someone a Passover gift.
We chose it as the top gift for Kosher for Passover gift baskets for a reason.
This magnificent gift box from Galilee comes from one of Israel's finest boutique wineries – straight from the Galilee region in Israel.
A bottle of Merlot red wine and pure, cold-pressed extra virgin oil makes a delicious & classy host/hostess Passover gift if you're invited over for seder.
Note: You can send this gift basket to Israel with free shipping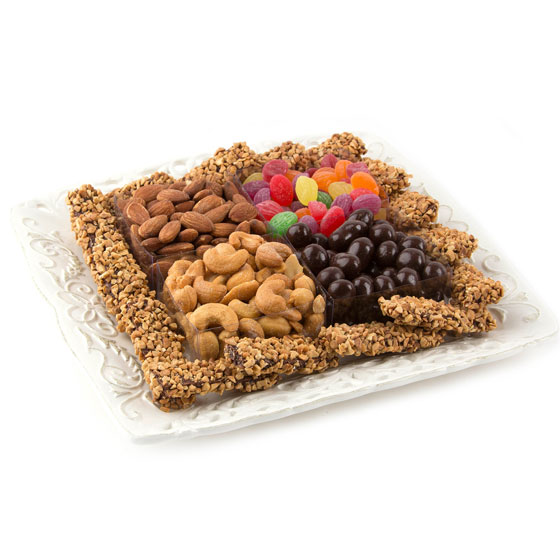 Looking for something special to bring to the seder?
This elegant ceramic dish will blend perfectly on any seder table. 
Plus, it's:
Gluten Free
Peanut Free
Dairy Free
So you can safely bring or send this gift to your most health-problematic friends in your circle.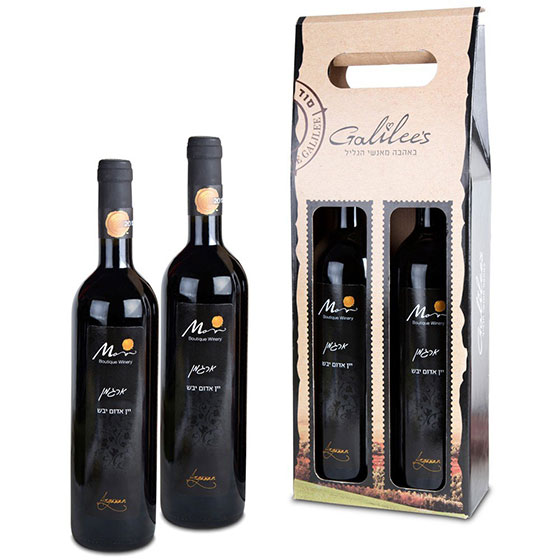 Did you think we're through with wine? Think again.
This gift box comes with two premium Kosher for Passover red wine bottles, straight from Galilee's boutique winery.
This wine has a rich and delicious taste with a light hint of spring flowers.
A wonderful Passover gift basket for your hostess.
Note: You can send this gift basket to Israel with free shipping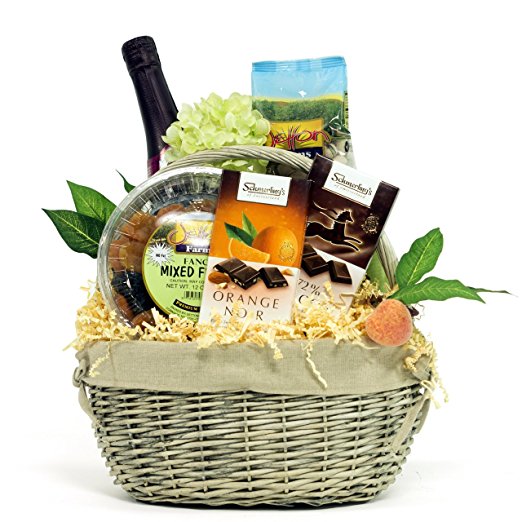 This gourmet Passover fruit basket is the clear gift choice if you're looking for a rich Kosher for Passover gift basket.
It includes a wide selection of nature's finest dried fruit assortments, roasted pistachios, and chocolates – all PARVE!
You know what this means right? Exactly, you can open & enjoy this gift basket after the Passover seder!
A great gift to give to your seder host/hostess, which you can all enjoy together.
Passover Flower Gifts
Flowers are very popular & traditional gift on Passover, especially as a gift for your seder hostess or if you're invited to a friend's home.
It makes sense if you think about it: besides bringing beauty & joy to the Passover dinner, Pesach usually falls in the beginning of the spring, so it's a natural way to decorate your seder table.
Let's take a look at the best flowers commonly given for Passover.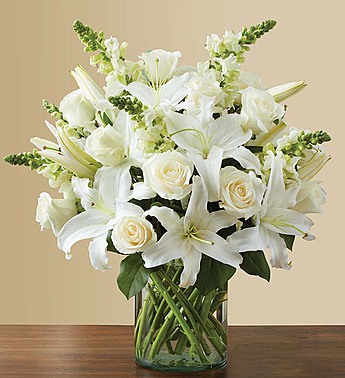 Let's start off with a gorgeous "All white" bouquet – representing the purity and holiness of this wonderful holiday.
It includes striking white roses, lilies, and snapdragons: all hand-gathered.
Accompanied with a delightful, stylish cylinder vase, these crisp white flowers will add a certain timelessness and elegance – creating a meaningful & sophisticated gift for the entire week of Passover.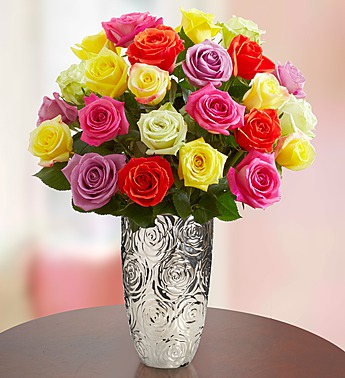 A very colorful & elegant bouquet of roses in marvelous rainbow colors to make any seder table stand out.
Definitely, a vibrant gift that will make your wife, seder hostess or even mom put a smile on her face.
Note: You can choose from a wide selection of gorgeous vases to include in the gift box.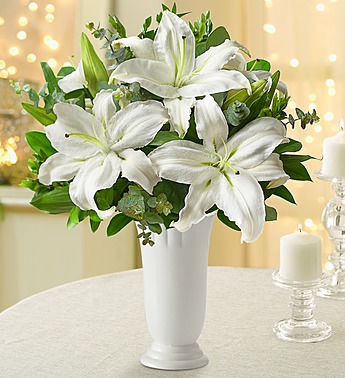 White lilies are a classy way to add a pure sensation to Passover. They represent quality, purity, and innocence – which goes hand in hand with the holiness of Passover, one of the 3 holiest holidays (Shalosh Regalim) in Jewish tradition.
Note: You can choose from a wide selection of gorgeous vases to include in the gift box.
Top Flower Gift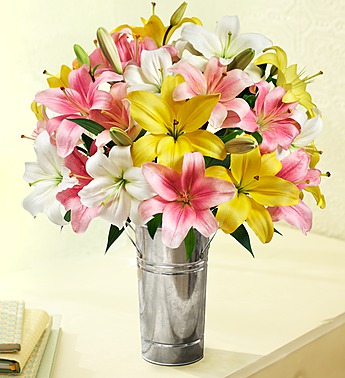 This magnificent bouquet is special as it adds a "soft sophistication" sense to the table. It includes gorgeous pink, yellow and white star-shaped blooms, creating an incredible flower arrangement for the recipient.
This spring bouquet is probably the most suitable flower bouquet for Passover – as it fits perfectly with the spirit of Pesach: Spring arrived, Pesach is here (Aviv Higia Pesach Ba).
Note: You can choose from a wide selection of gorgeous vases to include in the gift box.
Passover Hostess Gift Ideas
If you're uncomfortable giving your hostess flowers for Passover, don't sweat it…
You're about to find out that there are plenty of other appropriate Passover gifts you can get your lovely hostess. Whatever you do, do NOT go empty handed. 
Top Hostess Gift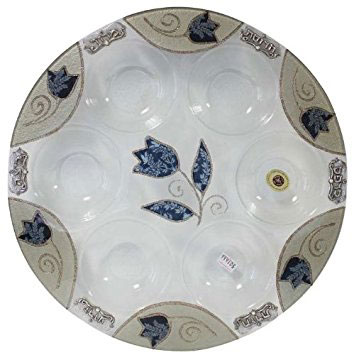 Lily Art's elegant glass seder plate features a beautiful design of shiny blue flowers, covering the entire plate.
Surrounded by these flowers, all of a sudden the Marror (bitter herbs) will look much more appealing (that doesn't mean you should eat more than the minimal amount).
This unique seder plate was meant to be given as a gift to your host or hostess… just think that every seder from now on remind them of that Passover you got them this special Seder plate… ain't that nice?
Is it a coincidence that this precious orange glass Miriam cup (Kiddush cup for women) comes right after the glass seder plate?
No, of course not.
The reason is obvious – they go amazingly well together.
So if you're feeling extra generous, spoil your hostess with a lovely set of both the glass seder plate, complimented with this beautiful two-piece set Kiddush cup with and a "Miriam HaNevia" plaque.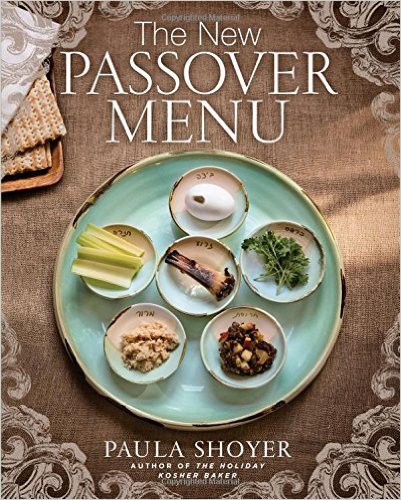 Giving your hostess a Passover cookbook is a wonderful gesture. Because don't forget – Passover is a weeklong holiday, so she'll probably do some serious cooking during the holiday. So give her a hand, would you?
This best-selling Passover cookbook features 65 contemporary dishes and recipes (including meals for the seder and after) that will keep her busy for the rest of the week, and for many years to come.
Some of the unique recipes on the menu include:
Banana charoset
Peruvian roast chicken with salsa verde
Moroccan spiced short ribs
Sweet potato tzimmes
Eggplant parmesan
Frittata with Broccoli and Leeks
and much more…
Tip: This cookbook is rich with photographs of the dishes and is also suitable for beginner cooks
This hand-made, eye-catching Armenian ceramic serving tray will make a wonderful gift for your hostess. She'll be able to use it on the spot and keep on using it all year long.
The tray is specifically made for Pesach: it's designed to fit all standard matzah sizes.
Tip: This tray is also commonly used as a fruit bowl. It's not just a Matzah tray.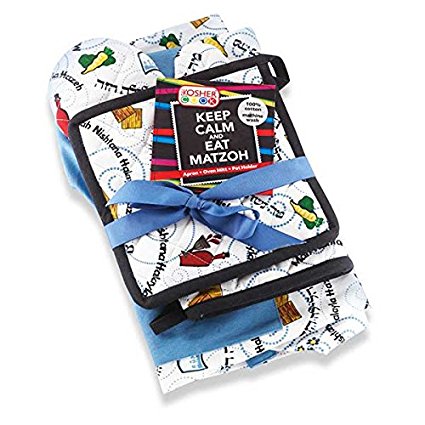 If you're strictly looking for a useful gift pack for your hostess, then this is the one.
This is a very affordable gift set your hostess will appreciate getting her, as it includes the following Pesach-themed kitchen items she will likely use over and over again:
Adult size apron
Passover-themed potholder
Oven mittens
Passover Gifts for Children
Finding Passover gifts for kids can be challenging.
It's not just about getting your toddlers a cool toy… you also want to teach them about Passover, teach them about the value of freedom, and inspire them with the story of the exodus. How do you do all that exactly?
Keep reading…
Top Children's Gift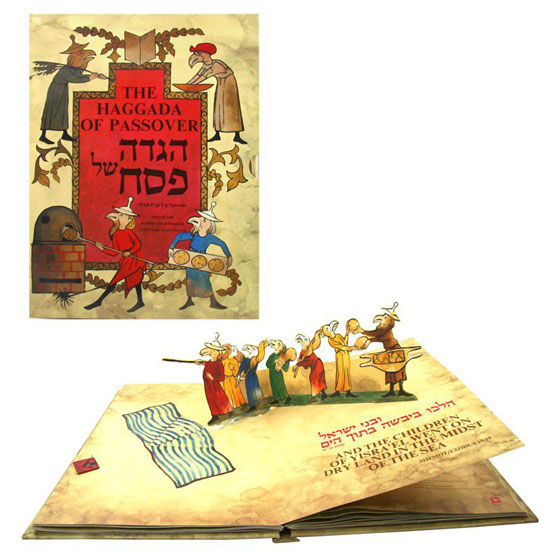 Have you ever sat on the seder table, just waiting to finish with the Haggadah reading already and "bring on the food"? As a kid? For sure! As an adult? I hate to admit it, but sometimes.
Even though this Hagaddah is in the Passover gifts for kids section, it's definitely not just for kids. Adults can and will enjoy this Haggadah for more than any "normal" Haggadah.
With this artistic Haggadah, made by The Israel Museum, the Haggadah reading becomes a much more engaging and entertaining thanks to the movable popups that just pop out of the Haggadah. You don't just read the text, you experience it.
Just take a look at this video and see for yourself: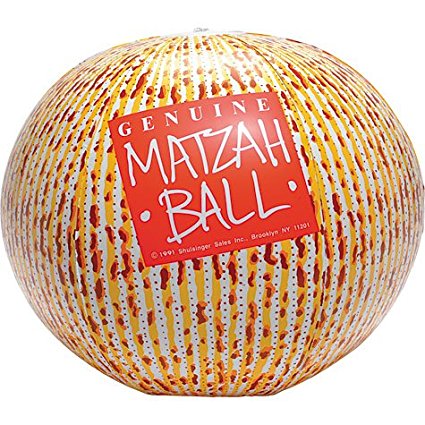 Who doesn't like Matzah balls?
But did you ever try hopping and playing with one?
You haven't?!
Now you, and hopefully your kids, will.
A great toy for young kids (and adults) to play before the seder and throughout the holiday.
Your kids will have a ball, a Matzah ball!
Notes:
You need to put in some effort to inflate them, but it's worth it.
Recommended for kids age 3+
Kids & babies are also people (so they say).
But does that mean that you trust them with your expensive ceramic plates? Especially since they'll probably be jumping and bouncing around on their seats.
Trust me, you don't want your Passover seder to become a Greek wedding. These 12-set paper disposable seder plates are your insurance policy, and it has all the Passover seder plate symbols in case the kids can't read yet.
Plus, "it's way more fun to have your own Passover plate than a regular plate."  – is what your kids are probably thinking.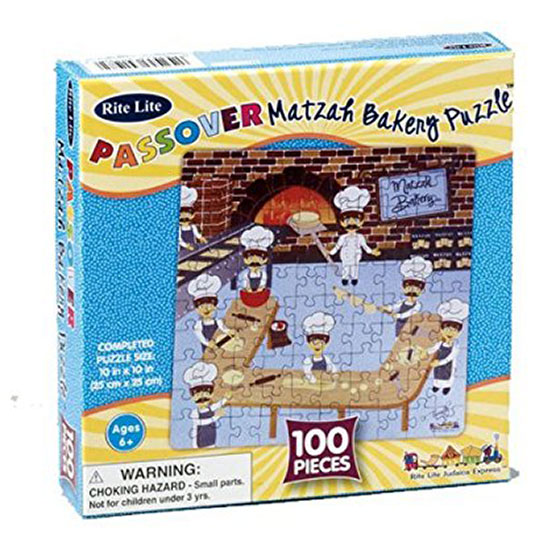 Pesach is 8 days long. You've got to keep the kids busy somehow, so they might as well spend their time both having fun and connecting with the Passover holiday spirit.
This 100 piece Passover themed jigsaw puzzle does just that.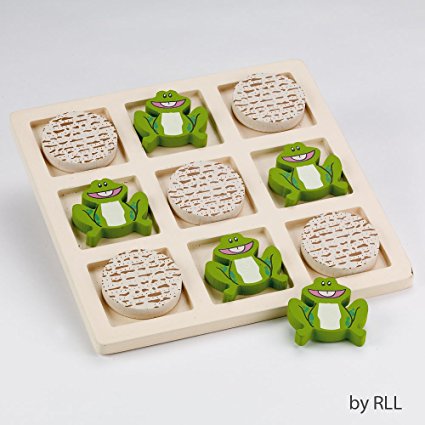 Tic Tac Toe? That's boring.
Tic Tac Toed? Now you're talking.
Frogs and Matzahs are just more fun, don't you agree?
This is a great little toy for kids (and adults) to play before, after, and during the seder.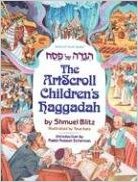 Just in case you found The Israel Museum's Haggadah a bit too sophisticated, I included Shmuel Blitz's wonderful children's Haggadah.
This Haggadah was specifically written for children ages 4-8 (although you might enjoy it as well). It includes the full Hebrew Haggadah text accompanied by a child-oriented, accurate English translation.
There are clear instructions and information boxes that will help your child through every stage of the seder so he doesn't get lost (or bored).
Funny & Creative Passover Gifts
Passover gifts don't have to be all traditional and "by the book". I mean, where's the fun in that? If you're looking for Passover gift ideas that are a little more unique, fun and creative. Then boy oh boy do we have a few surprises for you J
Shh. Don't tell anyone where it is. Just put on your poker face and wear this shirt.
Did he/she find the Afikoman? There's a shirt for that as well (for both men and women).
Pillow fight!
Just kidding. You shouldn't throw food… Or food-shaped pillows.
Instead, lean back on this Matzah money cushion during and after the seder.
They say Matzah is good for your back… Actually, no one says it, but this pillow is 100% polyester, soft and wrinkle-free… so this might be the first Matzah that actually is quite comfortable (and fun).
"Hey Rafael, get that Matzah off your head!" – Now you don't have to!
These Matzah kippot (yarmulkes) are really funny, especially if all the men wear it during the seder. Just imagine hosting a seder and handing all the males this Kippah.
With this on your head, you'll feel much more comfortable drinking a few glasses of wine J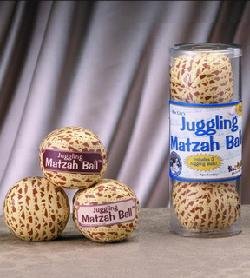 Let's get creative…
What else can we shape like a Matzah?
Juggling Matzah balls of course!
These juggling Matzah balls are kid friendly – meaning they won't hurt your kids when they get these Matzah balls in their face (it's inevitable).
Just stay away from the flower vase and you're all set. Juggle away!
Top Funny Gift
You found the Afikoman?!
Good for you! We're all very proud of you.
You can expect a call from the president every minute now.
Just kidding – no president…no call.
But at least you get to wear this awesome shirt!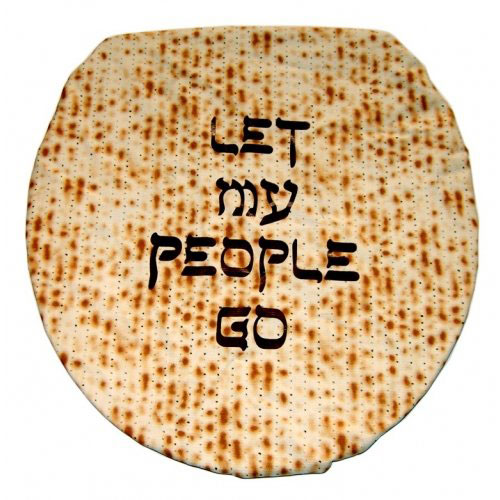 I saved the funniest (and least appropriate) gift for last. Congratulations if you made it this far, you got to see this hilarious toilet seat cover.
This is quite a hilarious gift to give your seder host (it does require some guts honestly) or to your Jewish college student friend as a prank. It actually appeared on the Jay Leno Show a few years ago.
I'm not sure grandma will find It funny though, so be careful…
I'm warning you: don't come crying to me If you end up spending your seder on the street.
Your Turn
What did you think of these Passover gift ideas?
I'm curious –
Did you find anything particularly special, unique or funny?
Which ones did you end up buying?
I would love to know, so let me know in the comments!
Chag Pesach Sameach everyone 🙂