What's the first thing you do before you enter a Jewish home?
You hang a Mezuzah of course…
It's the main event of a Jewish housewarming, where the Rabbi blesses the Jewish door ornament and the new Jewish home.
This brings us to the main question:
"What kind of Mezuzah case should I get?"
Excellent question!
The short answer? a modern Mezuzah case.
The long answer? Keep on reading and you'll find out exactly what the best modern Mezuzahs are out there, whether it's for your own home or a Jewish friend's home…
Top Modern Mezuzahs 
Before you go ahead and choose your new modern Mezuzah, let's introduce our selection of the best Jewish door ornaments for a Jewish home.
Yep, we did the hard work for you and chose the best Kosher contemporary Mezuzah cases out there… and yes, we even gave out awards to the best Mezuzahs! All you have to do is to choose your favorite one…
Jerusalem Stone Kotel Mezuzah Case by Caesarea Arts
Top Pick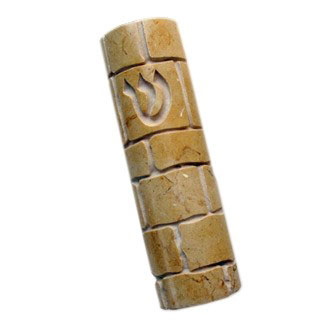 Pros
Beautifully crafted from Galilee Stone from the Holy Land
Jerusalem stone, resembling the western wall
A unique blend of traditional & modern Jewish art 
Cons
May not feel as sophisticated as silver or gold-plated alternatives
Why?
Let's start off with the winner.
You can't really say no to Jerusalem stone, made in Israel…
Caesarea Art's unique, hand-polished combination of ancient & modern brings a warm and familiar touch to any Jewish home. The decorative carvings make it a special piece that will look fantastic on any door.
Who wouldn't want to bring a small piece of the western wall to their Jewish home?
Tip: This Mezuzah goes best on a front door.
Who is it For?
The perfect Jewish housewarming gift for an honored friend who has just moved into his new house, or for you if you're looking for a traditional Jewish Mezuzah that feels like our mutual home in Jerusalem.
It's available in multiple sizes, so you'll find a suitable Mezuzah for any Jewish door. 
Bottom Line: A Mezuzah that looks like it was taken from the western wall. The beautiful design and excellent finish make this a great gift for a dear friend or family member. 
Danon Designer Priestly Blessing Mezuzah Case
Our Favorite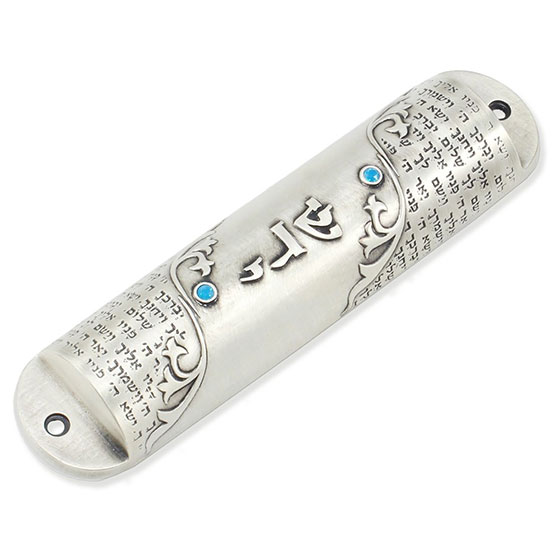 Pros
Incredibly well made, silver-plated modern Mezuzah
Very reasonable price
Masterful blend of ancient tradition & modern art
Parchment scroll included as an option 
Cons
The material requires regular polishing
Why?
This superb contemporary Mezuzah comes straight from Israel and will astonish any guest arriving at your home. It's artfully crafted and has inscribed the famous Priestly Blessing ("May Hashem (The Lord) bless you and guard you…").
The beautifully inscribed combination of the ancient tradition, mixed with a modern design makes this Mezuzah case our personal favorite.
Tip: A wonderful decoration for any kind of door: home entrance, room, office…
Tip 2: This designer Mezuzah won our best traditional Jewish housewarming gift award.
Who is it For?
A well-respected friend who you'd like to surprise with an extraordinary and personal gift would be very happy with this Mezuzah.
And for you, yes you… If you're looking for a new Mezuzah for your home, you'll be one hell of a happy camper with this one.
Bottom Line: This Jewish door ornament will stun anyone who receives it as a gift thanks to its excellent finishing, great materials and the fact that it is aptly inscribed with the Priestly Blessing.
Modern Rainbow Wave Mezuzah
Pros
Contemporary design with beautiful colors
Hand-painted Mezuzah high in symbolism
High-quality craftsmanship
Parchment scroll included
Cons
Design may be too playful for some
Why?
This modern Mezuzah embodies a modern, colorful design and combines it with ancient Jewish tradition. It is a mini-masterpiece and will catch the eye of anyone who passes it, just like any rainbow does.
Why Not?
Some may find this Jewish door ornament too colorful & playful and may be looking for a classier or "cleaner" model. 
Who is it For?
A good friend with a keen interest in high-quality modern art would love this contemporary Mezuzah. As it's so well made, it would appeal to anyone wishing to keep their Mezuzah in good shape for a long period of time. 
Bottom Line: Even though this Jewish Mezuzah may not be the first choice for some, it makes a great gift for the right person. 
Limited Edition Marc Chagall Mezuzah – Ten Commandments
Most Artistic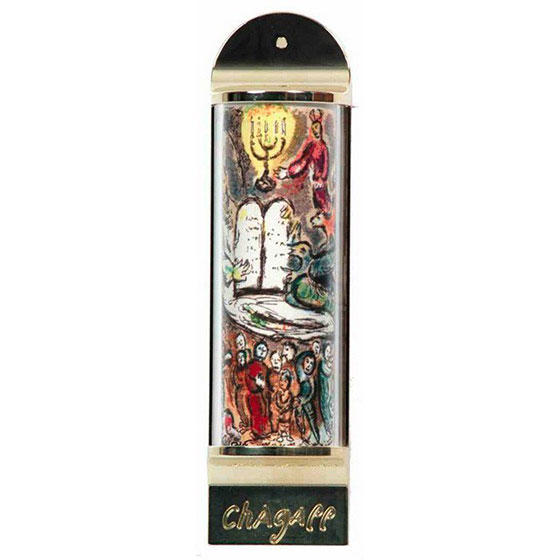 Pros
Lithograph print of "I am the Lord thy God" painting
24 carat gold-plated bronze
Limited edition
Optional parchment scroll included 
Cons
Only one size available
Quite pricey
Why?
A truly stunning & scarce piece. This Jewish Mezuzah is artfully printed with a depiction of the Children of Israel receiving the Ten Commandments under a burning Menorah. The print is based on Marc Chagall's well-known "I am the Lord thy God" painting. 
Who is it For?
A good friend who appreciates art and tradition would be very lucky to receive this one of a kind Mezuzah as a gift. It is a stunning piece that a person of faith with knowledge of the scriptures will be incredibly fond of.
The optionally included parchment scroll makes this already special gift even more personalized, as you can choose from three different texts.
Bottom Line: Incredibly well-decorated and made from high-quality materials that will last decades, if not more. this Jewish Mezuzah is our pick for 'Most Artistic' Mezuzah and will be treasured by anyone who comes across it. 
Black Line Mezuzah in Brushed Aluminum by Adi Sidler
Pros
Very modern Mezuzah with clean lines
Made from anodized aluminum
Contemporary design by artist Adi Sidler
Cons
Simple design may not appeal to all
Why?
This Mezuzah case has clean lines and a modern finish. It is a true combination of the ancient concept of the Jewish Mezuzah with an almost industrial design oozing modernity.
Why Not?
To some, this Mezuzah may have gone too far in its clean lines. It is very sleek, but in its simplicity, may have lost some of the ancient meaning attributed to the Mezuzah. 
Who is it For?
Anyone who appreciates modern art will love this Mezuzah. Even though it is modern, anyone with an eye for symbolism will appreciate this Jewish door ornament, as it represents the Hebrew letter "shin".
Bottom Line: If you're looking for a contemporary Mezuzah, this would be a great pick. Someone with an eye for modern design and ancient symbolism will truly appreciate this gift.
Want to get our brand new Jewish buying guides straight to your email inbox?
Yealat Chen Tree of Life Mezuzah Case (Variety of Colors)
Best Value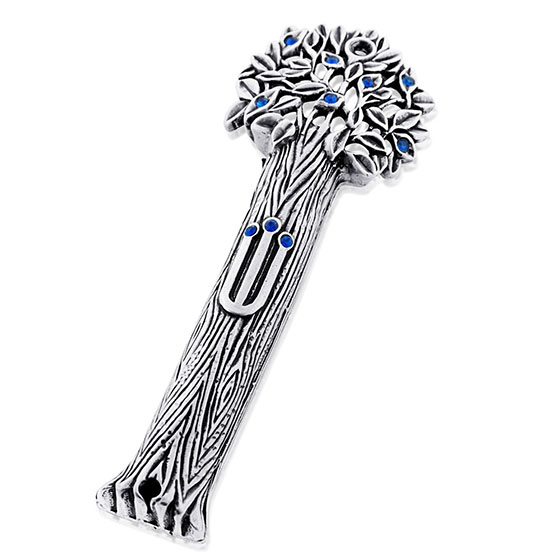 Pros
A beautiful modern Mezuzah with strong symbolism
Available in two colors with optional parchment scroll included
Great value 
Why?
This silver-plated Tree of Life Mezuzah is stunning. It will sit wonderfully on anyone's door, and the included parchment scroll makes for great personalization. Artfully decorated, this is a great Jewish Mezuzah that will not leave you out of pocket.
I don't know about you, but I would love to have my very own Tree of Life in my home…
Who is it For?
Anyone who has a knack for Jewish symbolism and tradition will find this Mezuzah hugely appealing. The Tree of Life symbolizes eternal life, and this unique Mezuzah will provide long-lasting joy to anyone who receives it. 
Bottom Line: A quality & relatively cheap Jewish Mezuzah with beautiful symbolism at a very attractive price. It's a no-brainer for anyone looking for a special gift without breaking the bank.
Iris Design Blue Hand Painted Mezuzah Case with Star of David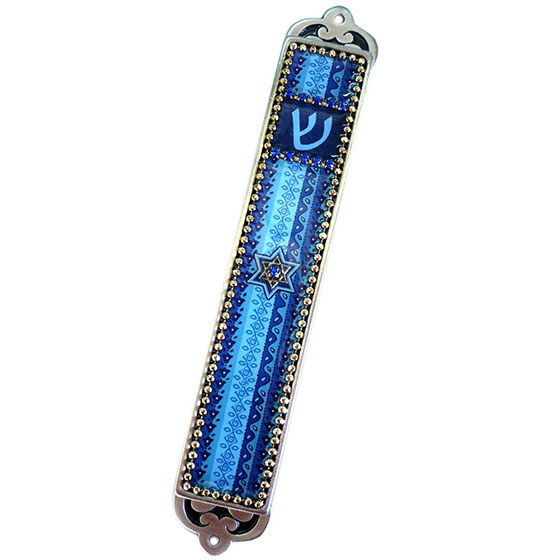 Pros
Unique design including Star of David
Hand painted & decorated with genuine Czech stones 
Cons
No parchment scroll included
Why?
This modern Mezuzah is made in Israel, and truly embodies ancient tradition combined with modern art. It's beautifully crafted with deep colors and adorned with the Star of David. It is artfully decorated with metal beads and Czech stones.
Why Not?
Unfortunately, this Jewish door ornament only comes in one size and one color. As such, anyone who is not sure of the colors, or wishes to customize this Mezuzah may not be interested in this piece. 
Who is it For?
Those who are fond of tradition, but like a modern touch as well. The Star of David really brings the design of this Mezuzah together.
Bottom Line: A great looking Judaica Mezuzah case with limited customization options. This piece will appeal to many, but it has to be matched with the right person.
Modern Ceramic Mezuzah Case Pale Green
Pros
Contemporary design with subtle coloring
Inspired by Origami, the Japanese art of folding
Handmade glazed ceramic
Cons
Can be slightly brittle material
Why?
This contemporary Mezuzah case shows that modern design can be beautiful and classy at the same time. It's a beautifully crafted piece with sleek lines and will fit into any tastefully designed home. 
Why Not?
The design is beautiful but may not appeal universally. It's very modern and some may not be enticed by its clean lines and pale glaze.
Who is it For?
This is a lovely gift for a friend who is moving into a new home and is a great addition to any Jewish household. Its modern design appeals to those who want a traditional element in their lives, but are interested in more modern design. 
Bottom Line: A handmade Mezuzah case that will stun those who are into ceramics. The symbolism behind Origami makes this gift one that is truly special.
Kosher Mezuzah Scroll in Pewter Case Modern Contemporary Hand Fabricated Art 
Pros
Contemporary Mezuzah made from pewter, brass, and copper
Handmade, stunning piece of art
Eye-catching piece
Kosher parchment scroll included
Cons
Expensive
Only one size available
Why?
A true statement piece that will not go unnoticed. The intricately made design will stun everyone who lays eyes on this Jewish door ornament and it is likely everyone will have an opinion on it!
Why Not?
The eccentric design will not be appealing to everyone and it does take a specific kind of person to appreciate this piece.
Who is it For?
This Mezuzah makes for a great premium gift for anyone who likes an eye-catching piece on their doorstep. Its unusual design is perfect for anyone wishing to make a statement with their home decoration. 
Bottom Line: This beautiful piece of modern art would fit wonderfully in a home with a modern design. It is on the pricey side but would be truly appreciated by a modern design-loving friend. 
priFinal Verdict
Top Pick: Jerusalem Stone Kotel Mezuzah Case by Caesarea Arts
A unique piece made of Jerusalem (Galilee) stone with carefully cut out patterns, this unique Mezuzah is definitely our top pick. It is sturdy and of excellent quality. Furthermore, its design will appeal to all and is a great mix of traditional materials with a modern touch.
Best Value: Yealat Chen Tree of Life Mezuzah Case (Variety of Colors)
This Jewish door ornament is a great pick for those who don't want to break the bank but still want a beautiful, silver-plated piece. Its symbolism and timeless design are a true gift for an inspiring friend.
Our Favorite: Danon Designer Priestly Blessing Mezuzah Case
From its incredible design to the high-quality materials used, this designer Mezuzah is a great accessory for the home (for any door), at a friendly price.  Our favorite modern Mezuzah, firmly rooted in tradition, given the silver plating and the Priestly Blessing inscribed. A truly stunning gift for anyone you call a true companion.
Most Artistic: Limited Edition Marc Chagall Mezuzah – Ten Commandments
What can I say… It's kind of hard to compete with Marc Chagall, one of most cherished visual artists in Jewish, French & Russian history. A true, limited edition masterpiece by a master artist.

Summary
Hanging a Mezuzah is always an exciting Jewish event, especially when you're moving into your new home.
It's the first thing people see before entering your home, so a modern Jewish ornament with presence is always a great present.
I hope you found the perfect modern Mezuzah case for your home, or to give as a gift.
And remember, don't forget to let me know which one you chose (send pictures).