Every Jewish man's personal Tallit tells a story…
And every man gets to "wear that story" during the most spiritual part of the day: our daily prayers and our conversion with G-d…
That's why choosing the right Tallit prayer shawl is a big deal.
The trouble is, that there are so many options to choose from, that we often get confused & intimated of choosing the wrong Tallit.
"What materials should I choose? Should I go with a premium shawl or choose a more affordable option? What are the differences between them? What Tallit is best for a gift?"
If you found yourself asking any these questions, then I've got some good news for you: you're about to get some answers…
Best Jewish Tallit Prayer Shawls
Before we go into the tassels of each Tallit (get it?), how about a quick preview of the most authentic & modern Tallit prayer shawls you'll see here, including our award-winning shawls from Israel…
Yair Emanuel Embroidered Raw Silk Tallit (Star of David)
Top Pick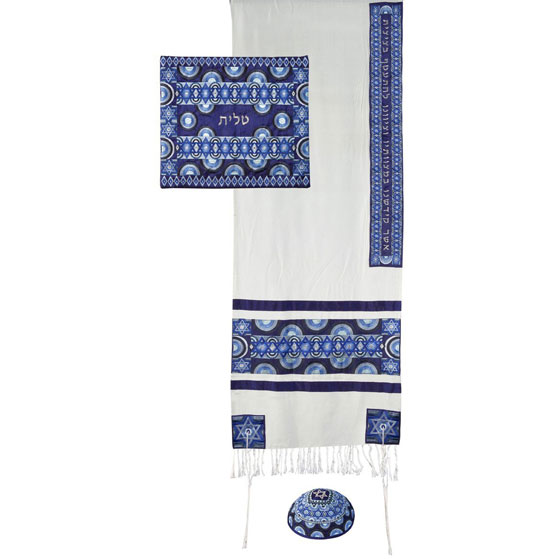 Pros
Made from woven cotton – a natural and durable material
Expertly embroidered with fine silk, made by Yair Emanuel
Timeless design, made to look beautiful and to last for many years
Wonderful incorporation of the Star of David
Tallit bag and kippah included
Why?
This bestselling masterpiece is our top pick when it comes to choosing a Tallit or Tzitzit.
This shawl is a flawless combination of beautiful design, high quality woven cotton and carefully embroidered silk. This makes this shawl into a true piece of art, unlike any other Tallit on this list.
The classy Stars of David give this Tallit an extra Jewish touch.
Who is it For?
This Tallit prayer shawl is a must-have for any Jewish individual who's looking to upgrade to a next-level shawl, and especially for a young man's Bar Mitzvah. If you're looking for an authentic Jewish praying shawl from Israel that truly embodies style and grace, then this Tzitzit is a must-buy.
Tip: A very popular Bar Mitzvah Tallit for a 13-year-old's first ever prayer shawl.
Bottom Line: A truly incredible Tzitzit you'll cherish for many years to come. Not the cheapest Tallit, but definitely worth every penny.
Tree of Life Tallit: Yair Emanuel Embroidered Polysilk Shawl (Colors)
My Favorite
Pros
Quality material, with a refined poly silk that is soft to the touch
Beautifully embroidered by artist Yair Emanuel
Powerful symbolism – the tree of life
Tallit bag and kippah are included
Cons
Maintenance is slightly more cumbersome due to fine silk being used as main material
Why?
An incredible combination of modern design, traditional symbolism, and quality materials (silk) = a best-selling Jewish prayer shawl. The proverb reads "It is a tree of life for those who grasp it and its supporters are happy". Praying with this beautifully embroidered Tallit shawl gives your morning prayer a unique spiritual touch, making the prayer even more special than it already is.
Now you understand why it's my favorite Tallit? 
Who is it For?
This Jewish praying shawl can definitely be used by almost anyone. It makes an especially nice gift for a younger family member, and the vibrant colors are sure to inspire a developing mind. 
Bottom Line: Get this Tzitzit for yourself or give it to a family member who can cherish it for many years to come. An excellent Jewish prayer cloth that combines playfulness with a powerful message. A truly timeless piece.
Yair Emanuel Completely Embroidered Tallit – Jerusalem in Silver
Most Artistic  
Pros
Amazing design with fine embroidery using silver threads by artist Yair Emanuel
High-quality woven cotton as base material
Tallit bag and kippah are included
Cons
A bit expensive
Fine materials need extra care when handling and maintaining
Why?
Yair Emanuel's Jerusalem in Silver Tallit is something special. As always, the famous Israeli artist has outdone himself with this amazing Hebrew prayer shawl made of only the finest materials, making it soft to the touch and easy on the eye.
A true masterpiece that can last for generations (if you treat it right). 
Why Not?
A bit expensive. Therefore, should only be used by a very careful owner.
Tip: Probably not the best option for a Bar Mitzvah tallit, unless he can take care of it.
Who is it For?
This Tallit is for a refined individual, who takes his faith seriously and is not afraid to spend some money. You can buy it for yourself, or perhaps for a significant other as a marvelous gift to treasure. 
Bottom Line: In case you're looking for the epitome of style and class in a Jewish praying shawl, then this is the Tallit for you. It's beautifully designed and breathes a flair for the luxurious.
Yair Emanuel Fully Embroidered Cotton Jerusalem Tallit Set – Blue
Pros
Stunning view of Jerusalem depicted on the Tallit
Marvelous design by artist Yair Emanuel
Traditional colors with a modern touch
Cons
Needs to be handled with great care
Why?
We had a Jerusalem in Silver work of art, now it's time for the traditional Blue & white colors of Israel. The combination of woven cotton with beautiful embroidery will is a stunning cloth to wear during Jewish holidays and Shabbos.
Maintain it properly, and you'll get a prayer cloth that might last more than a lifetime and could become a great heirloom in your family.
Why Not?
Not for the average Jewish man looking for a basic Jewish praying shawl.
Who is it For?
Want to be the best-dressed man in the synagogue on Shabbat & Jewish holidays? This Jewish prayer cloth will do the trick. When a Jewish man has an image of Jerusalem on his Tallit, it's very hard to top that.
Tip: Can also make a fantastic Tallit for a Bar Mitzvah or a Jewish wedding Tallit.
Bottom Line: A super-premium, gorgeous Hebrew prayer cloth that embodies tradition and beauty. 
Talitnia Traditional Israeli Tallit 100% Wool Tallis (Frum)
Most Popular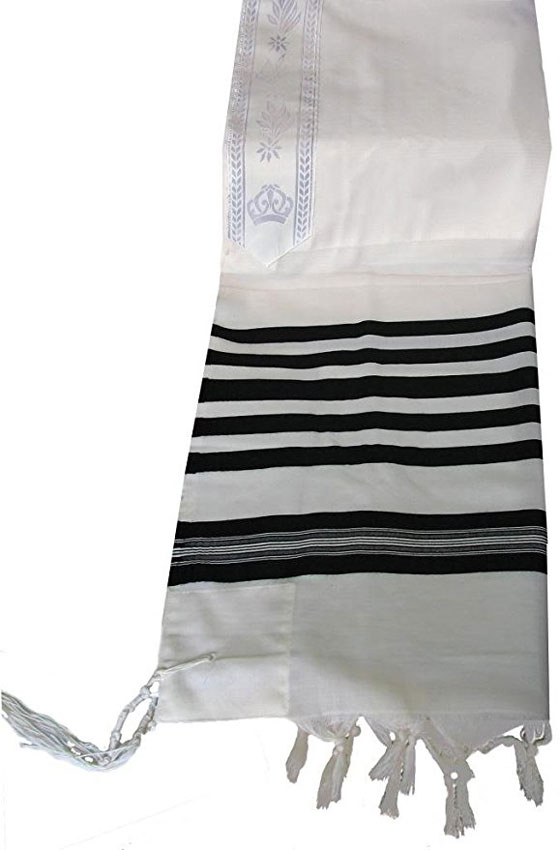 Pros
A well known brand complying with strict halachic requirements
Beautifully designed & wrapped
Good price
Cons
Fabric is light & tzitzis are a bit thin
Very big
Why?
You're looking at one of the most popular shawls Jewish men order online, so it surely has proven its worth.
Not surprising, considering that this Tallit is designed & imported from Jerusalem by one of the most famous & reputable Jewish Tallit brands: Talitnia. 
With such a great price for such great quality & support – this Jewish prayer cloth is a no-brainer.
Note: Keep in mind that this Tallit is pretty large, so this might be an advantage or a disadvantage, depending on your own needs and preferences.
Tip: Thanks to its size, this Tallis can also be used for a Jewish wedding to cover the bride & groom under the Chuppah.
Who is it For?
Whether you're frum, a Baal Teshuva or just looking for a high-quality Tallit with a clean design that will last you for a long time, then this shawl is a sure thing.
Oh, and you should definitely get this if you're tall.
Who is it not For?
If you're not that tall, it will feel like a tent, so take a look at some of the other options here.
Bottom Line: A very popular, high quality & affordable Israeli Tallit prayer shawl.
Want to get our brand new Jewish buying guides straight to your email inbox?
Traditional Pure Wool Tallit – Blue with silver stripes
Best Value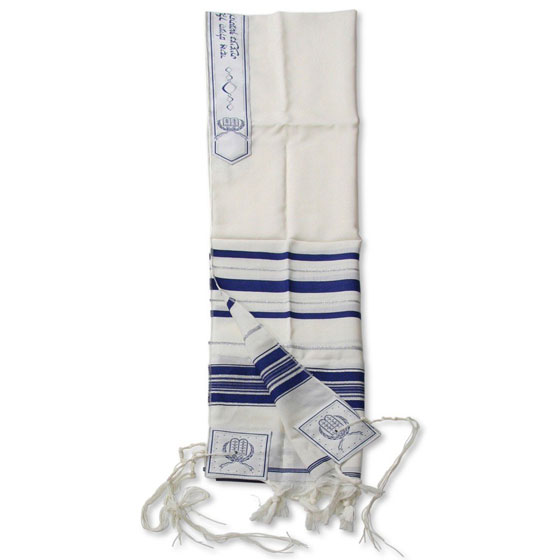 Pros
Traditional design
High-quality virgin ewe's wool
Available in many different colors and patterns
Great price
Cons
Not as refined as silk or cotton
Only simple embroidered motifs available
Why?
This best-selling men's Tallit is made from elegant, high-quality wool and is expertly woven into a beautiful piece. For its price, it'll be hard to find anything even approaching the level of quality and attention to detail.
That's why this magnificent Jewish prayer cloth has won our best value award, and rightfully so. 
Who is it For?
This Hebrew prayer cloth is designed for those who treasure tradition and simplicity. When wearing this quality Tzitzit, nothing will distract you from the tasks at hand.
When it comes to cheap Jewish prayer shawls that won't break the bank, this is absolutely your top choice.
Bottom Line: This expertly produced praying shawl shines in its versatility, and for a very fair price. If you need to replace your old Tallit or want to give one away to a special person, you've got a great option right here.
Israeli Tallis Prayer Shawl 24/72 Blue & Silver or Blue & Gold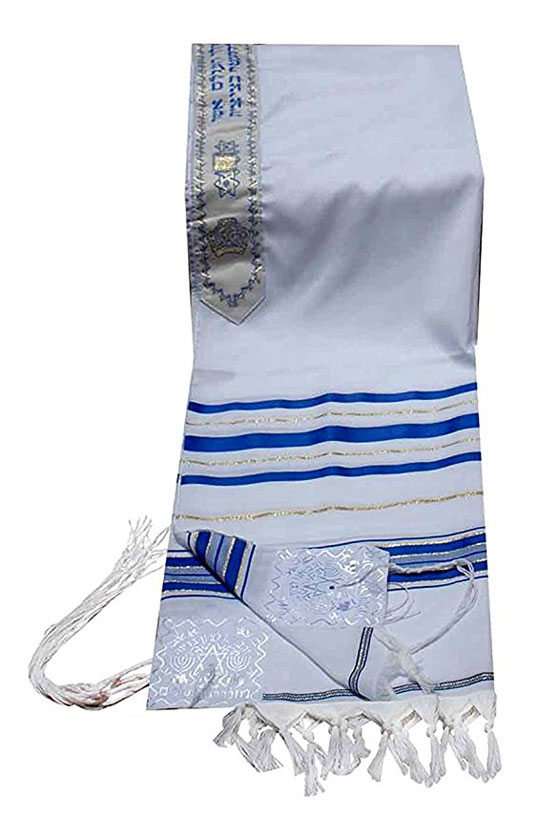 Pros
Well-designed Israeli prayer shawl made of synthetic materials
Imitates natural materials successfully
Traditional embroidery 
Extremely cheap
Cons
Rough texture, making it less pleasant to the touch
Does not have the traditional size, so maybe too small for some 
Why? 
Another great Tallit prayer shawl by Talitnia, especially at such a low price. It features quality synthetic material that will last you a long time and has traditional embroidery in blue, silver and gold. 
Why Not?
Even though the material does a good job at imitating natural materials like wool and cotton, it is not as soft to the touch as most people would want. If worn around the neck directly on the skin, this Tallit may cause a bit of irritation, compared to other praying shawls from Israel.
Who is it For?
This authentic praying shawl is for the price-conscious buyer. Also, if you're looking for a quality Tzitzit that is easy to maintain, then definitely consider getting this shawl. You can get it for yourself, or do the smart thing and get this as a great gift for a young family member. 
Bottom Line: If you're looking for a Tallis that will last, is easy to maintain and will not cost you too much, this is the one you need. Spending a bit more would get you more quality, but if you're looking for a basic Israeli prayer shawl, then this might be the one for you.
Pomegranates: Yair Emanuel Wool Tallit for Men with Embroidery (Silver & White)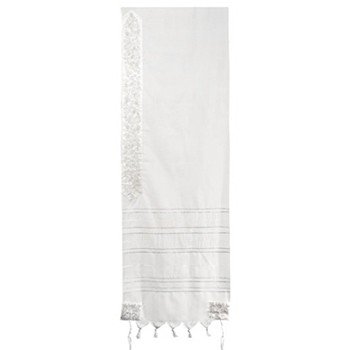 Pros
High-quality wool, making it kosher in accordance with strict standards
Traditional design by artist Yair Emanuel, with only slight modern touch
Classic pomegranate motif in the embroidery
Cons
Has a bright color, so it stains easily
Why?
A clean & beautifully designed Jewish prayer shawl by Yair Emanuel. This Tallit stands out in its simplicity.
Why Not?
The design might be too simple for some who want to communicate a more powerful message through their Tallit.
Who is it For?
This Tzitzit appeals towards the more traditional Jewish man. Thanks to its simple and elegant design, this Tallis prayer cloth is great for those who like a slightly understated look.
Bottom Line: This Hebrew Tallit is artfully designed and shows true craftsmanship, at a fair price. 
Amazing Hand Woven White + Blue Stripes Silk Antique Tallit Set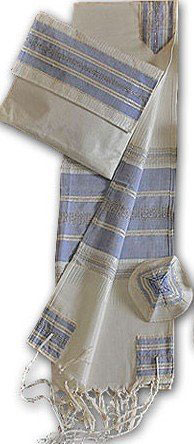 Pros
Hand-woven (made in Israel) by Malka Gabrieli
Timeless design that will appeal to those who value tradition
Comes with Tallit bag and kippah
Why?
An exquisite antique, hand woven Tallit by Malka Gabrieli, one that will stun everyone who lays their eyes on it.
Made of high-quality white silk and features traditional blue motifs and silver accents, this vintage Jewish prayer cloth is a remarkable piece of art worthy of being passed on to your next generations.
Why Not?
Definitely not for the average Jewish person looking for a day-to-day Tzitzit. This is the highest quality Tallit, and it's reflected in the price.
Who is it For?
Appeals to people who appreciate traditional, handmade Jewish Judaica and obviously people who appreciate antiques… this vintage prayer shawl is no exception.
Bottom Line: The handmade Tallit from Israel with the "WoW" effect. A Jewish antique & rare piece of art.
Final Verdict
Let's have a final look at the best, award-winning Tallitot for men:
Top Pick: Yair Emanuel's raw silk Tallit has everything you need in a traditional Jewish prayer shawl. The material is high quality, the embroidery is incredibly well done and the design is rooted in tradition with a modern twist. A Tallit worth our "Top Pick" award.
Personal Favorite: Yair Emanuel's Tree of Life Tallit is definitely our favorite. The unique combination of high quality and playful design makes this Tzitzit suitable for both Jewish men and as a Bar Mitzvah gift. The lifelong symbolism of the Tree of Life design makes this Jewish Tallis stand out from the rest, and probably why so many people love it.
Most Artistic: The hand-embroidered Jerusalem Tallit design is simply a breathtaking piece of art, with a woven cotton Tallit used as the canvas. You cannot help but be awed by this luxurious masterpiece, and we surely have. So the "Most Artistic" award is more than appropriate for Yair Emanuel's unique design.
Best Value: This traditional pure wool Tallit truly impressed me with its combination of high-quality, tradition & a great price. It will give you a fantastic return that lasts and can be used for all Jewish occasions. It's pretty clear why it's such a best-seller…
Most Popular: Talitnia's traditional wool Tallit is one of the most popular Hebrew prayer shawls available on Amazon. Suitable for every Jewish person: frum, religious, traditional and anything in between. The wisdom of the crowd never disappoints, and that holds true for this great Tallis as well. 
Summary
When it comes to a Tallit prayer shawl, there are many options to choose from and many things to consider.
So, it's no surprise that choosing the right shawl can sometimes be a pretty challenging task.
That's why I created this guide – to help you find the best Jewish Tallit for men, for your particular needs.
I hope I was able to do that, and I can't wait to hear your thoughts & comments.
Which Tallit did you end up choosing?