Shabbat is almost over.
A new week is about to start.
How do you make the transition?
With the Havdalah, of course…
In the Havdalah blessing, we thank God for making a distinction between the sacred, and the ordinary.
Now you get to decide: would you like the last Shabbat ritual to be special, or ordinary?
The answer is clear. The way to do that?
A special Havdalah set…
Best Havdalah Sets
Before we dive any deeper into the magnificent Shabbat Havdalah sets that won a spot on the list, how about a little spoiler?
These are the top Havdalah sets from each respective category… the ones that deserve a gold medal (or at least our version of it).
Modern & Contemporary Havdalah Sets
Sure, you can light a traditional Shabbat Havdalah candle and call it a day… Or, you can make the Havdalah ceremony an exhilarating event that starts off your week on the right foot…
Which one sounds better?
If you answered the latter, then allow me to introduce the top modern Havdalah sets that will end your Shabbat on a beautiful note and start your week with a boost…
Yair Emanuel Stainless Steel Pomegranate Havdalah Set
Top Modern Set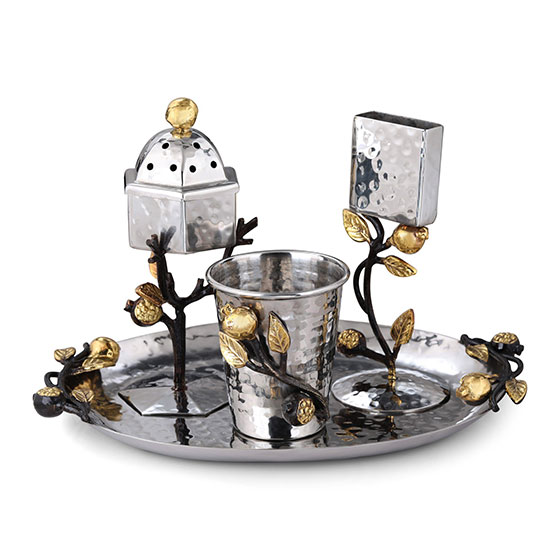 When you talk about modern Jewish Judaica, you talk about Yair Emanuel.
Israel's most popular artist also deserves his place on the top of our list, and the clear winner of the Modern Havdalah sets category.
This beautiful, sparkling, stainless steel Havdalah set creates a seamless blend of modernity and Jewish tradition thanks to the traditional pomegranates surrounding the Havdalah spice box, candle holder & Kiddush cup, giving your Shabbat a final tasteful experience, and a spark of beauty to start off your new week.
Highly Polished Non-Tarnishing Metal Havdalah Set + Mother of Pearl Design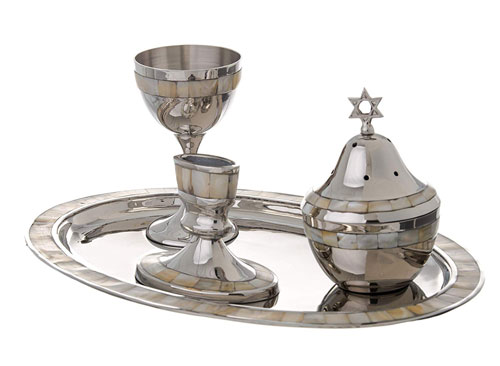 Let me tell you something: every Shabbat Havdalah set on this list were my own personal favorites. But this stunning piece isn't just my own personal choice…it's also Amazon's top choice (and seller), for a good reason…
This bestselling, contemporary Havdalah set is crafted from a highly polished metal alloy, with a unique, handmade mother of pearl design.
There are 4 pieces in this metal set:
Gleaming ceremonial wine goblet (Kiddush cup)
Jewish Spice box (with a pierced lit and a Star of David decoration)
Havdalah candle holder
Metal tray
Note: It's much more impressive in reality than what it looks like in the (low-quality) image.
Yair Emanuel Textured Nickel Havdalah Set. Variety of Colors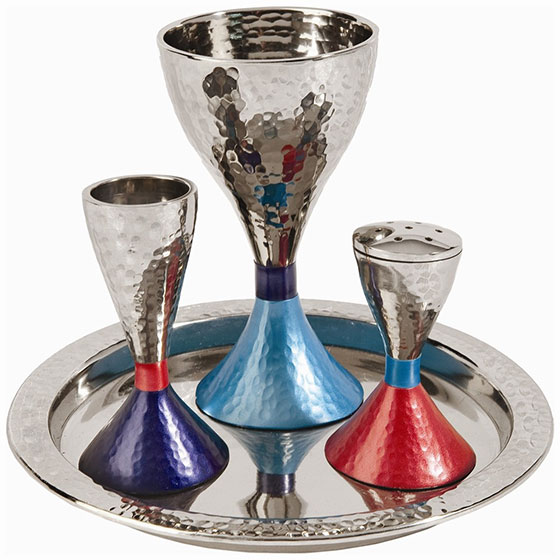 Yair Emanuel makes a second appearance in this category, and rightfully so.
This ultra-modern, artistic Havdalah set is made of aluminum and features a stunning & unique blend of ancient Jewish tradition and contemporary design.
Great as a gift for any special Jewish occasion (Bar Mitzvah, weddings, birthdays…), or as a new addition to your Jewish kitchen. 
Silver Havdalah Sets
Shabbat is a "queen". And a queen should be treated accordingly… And what better way to treat our queen than with a royal, silver look?
If you want your new set to fit into that notion, then a silver Havdalah set (with a Silver Kiddush Cup, candleholder & Shabbat spice box holder) is what you're looking for…
And guess what: you found it.
Silver Plated Filigree Design Havdalah Set
Top Silver Set
Speaking of the queen, this silver Havdalah set looks like it was taken straight from Queen Elizabeth's Jewish kitchen.
This magnificent silver plated set is made in Israel, and is fully decorated with a beautiful filigree design.
The 4 royal-looking pieces in this set include:
Kiddush wine cup
Havdalah spice box
Havdalah candle holder
Octagonal silver tray
A beautiful Jewish addition to any Jewish household, whether yours or one of your loved ones.
Havdalah Set – Braided Candle + Spice Box Holder – Yair Emanuel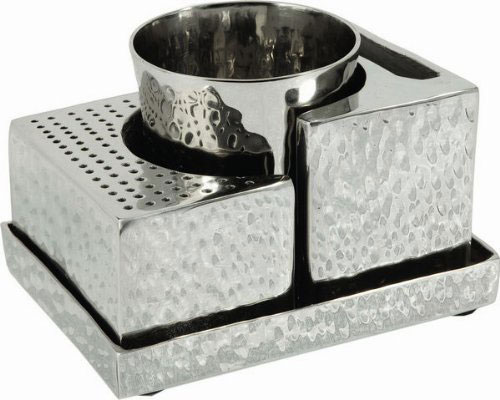 Another Yair Emanuel original piece of artwork… this time with a hammered finish, which gives it a timeless (almost ancient) quality.
This compact, modern & elegant set comes with a braided Havdalah candle & Jewish spice box holder and is extremely easy to use.
Stick a braided Shabbat Havdalah candle into rectangular opening, and let the cup easily blow out the candle when you're done.
Great for any Jewish household or even as a Jewish wedding gift.
Bonus: Fragrant spices are included in the Shabbat spice box.
Traditional Havdalah Set with Jerusalem Motif
Jerusalem of gold? Not this time…
This time it's Jerusalem of silver.
If you miss having the feeling of performing Havdalah in Jerusalem, then this nickel-plated Havdalah set from Israel will bring you very close.
Fully decorated with Jerusalem's old city stunning scenery, this elegant Havdalah adds a wonderful touch to any Jewish home. Besides the beautiful Jerusalem design, it also comes with a signature of the final Havdalah blessing: "Hamavdil Bein Kodesh Le Chol", which marks the transition from the holy Sabbath to the rest of the week.
Want to get our brand new Jewish buying guides straight to your email inbox?
Ceramic Havdalah Sets
If you appreciate high quality ceramic Judaica items… then boy oh boy will this section be a treat for you.
Sure, the most famous Judaica ceramics are Armenian ceramics… but you're about to be surprised with some state-of-the-art ceramic Havdalah sets: both Armenian and not.
Havdalah Set – 5 Pieces Armenian Ceramic
Top Ceramic Set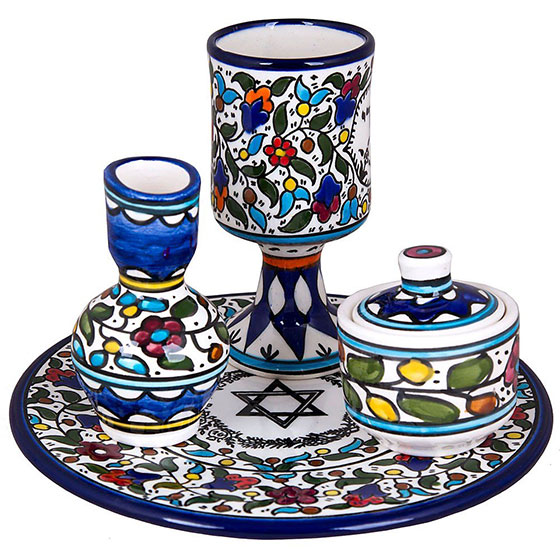 Let's start off with the most popular Judaica ceramic design: Armenian ceramics.
This traditional Havdalah arrives straight from Israel and features a colorful & cheerful floral design on the traditional blue Armenian theme.
The famous Havdalah blessing is obviously also present: "Hamavdil Ben Kodesh Le Chol".
If you're an Armenian ceramics fan, then the beautiful design and cheap price probably already convinced you to add this one to your collection.
White Ceramic Havdalah Set Kiddush Cup Candle Spices Fragrance Judaica Kabbalah
Purity, Spirituality & Significance. 
That's what Shabbat stands for… So, what better way to end Shabbat with a ceramic Havdalah set that represents exactly that?
Combine the white & gold colors with the beautifully written Hebrew text of the associated blessings, plus the unique floral design – and you get a wonderful way to kick off your new week.  
Oh, and it's very cheap… lucky you. 
Jerusalem Havdalah Set Ceramic
Having a tough time to gather the kids around for Havdalah?
I have good news: problem solved.
Israeli artist Sharon Muchnick was able to make the traditional Havdalah items very delightful and engaging with her unique touch.
Every item in this set has the associated blessing engraved on it, so everyone can follow along easily.
This playful ceramic Havdalah set includes:
Havdalah spice box (windmill)

Wine cup

Havdalah candle holder

Ceramic plate

 
A fantastic item for a young Jewish family. 
Pewter Havdalah Sets
Speaking of royal, you can't talk about a royal-looking Shabbat Havdalah candle set and not mention the popular Pewter Havdalah sets. If silver doesn't cut it and you want to step it up a notch – then a Pewter set is the way to do that.
Enameled and Jeweled Pewter Havdalah Set-Seven Species 
Top Pewter Set
Wow…
That's what I said when I first saw this breathtaking Judaica piece.
The radiance of style… the beauty… the "seven species of fruits" decoration… just perfect.
The shining pewter on this piece is decorated with 24K gold, with highlights of iridescent enamel with sapphire crystals.
It includes all of the required items for Havdalah (and then some), all decorated with the "seven species of fruits" native to the land of Israel:
Havdalah cup
Saucer
Spice container
Havdalah candle holder
A magnificent Pewter Judaica Havdalah set, Jewish artwork and a future family heirloom – all in one.
Pewter Havdalah Set – Jerusalem
A fully pewter crafted Jewish Havdalah set from Israel that will make you wonder how you ever managed to do Havdalah without this gorgeous set.
This pewter Havdalah set is very affordable, especially considering it's extremely high quality (the photo doesn't do justice to it): it's made of thick metal with a fantastic finishing & varnish, adding a delicate feeling to it and practically guaranteeing it will last for many years to come.
Tip: A great gift for any Jewish occasion.
Wooden Havdalah Sets
Why are you getting a new Shabbat Havdalah set? Do you need one just for utility reasons?
In that case, then this section is not for you…
This section is for people who are looking for art, and only then for a set for their Havdalah ceremony.
The wooden Havdalah sets featured here function as traditional sets for Havdalah on Shabbat, and as gorgeous Jewish artwork, you can proudly display in your home the rest of the week…
If that's what you're after, then read on…
Yair Emanuel Painted Wood Havdalah Set with Jerusalem Design
Top Wood Set
Yair Emanuel has done it again.
His gorgeous wood Havdalah set is THE artistic set for your collection.
The vivid colors of this hand painted artwork will stand out anywhere, anytime.
It includes the following items:
Shabbat Spice box
Kiddush cup
Havdalah candle holder
Pedestal
Let me break it down how you can use this set:
Make your Shabbat guests' eyes pop out during the Havdalah ceremony (not literally)
During the weekday, display it so they'll ask you "wow, did you get this from?"
And of course: get it as a gift for your friends & family on any Jewish occasion.
Yair Emanuel Combination Shabbat & Havdalah Set + Jerusalem Design
Another eye-catching piece by Yair Emanuel (made in Israel).
This heirloom-quality, innovative painted wooden Shabbat & Havdalah set can be used both to welcome Shabbat and to end Shabbat. And oh my what a special way to do that.
Display it oh-so-proudly in your kitchen or living room during the week, surprise everyone when Shabbat comes in, and delight them when it's Havdalah time… Mission accomplished.
Wood & Glass Havdalah Set – Carved and Painted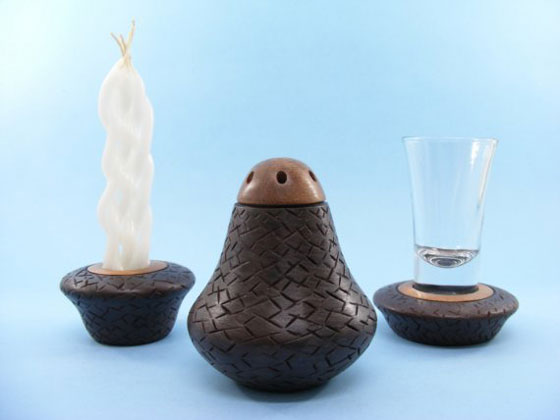 The official custom-made Havdalah gift set in this article.
This Havdalah set is custom-made from Sapele wood, carved & painted, leaving parts of the wood in its natural color.
Designed & made specifically for special Jewish occasions: Jewish weddings, donor appreciation gifts or other Jewish celebrations.
Tip: Great as a gift, not so much for personal use.
Travel Havdalah Sets
Here's a challenge for you: How do you do Havdalah when you're on the road, with no sign of a synagogue nearby? Do you just skip it?
Hell no… that's what travel Havdalah sets are for: small, portable and space-efficient.
Hand Painted Travel Shabbat & Havdalah Set – Pomegranates Designed
Top Travel Set
On the road and need to do Kiddush & Havdalah? We've got your back.
This hand-painted, wood travel Shabbat & Havdalah set is extremely beautiful, and more importantly: very compact.
Hard to believe that this condensed and space efficient set has everything you need for Kiddush, candle lighting, and Havdalah, all in a travel-friendly vessel.
And the vivid colors and pomegranate theme (the symbol for abundance) will make you feel like you have everything you need, even (and especially) when you're traveling light.
Hammered Travel Havdalah Set- Multicolor Rings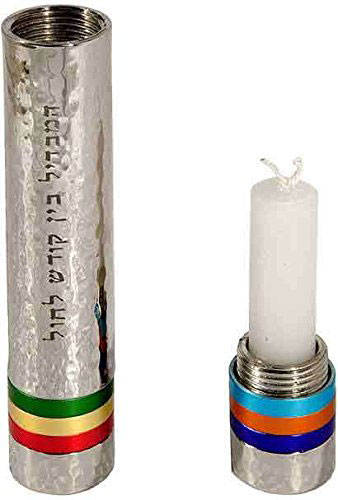 Looking for a portable Shabbat Havdalah set small enough to fit into a purse? How about your pocket?
This travel Havdalah set is so compact you won't even notice it's there.
When it's closed, it looks like an ordinary stick… but when you unscrew the ends, magic unveils: you'll discover a cute miniature spice box at one end and a candle holder at the other. How cool is that?
Glass Havdalah Sets
If you've been following my writing for the past few years, you probably know by now that I'm a huge fan of Lily Shohat and her brand: Lily Art. She's a master of unique, handmade Judaica products, especially glass Judaica items.
And of course – her Glass Havdalah sets are no different… That's why it's no surprise her glass sets dominate this section.
Glass Havdalah Set with Pomegranate Motif
There's a reason why Lily Art's amazing items dominate the glass Havdalah set category… and the reason is standing here right in front of you. Well, at least an image of it (and a pretty poor photo I might add, it looks much better in reality)…
Lily's pomegranate-themed glass Havdalah craft includes:
Wine glass
Candle holder
Spice jar to hold the "besamim" (fragrance)
Glass tray (featuring a multi-colored pomegranates illustration with gold accents, and an excerpt of the Havdalah blessing)
A beautiful piece of art for your own Shabbat evenings, or as a marvelous gift for any Jewish holiday (Rosh Hashanah, Yom Kippur…) or special occasion. Either way, whoever gets it – wins. 
Delicate & Exquisite Design Glass Havdalah Set + Dark Purple Stripes and Flower Décor
Well, the title says it all: a delicate & exquisitely designed Havdalah set.
Lily's glass masterpiece includes a candle holder, wine cup and spice jar for the fragrance blessing, in a unique flower design ̀with dark purple stripes on top. 
Like any other beautiful glass set for the Jewish Sabbath ritual – it's an excellent gift idea for any Jewish friend or relative. 
Unique Lily Art Glass Appliquéd 4 piece Havdalah Set
Top Glass Set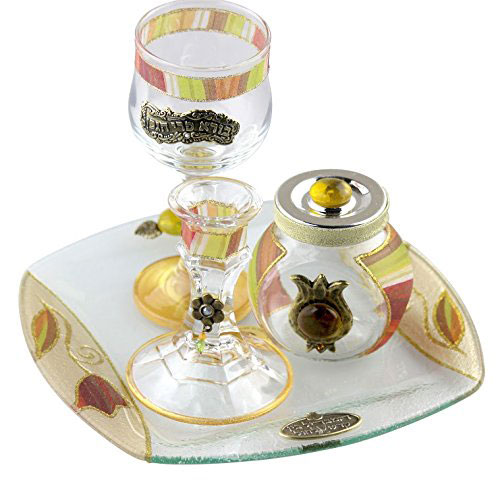 It's orange time!
This glass Havdalah set is very similar to the previous one, except this set has a more unique & colorful design to it.
You probably noticed the glass tray is a bit different too: this tray has a laser cut design and the Havdalah blessing in Hebrew.
Bonus: Havdalah guide included.
Cheap Havdalah Sets
You don't have to spend a fortune on a nice Jewish Havdalah set.
There are a ton of great options out there that are very affordable, so you don't need to break the bank just to perform the end of Shabbat ceremony…
Let's have a look at some of these inexpensive options, shall we?
Grapes Motifs Silver Plated 4 Piece Havdalah Set
Top Cheap Set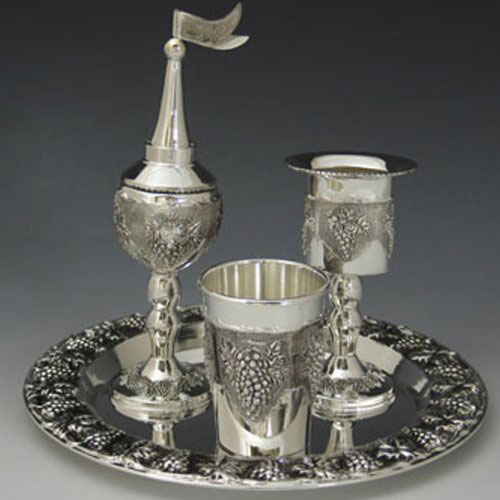 The wisdom of the crowd never fails… that saying definitely holds true here…
You're looking at one of the most popular Havdalah sets you can find online.
This silver-plated beauty is made in Israel, in great detail, and includes everything you need for your Havdalah ceremony: spice tower, Havdalah holder, Kiddush cup and a round plate (all designed in a grapes theme, which references the Jewish blessing for Kiddush).
Note: The product looks SO MUCH better in real life than in the photo.
Care to guess how much this very bright & reflective set costs? Go ahead, click on the link… you're about to be surprised.
An absolute bargain…
Majestic Giftware Havdalah Set, Silver Plated
Majestic Giftware product great Judaica gifts… and this Judaica Havdalah set is no different.
This high-quality, silver plated set is elegantly designed, beautifully packaged and extremely affordable – all the qualities you expect from the perfect gift for any Jewish holiday or occasion.
Tip: Especially great for big Jewish holidays such as Yom Kippur, Rosh Hashanah & Passover.
Summary
The Havdalah ritual doesn't get a lot of attention on Shabbat. Hopefully, that's about to change…
Now that you got yourself a brand-new Jewish Havdalah set, you can perform the Havdalah ceremony with a smile on your face, and get ready for a new week…
I hope I helped you find a nice set for your upcoming Havdalah ceremony, one you'll use for many years to come…
If I have, I'm curious to know which one is your personal favorite?
Shabbat Shalom (or Shavua Tov) 🙂