10 Best Dead Sea Salt & Mineral Soap Bars for Your Face + Body – Reviews (2022)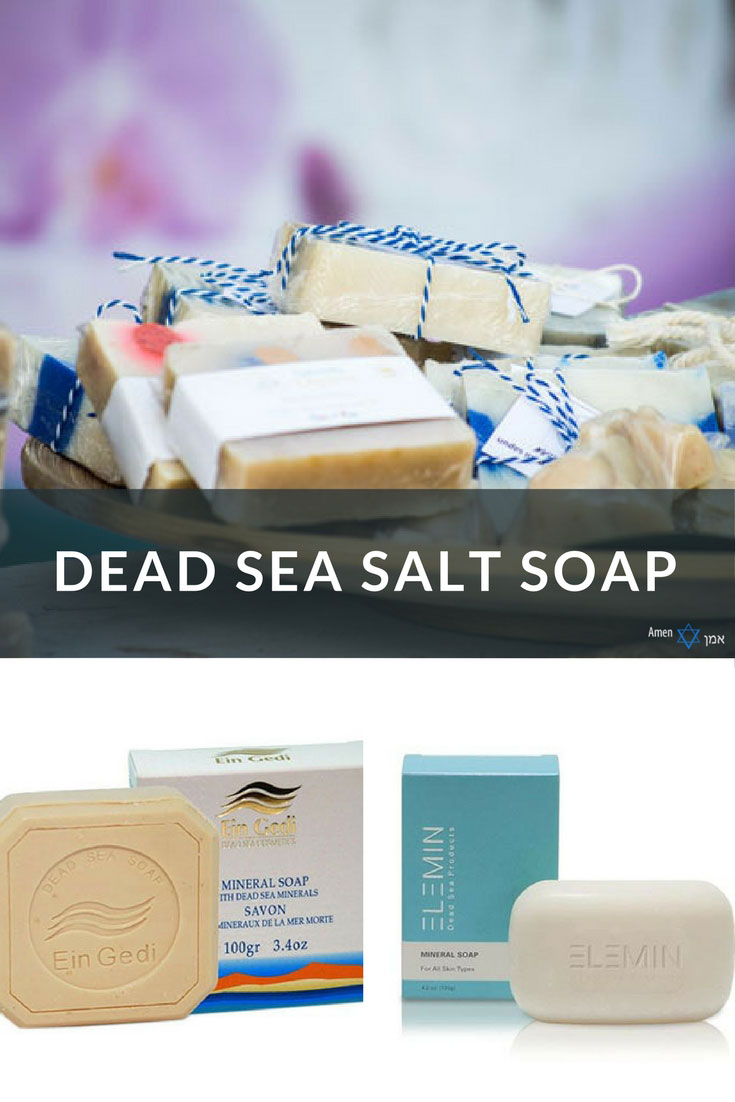 Amen V'Amen is supported by its audience. That means when you purchase something from one of our partners through one of our links, we may earn a small commission at no additional cost to you. Amen V'Amen is also an Amazon Associate, so we may earn a commission from qualifying purchases. Thank you for your support!
Regular soap bars are nice and all…
Unfortunately, "nice" doesn't really cut it when you're trying to properly cleanse your skin, let alone getting rid of challenging skin disorders like acne.
That requires the "big guns"… you need a formula that is stronger, more effective and with lasting effects.
Does such a thing exist? Hell yes!
Introducing: Dead Sea salt soap.
The Dead Sea – the lowest place on earth, contains some of the highest concentrations of healthy salts & minerals in the world.
Dead Sea salts are known for their powerful cleansing capabilities, tremendous healing powers and they're one of the best ways to deal with skin disorders and naturally cleanse your skin.
Time to say goodbye to your average soap…
Instead, I'm about to introduce you to the best Dead Sea salt soap bars for your skin, that is both incredibly effective and affordable.
Let's begin…
Top Dead Sea Salt Soap Bars
Here is a sneak peek of the top Dead Sea salt soap bars we chose from the many options out there.
Let's introduce them before we dive deeper into each one.
SPOILER ALERT: We're about to reveal our award-winning products, so skip this table in case you don't want the spoiler.
Top Pick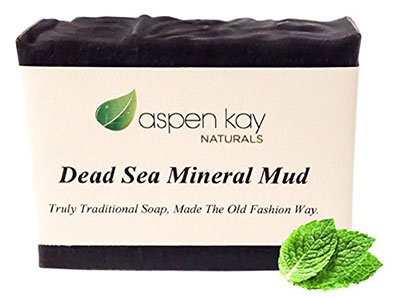 Why Should You Get It?
Wish you could rub your skin with some Dead Sea mud, huh?
Don't sweat it – Aspen Kay's Dead Sea mud soap brings the nutrient-rich Dead Sea mud straight to you.
Completely organic & premium quality, this soap has no harsh chemicals or preservatives whatsoever. In fact, it's vegan!
Note: The soap is handmade – no animal testing.
It contains certified essential oils that your skin will just love. Handmade (the traditional way) in Israel, with 100% pure Dead Sea mineral mud with fine grains, designed to exfoliate dead skin cells from your body and reduce wrinkles.
The soap can also improve your skin's blood circulation and regeneration, thereby adding extra radiance to your skin.
What about the scent, you ask? It's naturally scented with high-grade essential oils of peppermint, eucalyptus, and lemongrass.
Who is it For?
Vegans! But besides that, it's ideal for both men and women of all skin types. It's also a pretty versatile soap: you can use it as body soap, face soap, hand soap, or even shaving soap.
The highly effective anti-aging effects (reduces wrinkles) make it a great choice as an anti-aging soap as well.
Pros
Vegan soap with high-quality ingredients
Used for all skin types
Made in Israel
Relieves skin disorders – acne, psoriasis & eczema
Cons
Dries the skin a little
Takes some time to show results
Our Rating: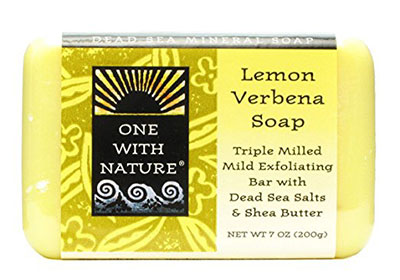 Why Should You Get It?
One with Nature's delicious Dead Sea salt soap somehow manages to combine the most impressive (and natural) ingredients into one soap: we're talking about a combination of Dead Sea salts, with a pure vegetable base & shea butter…
With that kind of blend, your skin toxins won't stand a chance, and you'll suddenly discover a whole new level of smoothness you never thought was possible. And I haven't even mentioned the essential oils they added to the formula, giving the soap bar a delicious and intoxicating fragrance you won't forget for a long time.
No wonder why so many people vouch for this soap and keep reordering it.
Who is it For?
It's pretty ideal for all skin types, especially for dry and extra sensitive skins.
Pros
Soothes and smoothes dry & sensitive skin
Deeply cleanses your body from toxins
All-natural ingredients
Cheap!
Our Rating:
Also Recommended: After you're done washing your hands, soften your hands with one of these soothing Dead Sea hand lotions.
Best Value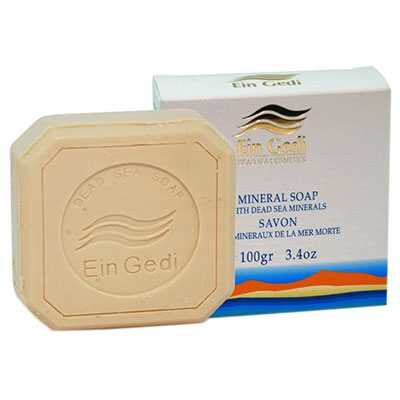 Why Should You Get It?
In case "Ein Gedi" sounds familiar to you – it's because that's the name of the famous Israeli Kibbutz, located west of the Dead Sea. And yes, you guessed it right: it's also where this soap is made.
You know what they say – If you're looking for authenticity, go straight to the source… in which case, this is as authentic as it gets.
Combined with vitamin-rich, moisturizing olive oil and hydrating, vegetable-based glycerin, Ein Gedi's soap gives you an incredibly nourishing & cleansing soap that will make your skin nice and smooth.
Note: It doesn't contain any animal ingredients.
Who is it For?
Suitable for daily or occasional use by the whole family.
I recommend using it as a replacement for your average soap. Wouldn't that be nice?
Tip: You can use it as a body soap in the bath or shower.
Pros
Good for all skin types
Made in Israel
Low price!
Cons
Longer shipping time (ships from Israel)
Our Rating: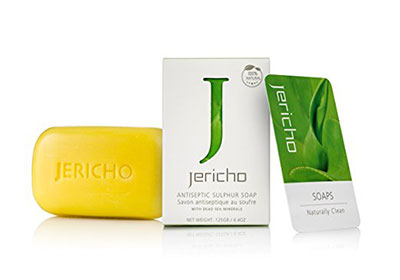 Why Should You Get It?
Jericho's soap is pretty unique. Besides the Dead Sea minerals, it's also enriched with Sulfur – a mineral recommended by Dermatologists for treating various skin disorders, such as acne, rosacea, eczema, and others.
And indeed, many people reported having huge success with their acne, thanks to Jericho's Sulfur soap bar.
The soap's powerful blend, though delicate, is extremely effective. It certainly provides the facial treatment worthy of the price you're paying (and much more)
Note: Its natural blend contains Aloe Vera and Olive Oil which balances the skin's moisture.
Who is it For?
Especially effective for acne-prone skin and to reduce inflammation…but it works well for all skin types.
Pros
Rich with sulfur – very effective against acne
Good for both Face and body treatment
Made in Israel
Cons
Leaves the skin a little dry
Our Rating: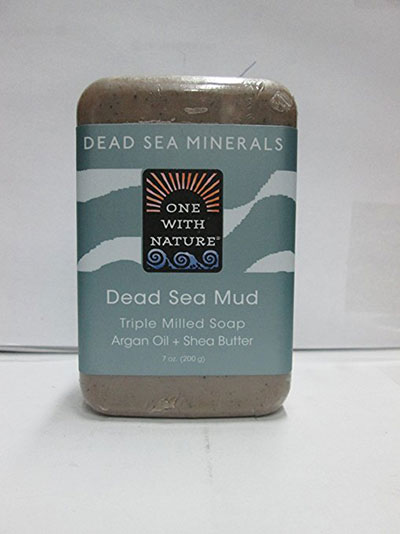 Why Should You Get It?
One with Nature returns – this time with their special Dead Sea minerals mud soap.
This bestselling mud soap is rich with salt & minerals, that is able to deeply cleanse and restore your skin's natural PH. This is thanks to their unique combination of pure Dead Sea mud salts (up to 21), argan oil, shea butter – all in a natural vegetable base. With this blend, rest assured that skin toxins won't stand a chance of survival. Triple milling makes this Dead Sea mud soap of high quality and fragrance-free.
This is perhaps why many people order, reorder and vouch for this soap.
Note: The soap is made with absolutely nothing artificial.
Who is it For?
This Dead Sea mud soap is good for all skin types, especially great for sensitive and allergy-prone skin.
Did You Know? This mud soap was also awarded "Amen V Amen's Favorite" Dead Sea mud soap bar for your skin.
Pros
Deeply cleanses your body from toxins and restores PH levels
Great for allergy-prone skin
Cons
Leaves a waxy coating when used for washing hair
Our Rating:
Our Favorite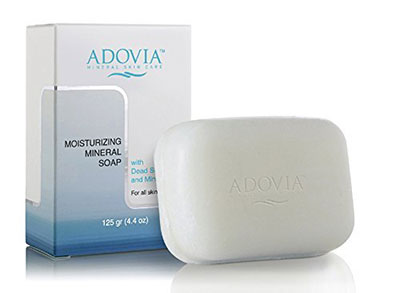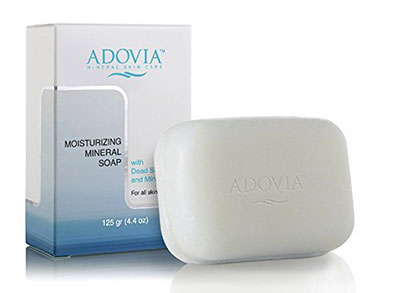 Why Should You Get It?
Let's take results: Adovia's Dead Sea soap bar brings exactly that – results.
Its impressive combination of Dead Sea minerals (26 of them) also contains trace elements collected straight from the Dead Sea bath salts in Israel.
The special combination has the ability to hydrate & moisturize your skin, making it a great fit for dry and sensitive skin.
It feels much better on the skin than your average soap bar, both on your hands and your body.  Plus, it accelerates skin growth, and stimulates collagen and elastin synthesis.
A great little moisturizing soap to have in your bathroom.
Who is it For?
Ideal for people with dry and sensitive skin. A great soap bar for speedy skin renewal.
Tip: Consider weekly use for maximum skincare benefits.
Pros
Gentle and non-irritating
Good for sensitive skins
Gets rid of dirt and cleanses your skin
Cons
A bit pricey
Quite small for the price
Our Rating: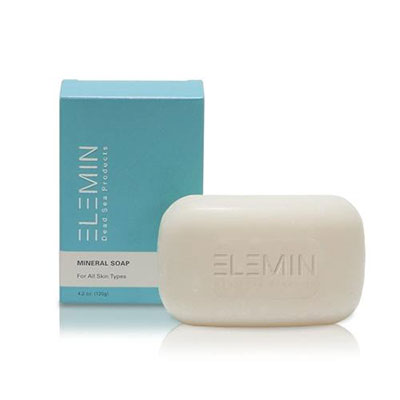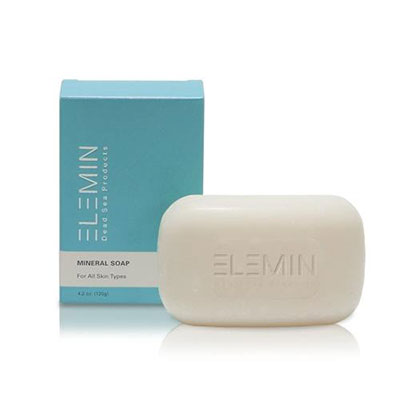 Why Should You Get It?
Elemin's Dead Sea mineral soap bar came very close to win our "Personal Favorite" award.
Made (and shipped) in Israel, Elemin's soap contains an excellent combination of pure Dead Sea salts, mineral compounds, and various organic elements, scooped straight from the shores of the Dead Sea in Israel.
Their soap can cleanse, smoothen and purify your skin in one gentle action. It's a "one-stop" solution to remove dirt, trapped oil and bacteria from your skin while infusing essential moisturizing minerals that nourish and protect your skin.
Note: You can also find Elemin's premium Dead Sea cosmetics in some of the world's most luxurious hotels and hotel suites.
Who is it For?
This Dead Sea soap is ideal for all skin and hair types. Use it as a replacement for makeup removers. It will leave your face clean, smooth and soft.
Tip: Avoid contact with your eyes.
Pros
Pure Dead Sea salts & mineral compounds
Made in Israel
Cons
Longer shipping time (ships from Israel)
Our Rating: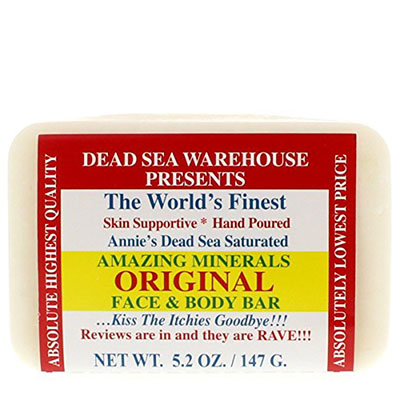 Why Should You Get It?
Despite the ugly soap wrap, this mineral-based face & body soap is quite effective in getting rid of pores and exfoliating your skin.
It's packed with nutrient-rich ingredients including:
Saponified oils of olives
Coconut oil
Palm oil
and of course: Dead Sea minerals
Note: This soap is unscented and uncolored.
Tip: Be careful not to get it in your eyes (it stings)
Who is it For?
Dead Sea warehouse's soap is best for all skin types, especially those with extra sensitive skin. You can use it as a replacement for steroid creams for those with eczema to keep your skin moisturized. Wouldn't that be prudent?
Tip: Can be used both as body soap and face soap.
Why Not?
As a designer, I have to say something about their packaging. It's HIDEOUS.
But hey, you shouldn't judge a book by its cover, so let's ignore my pickiness.
Pros
Moisturizes dry skin effectively
Gets rid of pores and exfoliates skin well
Our Rating:
Also Recommended: The best Dead Sea face wash & facial cleansers for a refreshing start to your day.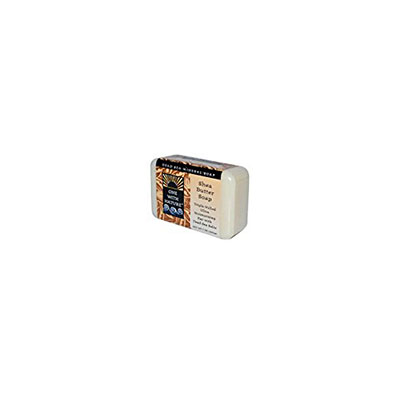 Why Should You Get It?
Fact – the Dead Sea is old. Ironically, the powerful blend of the Dead Sea minerals found in One with Nature's Shea Butter Dead Sea mineral soap bar helps your skin look and feel younger.
Extremely powerful against sensitive skins, and does a pretty remarkable job in getting rid of Eczema and acne.
This blend provides an exceptionally luxurious cleansing experience. It soothes the skin, relaxes muscles, stimulates circulation, and restores the skin's PH.
Add that to the fact that this soap lasts for a LONG time, it's no wonder why this soap received such impressive reviews.
Who is it For?
Particularly effective for sensitive skins, especially if you're looking to get rid of acne or eczema.
Also, it comes in a pack of 6, so it will last you for a very long time… until the next time, you'll reorder it (trust me, I know).
Pros
Lasts for a very long time
Triple-milled with Argan oil and Shea butter
Great price
Cons
The scent is quite strong
Our Rating:
Final Verdict
Top Pick: Dead Sea Mud Soap Bar 100% Organic & Natural
One with Nature Dead Sea mineral soap bar certainly wins our "Top Pick" title. The Dead Sea soap is an effective body cleanser which soothes and smoothens dry and sensitive skin. Its blend contains all-natural ingredients yet at a cheap price.
With its powerful blend, toxins in the body have no chance. The soap is an ideal pick for all skin types, especially dry and extra sensitive skins.
Best Value: Ein Gedi Dead Sea Mineral Soap
Among the most popular soap, you will ever find for all skin types at an amazingly affordable price. If you want authentic – this is as authentic as it gets: It's made in Ein Gedi, an Israeli Kibbutz west of the Dead Sea, promising an experience very close to actually being there physically. It can be used by your whole family, thus a perfect replacement for your average shower soap.
Our Favorite: ADOVIA Dead Sea Salt Moisturizing Soap for Dry or Sensitive Skin
Adovia's Dead Sea salt soap bar is my favorite due to its gentle and non-irritating nature. It's the perfect option for sensitive skin types, easy to use and 100% eliminates dirt and toxins from your skin. Though a bit pricey, it's well worth it because it delivers RESULTS.
Conclusion
That was one purifying article, wasn't it?
Like I always tell my friends: once you go to the Dead Sea, you never go back… And the good news is that you don't have to physically go to the Dead Sea to enjoy its natural health benefits.
You can have the Dead Sea come to you! Well, a small portion of it anyway…
This compilation of Dead Sea salt soap bars is proof of just that.
When you order one of these mineral soap bars, you'll quickly discover the incredible benefits it has on your skin & wellbeing.
Now tell me, which of these Dead Sea soap bars did you get?