8 Best Dead Sea Mud Soap Bars to Cleanse Your Skin – Reviews (2022)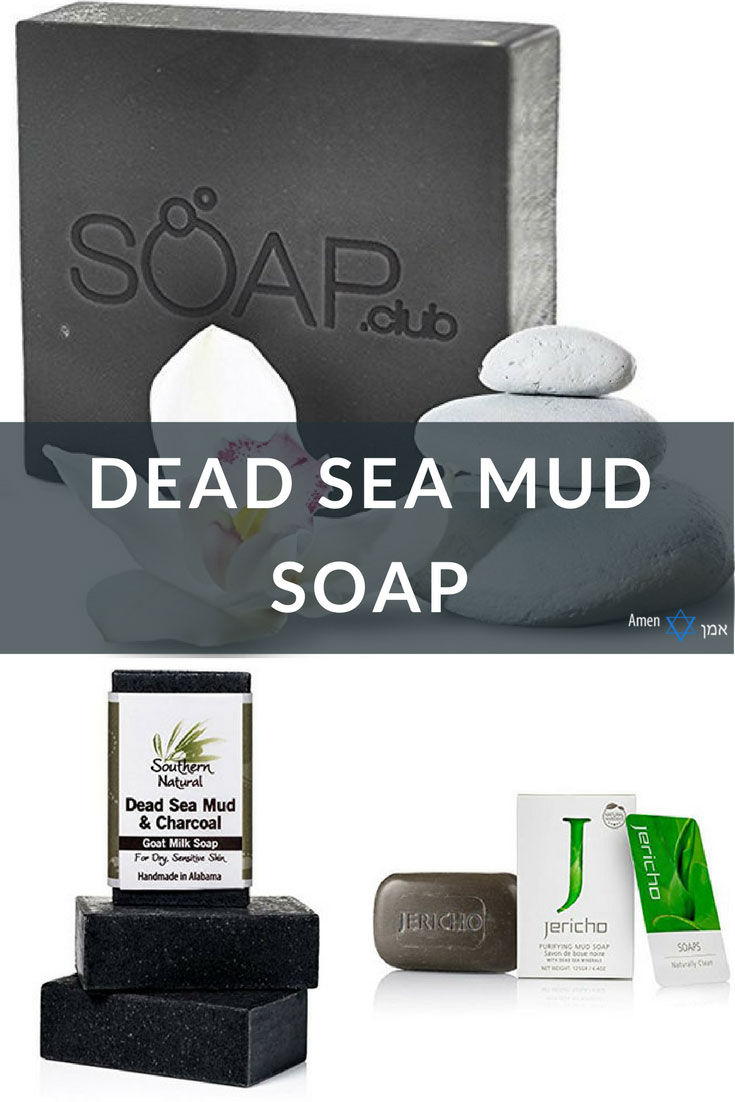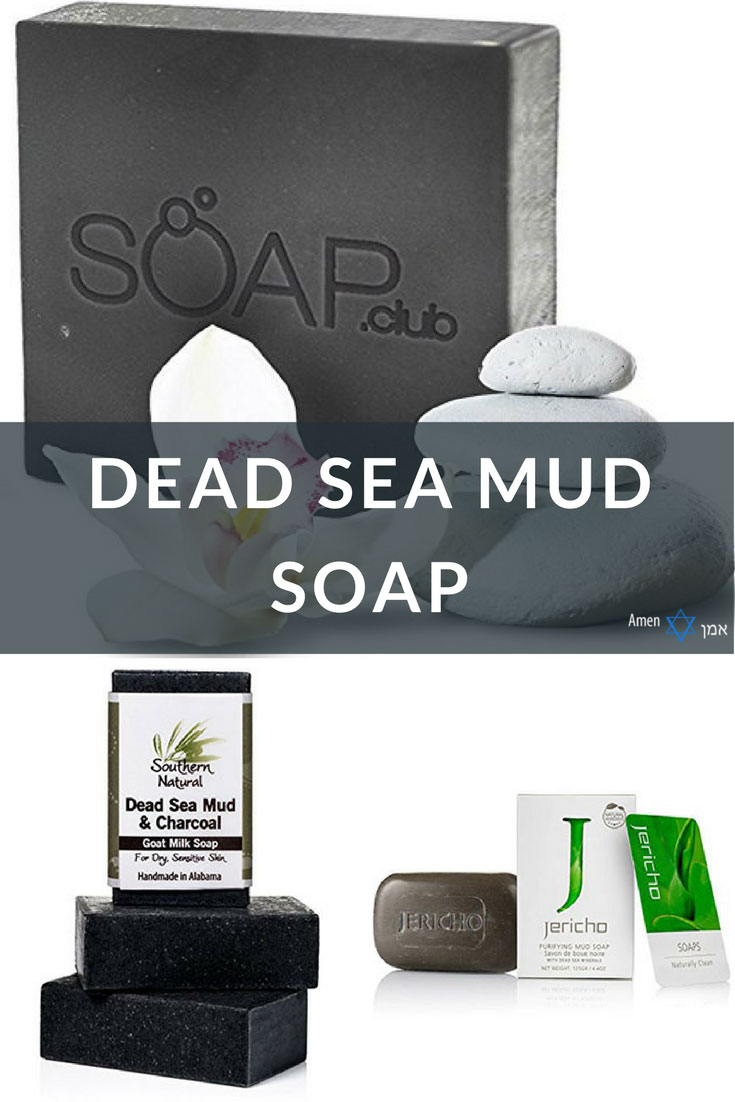 Amen V'Amen is supported by its audience. That means when you purchase something from one of our partners through one of our links, we may earn a small commission at no additional cost to you. Amen V'Amen is also an Amazon Associate, so we may earn a commission from qualifying purchases. Thank you for your support!
You wash your hands, right?
How about your body?
I'm guessing (or rather hoping) that you do…
But there's cleaning, and then there's CLEAN(s)ING.
Yes, I'm talking about Dead Sea mud soap…
As you might have heard, Dead Sea mud can do wonders for your skin.
Whether you're suffering from acne, eczema, psoriasis or just want to get rid of those annoying wrinkles & pimples – these Dead Sea soap bars are proof that sometimes playing with mud isn't so bad.
Make room in your bathroom cabinet (not a lot though), because a small soap bar is about to join the party…
Top Dead Sea Mud Soap Bars
There are a lot of great Dead Sea Mud soap bars out there… but there are also a ton of awful ones and even scams people try to sell you on shopping malls.
That's why I created this list of the best Dead Sea mud soaps, vetted and reviewed by the wisdom of the crowd – to sift out the good from the bad.
And here's a quick glimpse of the soap bars that made the final cut. Keep reading to find out which one is a good fit for your needs.
Top Pick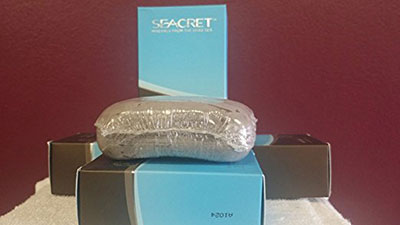 Why Should You Get It?
Also known as the magic Dead Sea black mud soap from Israel.
If you ever ordered a Dead Sea product, I'm sure you stumbled into Seacret's magnificent skin-care products.
Seacret's soap gently & magically cleanses your skin to make it glow, thanks to the mineral-rich black mud soap from the Dead Sea.
Dead Sea mud is known to be rich in minerals, and this soap bar is a great example. In fact, it has the highest quantity of chloride & sodium and therefore cleanses the skin pores effectively.
Who is it For?
This soap is ideal for daily use, for both your face & body.
Seacret's mud soap can naturally treat pimples thanks to its ability to absorb skin impurities and oil.
Pros
Helps fight off blackheads
Evens complexion
Reduces acne
Made in Israel
Cons
Not the best solution for hypersensitive skin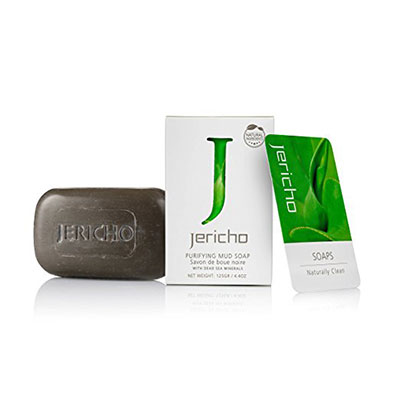 Why Should You Get It?
Jericho cosmetics produce original Dead Sea black mud soap, directly from the shores of the Dead Sea. They contain the necessary minerals that will moisturize & hydrate your skin, and help it reduce wrinkles, acne and many other skin disorders.
They're known for one to produce one of the best anti-aging mud soaps, for a VERY affordable price.
Who is it for?
When you are in your 30's and on the verge of the '40s, wrinkles start appearing on your face. So, if you're 30 years old or higher, Jericho's soap might be worth a spot in your bathroom cupboard.
Tip: Especially useful if you have sensitive & itchy skin
It has the necessary anti-aging capabilities to tighten the pores on your face, as well as deal with Acne, Psoriasis, Eczema and other annoying skin disorders.
Pros
Helps to reduce wrinkles
Detoxifies skin
Assists in recovering from skin disorders
Cons
Dries out the skin a little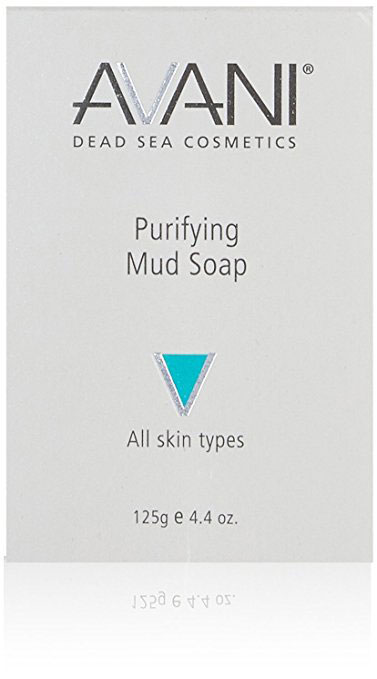 Why Should You Get It?
Avani has a wide range of wonderful Dead Sea Cosmetics, ranging from face packs all the way up to exfoliating scrub. It's no surprise then that their Dead Sea facial mud soap is a huge hit as well.
Formulated from natural Dead Sea mud, and 100% made in Israel, their mud face soap is highly recommended for normal as well as oily skin to help wash away impurities and excess oils, leaving the skin refreshed, nourished & moisturized.
It's suitable for all skin types and can be used daily on your face and entire body when you take a bath. Stay persistent – and you'll start seeing positive results in a few days.
Tip: Avani's products are extremely popular, and are therefore sold in many shopping mall kiosks around the country for significantly higher prices. If you choose to get Avani's products, I highly recommend you order them online for a fraction of the price.
Who is it for?
For both normal & oily skin – this soap will keep your skin clean & clear and neutralize the balance without stripping away moisture.
Tip: Use it twice or at least once on your face… daily!
Pros
Wonderful pore cleansing
Helps all skin types
My Favorite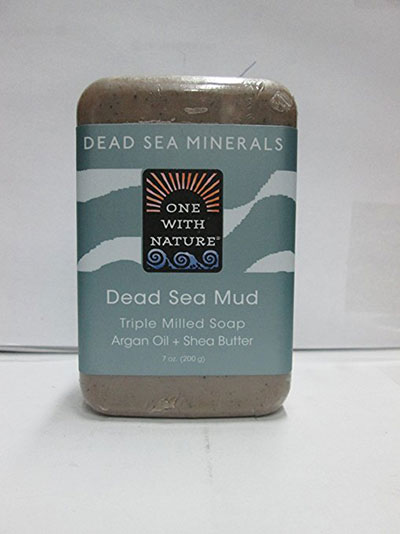 Why Should You Get It?
One with Nature created a pretty amazing mud soap…and, to be honest, it's quite underrated. Their magnificent soap has an incredibility mellow scent, it's organic and exfoliating. It also lasts for a very long time and is one hell of a gem that can really improve your skin condition if you're suffering from acne, eczema, dry or sensitive skin.
There's a very good chance this will be the soap you'll keep reordering over and over again.
Who is it for?
An excellent natural Dead Sea mud soap bar for treating acne, Eczema or extremely sensitive skin. Surprisingly, this soap is also very popular among men, as it has proven to work very effectively in dealing with bad skin conditions.
It causes no redness or skin itchiness whatsoever, so extremely skin-friendly!
A highly effective mud soap if you've got sensitive skin. It has an incredibly mellow scent that can last you for ages and can help you get rid of those annoying skin problems you've been struggling with.
Pros
Deeply cleanses your body from toxins and restores PH levels

Unique component combination
Great for allergy-prone skin
Cons
The not so soothing mud granules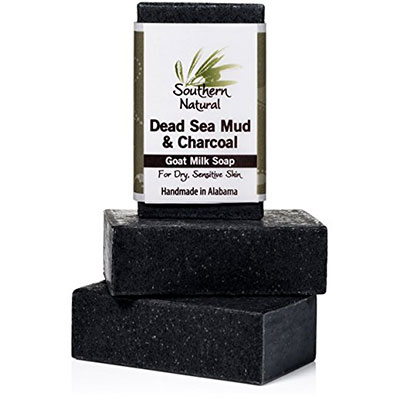 Why Should You Get It?
I present it to you… Southern Natural's specialty Dead Sea Mud Soap for dry & sensitive skin.
This one is probably the unique mud soap of the bunch.
Southern Natural's mud & charcoal soap is handmade of goat milk and many other natural ingredients that are very skin-friendly, including:
Bamboo activated charcoal
Natural oils (olive, coconut & palm oils to create a very moisturizing bar of soap)
Peppermint essential oil (includes antiseptic and antimicrobial properties, all great for acne)
Rosemary Essential oil (includes natural antibacterial properties, great for acne, eczema, and dermatitis)
Eucalyptus essential oil (includes natural antibacterial properties, also good for acne and irritated skin)
Great for all skin types and helps deal with the oh-so-annoying skin discomforts, including psoriasis, eczema, acne, rosacea, and dry itchy skin.
Tip: It also smells terrific!
Who is it for?
If you suffer from rosacea, sensitive dry skin, acne, Eczema or Psoriasis, definitely give this soap a try.
It's most popular among women, but can definitely be helpful for all ages and all genders.
Why Should You Get It?
"Never judge a book by its cover"… That rule definitely applies in this case.
Aspen Kay's Dead Sea mud soap does complete justice to its name; it indeed looks"fugly", or just really ugly…
It's made with a certified combination of:
Organic shea butter
Olive oil
Sustainable palm oil
Organic castor bean oil
Organic sunflower oil
Who is it for?
Made especially for you bargain shoppers out there, looking for valuable solutions on a budget.
Ideal for all skin types and can be used as a face soap, body soap or even shaving soap.
A good fit for women, men and teens…yes you heard me – rub this soap on your husband/boyfriend's face!
Pros
High-quality ingredients
Low price!
Best Value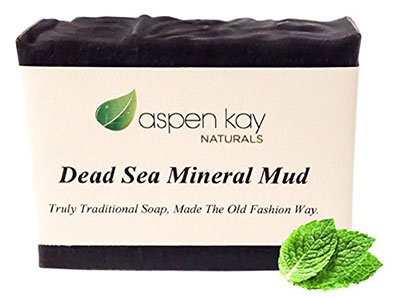 Why Should You Get It?
Also known as the miracle soap from Israel…
Completely organic & premium quality, this soap has no harsh chemicals or preservatives whatsoever. In fact, it's vegan!
This Dead Sea black mud soap contains certified essential oils that your skin will just love. It's handmade (the traditional way) in Israel, with 100% pure Dead Sea mineral mud.
It was hard to find a single fault in this soap… Don't just take my word for it, go and see the amazing reviews for yourself. The wisdom of the crowd is usually right… and when you get such an amazing value for such a low price, then it's no surprise that this best-selling mud soap has seen such a massive success.
Who is it for?
Vegans! Useful for men/women, teens/adults with dry skin, acne, psoriasis, eczema, and other annoying skin pimples. And yes, it's a vegan soap (chemical-free with no animal testing – cruelty-free)!
Pros
Vegan soap
Made in Israel
Very affordable
No animal testing – cruelty-free!
Cons
Takes time to show results
Did You Know? This soap bar was awarded our top Dead Sea minerals soap award.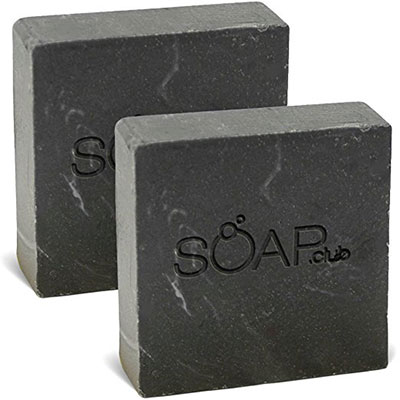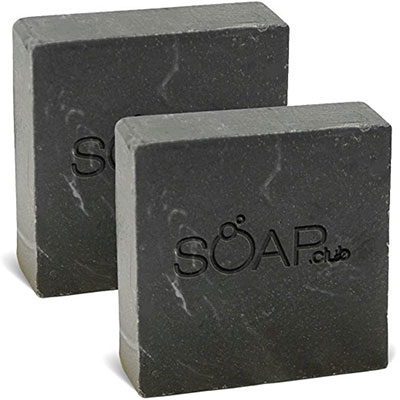 Why Should You Get It?
Handmade with a traditional cold-press soap-making process, which helps preserve the natural ingredients contained in the soap bars. This causes the soap to melt into your skin like a lotion, which means you can use it not just for your body/face, but also for shaving and even shampoo.
It's made of an impressive list of natural ingredients & oils, including:
Olive oil
Coconut oil
Organic soybean oil
Hemp oil
Organic shea butter
All the ingredients are natural and use biodegradable materials – friendly for both the environment and your skin!
Tip: No preservatives, artificial colors or chemicals whatsoever.
Who is it for?
Ideal for all skin types. The fact that it has no preservatives and dangerous materials means you can use it on the most sensitive skins, including babies!
If you're after a more luxurious experience, then the cold-press method definitely gives this soap moisturizing superpowers to give you that exact experience.
Pros
Cold-pressed soap
For all skin types
Final Verdict
Top Pick: The All NEW Original Seacret MUD Soap – Balance Your Skin
Seacret's soap bar, a.k.a the magic black mud soap from Israel, deservedly wins our "Top Pick" title. The soap bar's effective acne treatment and the marvelous nutrients can help get rid of nearly any skin problem (including those irritating fine lines) and in a relatively very short time. It tightens the pores of your skin to keep bacteria away and also brings the natural balance to your skin.
My Favorite: One with Nature Dead Sea Mud Soap Bar
One with Nature's Dead Sea mud soap is my personal favorite. It does a tremendous job getting rid of the most annoying skin problems like acne and Eczema. Plus it's very skin-friendly and causes no itchiness at all, which is very rare. Add that to the unique combination of Argan oil and Shea butter, and you get a great black mud soap that will last you for a very long time.
Best Value: Dead Sea Mud Soap Bar 100% Organic & Natural
One of the most popular and best-selling mud soap bars you can find. Animal-friendly (vegan), skin-friendly and price-friendly. It deals with acne, eczema, breakouts, uneven skin tone, wrinkles, fine lines, dark spots and what not! The "Best Value" you'll get for your money, no doubt.
Conclusion
See? I told you that you don't have to spend a ton of money to finally get rid of your dry skin and enjoy the rich nutrients, salts & minerals the Dead Sea has to offer.
With the right Dead Sea mud soap bar, no skin disorder is unbeatable. From acne, psoriasis, all the way up to pore infections – there isn't a challenge a high-quality soap bar couldn't help with. All you need is a little patience, persistence, combined with the Dead Sea natural components – and you'll start to see results in no time.
Hopefully, I was able to help you find the skin treatment you were looking for, and I'm curious to hear which mud soap bar you ordered… let me know in the comments!
Here's to glowing & happy skin!