10 Best Dead Sea Salt Face Wash & Mineral Cleansers – Reviews (2022)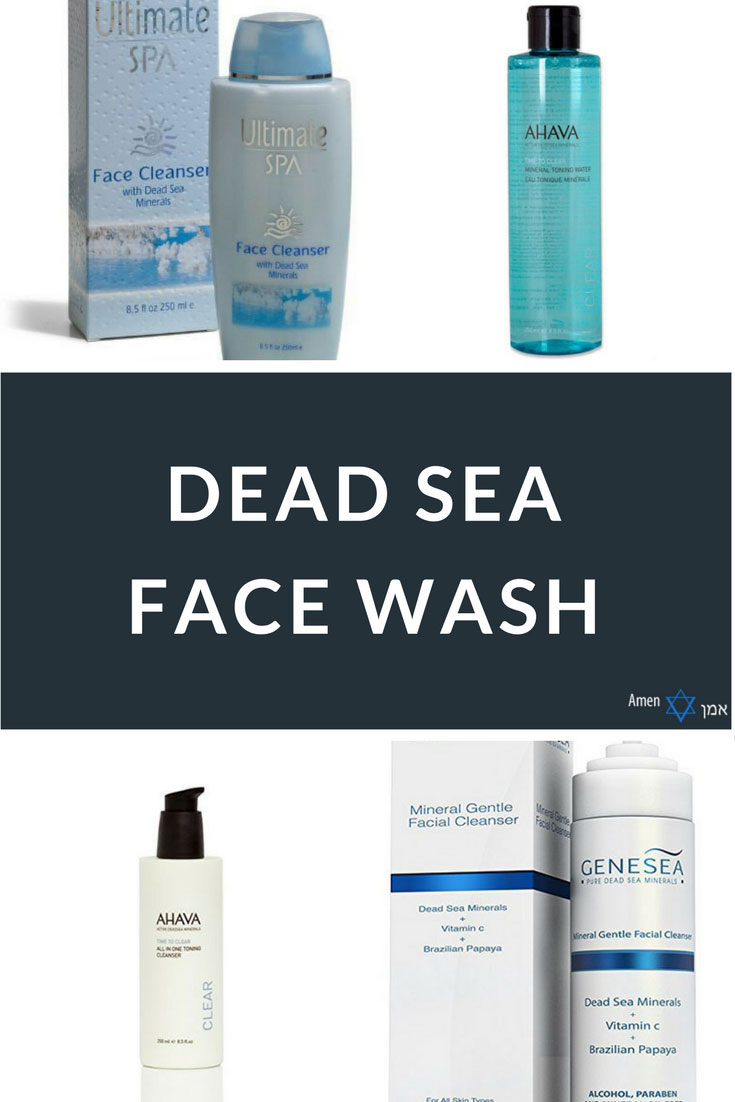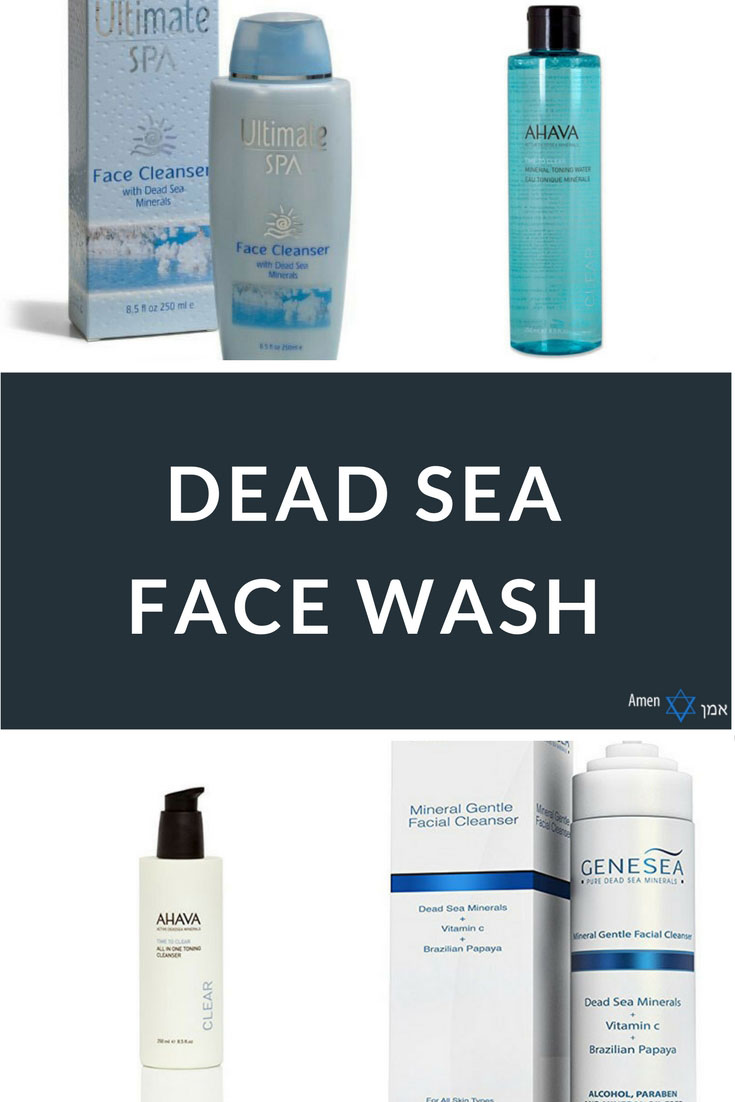 Amen V'Amen is supported by its audience. That means when you purchase something from one of our partners through one of our links, we may earn a small commission at no additional cost to you. Amen V'Amen is also an Amazon Associate, so we may earn a commission from qualifying purchases. Thank you for your support!
You're looking for a new facial cleanser…
And if you're here reading this, then you're probably aware of the tremendous benefits of Dead Sea minerals, and their remarkable healing powers.
Now you're probably thinking:
"Since I'm looking for a new face wash to cleanse my skin, I might as well get a Dead Sea face wash and take advantage of their natural salts & minerals"
I like your thinking!
In fact, I was thinking the exact same thing… which is exactly why I decided to write this article: to help people like us find the best Dead Sea facial wash to start off our mornings on the right foot.
So let's get started, shall we?
Top Dead Sea Face Cleansers
Before we dive deeper into each of the Dead Sea salt wash items I covered here, let's take a quick look of the best face cleansers that made the cut and deserved a spot on this list (including the award-winning ones!)
Top Pick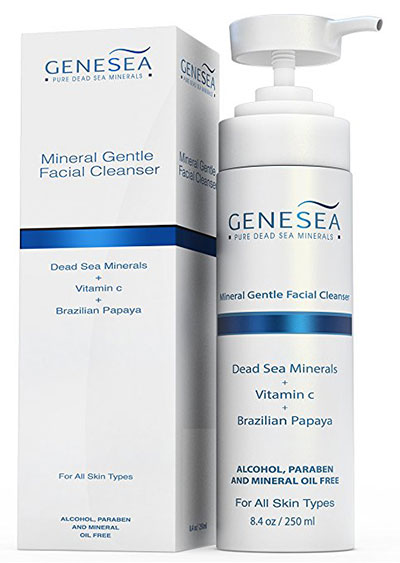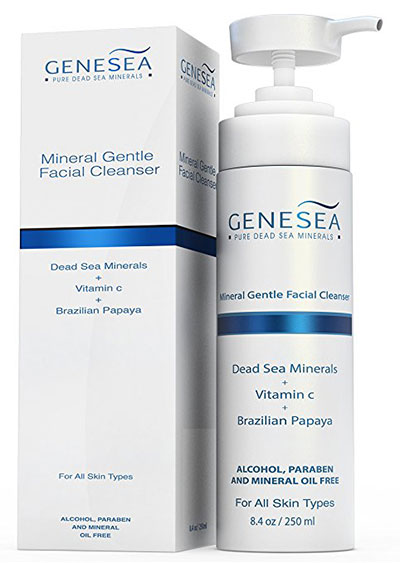 Why Should You Get It?
I would be remiss if I didn't start with one of the most popular Dead Sea face wash cleansers in the market, and our "Top Choice" award winner.
Enriched with Papaya fruit extract, vitamins & antioxidants and a unique blend of Dead Sea minerals – Genesea developed a truly remarkable face cleanser that is able to thoroughly clean your skin without dehydrating it.
Manufactured right outside the Dead Sea, Genesea's formula contains no alcohol, parabens or any of the awful mineral oils known to man.
Honestly, this is one of the very few occasions where I was satisfied with the whole experience… Haven't found any downsides (yet).
Who is it For?
For both men & women, for all skin types – Genesea's facial cleanser doesn't discriminate.
Pros
Enriched with Papaya vitamins & mineral-rich Dead Sea salts
Doesn't dry your skin and no skin irritation
Incredibly refreshing
Great customer service
Our Rating: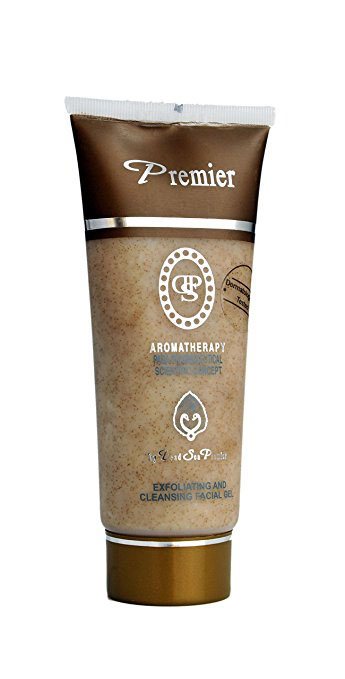 Why Should You Get It?
You'll see Dead Sea Premier pop up several times along this article, for a good reason: they have one of the most impressive Dead Sea face wash selections.
Premier's debut face wash is their para-pharmaceutical facial gel. It contains micro-plant seeds, that together with the Dead Sea salts can exfoliate, clean, and balance your skin tissue – which will finally help you get rid of those annoying blackheads.
The cherry on top: aromatic oils that give the wash a nice texture and an intoxicating smell.
Why Not?
The oil is pretty abrasive and heavy on the skin, so it's not recommended for sensitive skin.
That's why I don't recommend using it every day.
Tip: Use it every other day for optimal results.
Who is it For?
Suitable for both men & women. Especially effective in getting rid of blackheads.
Pros
Gets rid of blackheads
Nice aromatic oils
Cons
A bit heavy – not for everyday use
Pretty abrasive
Our Rating:
Why Should You Get It?
The first time I asked around about recommended Dead Sea face cleansers, Dr. Organic's Dead Sea mineral face wash kept popping up.
And I can understand why: it's pretty decent.
It's a bio-plasma mud mask filled with minerals from the Dead Sea
Free from preservatives: no Paraben, SLS or artificial colors.
Almost 100% organic and natural bioactive ingredients
Why Not?
The texture is pretty oily, and it makes your face rather oily as well. If you have a rather smooth face (like I do), I recommend you look at some of the other face cleansers on this list.
Also, as a designer, I can't help but comment on the packaging. It's too bad because whether you like it or not, we tend to judge the book (or in this case, mineral face wash) by its cover.
Who is it For?
Perfect if you have dry skin and you hate preservatives added to the formula.
Pros
Dead Sea minerals + bio-plasma mud help get rid of pimples
Great for dry skin types
Cons
Makes face oily
Not an appealing package
Our Rating:
Recommended: The best Dead Sea mud masks to cleanse & purify your skin.
Our Favorite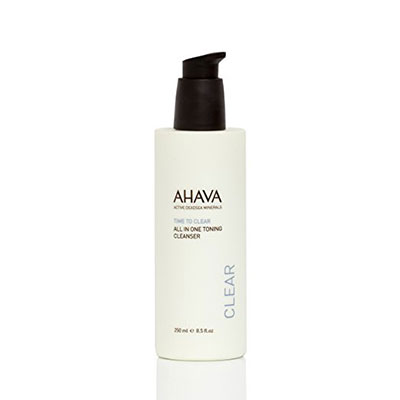 Why Should You Get It?
Finally – my favorite face cleanser! Not such a shock that it's an AHAVA product, right?
If you've been following some of my recent articles about Dead Sea Cosmetics, you probably noticed I have a thing for AHAVA. And no, it's not because the word "Ahava" in Hebrew means "love" (what can I say, I'm a romantic), and It's not just due to the fact that they're the leading Israeli Dead Sea brand… It's simply because they produce simply AMAZING Dead Sea products, and I'm a sucker for them.
Their face toning cleansing milk is no different. It can remove anything from makeup, dirt, impurities or even your child's drawing on your face. Along with AHAVA's proprietary OsmoterTM, the cleansing milk moisturizes the skin, leaving it clarified, toned and hydrated.
Tip: You don't even need water to remove your makeup – a must-have when you're traveling.
Who is it For?
Great (and approved) for people with sensitive skin, free from preservatives.
Pros
Cleanses your skin effectively (can remove everything from makeup, dirt, and impurities)
Moisturizes, hydrates & clarifies skin without leaving your skin greasy
No water needed
Our Rating:
Liked This? Then you'd' also love to moisturize your hands with AHAVA's top-rated the Dead Sea mineral hand cream.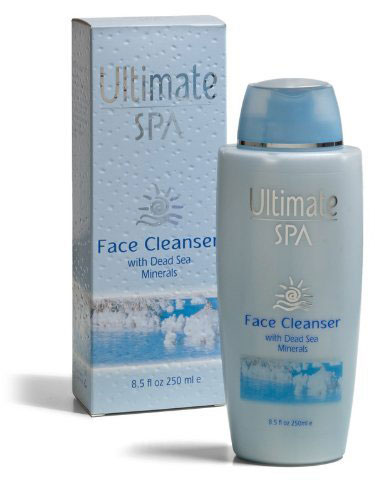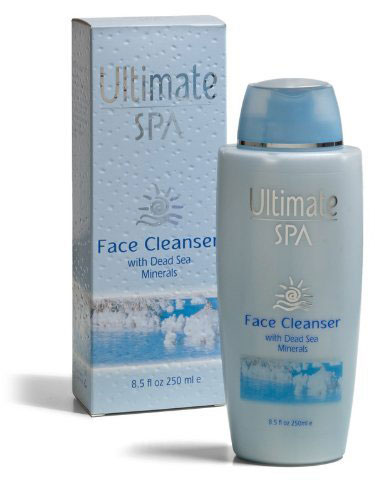 Why Should You Get It?
Spa Cosmetics' face cleanser is one of my personal favorites, and a pretty underrated one if you ask me. It contains a very high(!) percentage of Dead Sea minerals to treat the skin, which I like.
Surprisingly, this face cleanser didn't take off like I thought it would… oh well, like my mom used to say: I guess I'm unique.
Who is it For?
Perfect if you prefer all-organic facial products
Why Not?
If you need reassurance from the masses, of many people who used it before and recommend it – you're out of luck. Unfortunately, this Dead Sea minerals face wash didn't get a lot of attention… so I guess you have to find out yourself whether you like it or not.
Pros
A high percentage of Dead Sea minerals
Made of organic ingredients
Cons
Not as popular as other cleansers (surprisingly)
Our Rating:
You May Also Like: The best Dead Sea bath soap bars – rich with minerals & vitamins.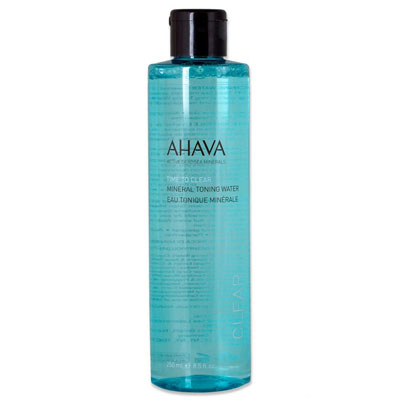 Why Should You Get It?
AHAVA cleanser #2 – this time mineral toning water.
Enriched with healing minerals from the Dead Sea and marvelous botanic extracts, AHAVA's toning water moisturized and rebalances your skin's hydration better than a cold shower does. It keeps your skin fresh, smooth and glowing with a fresh youthfulness.
If we had a "Most Refreshing" award, then this would be the clear winner.
Who is it For?
Great for anti-aging, or simply as a refreshing Dead Sea face wash.
Pros
Very refreshing
Includes botanic extracts + Dead Sea minerals
No need for moisturizer
Cons
Shipping takes time (ships from Israel)
Our Rating:
Best Value


Why Should You Get It?
Introducing: Premier Dead Sea's facial cleanser – our "Best Value" award winner. This luxury cleaner does its job perfectly, leaving no trace behind when removing your makeup.
It's very skin-friendly, cleansing and moisturizing even the driest skin types, including those with annoying skin disorders like Acne, Eczema, and Rosacea. The micro grains exfoliate the skin very effectively, and are barely noticed – so you get the best of both worlds… and all that for a very inexpensive price.
Who is it For?
For people with dry & sensitive skin looking for a face wash to moisturize and smoothen their skin, without breaking the bank.
Pros
Easy to remove make-up
Great for sensitive & dry skin
Micro gains barely noticeable
Our Rating:
Why Should You Get It?
You didn't think I was going to discriminate against the men, did you?
Don't they also deserve to wash their faces in the morning, and start their day off feeling refreshed? Of course they do!
And the way to do that is using Seacret's ultra-invigorating liquid face wash. Seacret's blend is dedicated to hydrating, smoothening, and conditioning your skin as it cleans away dirt and impurities.
Thanks to their SLS-free formula, based on minerals from the Dead Sea and vitamins, our lovely men will be able to do exactly that. 
Why Not?
It's pretty expensive. So if you're on a budget, I suggest getting another face wash.
Who is it For?
Any man who could use to freshen up properly in the morning… I mean, with all due respect to coffee, it doesn't really take care of your face, does it?
Pros
A powerful blend of Dead Sea minerals and vitamins
SLS free
Made in Israel
Our Rating: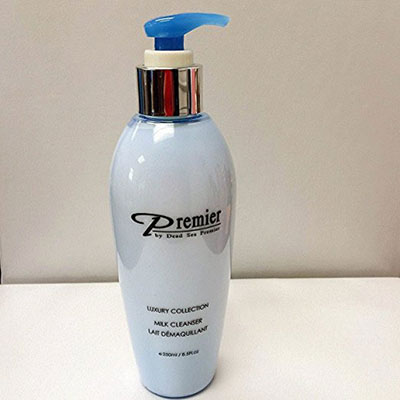 Why Should You Get It?
The final one by Dead Sea Premier, and definitely the most unique one out of the bunch.
This milk cleanser is extremely effective in balancing your skin. It does so with special conditioners that provide essential moisture for the skin while also cleansing and protecting it.
It's incredibly smooth and very creamy (perhaps even too creamy), which does a remarkable job hydrating your skin – probably more so than any of the other Dead Sea face wash items on this list.
If you're using it consistently, soon you'll notice (or other people will notice) that your face starts to glow. Persistence pays off!
Why Not?
The cleanser is pretty creamy, and the fragrance is quite strong. I personally don't mind the fragrance, but I know some people who do… so if you're one of them, you might want to go for something "lighter" on the nose.
Who is it For?
Great for dry or combination skin. If your skin is oily, then this might not be the optimal Dead Sea cleanser you need.
Pros
Great for combination skins
Hydrates and cleans(es) skin effectively
Very smooth
Cons
Too creamy
The fragrance is very strong
Our Rating: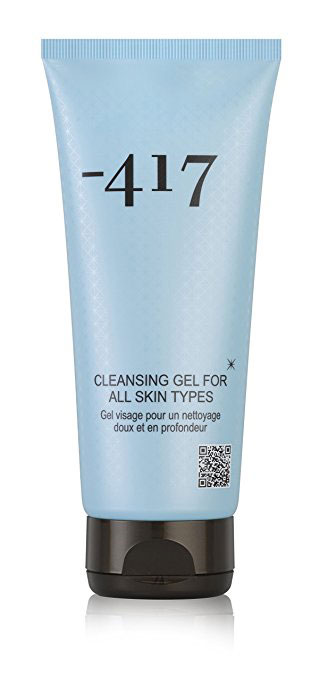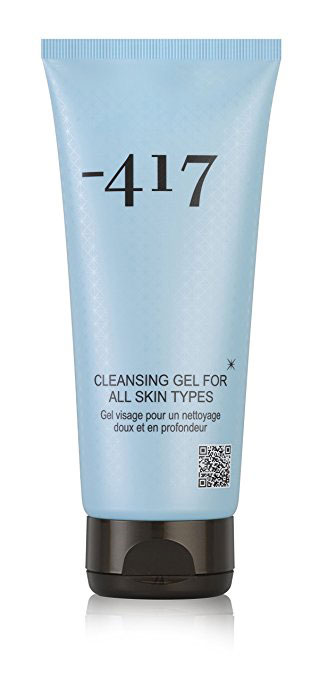 Why Should You Get It?
-417'S Dead Sea face wash is a bit of an underdog in the facial cleansers market. It still doesn't have the "street cred" like the other ones I mentioned here… Nevertheless, it does its job surprisingly well.
This cleansing gel is great for all skin types: whether you have dry skin, combination or very oily skin – it does what it's supposed to, and then some…
It can remove any substance on your face: from makeup, dirt or even paint, leaving your skin highly refreshed and rejuvenated.
Who is it For?
If you like being an "early adopter" vs following the trendiest products, then you might appreciate -417's Dead Sea facial cleanser. It works great on all skin types, so no worries there.
Pros
Rich with vitamins
Good for all skin types
Made in Israel
Cons
Not as popular as the alternatives
Our Rating:
Final Verdict
Top Pick: Genesea Vitamin C Facial Cleanser
Awarding Genesea's facial cleanser anything less than the "Top Pick" would be a sin.
Their healthy combination (formulated right outside the Dead Sea) contains Papaya extract, vitamins & antioxidants, giving your skin a nourishing and refreshing feeling.
This is one of the rare cases where I couldn't find a single disadvantage, so that says it all.
My Favorite: AHAVA Time to Clear All In One Toning Cleanser
AHAVA's toning cleansing milk is my personal favorite facial cleanser. It can remove anything (even without water) from makeup, dirt, impurities and any other challenging substance stuck on your face. It moisturizes the skin, leaving it clarified, toned, and hydrated – just another example of why I'm such a die-hard AHAVA fan.
Best Value: Premier Dead Sea Luxury Facial Cleanser with Micro Grains
Premier Dead Sea produces a lot of valuable Dead Sea cosmetics. This is definitely one of their very best.
Their luxury facial cleanser is a gift for people with dry & sensitive skin. It moisturizes, exfoliates and purifies even the "hardest" skin types, thanks to the micro gains in the formula.
The best thing? The price is a joke, considering the value this little magical wash can bring.
Summary
That's that, folks.
I hope I helped you pick an awesome Dead Sea face wash to start your morning off feeling refreshed, all ready to face the day (don't forget the cup of coffee though).
Remember: be consistent, and use the face wash every morning if you want to see results.
Now tell me, which of these Dead Sea cleansers did you pick, and why (I'm curious)