Shabbat is a special day, filled with many Jewish traditions & Mitzvot.
You light the candles…
You bless for Hamotzi…
Speaking of which, you can't do Hamotzi without a proper Challah board, now can you?
So, since you're looking for the best Challah trays for Shabbat, I thought I might give you a few suggestions 🙂
Best Challah Boards
Here's a quick glimpse of the best Challah cutting boards for your Shabbat table.
Why did they make the cut (or in this case, slice)? What's so special about them? You're about to find out…
Modern Challah Boards
Let's be honest: Challah trays don't have to be artistic, special or modern. You can get a standard tray for $5 to serve the Jewish bread and call it a day.
If that's what you're looking for, then this section is not for you…
However, this section IS for you if you appreciate great art… If you realize that since your Challah plate is about to take a chunk of your kitchen real-estate, you might as well use that as an opportunity to level up your kitchen's look with a beautiful-looking, modern Challah board.
If that sounds like you, then welcome – you're in the right place.
Hamotzi: Genuine Jerusalem Stone Challah Board
Top Modern Board
How does doing Hamotzi in the Western Wall (Kotel) sound like?
Well, perhaps you can't be in the Kotel right now, but this Jerusalem Stone Challah Board will get you close enough.
This remarkable creation by Caesarea Arts (their second appearance here) is standing on four brass legs and has the closing words of the Hamotzi prayer engraved in the center.
A special way to welcome a special day.
Waves Challah Board – Gray. Caesarea Arts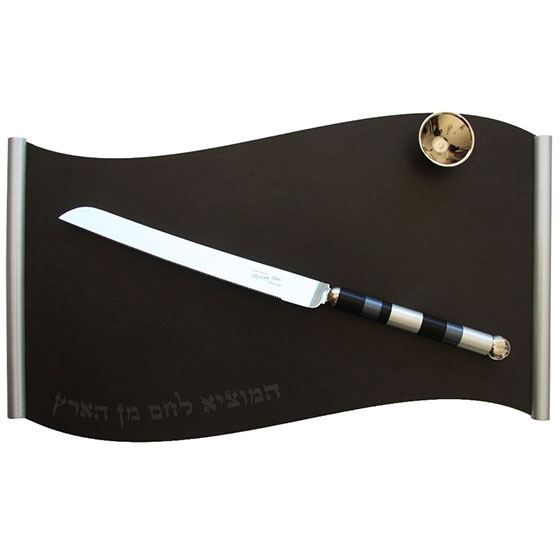 Speaking of great Jewish art… Caesarea Arts create exactly that.
This elegant, contemporary Challah plate is made in Israel and is lightweight, scratch-resistant base with aluminum decorations on the sides. Attached to the board (with magnets) is a small aluminum salt dish to make the Hamotzi straightforward without any other necessary equipment.
You also probably noticed the light Hamotzi blessing engraved at the bottom… so you can skip the Siddur for that part and read directly from the Challah plate 🙂
A gorgeous & extremely well-thought Challah cutting board for your Shabbat & holiday table.
Spode Judaica Challah Tray With Wooden Insert (Large)

Spode is known to make extremely popular ceramic Judaica items, and they didn't disappoint here either. Their famous Blue & white collectible design represents not only their great brand but also our beautiful Israeli flag.
Spode's modern Challah cutting board is made of high-quality earthenware and is pretty big in size…so big in fact, that you can serve almost anything with this ceramic Shabbat Challah plate, not just bread.
Tip: Dishwasher and microwave safe.
Classic Touch Marble Challah Board with Bamboo Handles
A marble Challah cutting board with a classic touch. That wasn't just a description of the board, but the name of the designer.
Classic Touch's exceptional contemporary design is fully expressed in this marvelous piece.
Their modern marble Challah tray is framed by a high-quality Bamboo handle, making it an extremely elegant looking piece suitable for a gift for any special Jewish occasion.
Wooden Challah Boards
These wooden Challah boards are not your average piece of wood… They're a blank canvas for many Jewish & Israeli artists, who transfer a simple piece of wood into a Jewish masterpiece.
Now that's exactly what you're about to see in this unique selection of wooden Challah trays.
Yair Emanuel Wooden Challah Board, Knife and Stand – Jerusalem
Top Wood Board
Jerusalem old city is hand painted across the surface of this unique wooden Challah board.
Wouldn't you like to do Hamotzi with your Challah on top of Jerusalem's beautiful scenery?
Well, with Yair Emanuel's artistic board & knife set – you can.
The vivid & harmonious colors of this Challah characterize Yair Emanuel's hand painted wood and will make your Shabbat dinner table way more colorful.
Amazing Wood Challah Board Basket for Serving (Made in Israel)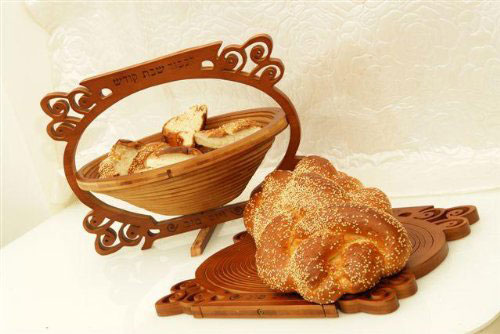 A cutting board…that transforms into a serving basket?
Now that's a rather beautiful, unique & useful idea, isn't it?
This made in Israel wooden Challah board basket is well made of carved wood and can easily hold all the Challah bread you're serving your guests during Shabbat dinner.
A great addition to your table, or as a housewarming gift to your Jewish friends & family.
Yair Emanuel Pomegranate Challah Board
Now, what's a better way doing Hamotzi, than with a Challah bread tray engraved with the Hamotzi blessing?
Add the beautiful, branch-like handles holding gleaming golden leaves & pomegranates, and you get a magnificent Challah tray for your Shabbat table.
Bonus: There's a matching knife available with this wooden Challah tray.
Want to get our brand new Jewish buying guides straight to your email inbox?
Glass Challah Boards
Glass Challah boards are an elegant way to serve your Shabbat guests. There's a reason why they make such great gifts. But don't take my word for it… you're about to see for yourself.
Painted Stainless Steel Challah Board: Pomegranates
Top Glass Board
Is it art? Is it a Challah platter?
Let me clear out the confusion: It's both.
This stainless-steel Judaica Challah cutting board has painted glass pomegranates engraved into it, with "Shabbat Kodesh" written in Hebrew underneath it. A perfect, traditional way to serve your Challah for Shabbat dinner.
24K Gold Plated Jeweled Seven Species Challah Board & Knife Set – Ivory
Sure, you can serve your guests with an ordinary Challah plate for Shabbat… or, you can choose to dazzle them with this 24K gold plated Jeweled Challah plate.
This glass Challah Tray & Knife set highlights the beauty of the stainless steel by adding the "seven species" of Israel in sparkling jewels. 
A true treasure piece you can one day pass down to your children & grandchildren.
Painted Glass Challah Tray + Handles: Tulips (Blue)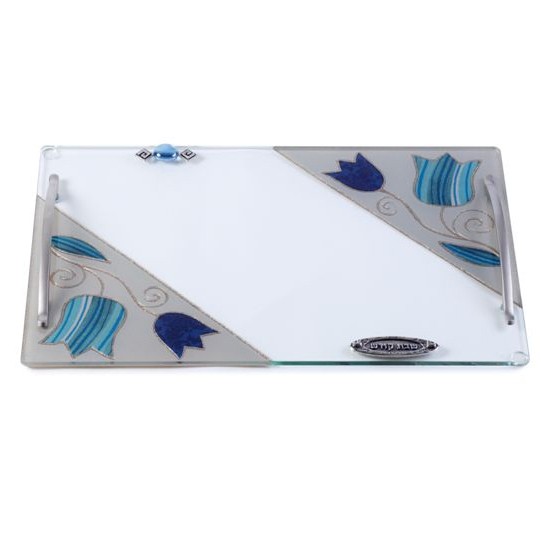 Lily Art (by Lily Shohat) – the famous Israeli artist known for her unique glass designs, makes a second appearance on this list, and rightfully so.
The charming tulips & the colorful metal colors (and metal plaque) suddenly makes serving the Challah a delightful experience. Add the nickel handles to the mix, and you get a truly special & unique glass Challah plate.
Silver Challah Boards
Shabbat is known as our "Queen" (Shabbat HaMalka). So, it makes sense to treat our queen accordingly. And what better way to serve the Shabbat Challah on a beautiful Silver Challah board?
Hazorfim Challah Board – Silver Plated Wood Large (+ Handles)
Top Silver Board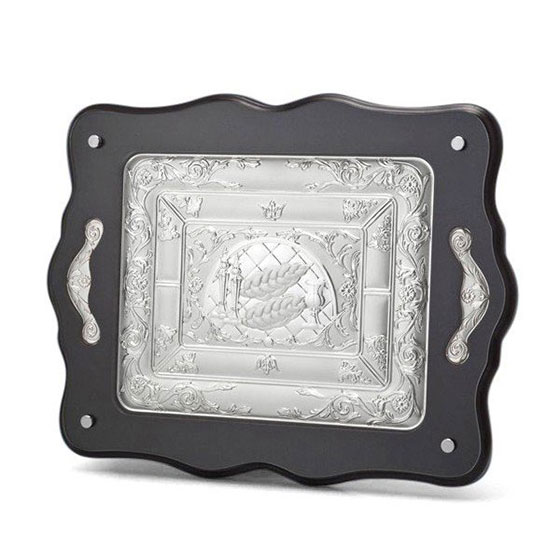 Speaking of royal treatment… this silver Challah bread plate by Hazorfim definitely comes to mind.
The bordered & decorated silver panel is covered with a traditional Shabbat scene: Challah loaves, a Kiddush cup, and Shabbat candlesticks.
Add a pair of flower engraved handles to the mix and you get a silver Challah cutting Board for Shabbat that is as beautiful as it is functional, and definitely worthy of the queen.
Wood & Silver Plated Rectangular Challah Board + Glass Protector & Knife Set
This is a unique one, not meant for your personal use, but as a gift.
Made in Israel, this wood + silver Challah cutting board & knife set features a Challah & Shabbat candlesticks design, covered with a protective glass.
A very elegant gift for a Jewish friend's birthday or special occasion.
Bonus: Comes with a Challah knife.
Personalized Challah Boards
You're looking for a Challah tray that is a little more personal… Something that expresses emotion and shows how much you care about the person you're getting this for… I get it.
Well, in that case, a custom-made, personalized Challah board is definitely the way to go.
Allow me to showcase some of my favorite ones…
Custom Shabbat Challah Board – Tempered Glass Cutting Board
This personalized Challah bread cutting board is handmade by Amit Judaica Art. He creates it with an original painting, filled with colorful watercolors and some of the famous Jewish symbols, on top of a high quality, durable tempered glass.
You probably noticed there are 7 uniquely painted columns here… yep, one for each of the 7 Jewish species.
And of course: you can personalize it with any wordings, blessings or names you want, either in Hebrew or English…
Now there's a gift they won't forget for a long time…
Personalized Tempered Glass Cutting Board Jewish Art Bread Board
Top Personalized Board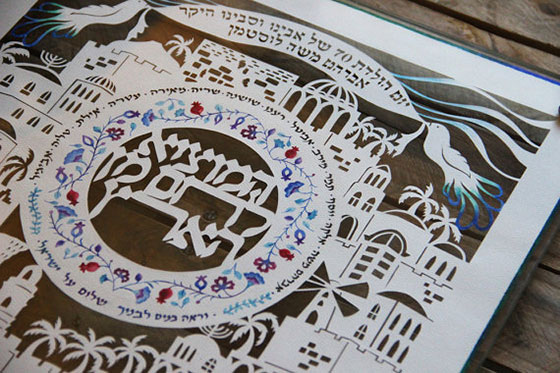 This isn't your run-of-the-mill Challah tray… This personalized Challah board is made out of originally hand-cut glass, reserved only for very special Jewish occasions such as a Jewish wedding gift, anniversary gift or other significant Jewish celebration (it's priced accordingly).
This uniquely crafted board features a scenery of Jerusalem, with two birds holding your custom blessing for your preferred event (the image shows an example of a 70th birthday blessing).
Tip: You can completely customize it based on your favorite color combinations.
Surrounding the Hamotzi blessing is a circle where you can choose to engrave the names of your lucky gift recipient.
A super premium gift for a very special someone.
Personalized Challah Board for Rosh Hashanah
Closing off this article, I decided to feature a special, personalized Challah board for Rosh Hashanah.
Fully customizable, you can personalize this fabulous gift and dedicate it to your Rosh Hashanah hostess, parents or any other Jewish friend and wish them a "Shana Tova" (a good year).
An excellent gourmet gift, perfect for Rosh Hashanah dinner.
Summary
A Challah board can be so much more than a boring piece of wood.
Why waste the opportunity to make your Shabbat table look amazing?
Why waste your precious kitchen real estate with a bland piece of wood, when you can instead add an artistic taste to your Jewish kitchen?
Hopefully thanks to your new Challah tray, your Shabbat table will never look the same again.