The cooking aroma fills the entire house…
The Shabbat candlesticks are lit…
The men are back from the synagogue.
Shabbat is here…
Time for the family to gather around the table and enjoy the Shabbat dinner together.
But first: Kiddush.
And for Kiddush, you need a great Jewish Kiddush Cup you can fill with wine & pass along all the family members.
Whether you're looking for a new cup for your home, or you're looking for a special Kiddush cup for a wedding or housewarming gift – you're about to find one…
Best Kiddush Cups
Care for a quick glimpse of the best Kiddush cups from each category?
I thought so…
Want to find out why they're the best? Keep reading…
Modern Kiddush Cups
Most Jewish wine cups look pretty much the same… They're the traditional cups you've seen so many times on Jewish Shabbos tables…
But then there are modern Kiddush cups – remarkable pieces of art, designed by Jewish artists, that revolutionize the look and feel of a standard Jewish cup.
I bet you're curious now, huh?
Nambé 7-inch Jewish Kiddush Cup
Top Modern Cup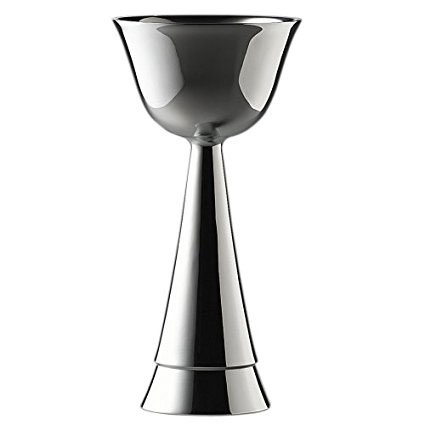 Modern Kiddush cups can be a bit too, well, modern for some. This Jewish wine cup, however, has it all. A divinely finished cup made of the secret Nambé alloy, beautifully designed to allude to traditional Shabbat wine cups with a modern twist. If you're looking for something truly special, this might be your best choice!
Yair Emanuel Stainless Steel Stemmed Kiddush Cup – Pomegranates
If a conventional silver wine cup is too "traditional" for you, and some modern Kiddush cups are just" too much" for your taste, then this stemmed Pomegranates-themed cup creates the perfect balance.
Expertly designed by artist Yair Emanuel, this stainless-steel cup features the base and stem design of a traditional Kiddush wine cup but brings a modern twist to it by incorporating golden pomegranates and leaves emerging from the side.
Michael Aram Tree of Life Celebration Cup
When you think about contemporary Kiddush cups, you think Michael Aram. His unique designs have set a special name for himself, and for a very good reason.
Rich in symbolism, this is one of those modern Kiddush cups that combine old and new beautifully. It's a handcrafted piece with a very simple, yet elegant cup and a stem shaped into the famous Tree of Life, reminding us of the importance of attaining wisdom through tradition… and what's more traditional than Kiddush?
Tip: Michael Aram's celebration cup is also very suitable for a Bar Mitzvah gift
Silver Kiddush Cups
Silver Kiddush Cups are the well-known cups you've probably seen many times…
However, you probably know by now that I never write about the boring stuff we've all seen a million times. I care about showing you the top silver wine cups… ones that you can't wait to get your hands on and sip your wine from.
And these are exactly the ones you're about to see…
Silver Kiddush Cup & Saucer + Golden Highlights – Old Jerusalem Arches
Top Silver Cup
Starting off with an absolute beauty, also known as Jerusalem.
Featured in this elegant design are scenes of Old Jerusalem, made of unique-looking brushed silver.
It has a slightly heavy, yet very comfortable feel in the hand.
If you're looking for a traditional Kiddush cup that looks like an antique Jerusalem art exhibit and is made in Israel from the finest materials, then you might as well stop reading right now and order this one.
aJudaica Jerusalem Design Silver Plated Kiddush Wine Cup with Base and Tray
This magnificent silver plated Kiddush wine cup is a great feature on any Shabbat table.
With fine engravings of the remarkable City of David, it shows that quality does not necessarily need a hefty price tag. That's right, this cup is nice on the eye and nice on the wallet too!
Bonus: It also comes with three years manufacturer's warranty, so there's no reason to let this Shabbat & holiday cup go.
Hazorfim 925 Sterling Silver Kiddush Cup – Filigree
Hazorfim are known to make high-quality Judaica items, and they obviously delivered on it with this royal-looking Judaica Kiddush Cup.
This simple, yet elegant flat-based sterling silver Kiddush wine cup design is fashioned out of the highest quality silver and adorned with simple filigree, making it very pleasing to the eye and the touch.
The cherry on top? This cup comes in its own elegant packaging and is accompanied by a certificate of authenticity.
Yair Emanuel Textured Nickel 8-Piece Kiddush Set
Why know what they say: why get one if you can get a set of 8?
Yair Emanuel has an answer…
This exquisite nickel Kiddush cup set is perfect for any Jewish man or woman who likes to combine our traditional Jewish values with modern & contemporary art.
The cups and plate are made of fine silver (with a hammered finish) and are adorned with colorful bands at the bottom, adding a dramatic, vivid touch to your Shabbat or holiday table.
Want to get our brand new Jewish buying guides straight to your email inbox?
Wedding Kiddush Cups
(breaking the glass…) Mazel Tov!
No no, wait! That's not the kind of cup you're looking for here.
That's a whole different cup for an entirely different purpose.
The cups we're talking about here are Jewish wedding Kiddush cups, which are one of the best Jewish wedding gifts you can get for a young Jewish husband & wife.
Michael Aram Black Orchid Celebration Cup
Top Wedding Cup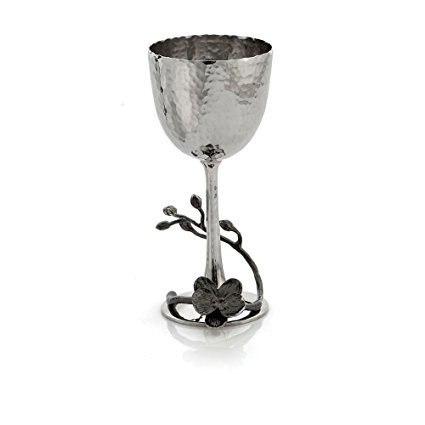 Michael Aram makes a 2nd appearance, and for a good reason. He's known for creating rather special Judaica Kiddush cups for Jewish wedding ceremonies, and this one is no exception.
Any Jewish newlywed would gladly receive this one-of-a-kind Kiddush goblet on their wedding day. It's a delicate, yet sturdy piece, designed to last a lifetime (if not longer).
The fact this Shabbat wine cup is handmade makes it even more special, and you get to express that special feeling to the special happy couple (that's a lot of special in 1 sentence).
Yair Emanuel Anodized Aluminum Kiddush Fountain – Blue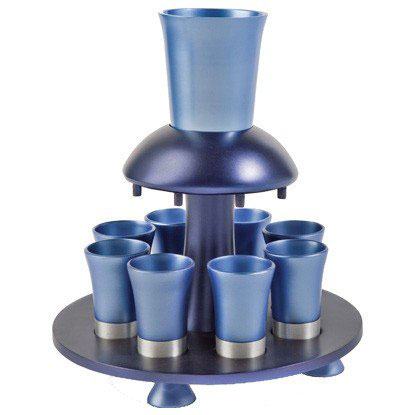 Why settle for a cup when you with a fountain?
Designed to look modern, stylish and to be practical, this aluminum Kiddush wine fountain is made to proudly decorate the Jewish married couple's Shabbat table.
Made from anodized aluminum in a deep blue by the talented Yair Emanuel, this Shabbat wine fountain is a fantastic wedding gift, and will definitely be appreciated by those with an eye for modern art.
Silver Plated Wedding Canopy – Chuppah Kiddush Cup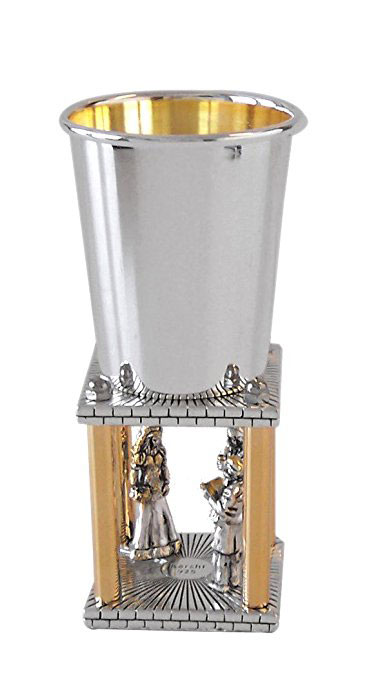 Since you're getting a Jewish wedding cup for the Chuppah, you might as well get a cup designed as a Chuppah.
The unique silver-plated cup design features a couple receiving its blessings from a rabbi, emulating what's about to happen under the actual wedding ceremony.
No better way to sip the wine when you're getting married, and no better way to remember your wedding night than by drinking from the same Jewish wedding cup every Shabbat dinner.
Glass Kiddush Cups
Glass Kiddush cups are a great gift. Whether as a wedding gift, housewarming gift or just for your random Jewish friend.
Let's take a look at a few… but don't touch, it's fragile!
Lily Art Ocean Blue Glass Kiddush Cup
Top Glass Cup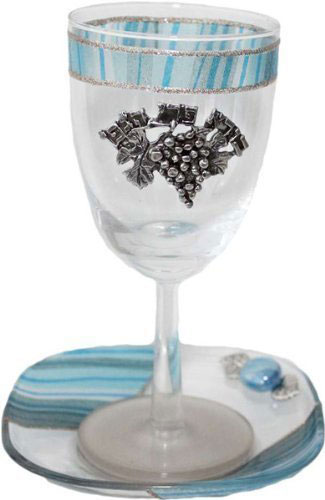 This glass wine cup is an incredibly delicate piece, and needless to say: designed with a wonderful eye for detail. Sitting atop a glass saucer, this glass Jewish wine cup set is shaped in a traditional way, with a stem and cup, and is adorned with the Hebrew wine blessing ("Bore Pri Hagafen") and grapes.
Finished with multiple shades of blue, which gives this glass Kiddush cup a modern feel to it, without losing touch with traditional Jewish values.
Shabbat Crystal Glass Kiddush Cup Set & Plate
This Shabbat wine cup set is made from crystal glass, so it's even finer than other glass cups.
The cup and saucer are adorned with gemstones in stylish patterns. This is a true showstopper for any Sabbath or holiday (especially Rosh Hashanah & Passover). If you're looking for a modern crystal Kiddush Cup with plenty of traditional elements, you just found it.
Ceramic Kiddush Cups
A ceramics fan? Of course, you are… who isn't? (if you're not, give it a chance… you might be surprised)
Just like many other Judaica items, there are quite a few remarkable Ceramic Kiddush cups out there.
Lucky for you, I found the best ones so you won't have to go and find them yourself.
Handmade Ceramic Stemmed Kiddush Cup
Top Ceramic Cup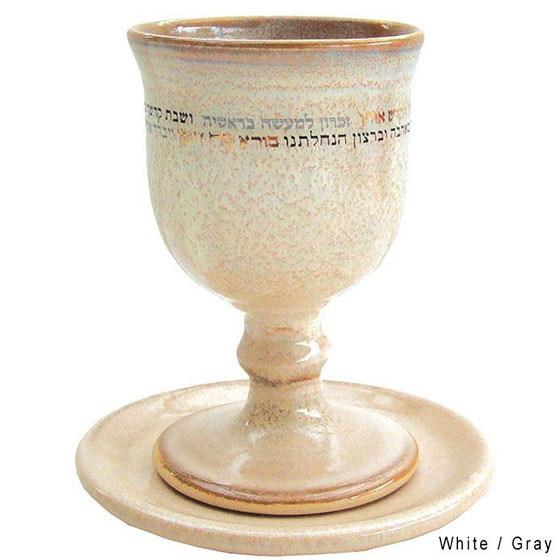 Ceramic Kiddush cups definitely have a traditional Jewish feel to them, and this cup is no exception.
Expertly handmade by the Israeli artist, Michal Ben Yosef, this ceramic stemmed Kiddush goblet features the Friday night Kiddush prayer in Hebrew.
Performing Kiddush with this ceramic Shabbat wine cup set will resemble how Jewish people used to do Kiddush throughout our ancient history, and how our forefathers may have celebrated Sabbath together thousands of year ago… pretty unique huh?
Spode Judaica Kiddush Cup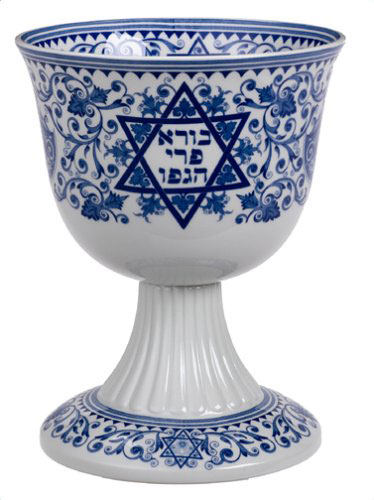 You can't talk about ceramic Judaica and not mention Spode. The most popular Jewish ceramic brand designed this gorgeous ceramic cup, glazed and adorned with their famous blue patterns based on historic Jewish manuscripts.
The traditional blue and white + the Stars of David on this cup add a nice dose of Israel to the Shabbat table, even when you're not physically doing Kiddush in Israel (soon though, right?).
Slightly larger than the average Shabbat Kiddush cup, therefore makes it extremely special to use on Jewish holidays (Rosh Hashanah, Pesach, Sukkot…) when the whole family comes together to celebrate.
Tip: This cup is dishwasher and microwave safe.
Personalized Kiddush Cups
A Jewish Kiddush Cup is a fantastic gift… I guess you already know that otherwise, you wouldn't be reading this, would you?
While that's a nice present, you can take it a step further and personalize it for your loved one's special occasion.
Now that's a unique gesture and an even more special gift for any Jewish friend in their special occasion…
Zion Judaica .925 Sterling Silver Wine Goblet Kiddush Cup
Top Personalized Cup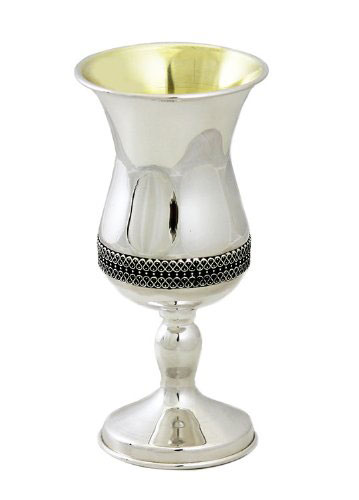 Made from high-grade sterling silver, this engraved Kiddush wine goblet can be personalized, giving you the opportunity to add extra care to your lovely friend's gift.
Tip: Engraving is available in ANY language.
The fine silver in this made-in-Israel cup is easy to the eye and easy to touch. With elegant decorations running along the side, this is a very high-end gift for someone very special.
Bonus: Comes in a gift box.
Personalized Glass Kiddush Wine Cup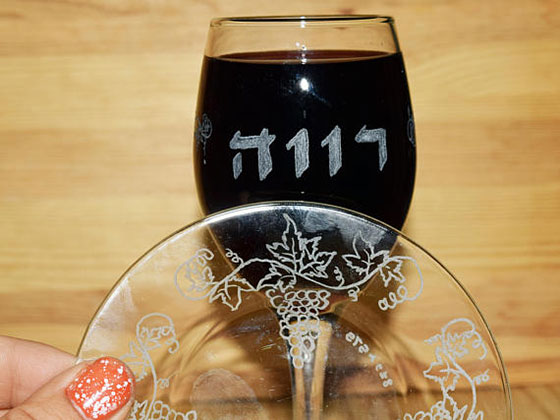 This beautifully hand-engraved Kiddush wine glass can really make the difference when you're looking for an extraordinary gift for an extraordinary friend.
The custom Kiddush glass set comes in a simple, but refined design, making sure all the attention goes to the engraved items on the cup. Next to a vine with grapes and leaves, the designer will engrave the family name of your choice on the Kiddush glass. Now that's a great opportunity to show how special your friend or relative is to you.
Cheap Kiddush Cups
Lucky for you, you don't need to waste a ton of money on a Jewish Kiddush cup for Shabbat.
There are quite a lot of cups that are both cheap, beautiful and last long.
If that sounds interesting, then you're about to love these very affordable cups for Kiddush…
Silver Plated Jerusalem Kiddush Cup + Personalization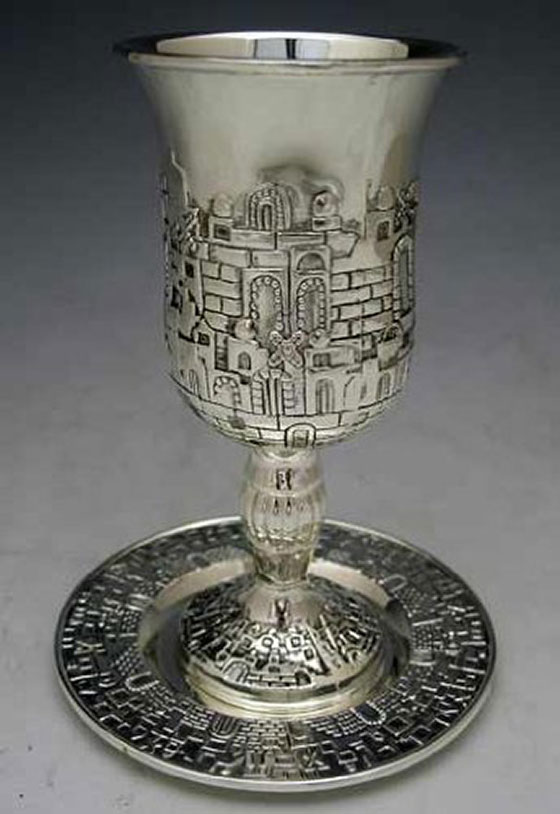 This traditional silver-plated Jerusalem Kiddush cup set shows that buying a Jewish wine cup for Shabbatz doesn't mean you have to break the bank. But don't let the affordable price fool you: this cup is made of high-quality silver-plated metal and as such will last a long time.
The cup comes complete with a saucer, including a traditional design featuring ancient Jerusalem scenes.
Majestic Giftware Silver Plated Kiddush Cup
Top Cheap Cup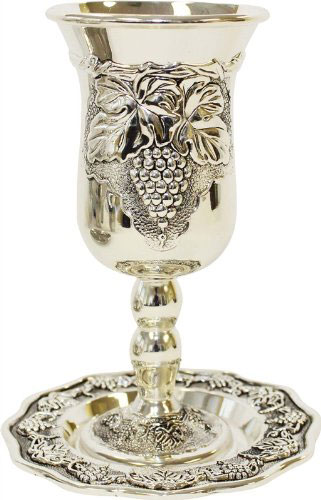 Those of you who are looking for both an affordable & traditional Shabbat Kiddush cup should look no further. Our "Top Cheap Cup" award winner is a well-designed silver-plated cup, adorned with vines and sits atop an elegant saucer.
Affordable, high-quality and will look great on any table or as a home accessory.
Lenox Judaica Blessings Kiddush Cup
This Judaica cup is different than the other cups you've seen so far.
Made from ivory porcelain, this quality cup has vine leaves sculpted into it and is adorned with a beautiful gold Star of David plus the traditional wine blessing.
With a wide base, this very cheap cup feels very sturdy, stable and makes a beautiful piece to use on Sabbath.
Summary
You just saw the top modern Kiddush cups our wonderful Jewish & Israeli artists & brands have to offer.
Now that you found the perfect cup for Kiddush, you (or the recipient of the cup) can enjoy drinking wine during Shabbat, holidays or Havdalah.
I hope you enjoyed reading this guide as much as I enjoyed writing it.
Now before you go, I'm curious: Which Jewish wine cups did you like best?