Your daughter's Bat Mitzvah is getting close…
Hallelujah, Mazel Tov!
I bet you're working hard to make sure she has the time of her life…
And if you're reading this, I bet you know it's equally important to make sure your guests have a great time.
How do you assure everyone has the time of their life? You start by giving them the best Bat Mitzvah favors & giveaways so they won't forget how much fun they had at your daughter's special day.
After all, they probably got you some pretty cool Bat Mitzvah gifts, so now it's your turn to impress them.
So, what do you say we find your guests some unique Bat Mitzvah favors? Let's get started…
Let's get started…
Best Bat Mitzvah Favors
There are a lot of pretty amazing bat mitzvah party favors here.
I bet you're curious to find out which ones are the very best (at least in our opinion over here at Amen V Amen)…
Don't get me wrong, all of the favors are incredible…but there are a few that stood out and have the most swag.
After a lot of debate, we've chosen the very best Bat Mitzvah favors from each category…
And they're all here in this table:
Bat Mitzvah Candy Favors
If not through chocolate favors, how else can you satisfy a sugar craving?
With candy & sweets of course!
Don't worry, your guests won't blame you when they visit the dentist…
Winter Wonderland Bat Mitzvah Favor Candy Tin
Top Candy Favor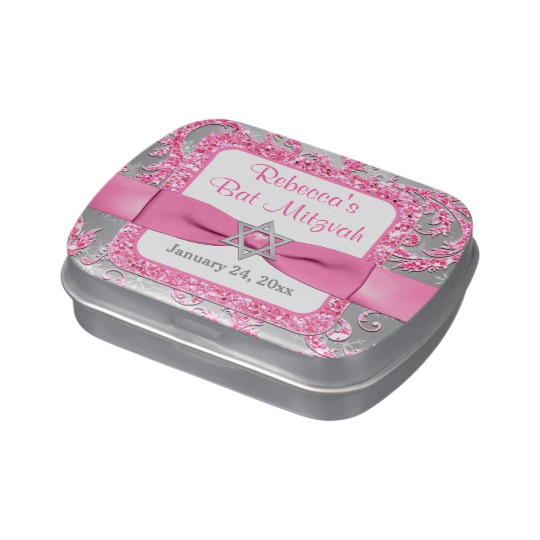 You prefer something a bit healthier, less sweet and chocolate-free (and pink?).
And obviously, you want something cool you can give away to your gifts, and that you can afford.
I get it…
Well, Mazel tov, you found it.
These Jelly Belly candies are sugar-free, Kosher and soy free… so it's definitely a healthier alternative your guests will be happy to eat, and not visit the dentist the week after.
it's beautifully designed with white snowflakes on top it, along with a beautiful pink ribbon.
And you can obviously personalize it for your daughter's special night.
Jewish Fortune Cookies for Bat Mitzvah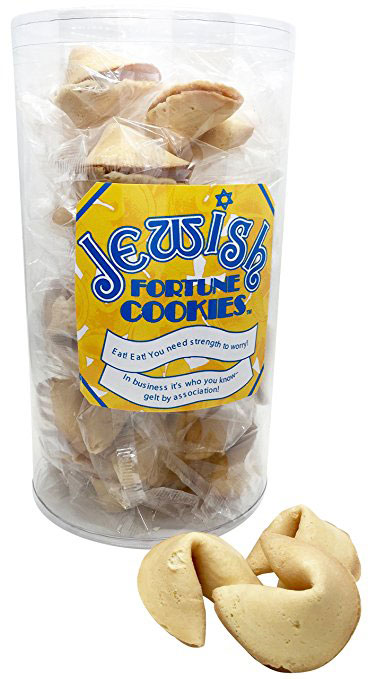 I bet you didn't know there's such a thing as Jewish fortune cookies. 
These (slightly) sweet Kosher cookies are a wonderful way to decorate your guest's tables on your upcoming Bat Mitzvah party. 
The cookies your guests will open include over 100 different Jewish proverbs, authentic folk-sayings, and witty Jewish jokes (don't worry, they're appropriate and hilarious).
For a very cheap price, you're getting a delicious, fun & hilarious conversational piece your guests will remember for a long time.
Neon Butterfly Floral Bat Mitzvah Favor Candy Tin
This beautiful candy tin is similar to the previous one but different.
It also includes delicious, kosher Jelly Belly candies that are healthier than the rest of the sweets out there.
How's it different?
Well, this candy tin has a beautiful black design, with a rainbow of colors (neon green, orange, pink, purple, yellow & blue), and flowery vines & butterflies to make it truly stand out. 
And obviously, it's a Bat Mitzvah, so you have to have a beautiful, shiny Star of David at the top.
Bat Mitzvah Chocolate Favors
Who doesn't love chocolates?
We all do. Your guests included.
And they would definitely love to get some tasty Bat Mitzvah chocolate favors they can enjoy at home.
Let's find the best bat mitzvah chocolate giveaways, shall we?
Bat Mitzvah Torah Chocolate Covered Oreo
Top Chocolate Favor
Who doesn't love Oreos?
Doesn't matter if it's kids, men, women, aliens… everyone loves Oreos.
You know what's even cooler?
Custom Oreo pops, made especially for your daughter's Bat Mitzvah.
These Oreos pops are:
Covered in white or milk chocolate (your choice)
Decorated with an image of your choice
Sprinkled in your choice of 5 colors
Individually wrapped in cello bags
Designed & customized with edible frosting sheets (FDA approved)
A wonderful, sweet & delicious Bat Mitzvah favor idea.
Pink Star of David Bat Mitzvah Party Cake Pops
You know what happens when you combine cake pops with a star of David?
You get a fantastic Bat Mitzvah party snack.
Handmade with a secret combination of ingredients, these cake pops are insanely delicious and highly satisfying.
Plus, you can choose from three different cake flavors, three flavors of icing and ten(!) drizzle colors to custom-make a cake that suits your lovely daughter.
Personalized Bat Mitzvah Assorted Chocolates
Top Chocolate Favor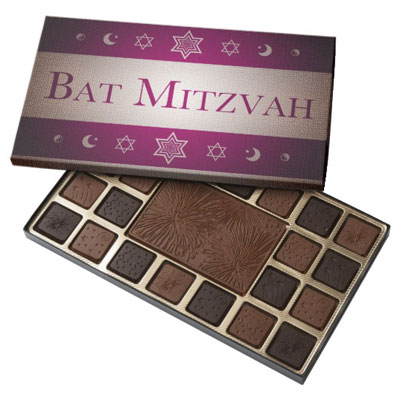 Let's face it. We're talking about 12-year-olds.
You want them to have fun at your daughter's Bat Mitzvah?
Then give them what they want.
What do they want, you ask?
C'mon, you know the answer to that – chocolate of course.
And when you personalize these delicious, high-quality Belgian chocolate bars (specifically designed for Bat Mitzvah parties) with your daughter's name – you'll get a bunch of satisfied guests that love the chocolates, your Bat Mitzvah party and your lovely daughter.
Want to get our brand new Jewish gift guides straight to your email inbox?
Bat Mitzvah Clothing & Dancefloor Favors
You want to get your guests off their butts and onto the dancefloor?
Then give them a compelling reason.
What's that, you ask?
Well, I don't know about you, but if I would be given any of these Bat Mitzvah clothing favors, then I would be all over the dance floor (even though some of these giveaways are a little girly).
Personalized Bat Mitzvah Socks Favors
Top Clothing Favor
Want your guests to dance their socks off?
Why do it with boring socks, when you can do it with these cute personalized Bat Mitzvah socks?
Trust me, after you'll hand these socks to your guests, they won't need any alcohol to go crazy on the dancefloor.
Rock Star Bat Mitzvah T-Shirt-Purple Pink T-Shirt
I'm sure you've seen it before: women (and men) wearing customized T-shirts for their son/daughter Bar/Bat mitzvah.
Well, the reason is simple: people love it, and so do the Bnot mitzvah.
Why wouldn't she? She's the star of the evening… The rock star.
And this rock star Bat Mitzvah T-shirt is the proof.
Bat Mitzvah Party Favor Prize Trucker Hat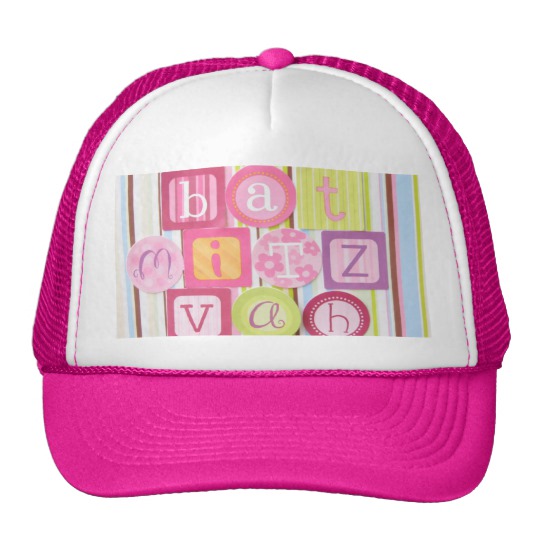 Your guests are dancing their socks off on the dancefloor, eagerly waiting for their Bat Mitzvah favor prize… 
Suddenly you show up with a bunch of cool hats…
"Now you're talking!"
All of a sudden, everyone turns into a Bat Mitzvah with these hats on, and you get one hell of a funny memory.
My Jewish Heart – Monogrammed Ribbon Hair Tie

All your daughter's 12-year-old friends will be waiting for something cool to take home with them… What will that be?
Oh, the suspense…
The one thing every young girl has in common – most of them have long hair.
And most of them will probably want a unique ribbon hair tie, monogrammed with a beautiful Star of David + pearly periwinkle heart, personalized with your daughter's initials. This will guarantee that they'll always have a reason to remember your special party. 
So, everyone's happy… including you, because these ribbons are gorgeous and extremely cheap – so you can buy all your daughter's friends a cool souvenir they can actually use.
Unique & Creative Bat Mitzvah Party Favors
Sure, you can go with any of the traditional Jewish bat mitzvah party giveaways we've all seen before.
But if you want your daughter and your guests to really remember this party, then you need to be creative and give away favors that are a bit more unusual & surprising.
Ready? Let's dazzle em'…
Bat Mitzvah Water Bottle Labels with Zebra Print (Set of 20)
Top Unique Favor
Water bottles are boring and tasteless.
Your daughter's Bat Mitzvah is fun.
So, how do you bring fun to the guest's tables?
You transform the boring bottles into hip bottles everyone will love.
Introducing: personalized bottle labels!
Forget about Coke. With these bottle labels, all of a sudden water becomes trendy again.
Bat Mitzvah Favors Two-Tone Coffee Mug
Your guests will be tired the day after your bat mitzvah party.
How will they function at work the next day?
They could definitely use a cup of coffee…
Come on, have a heart… help them out!
How? Get them a coffee mug.
Now that's a great Bat Mitzvah giveaway that will keep your guests awake, and it's personalized – so they'll always thank you and your daughter for it.
Red Mini Lollipop Arrangement Bat Mitzvah Favor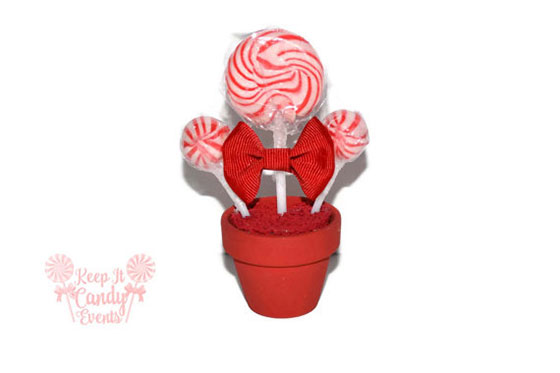 A cute red mini lollipop arrangement, wrapped in cellophane?
Now that's a great Bat Mitzvah gift for your guests!
Customize it in your daughter's favorite color (or the event's color), and you'll have a cute little treat everyone will enjoy taking home with them.
Cool & Fun Bat Mitzvah Party Favors
Most bat mitzvah party guest gifts are nice… but are they fun?
Well, these cool ones definitely are. If you want your young guests to have a great time, you have to entertain them. And these cool bat mitzvah favors are a great way to do so…
Bat Mitzvah Photo Booth Props
Coolest Bat Mitzvah Favor
These photo booth props are the perfect entertainment gift for the young fellas in your Bat Mitzvah party.
It includes hilarious props and DIY assembly kits that will keep the young kids (and adults) busy and guarantee them one hell of a time.
The best part? They'll be able to make take fun colorful photos & take home keepsakes they'll be able to play with.
This is the kind of gift that makes your party stand out (that's why it won the coolest bat mitzvah giveaway award).
Bat Mitzvah Paper Pinwheels in Bright Solids Twirling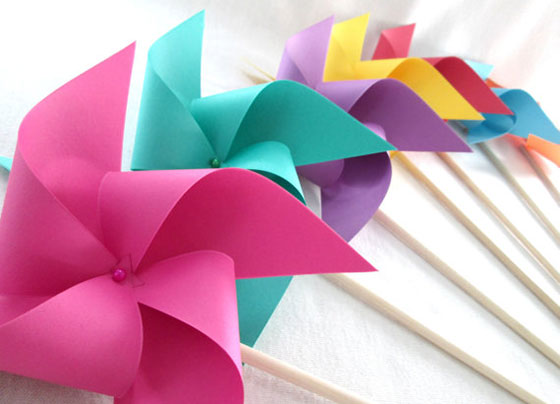 If the personalized water bottles don't cut it, then these spinning paper pinwheels will definitely do the trick.
Spin, spin, spin.
Hold it in your hand, go to the dancefloor, and spin along with it.
A cool table centerpiece, and a fun bat mitzvah entertainment idea for any child (and let's face it, adults as well).
Music Love Song Bat Mitzvah Playing Cards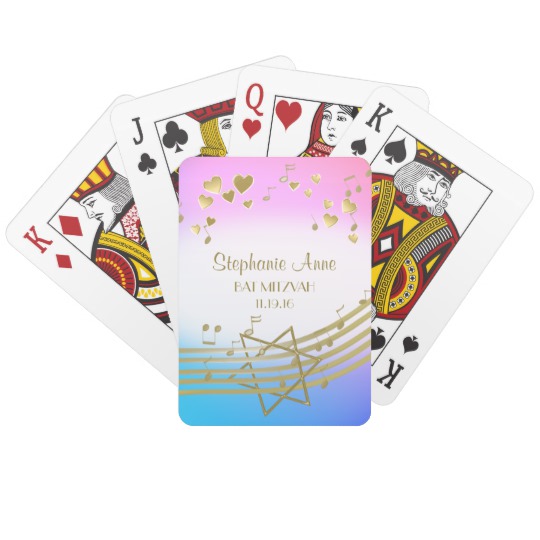 It's hard to find bat mitzvah giveaways that are actually fun and your guests will love playing with. 
Well, what better gift to play with than playing cards?
And especially when it's designed & personalized with a beautiful Love Song theme.
A real fun, memorable & unique bat mitzvah party favor.
Inexpensive Bat Mitzvah Favors
Not everyone wants to spend a ton of money on bat mitzvah party favors for your guests.
I get it, trust me.
That's exactly why this section is here – to help you find more affordable & inexpensive Bat Mitzvah giveaway ideas, without breaking the bank.
Glass Photo Coasters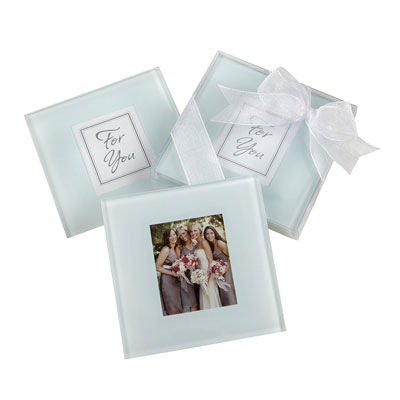 How would you like a picture frame as a bat mitzvah favor?
What about a coaster? Or a table decoration?
How about all three?
That's exactly what you get with these beautiful glass photo coasters.
It's a coaster, a picture frame, a table decoration, and one hell of a Bat Mitzvah photo favor for your guests.
You can get creative with it too: include your guest's picture to indicate assigned seating, or have a picture of your sweet daughter on it. 
Faux Teal Bow Silver Sequins Bat Mitzvah Paper Cup
Sure, you can decorate your table with boring cups. 
But why do that, if you can place these elegantly personalized Bat Mitzvah party paper cups.
These gorgeous cups are filled with a beautiful glittery silver printed image, jewels, diamonds and shiny teal blue printed ribbons. 
Isn't that a far better option? Especially when these cute favors are so cheap, then it's a no-brainer really…
Custom Bat Mitzvah Printable Torah Candy Bar Wrappers
Top Cheap Favor
How cute is this?
Sure, you can simply hand out candy bars and call it a day. 
But look at how cute these Torah candy wrappers are.
Tell me it's now worth going the extra mile…
Simply download, print, and wrap your candy bars with these wrappers, and your guests will enjoy their candy bars way more.
Personalized Cellophane Bags with Labels Bat Mitzvah Favor
These teeny tiny cellophane bags have a fully personalized label in front of them, with the color of your choice.
Stuff these cellophane bags with your favorite cookies, candy or homemade cookies, and hand it over to your guests.
Isn't that a much more personal gesture than mass-distributing a bunch of candy?
Bat Mitzvah Favor Labels & Tags
You chose some cool bat mitzvah treats & goodies.
But how do you make it personalized & memorable?
With some good old labels & tags.
Let's look at a few, shall we?
Elegant Hot Pink Flourish Bat Mitzvah Favor Gift Tags
Top Favor Label
Doesn't matter which favor bag you use for your gifts, it's always a nice touch to add a favor tag to your favor bags.
And since you want to add a real personalized touch, then it only makes sense to personalize the favor tag.
This special hot pink star of David tag is unique, personalized & elegant. It definitely adds a nice touch to your guest's Bat Mitzvah giveaways.
Pink & Black Polka Dot Bow Bat Mitzvah Favor Classic Round Sticker
If you're looking for a classy, dark themed sticker, then this is a beautiful one.
This sticker is fully customizable: shape, size, finish, and color…
Add these elegant stickers to your bat mitzvah favors, goodies, or boxes, and it will ramp up the favor to a whole new level.
So, what are you waiting for? Put on your designer hat and create something nice for the Bat Mitzvah's special night.
Winter Wonderland Bat Mitzvah Favor Tag – Ice Blue
No Bat Mitzvah giveaway is ever complete without the right tag on it.
This gift tag is very similar to the first favor tag in this section, but with an elegant ice blue, silver gray, winter wonderland theme – designed exclusively for a Jewish Bat Mitzvah. 
A piece of art in a gift tag. 
Bat Mitzvah Favor Boxes & Goodie Bags
After you choose the bat mitzvah favors you hand out to your guests, you still need to
wrap them in nice little favor boxes & candy bags.
Don't underestimate the importance of your favor boxes and goodie bags…you know what they say about the first impression, right?
If you're doing it, then you better do it right all the way.
Pink Silver Tone Star of David Favor Box
A pink favor box filled with stars of David?
This Bat Mitzvah party box will make your guests feel like they're in Israel.
Want to give away modest & inexpensive bat mitzvah favors? Then this is the favor box to do so. It's small & cute, which means you won't be spending a ton of money filling every one of it with goodies.
Note: You can customize it as you wish, including change the color. 
Bat Mitzvah Pink Stripes Favor Box
Top Favor Box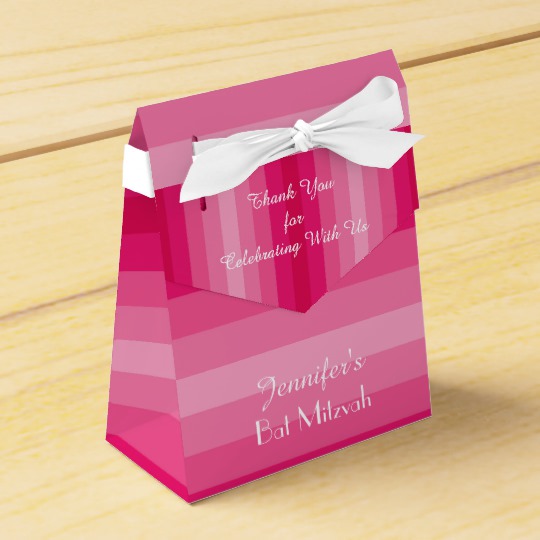 Another wonderful, personalized Bat Mitzvah party favor box.
This one is decorated with a beautiful pattern of pink stripes.
The front is where you write your daughter's event, and a personal blessing to your guests for celebrating with you tonight.
And since it's a festivity – your daughter is turning 12 after all… then the white ribbon is the cherry on top. 
Nautical Navy Bat Mitzvah Favor Boxes

I couldn't resist…
I had to add this very elegant, very small, very navy like favor box to finish off this rich gift guide.
I personally love this design. It's very simplistic, yet very sophisticated. Plus, I'm a guy, and I love blue, so…
Note: This favor box is pretty small, so don't expect to fit an elephant inside.
Conclusion
That was fun!
I bet you found some pretty unique Bat Mitzvah favor ideas here.
If you did, I would love to hear which ones you liked best, and which ones you ended up using in your daughter's Bat Mitzvah.
Mazel Tov 🙂