It's that time of the year again – which means Hanukkah is around the corner!

This gives us a chance to celebrate our wonderful festival of lights with our loved ones. But more importantly, we get to prove how much our friends, family and loved ones mean to us with some unique Hanukkah gifts.
Because let's face it – the traditional Hanukkah gift ideas (menorahs, dreidels, chocolate geld…) are getting a little old.
We believe that special people deserve special treatment (and special gifts), and if you're reading this – then you probably think so too.
That's why we handpicked this cool collection of unique Hanukkah gift ideas to make your light truly shine this Hanukkah.
The Holiday Spirit: Creative Hanukkah Themed Gifts

Who said traditional Hanukkah gifts have to be boring?

Hanukkah is all about miracles. So let's have a little miracle of our own and prove that Hanukkah themed gifts can be unique, exciting & beautiful.
Gifting just any menorah would be too mainstream, but gifting such an elegant & modern Hanukkah menorah with an oil jug will leave the recipient smitten by its beauty.

This charming menorah is made of yellow gold and silver plated brass. It is designed with curved branches with two-tone (gold and silver) and comes with a small sized oil jug that has marvellously been put in sync with the design. 
Get it Here
Large Round Dreidel with Seven Blessings, Beads, Coins and Hebrew Text


Top Gift
OH look, another boring dreidel!
Not exactly… This stunning dreidel is 8 cm in diameter and consists of images of ancient coins from the land of Israel, making it refreshingly original. It  features the classic Hebrew letters Nun, Gimmel, Peh and Hey (Nes Gadol Haya Po).

If you're looking for a unique gift that would really fascinate Dreidel lovers – look no further.
Get it Here
Sterling Silver Plated Kiddush Cup
This incredible Kiddush Cup is amongst the best Hanukkah gifts you can present to your family and loved ones. It has been inscribed with views of idyllic Jerusalem, which includes locations such as Montefiore's windmill and the Western Wall. It comes with a matching plate on top of it all. No wonder it got such great reviews praising it's amazing design.
Get it Here
Yair Emanuel Hanukkah Menorah with Cone Candleholders
If you're thinking of a subtle yet stunning gift, then Yair Emanuel Hanukkah Menorah is just the thing for you. The menorah is an anodized aluminium item that has candleholders which are cone shaped and set on a metal bar. It has a long Shamash that serves as the second leg.
Get our brand new holiday gift guides straight to your email - before the next Jewish holiday arrives
Hanukkah Gift Ideas for Her
The good thing about buying a gift for a woman, is that the number of options are pretty much endless. But how do you buy her a Hanukkah gift she'll definitely remember for months and years to come? Here's how…

Ahava Forever Young Kit with Eye & Body Serum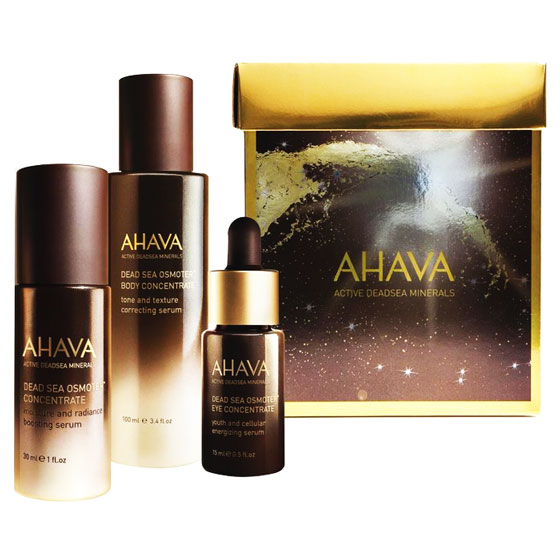 Looking forward to gifting your partner a nice kit of Dead Sea products? Then this kit is definitely a smart choice. 

The Forever young kit consists of three Dead Sea Omoter concentrates including an eye concentrate and body concentrate. The eye, body and moisturizing serum are made up of natural minerals with an innovative formula. The body serum consists of tone and texture correcting serum which removes dry skin. The moisturizing serum will make your partner radiate immense beauty.
Get it Here
Silver Ring with Jeweled Golden Hoshen
Top Gift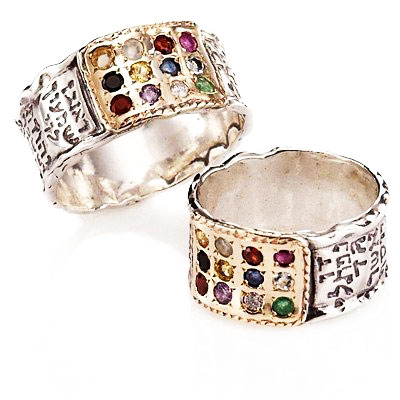 Jewelry is always the best option when it comes to gifting women.
This well-crafted sterling silver ring can become a treasured possession for generations to come. The ring is engraved with the names of 12 tribes of Israel and is covered with 9k gold plate containing 12 gemstones.
The twelve gemstones represent the twelve stones on the Hoshen. This ring is suitable for both men & women, making it a lovely option to buy one for yourself and your beloved spouse.
Get it Here
Sterling Silver Necklace with Cut-Out 'Love'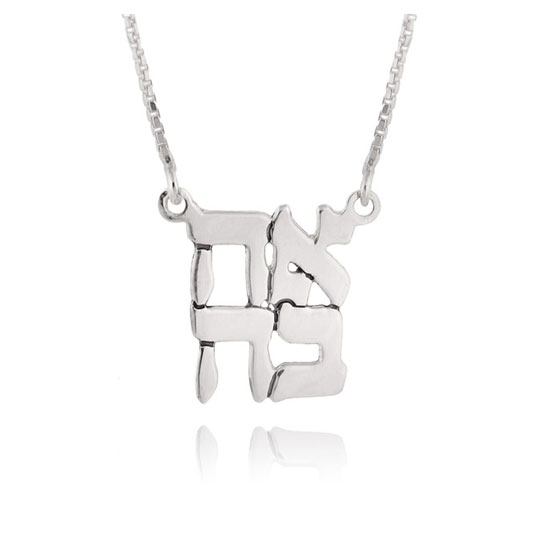 The festival of light should always begin with making your loving partners feel extra special and this sterling silver necklace can definitely ensure that.
This necklace has been made in Israel and handcrafted with sterling silver. It features Hebrew letters forming the word 'Love'.
P.S – A contribution is made on every sold item to support 'The Megemeria School of Jewelry' which teaches Ethiopian immigrants the art of jewelry making and design.
Get it Here
Hanukkah Gift Ideas for Him
Buying a Hanukkah gift for a man is always easier. But even men have feelings, and you can get them to express them with a very unique & special Hanukkah gift. Let's explore a few options shall we?

Castel Grand Vin. Vintage 2012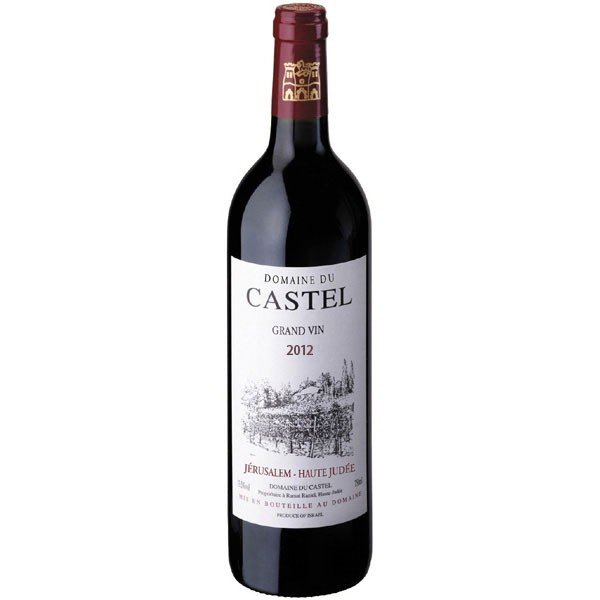 The world's most celebrated kosher wine – considered by many to Castel Grand Vin. is made from a collection of best vineyards and is aged 24 months in a new French oak barrel. It is a blend of Cabernet Sauvignon (70%), Merlot (22%), Petit Verdot (8%), Cabernet Franc and Malbec. 100% guaranteed to be loved by him.
Get it Here
Hebrew Letters Classic Watch by Adi
Top Gift
With this elegant silver plated analog watch, you simply can't go wrong.
Designed and made in Israel – this watch features Hebrew letters in their classic script, mechanical display and a comfortable black leather band – giving you repeating glimpses of our beautiful language.
Get it Here
Biblical jewelry is the a great gift for every believing man.
The Hebrew words inscribed on the necklace is taken from the prophet's wisdom which translates into "Blessed is the man who trusts in Hashem, and Hashem will be his trust". You can choose the material of the chain as it is available in both sterling silver chain and black silicone cord. You can also choose the length of the chain.
Get it Here
For the Little Ones: Hanukkah Gifts for Toddlers
This is the toughest part. Christians have Santa Clause bringing all their gifts, who is a tough guy to compete with. This means we've got to step up our game to make our kids happy. Don't worry, it can definitely be done. 
Mensch on a Bench
Top Gift
The Mensch on a Bench doll and book has become the most exciting gift for kids (after becoming a huge hit on the popular TV show "Shark Tank"). It definitely stands as the best method to impart festival knowledge to the little ones.

Mensch on a Bench was created by Neil Hoffman, a Jewish father who wanted to teach his sons about the Jewish holiday while trying to add new traditions to the family. And we all get to thank him for it.
Get it Here
KidKraft Wooden Chanukah Set
The KidKraft Chanukah set is a great gift for bringing families together to celebrate the beautiful festival of lights. The wooden set comes with a lovely storage bag, menorah, dreidel, six coins, spatula, pan and two potato latkes. The fact it got such amazing reviews only confirms the high quality and durability of this great wooden set.
Get it Here
Long John Kids Hanukkah Pajamas by Sara's Prints
You know what they say – to fully experience Hanukkah you must wear Hanukkah. 
These cute & cozy Hanukkah themed pajamas are a great to get our boys and girls into the Hanukkah spirit, while playing with the rest of the Hanukkah toys we mentioned here. 
P.S – there's also a big boys' size… how about setting an example for the little ones?
Get it Here
Maccabee on the Mantel
Maccabee on the Mantel plush is a gift set that also includes a hard cover book. It teaches about the story of Maccabee and Hanukkah. It also includes Hanukkah blessings and a page for family traditions in the book. The book most definitely forms a great gift for Jewish families. The bonus factor about the book is that it won Creative Child Product of the Year award in 2014.
Creative & Personalized Hanukkah Gifts
Do you really love someone? I mean really really love em? Then personalize their Hanukkah gift! 
We're our own favourite person (there's a reason the Torah tells us to "Love your fellow as yourself"), so we love it when someone shares the same feelings! 

14k Yellow Gold Double Thickness Name Necklace
A gold name necklace! Who wouldn't go gaga over this beauty? This stunning necklace is handcrafted in Jerusalem and it will most definitely make an unforgettable gift. You can provide the name and it will be converted into Hebrew. Also, the name is made from 0.8mm double thickness gold.
Get it Here
Happy Hanukkah Gift Serving Tray
Top Gift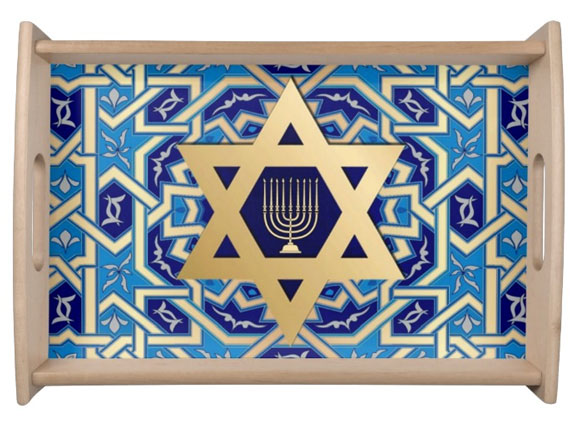 Are you invited for Hanukkah dinner? In that case, Latkes should be served in style!
This is the perfect gift for the perfect hostess. So don't go to a Hanukkah dinner empty handed, bring the empty Hanukkah serving tray with you (the hostess will take care of the rest).
This beautiful tray is fully customizable with your own photos, texts & designs – so go wild.
Looking for things to serve with this beautiful serving tray? Check out some of our Hanukkah recipes
Get it Here
Hand Engraved Silver Square Signet Ring
This brilliantly crafted sterling silver ring is a real keeper.
Not only is it filled with beauty, but also with real meaning and depth. The top of the ring will be inscribed by hand with Hebrew text. You can choose from seven messages to be inscribed on the ring. Not just that…It comes in 13 sizes! You will have no problem in picking the perfect size based on your requirement.
Get it Here
Silver Netilat Yadayim Washing Cup Jerusalem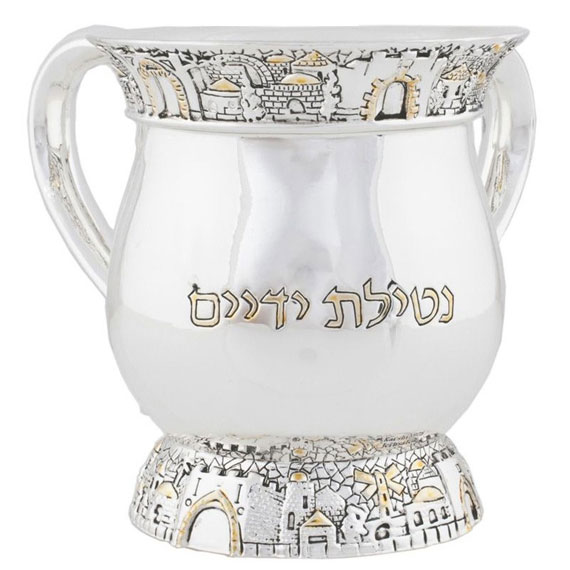 If you're doing Netilat Yadayim, why not do it with style? 
This gorgeous washing cup features an ornate old Jerusalem motif with beautiful golden highlights – adding a sparkle of light to any Jewish kitchen for many years to come.
A very unique & useful gift they'll get to use on a daily basis, and you'll be participating in their Mitzvah of Netilat Yadayim.
Funny Hanukkah Gifts
The festival of lights is still a festival, so nothing wrong with encouraging a little humor with some funny Hanukkah gifts! What do I mean by that? Well, just of the top of my head: 
"Happy Hanukkah ya filthy animal" Sweater
Top Gift
Well who says sweaters make boring gifts?
Certainly not this one. Got any friends who like quirky gifts? Then this is the gift for them.
Besides catching attention, this sweater actually has super soft long sleeves and will keep you warm during the holiday (if the Hanukkah candles fail to do so).
OY to the World Holiday Humor Throw Pillow
Pillows with personalized messages? Yea, who doesn't love that!
You can completely personalize your pillow with your own text, colors & image – making it a great way to add some touch of humour or affection around the house.
These pillows are 100% polyester, wrinkle free and machine washable. They are also made from simplex knit fabric of high quality – making it a high quality throw!
Get it Here
Ugly "Come on baby light my menorah" Sweater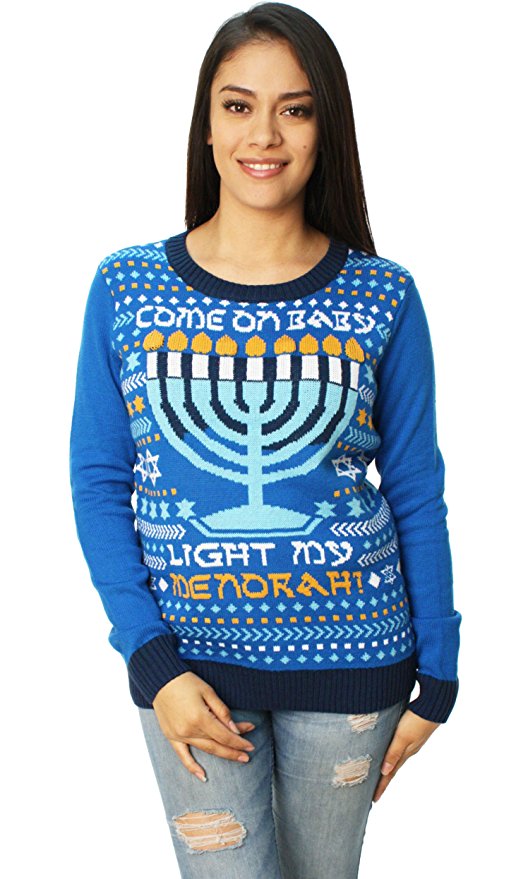 Another ugly sweater… well I had to, sorry. This sweater is just horrendous.
Which is what makes it a such special Hanukkah gift!
Ugly sweaters have become a Hanukkah trend, and it fits nicely with the cold winter (well, depends where you are…)
Got a goofy friend? Then do him/her a favor and buy it for em!
Get it Here
Hanukkah Gift Baskets
We've all heard the saying: "When in doubt, buy food".

What, there's no such saying? Well it doesn't make it any less wrong…
When nothing else works, kosher Hanukkah gift baskets are here to the rescue. After all, we should have something (and someone) to blame for our "extra holiday weight"… let it be you!
Hanukkah Treasures Kosher Gift Basket
Top Gift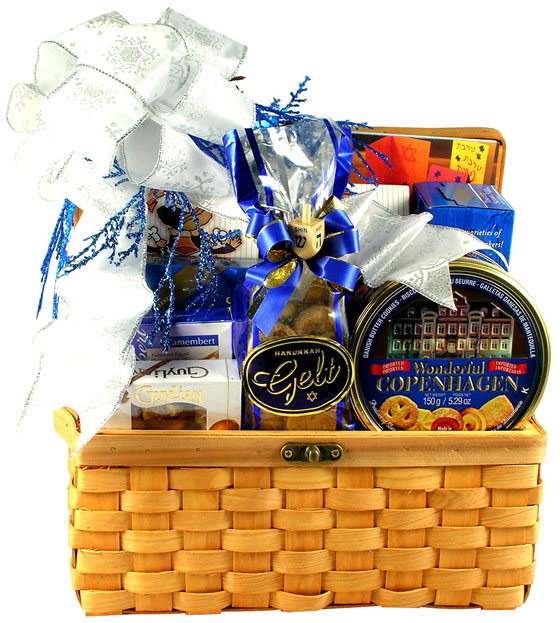 Celebrating the festival of lights with this deluxe kosher gift basket would definitely get exciting. It's even big enough to last for the whole season (unless you're a sweet tooth).

This gift basket has been hand made with specially processed, shelf stable food that doesn't require any special treatment – simply eat, enjoy, and complain about the holiday weight later. 
Get it Here
Lin's Farm All-Natural Gift Box with Wine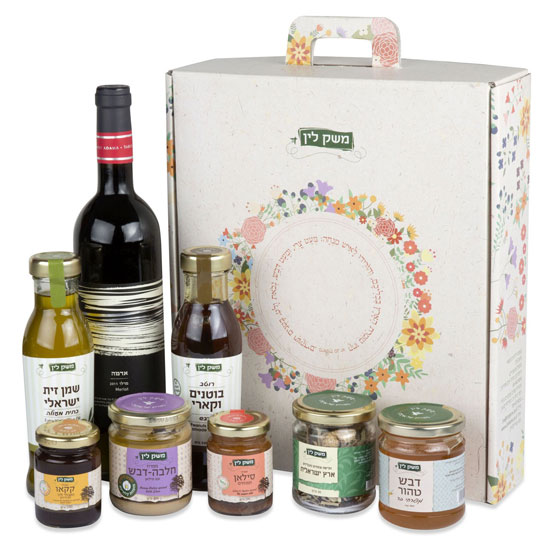 Such a beautiful gift box… packed with yummy-licious gourmet treats and a bottle of Israel's finest wine – straight from some of the best internationally acclaimed vineyards.
This luxurious gift basket also includes a bottle of extra virgin oil, peanut and curry honey marinade, herbal tea infusion, jar of honey-halva spread, pure honey, apple-silan spread, cocoa and hazelnut spread.
Get it Here
Gift Basket Village Hanukkah Chocolates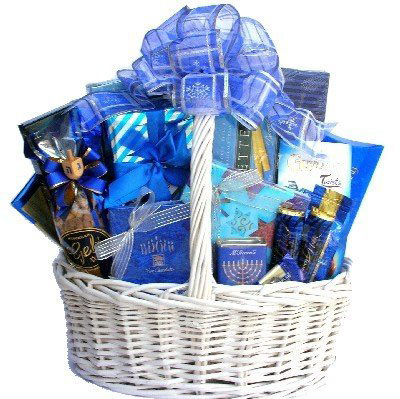 WARNING – if you're a chocolate addict, you probably shouldn't read this (or maybe you should).
If you're gifting a friend who has a soft spot for chocolate (don't we all?) – then look no further. Meet the gift basket that carries chocolates, cookies, wafers and much more weighing up to 14 pounds. This basket here is the undisputed king of Hanukkah chocolate gifts.
Get it Here
Blowing the Candles
So this was our personal favourite list of unique Hanukkah gift ideas. Which of these gifts did you like the most? Got any other unique Hanukkah gift suggestions we haven't covered here? Let us know in the comments below!
Wishing you a Happy Hanukkah & Chag Urim Sameach!