What makes a great Shabbat dinner?
The gathering, the food, the prayers…
But you know what else matters, that most people tend to overlook?
Yep, the Shabbat tablecloth.
Trust me, as simple as it may seem… an amazing looking, festive tablecloth for Shabbat can do wonders to your Shabbos table.
Because when your entire family gets together at the dining table for Shabbat meals, they deserve a remarkable table setting.
"What's the best Shabbat tablecloth for such a setting?"
I'm glad you asked! That's why I created this list of beautiful Jewish tablecloths for your dinner table.
Let's have a look, shall we?
Best Shabbat Tablecloths
Here's a quick glimpse of the best Shabbat tablecloths
Want to know why they're the best?
Keep reading…
DII 100% Cotton Dinner and Holiday Star of David Tablecloth + Hanukkah Swirl
Top Pick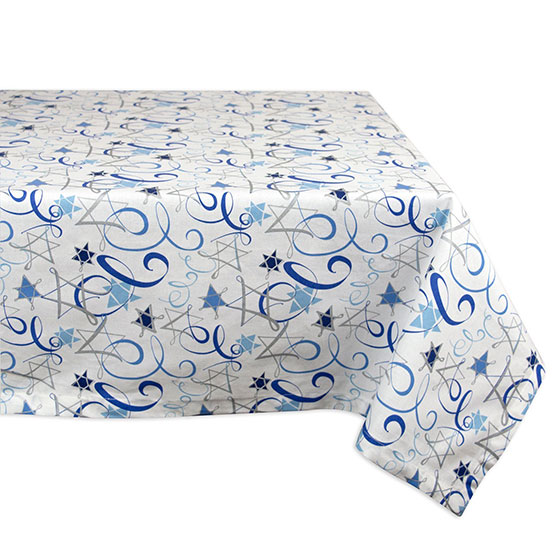 Pros
Quality is not affected with multiple washes
Durable and festive print
Great Price! 
Cons
Cotton shrinks a little after wash
Stains easily
Why?
This 100% cotton, Jewish tablecloth is definitely our "Top Pick".
DII is proud to present: a super high quality 1 hem tablecloth.
Their one piece seamless Judaica table linens design is suitable for both outdoor and indoor use.
Perfect for celebrations & Shabbat meals.
What's so unique about it, you ask?
A cute Hanukkah swirl print on white cotton cloth.
Festive Star of David patterns in silver and shades of blue
100% cotton – fully machine washable (and low iron if needed)
You can choose your Shabbat tablecloth from four available size options, and you can get one with a round shape as well.
Besides the visible features, this fabric is thick and lasts through many washes. Removing stains may be a bit difficult though, so make sure you wash it according to the instructions. 
Who is it For?
If you're looking for a Jewish tablecloth with complimenting essentials – then this is the one for you. You get a set of 6 matching napkins, placemats and a table runner is also offered in the same pure cotton fabric.  
Bottom Line: Appropriate print design for Jewish family meals. This is a premium machine washable cover for dining tables at a budget price.      
White Tablecloth with 'L'Chvod Shabbat Kodesh' & Shabbat Table Embroidery
Our Favorite
Pros
Embroidered 'Le`Chvod Shabbat Kodesh' phrase
Good quality thick fabric
Cons
Thread embroidery disintegrates over time
Why?
What makes it our 'favorite' pick?
The Hebrew embroidery itself indicates a Shabbos meal prepared for the holiest day of Shabbat.
Mathes any dining table decor
Perfect for the occasion!
The phrase 'Le'Chvod Shabbat Kodesh' is a part of the exquisite embroidery. The phrase is embroidered using red and beige threads – in Hebrew letters.
It definitely stands out: "normal" (and boring) Shabbat tablecloths do NOT look like this.  
The artistic embroidery depicts a siddur, a Kiddush cup, and two candlesticks surrounded by leaves and grapes.
Tip: Wash with extra care to retain the thread embroidery in its original form for a long time.   
Who is it for?
If you're an admirer of remarkable embroidery, then you'll probably appreciate this unique Judaica tablecloth.
Bottom Line: You get a beautiful tablecloth for the perfect Shabbat table setting with a white background. The tablecloth is made in Israel with varying sizes options and reasonable price. 
Yair Emanuel Gold Machine Embroidered Tablecloth + Pomegranates
Most Luxurious   
Pros
Machine Washable
Staggering looks
Why?
Get ready to receive compliments… Not only for your delicious food – but for your luxurious tablecloth as well!
What makes this premium Judaica tablecloth so special? Well, it's:
Adorned with stunning gold embroidery.
High-quality silk fabric
Golden background with stunning pomegranate motif
The gold machine embroidery gives it a royal look, and the broad panels of cream & gold silk as borders highlight the look of the Shabbos tablecloth.   
Tip: To ensure durability, do not wash this tablecloth with the rest of your laundry. Follow the washing & care instructions to the 'T'. 
Who is it For?
If you're looking for a special made in Israel tablecloth for special occasions – then this is it, my friend.
Not that you cannot use it regularly, by all means, do!
Each regular meal will also feel like a special occasion with your family. The food you cooked will look even richer & tastier when you'll serve it on this Jewish tablecloth.  
Yair Emanuel's gold embroidered Shabbat tablecloth also makes a great gift.
Give this gorgeous Shabbos tablecloth to a family member or special friend as a wedding or housewarming present… they could use some help filling their new future house.
Bottom Line: Buy it for festivals or gift it to someone special. It's luxurious, looks beautiful… and is certainly worth spending a little extra money on.
Want to get our brand new Jewish buying guides straight to your email inbox?
Blue 'L'Chvod Shabbat Kodesh' & Shabbat Table Embroidered Tablecloth
Pros
Thick high-quality & Machine Washable
Beautiful Embroidery!
Cons
Single color limits table setting
Why?
This white Shabbat tablecloth is skillfully embroidered with the famous 'Le'Chvod Shabbat Kodesh', the phrase we say when preparing the Challah.
So it's obviously a natural fit for your Shabbat dining table.
The 'Le'Chvod Shabbat Kodesh' phrase is embroidered in blue thread – in Hebrew text. This phrase is surrounded by a charming picture on two sides.
You see candlesticks, a Kiddush cup, and a siddur with leaves and grapes in orange, greens, and blues. 
Why Not?
This Judaica tablecloth looks attractive.
Now, what about everything else?
The quality of the cloth is excellent: pure premium cotton.
But, pay attention when you're washing this Shabbos tablecloth.
Additionally, the cotton cloth shrinks a bit when washed. 
Who is it For?
The blue colored embroidery will match certain home décors, so if you have a suitable kitchen or living room that goes will with a blue & white Jewish table setting, then definitely go for this one!
Bottom Line: The 'Le'Chvod Shabbat Kodesh' embroidered cloth for your dining table is made of high-quality, thick fabric, for a very fair price. An appropriate Hebrew embroidery for a Shabbat table setting!
Majestic Giftware TC60120 Polyester Table Cloth + Matching Challah Cover
Best Value
Pros
Beautiful self-design
Durable & functional polyester fabric
Matching challah cover
Wrinkle-free 
Are you looking for a Jewish tablecloth that blends in?
Here is a simple tablecloth with classic white self-design on a polyester fabric with scalloped hem.
It might not stand out but will undeniably gather some praise.
Plus, it's super-easy to clean and wash.
The inspiring design is covered with a beautiful pattern of Kiddush cups, Menorahs and Hebrew text surrounded by leaves. And you get a matching challah cover to make it even more perfect.
Who is it For?
For those who believe that less is more.
If you're looking for a stain-resistant Israeli tablecloth that doesn't demand any extra care, then this one fits the bill. This one doesn't stain: if you spill anything, it will come off very easily, and It will remain wrinkle-free after washing (no need to iron).  
Also, use it with all different styles and colors of table settings and crockery. It will complement almost everything.
TIP: It slips off the table easily. So you might want to use a pad underneath for extra "grip".
Bottom Line: Although this Jewish tablecloth seems simple, it's a classic design at a marked down price. You will save a lot of money and get a good-looking sturdy fabric. This Majestic Giftware table cloth also makes for a great present!  
Maison d' Hermine Botanical Fresh 100% Cotton Tablecloth
Pros
Washing Machine and dryer compatible
Hand-painted pattern!
Why?
Bring a glimpse of fresh spring into your kitchen.
The 100% tablecloth from Botanical Fresh Collection has an impressive diverse meadow view. You see tiny multicolored blooming flowers and butterflies in vivid tones flying around.
You can get your hands on coordinated table and kitchen linen products too!
Maison d' Hermine has designed this charming collection in France. All with the same hand-painted view of a beautiful garden.    
Why Not?
The botanical collection has an off-white background – difficult to get spot-free. Obviously, something will spill and stain at some point. A near-white color is more difficult to clean.
Pure cotton tends to shrink a little after it's washed.
There is nothing much that you can do about this.
Just pay attention you get the proper measurements before buying.
Who is it For?
Love floral prints and want something off-beat?
Then you should consider this one.
It can be used for regular meals or as a Shabbos tablecloth. This tablecloth will bring a smile to your face…and warmth in your kitchen. 
Bottom Line: It comes at a considerable price taking into account the stunning hand painted garden view. Matching kitchen linen is also available!
EcoSol Designs Microfiber Damask Swirls Tablecloth
Pros
Wrinkle-free
Machine washable
Stain resistant & Spill-proof
Made of microfiber
Why?
EcoSol Designs presents 100% polyester microfiber tablecloth.
Want to know more about it? It's:
Stain Resistant
Waterproof & Spill proof
Wrinkle Free
Liquid spills are not absorbed, they bead-up on the surface. You can clean it with a damp towel or wipes. The fabric itself is heavy with scalloped hem and eye-catching silver swirls all over.
Why Not?
Is everything all positive about this tablecloth?
What's the catch?
Well almost.
The only potential issue is that It can be a bit big for your table…so make sure the dimensions will fit your table.
Who is it For?
Don't have time to spare, especially to clean or wash a tablecloth regularly?
You can benefit a lot from this one!
It will not get dirty that easily and quickly. Keep it on your table for months without any worry.
However, if it does require extensive cleaning, put it in a washing machine! Yes, it is washable as well!    
Tip: You can get it in a variety of colors and dimensions.
Bottom Line: Perfect if there are numerous spills happening normally on your dining table. The price is just right!
Le'Chvod Shabbat Ve'Yom Tov' with Grapes & Pomegranates Tablecloth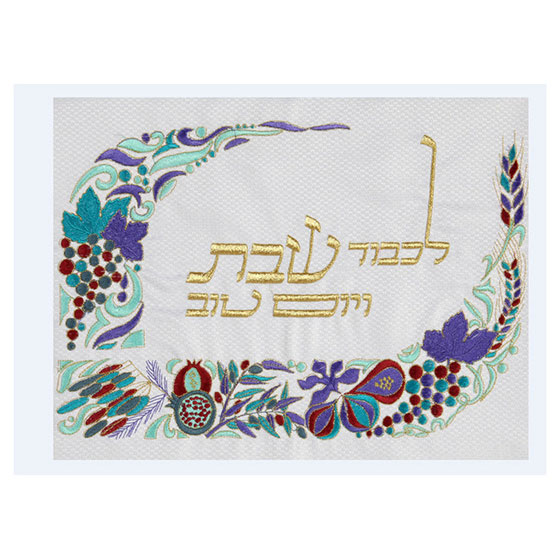 Pros
High-quality thick fabric
Ideal for everyday use 
Cons
White backdrop gets dirty easily
Why?
It is absolutely perfect for any holiday or Shabbat table setting. 
When you look at this white Shabbat tablecloth, it instantly reminds you of the family meals of Shabbos.
Le'Chvod Shabbat Ve' Yom Tov translates to 'Honor Shabbat holiday' that is written in gold on the tablecloth.
This text takes the center while the borders are adorned with charming Hebrew embroidery. The appealing embroidery in maroon, purple and turquoise threads depicts pomegranates and grapes.
Why Not?
Is it okay to spend money on thread embroidered cloth that might not last long?
That's for you to decide!
The embroidery is most certainly beautiful…But keep in mind that it will deteriorate over time.
While washing, the colors of the thread embroidery could fade into the white Shabbos tablecloth. So, be very careful to properly follow the washing instructions.
Who is it For?
You want an Israeli tablecloth solely for Shabbat meals?
Then this Shabbat tablecloth is ideal for what you're looking for. It emits that special festive warmth & charm…
Use it for all festivals meals and when guests come over. It can be machine washed and tumble dried (low). 
Bottom Line: A pure cotton, white, Israeli tablecloth with a budget price tag. Made in Israel for Shabbos meals and Shabbat holidays.  
Final Verdict
Let's look at the final award-winning Shabbat tablecloths.

Drumrolls…

Top Pick: The DII printed white Star of David tablecloth is definitely our "Top Pick". It has a charming Hanukkah swirl print on white cotton cloth with festive Star of David patterns in silver and shades of blue. This 100% cotton product is fully machine washable. You can get it with matching kitchen linen and related accessories to complete the entire look. It will ensure beautiful table settings.

Our Favorite: Our Favorite is the tablecloth with picturesque embroidery depicting a siddur, a Kiddush cup, and two candlesticks surrounded by leaves and grapes. the entire embroidery is done with threads of red, brown and beige color. The phrase 'Le'Chvod Shabbat Kodesh' written in Hebrew is the main attraction. This Jewish Shabbos tablecloth would make a beautiful Shabbat table setting. 

Top Luxury: This gold-embroidered tablecloth by Yair Emanuel looks and feels luxurious. This "Top Luxury" tablecloth is 100% Silk fiber. The premium gold background at center with motifs is machine embroidered. Such a luxurious Judaica tablecloth is meant to be used for special occasions. Gift this stunning Jewish tablecloth to special friends and family members, it will be perfect! 

Best Value: Majestic Giftware brings their elegant and classic take as a white polyester tablecloth. Polyester fabric is easier to maintain and keep clean as compared to cotton. This one has a pretty self-design all-over and a scalloped hem. This tablecloth is ideal if you want a budget Judaica tablecloth. It is festive, ideal for the occasion and saves money too!     
Summary
How can you make your Shabbat food spread look even more appealing than it already is?
with an ideal table setting!
Beautiful Shabbat tablecloths are an integral part of this setting.
Each tablecloth for Shabbat I included in this list will make your dining table look more beautiful. You'll surely receive huge compliments… and it will make you think of me 🙂
Which Jewish tablecloth did you like best?