The Bat Mitzvah party is almost here… how exciting!
It's one of the most memorable days in any Jewish girl's life…
So now, you're probably asking the million-dollar question:
"What Bat Mitzvah dress should my daughter wear for her big day?"
Don't worry. I'm here to help…
This guide will help you find the best Bat Mitzvah party dresses & outfits for your 12 year old girl, so she'll look stunning for her special day.
Ready? Let's go shopping…
Best Bat Mitzvah Dresses
Ready to take a sneak-peek at the best Bat Mitzvah dresses for 12 year old tweens?
There are a lot of amazing Bat Mitzvah dresses on this list, but these are the ones that truly stood out in our book.
Well, without further ado… Here they are:
Modest Bat Mitzvah Dresses (Long)
Modest Bat Mitzvah dresses are hard to come by…
One the one hand, it should be modest (tzniut), but also beautiful so that young, 12 year old Jewish tweens will "approve".
So, I thought you could use some help…
Let's look at a few long & stylish Bat Mitzvah outfits your 12 year old girl will love to wear on her big night, or even at the temple.
Dessy Collection Junior Bat Mitzvah & Bridesmaid Dress JR536P
Top Modest Dress
Modest, elegant & unique… There are many words to describe this stunning dress.
This full length, sleeveless sateen twill dress has class written all over it, and that's something your young Bat Mitzvah will definitely relate to.
A black bodice, a striped skirt, with a jewel neck for your precious 12-year-old Jewel.
She can even wear this gorgeous dress to the service and the synagogue.
Not much more you can ask for a Bat Mitzvah dress.
Dessy Collection Junior Bat Mitzvah & Bridesmaid Dress JR540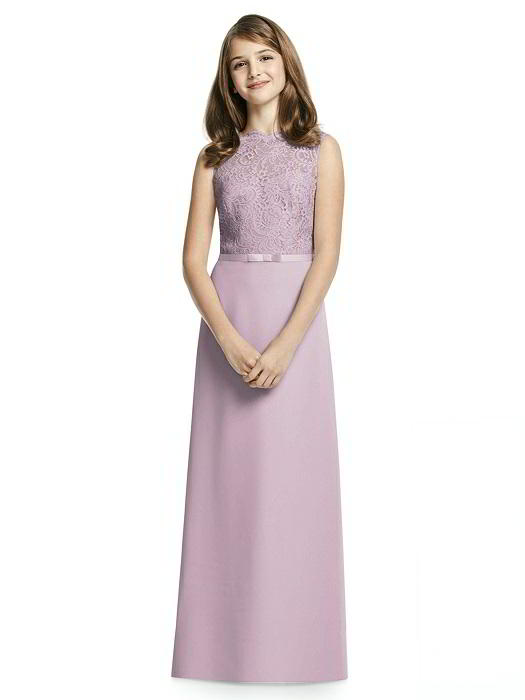 If you're looking for a conservative, elegant & stunning Bat Mitzvah dress for your young girl, there's a good chance you just found it.
They say modesty is beautiful… and I think this full-length, sleeveless marquis lace & matte chiffon dress justifies that saying.
One of my favorite dresses for a Bat Mitzvah on this entire list, and definitely my favorite modest Bat Mitzvah dress, both for the service and the ceremony.
Dessy Collection Junior Bat Mitzvah & Bridesmaid Dress JR539
Where elegance meets modesty – beautiful things happen.
And that's exactly what "happened" here: a spectacular dress was born.
This gorgeous dress is long (full length), has a modified halter and draped bodice.
100% polyester made.
Note: It does have an open back, so if that's a problem you might want to consider other alternatives
Cute Bat Mitzvah Dresses
Want to increase your daughter's cuteness level?
It's definitely possible with a suitable dress…
Let me tell you, with these cute Bat Mitzvah dresses your girl will look even cuter with these than she already is!
Let's take a look…
Alfred Sung Junior Bat Mitzvah & Bridesmaid Style JR500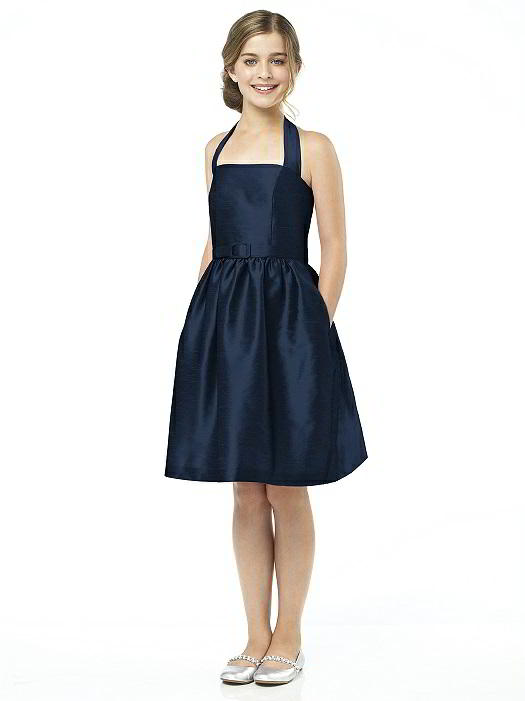 I thought hard whether I should've included this dress in the cute Bat Mitzvah dresses or the elegant dresses category… it could've easily been a star in both.
But, we need to be fair to the rest of the outfits, so cute Bat Mitzvah dress it is!
This short, gorgeous-looking, halter dupioni cocktail dress comes with a matching skinny belt & pockets at the sides of the skirt.
Comes in a variety of different colors & sizes, so your Bat Mitzvah girl will fit right in.
Junior Bat Mitzvah & Bridesmaid Dress JR522
Top Cute Dress
Tell me, what's cuter than a short cocktail dress?
While not old enough to drink a cocktail, she surely is old enough to wear this gorgeous, peau de soie Junior cocktail dress with pleated skirt.
And if you're still not convinced, this dress also has:
Center back zip
Spaghetti straps (optional)
100% polyester & dry clean
Tip: Like the title says, it's also a great fit for a Junior bridesmaid dress.
Kate Kasin Girls Sleeveless Vintage Floral Swing Party Dresses
Did you ever buy a dress online, and it didn't fit?
I hear your pain… and so did Grace Karin, the designer of this fabulous dress.
Instead of age, her dresses are designed with height as a reference, which means they're designed to allow room for your kid's growth.
Important: It is therefore imperative that you check the size chart before buying Bat Mitzvah dresses. 
This summer vintage dress is designed with cute polka dots & vibrant flower prints. The fabric is a combination of spandex and cotton.
And the final touch? A thin black belt is adding wonderful contrast to each dress…
Also Recommended: Top Bat Mitzvah Party Favors for your Bat Mitzvah party guests
Elegant Bat Mitzvah Dresses
A dress that is stylish & graceful?
Now, that would look beautiful on your daughter…
Bat Mitzvah celebration of your girl calls for a special dress. Something that looks chic, elegant and tasteful. You will have a range of colors to choose from!
If that's what you are looking for…I have a collection for you.
Let's have a look, shall we?
Dessy Collection Junior Bat Mitzvah & Bridesmaid JR514
Top Elegant Dress
If I had a "classiest dress" award to give away, then this dress would probably earn it.
This jaw-dropping dress is a full length, one shoulder matte satin and lux chiffon dress with draped bodice and a full skirt.
It has a royal feel to it, so even if your girl isn't technically a queen, she'll definitely feel like one wearing this fabulous dress on her Bat Mitzvah.
Definitely, one of the best & most elegant Bat Mitzvah dresses for tweens we have on this list…That's why it's the first dress on the list 🙂
Dessy Collection Junior Bat Mitzvah & Bridesmaid Style JR835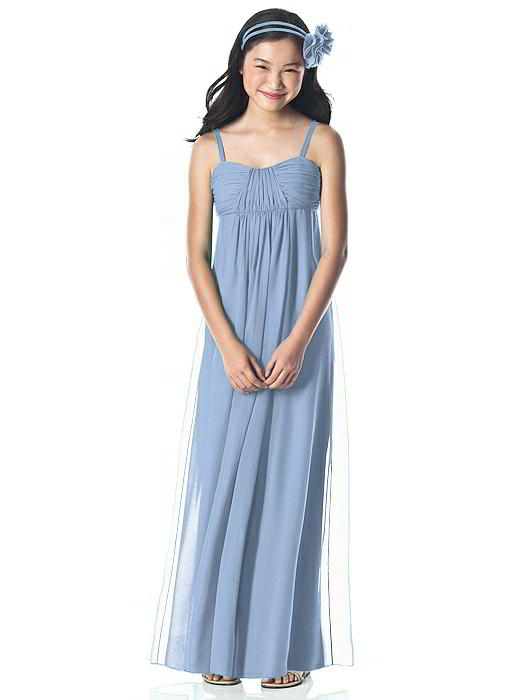 Talk about elegant…
This full-length strapless lux chiffon dress has empire waist & shirred bodice, with a panel over A-line skirt.
It's available in a TON of colors (way over 100 colors), so you'll surely find the most elegant fit for your daughter's unique look.
FAIRY COUPLE Girls' A-line Chiffon One Shoulder Dress
If you're after an elegant, affordable, floor length dress – then you should definitely take a look at this attractive dress.
It's trendy
Jeweled
…and hand-made!
Fairy Couple presents: a floor-length, one shoulder dress in a premium chiffon fabric.
The 5 refreshing colors it's available in are suited for celebrations & special occasions. It can also be worn on weddings, and of course on a Bat Mitzvah!
The shining rhinestones make a lovely flower on one shoulder that elevates the charm of this dress. 
Your little princess will definitely feel like one in this dress.
Elegant Wrinkled Chiffon Summer Flower Dress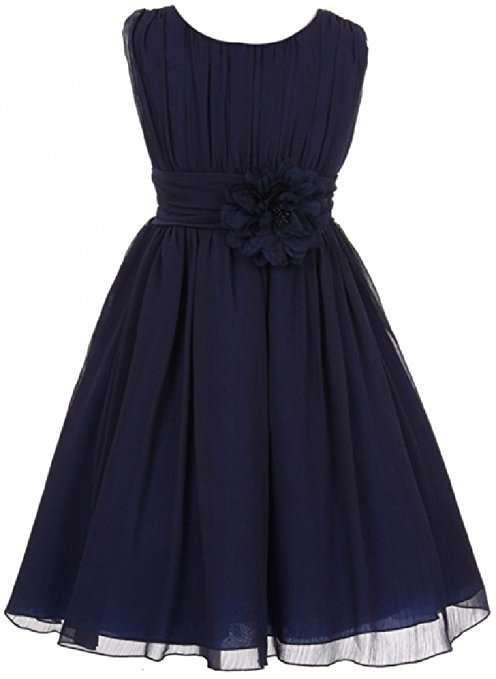 A chiffon wrinkled dress with pleated bodice, in a very affordable price!
The waist is decorated with a detachable flower of the same color as the dress.
The dress is available in 14 different colors, so choose your girl's favorite!
Gathered waistband and wrinkled upper body make a classy
design.  The dress is completely lined with crinoline, and there's a slightly concealed
zipper at the back.  
The big pretty bow tie at the back is a cute finishing touch 🙂
Tip: Do have a close look at the size chart and measurements before buying. 
Want to get our brand new Jewish buying guides straight to your email inbox?
Luxury Bat Mitzvah Dresses
Your girl deserves the best…
And if you can get afford to get her the best, then these are the best luxury (and expensive) Bat Mitzvah dresses you'd want your daughter to wear on her big night.
Are you ready for finest collection Bat Mitzvah tween dresses? 
Junior Bat Mitzvah & Bridesmaid Style JR518
Top Luxury Dress
When they say that an image speaks 1,000 words, they probably were staring at this dress.
This remarkable, full-length lux chiffon dress comes with skinny spaghetti straps and a sweetheart neckline. Draped detail at the center front skirt with a very subtle hi-low hem over floor length A-line skirt.
But honestly, words can't, and shouldn't describe this beautiful masterpiece.
Dessy Collection Junior Bat Mitzvah & Bridesmaid JR533CP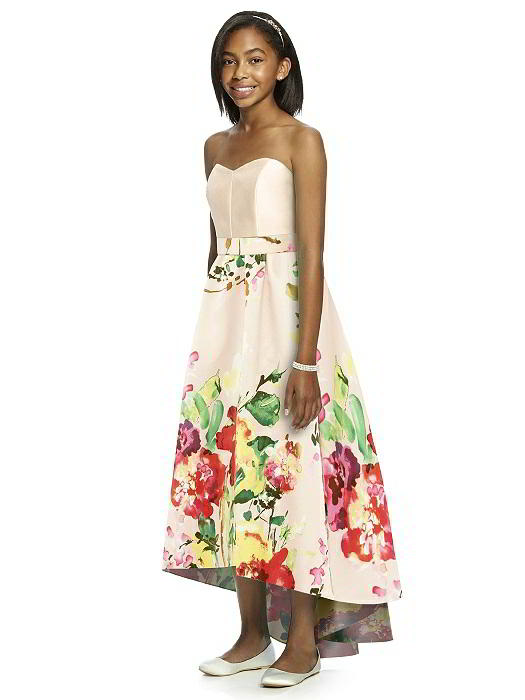 Cute dress? Unique dress?
I could've easily added it to any of these categories… but the answer is: a luxurious dress.
This full length, strapless sateen twill dress has a sweetheart neckline and a hi-low hem detail.
It comes with a 1.5-inch self-belt at natural waist that matches the skirt, and (undetectable) pockets at the sides.
What did I tell you… the best way to describe it: luxurious.
Tip: This style is available with a blush bodice and a blush bouquet skirt, or a white bodice and white bouquet skirt.
Dessy Collection Junior Bat Mitzvah & Bridesmaid style JR611
Next in line: one of the classiest dress on this list.
What can I say… beauty & modesty at its finest.
This dress is a full length, one shoulder lux chiffon dress with shirred bodice and flower detail at the shoulder.
It comes in a variety of colors (I personally like the purple dress from the image), all of which are equally stunning… so good luck making up your mind.
Cool & Unique Bat Mitzvah Dresses
Let's face it.
What probably matters to your daughter more than anything is to look cool in front of her friends.
And that obviously means wearing a unique Bat Mitzvah dress on her big night.
Lucky for you, you can get her a cool looking dress without breaking the bank.
Don't believe me? Keep reading…
Dessy Collection Junior Bat Mitzvah & Bridesmaid Dress JR536CP
Top Unique Dress
Sure, there will probably be some flowers in your Bat Mitzvah party.
But why shouldn't your Bat Mitzvah girl be THE flower of the ceremony (literally)?
Trust me, the rest of the flowers in your event won't even compare to the main flower of the evening – your daughter.
Very modest, very chic, and a cool, young style…
When your daughter shows up in this gorgeous blush sateen twill dress, all the other flowers will blush out of embarrassment.
Tip: This dress is also available in a white bouquet Bat Mitzvah dress style.
Dessy Collection Junior Bat Mitzvah & Bridesmaid JR534
A special event deserves a special dress.
This one definitely fits the bill.
Made of high-quality sateen twill, this full-length sleeveless dress comes with a bateau neckline and hi-low hem detail.
Plus, it also comes with a matching self-belt at natural waist & pockets at the side seams of the pleated skirt.
Note: It does have an open back, so if that's a problem you might want to consider other alternatives
Girl's Classy Audrey 1950s Vintage Rockabilly Swing Party Dress
Choose the classic and chic way…with this 50s swing dress.
This HBB dress is a trendy modern take on the iconic Audrey Hepburn style. A matching white belt (removable) increases the charm of this dress.
Various prints are available: flowers, bouquets & dots.
Made with durable fabric, this short Bat Mitzvah dress can be worn through so many parties and social gatherings. This dress will look cute & pretty everywhere, especially in her Bat Mitzvah party & ceremony.
Tip: This dress is machine washable and has a zipper at the back for easy access.
Cheap Bat Mitzvah Dresses
Are you on a budget?
You might not be in the situation to spend extra money, or you're just looking for a more affordable Bat Mitzvah dress. I get it…
Good news is that it doesn't necessarily mean you have to compromise that much in quality.
Don't worry, your girl will get a good-looking dress, even at a lower-cost.
Presenting: beautiful & affordable dresses for the Bat Mitzvah ceremony.
Bow Dream Flower Girl Dress V-Neckline Chiffon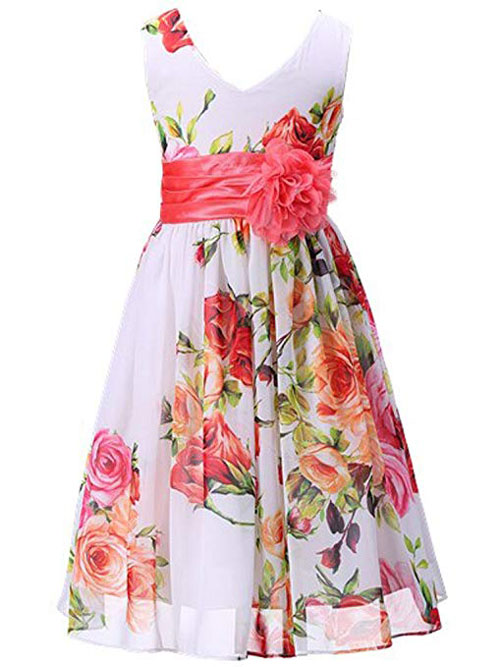 This beautiful flower dress comes in 21 different colors, and includes every girl's favorite: floral prints!
You have two print options: one in navy and the other in white.
And then comes the fun part: choosing your favorite dress colors.
This dress design is fit-and-flare, with a non-removable flower on the waist. It's made of high-quality chiffon and comes with 100% pure cotton lining. 
I bet it will bring a huge smile on your daughter's face 🙂
Bow Dream Girls Elegant Ruffle Chiffon Summer Dress
Top Value Dress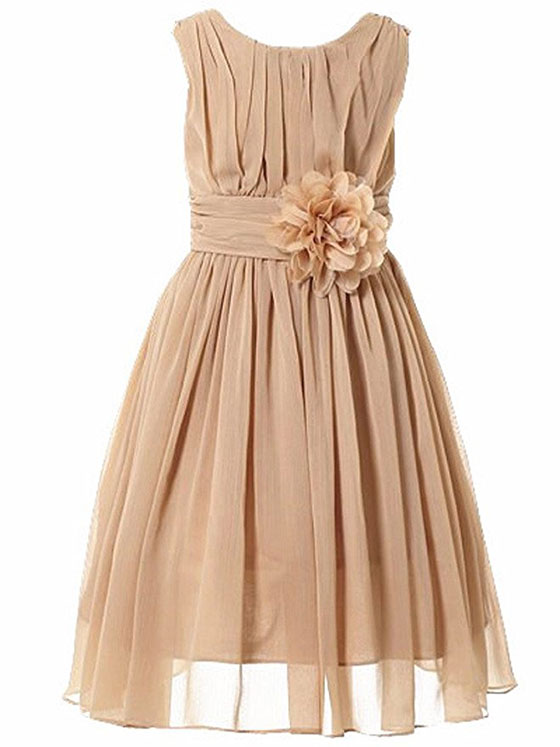 Thought Bow Dream's previous dress was good? Well, they have another dreamy one to offer…
What's so special about this dress, you ask?
The pleated bodice and skirt present a unique & classy style, at a very affordable price.
If you're planning a surprise dress for your special Bat Mitzvah girl, then you may have found the one you were looking for!
It's made of a nice looking chiffon fabric that falls well below the knees.
You get to choose your favorite colors as well: from pink, to white all the way up to champagne color.
And just like the previous dress, it has a beautiful flower of the same color on the waist.
Tip: This dress is equally perfect for her Bat Mitzvah or any other celebration.   
Olivia Koo Yoryu Chiffon Asymmetric Ruffled Flower Girl Dress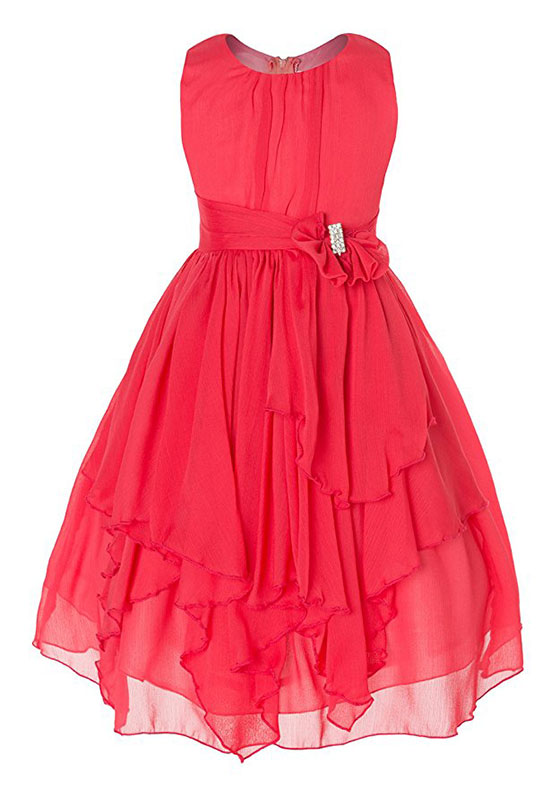 What's your daughter's favorite color?
Is it red? Yellow? Or perhaps fuchsia?
Doesn't matter, because Olivio Koo's fantastic chiffon dress comes in any color & shade you can think of, guaranteeing that your girl will feel oh so beautiful on her special day.
Olivia Koo puts up normal knee length with this sleeveless dress. It's made of good-quality polyester chiffon, and is available in different sizes.
The waistline is accented with a jeweled bow. There is a back-tie and a rear zipper for improved adjustment.
The size fits as expected (still, go through the size chart) and you get a great dress at a (very) decent price.
Summary
Choosing the right Bat Mitzvah dress for your daughter is a big deal, so don't take it lightly.
It's her special day. You want her to look special… to feel special.
Hopefully, I helped you find that special dress that will your daughter remember this day for the of her life.
Which Bat Mitzvah dress did you end up getting for your lovely 12 year old?
I would love to hear in the comments 🙂
Mazel Tov!